MSI Quartz: Modern Elegance Mixed With Versatility
January 23, 2020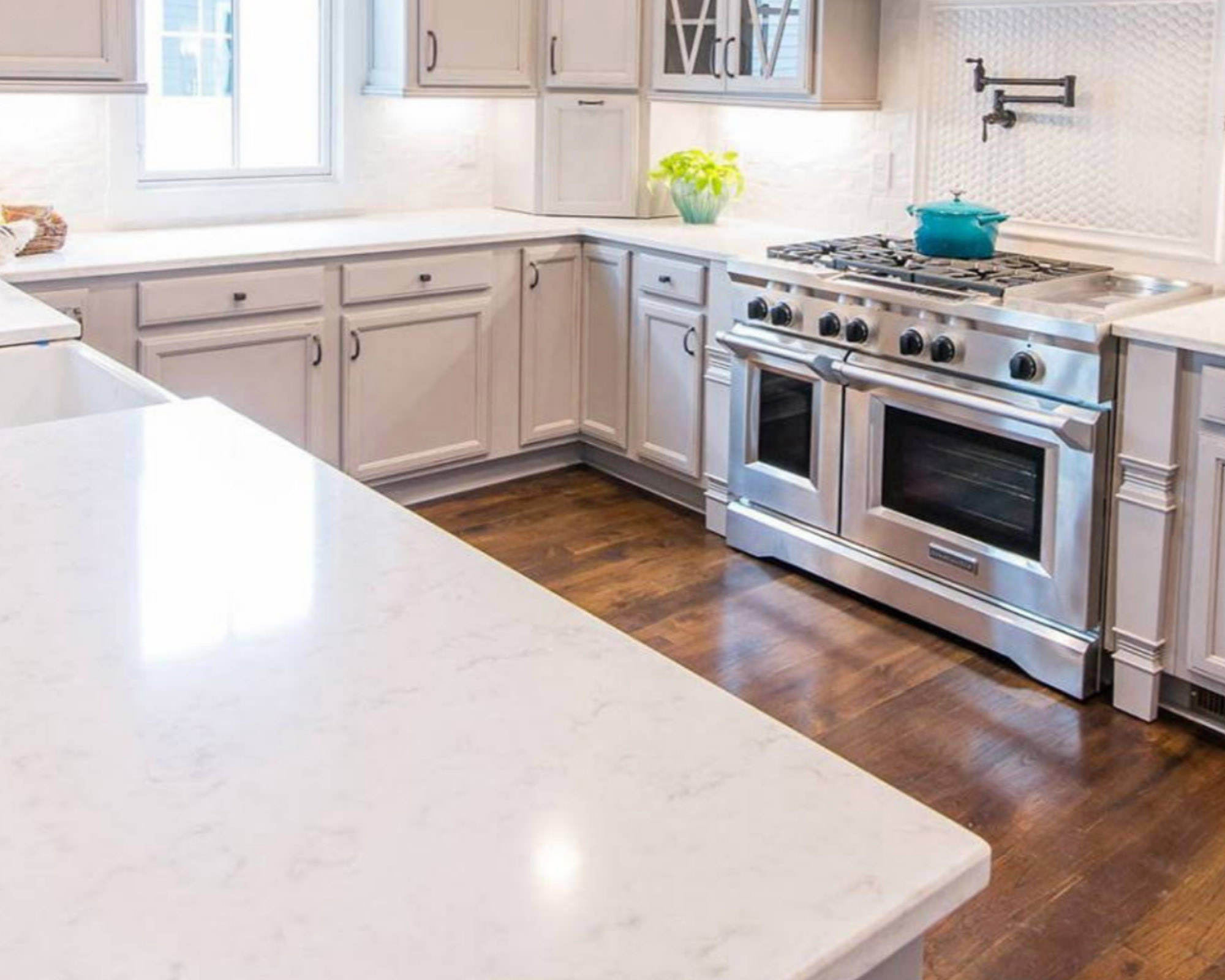 Whether you're remodeling a space or building from scratch, every decision counts. This is especially true when it comes to countertops. While you'll have plenty of options to choose from, not every surface is created equal. Are you looking for an elegant, durable material that will stand the test of time and add instant value and personality to your home? If so, look no further than MSI quartz countertops.
Today, we're sharing everything you need to know about our state-of-the-art quartz countertops, including why they're the most reliable and best-performing option on the market. Ready to learn more? Let's dive in.
Why Choose MSI Quartz Countertops?
Do you love the look of natural stone, but dread the upkeep and eventual wear-down? Our Q Premium Natural Quartz strikes a beautiful balance, blending the best qualities of natural materials with innovative, manufactured substances. We fuse together natural quartz with resin materials, treating and pressing it to ensure a premium finish. The result? A countertop that's as rugged and sturdy as it is shiny and stylish.
Not only does our quartz check every box for style and performance, but it also includes myriad features that make it a stand-out solution in any kitchen, bathroom or laundry room. Regardless of your personal style or design aesthetic, you can find an MSI quartz countertop solution to fit any room in your house. The best part? It only gets better with time.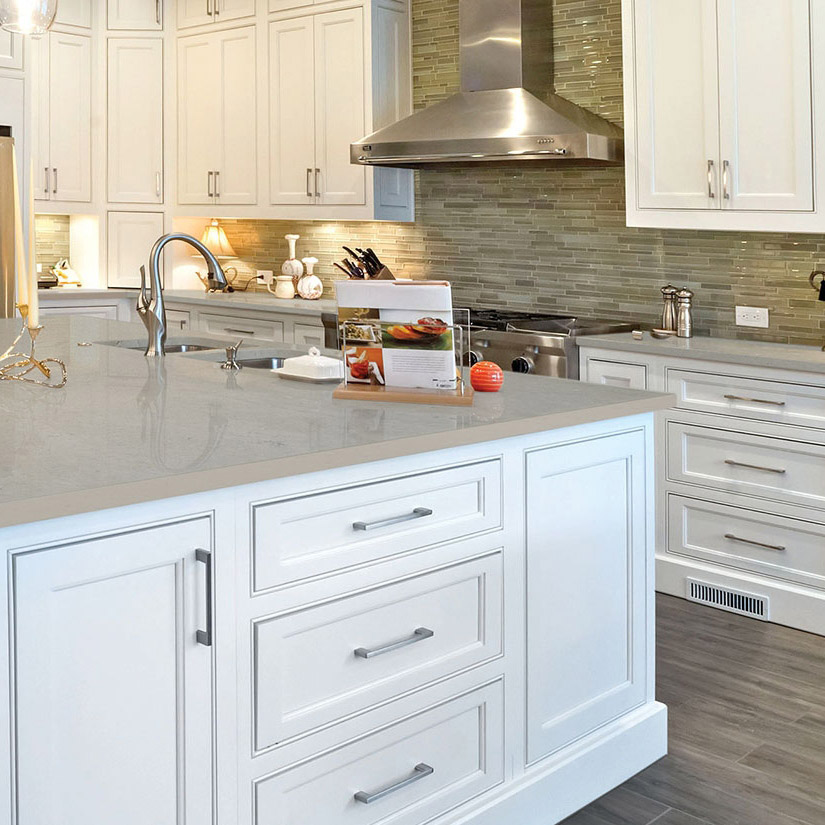 The Characteristics of MSI Quartz
What sets our quartz apart from the rest? As is the case with every home design decision, the meaning is in the details. We manufacture our Q Premium Natural Quartz using the best practices followed by the top-of-the-line manufacturing systems around the world. Our U.S. factory utilizes a patent protected technology that allows us to produce very natural, and realistic natural stone looks. By prioritizing modern technologies and patented expert craftsmanship, we can deliver a product that stands up to its excellent reputation.
Let's explore a few of the reasons why astute homeowners are choosing our quartz countertops over the competition.
Scratch-Resistant
MSI Quartz is naturally resistant to chips and scratches. It does not require any sealing, polishing or reconditioning to keep it in top shape. In terms of the quartz vs. granite debate, quartz is a virtually maintenance-free solution for your entire household.
Stain-Resistant
Our quartz is naturally non-porous. Not only does this give it a sleek, uniform appearance, but it also makes it a practical, attractive workhorse. Common stains, including coffee, tea, fruit juices, food coloring and more simply wipe off without leaving any residual tint behind.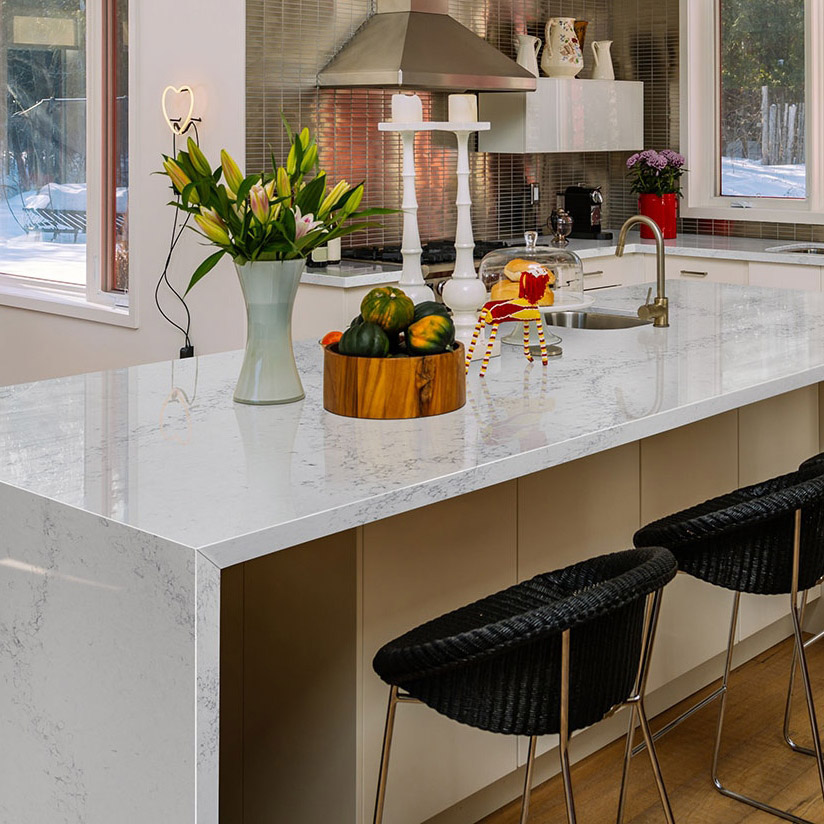 Heat-Resistant
MSI quartz is inherently heat-resistant, which makes it an ideal addition to any kitchen. In fact, with normal use, you'll find that quartz holds up just as well against the heat as its natural stone counterparts. To keep yours looking as pristine as possible, it's smart to put down a hot pad or trivet before placing a scorching pan directly onto it.
Eco-Friendly
A majority of MSI Quartz is derived from natural materials that come straight from the earth. This makes it more eco-friendly than many other countertop options. Plus, its replacement life is much longer and you can even recycle it!
Looking for a solution that's as green as it is gorgeous? Check out our newest innovation, QPlus. This environmentally-conscious MSI stone quartz features an eye-catching blend of crushed glass, quartz, and resin. This creates a durable, beautiful surface that reflects MSI's quality standards while ushering in a new era of sustainability. Available in a range of select Q colors as well as dynamic new ones, QPlus exudes effortless elegance.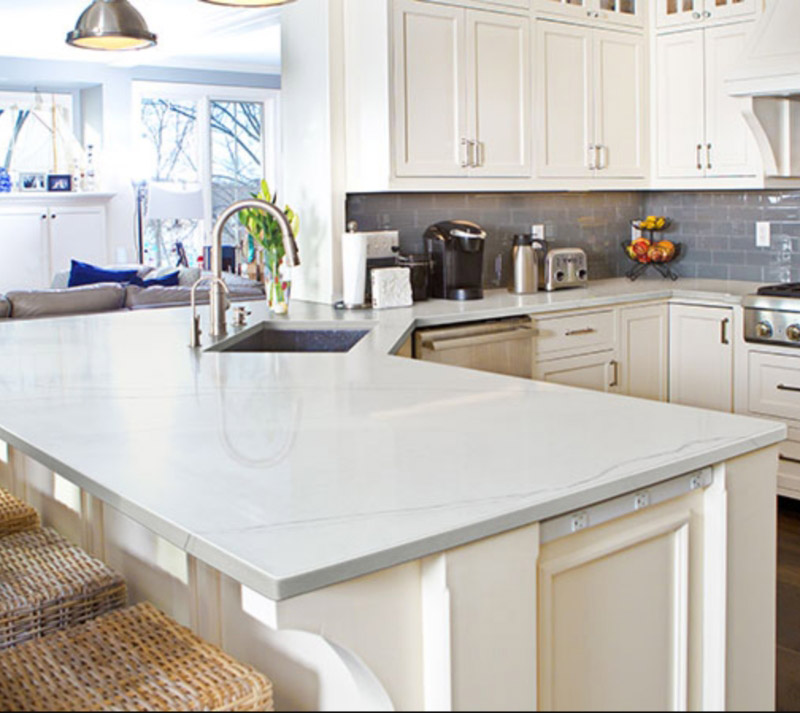 Wide Range of Colors
When you think of traditional quartz, you might picture a short list of neutral shades. However, when you partner with MSI, you'll have access to a wider range of colors than you ever thought possible.
In addition to classic white and gray hues, we also offer patterns that mimic marble, limestone, granite, concrete and soapstone countertops, as well as a variety of others. We also feature nature-inspired designs! From icy white to midnight black quartz, you're sure to find MSI quartz colors to fit any preference.
Non-Toxic
Worried about bacteria and other organisms taking up residence on your new countertops? Let us put your mind at ease. MSI Quartz is designed to naturally repel all the germs that most countertops tend to attract. This means you can feel safe and secure installing it in your kitchen or bathroom, regardless of how much wear and tear you throw at it. Ultra-clean and hygienic, this is a surface you can feel great about your entire family using.
An added bonus? Our quartz is naturally non-toxic. It's also Green Guard, LEED Gold, and NSF Certified! This creates a healthier surface environment that improves your indoor air quality, helping everyone in your home breathe easier.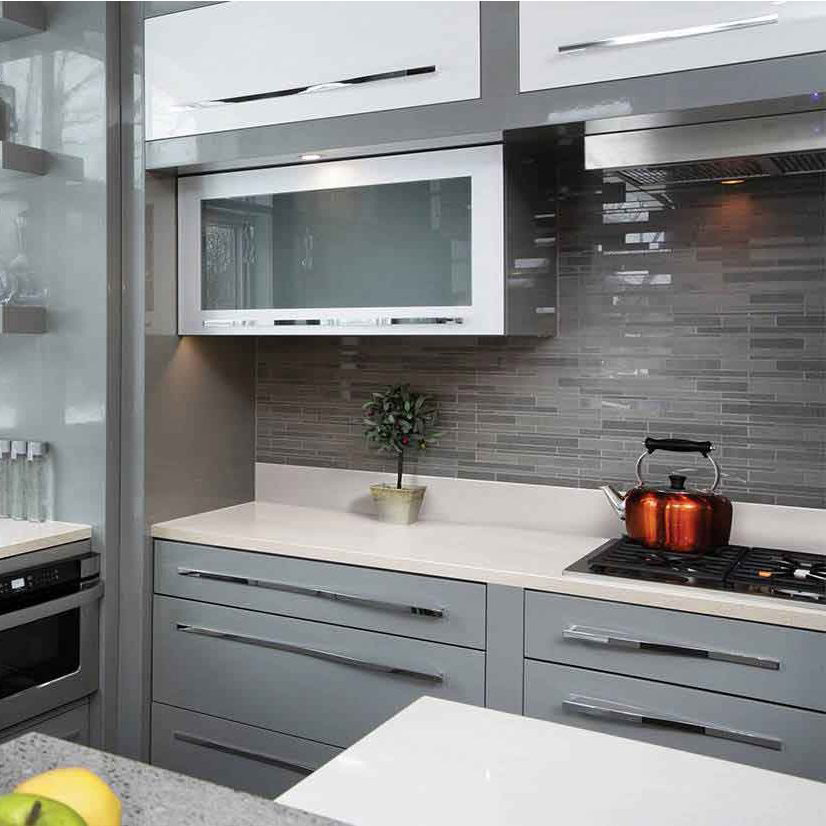 Caring for Your MSI Quartz Countertops
When you have a busy lifestyle, you don't want to spend a lot of time fretting over your countertops. You want them to work well, look great and add elegance to your home. While other surfaces require intricate cleaning steps, ours are refreshingly simple to maintain. For everyday cleaning, just use a dishcloth or a soft sponge with warm water. If you're working with more stubborn, stuck-on grime, a gentle liquid cleaner will do the trick!
Staring at a tough stain from a non-organic culprit, such as a permanent marker? Start by wiping the space with a damp cloth to absorb the surface color. Then, follow with an application of a slightly abrasive cleaner, such as Bar Keeper's Friend. Scrub it into the stained area and watch the stain disappear!
This quick video offers a step-by-step guide to keeping your MSI Quartz countertop sparkling clean!
Countertop Warranties
We're proud of our product and stand behind it. Our quartz countertops come with a residential lifetime warranty. We also offer a commercial warranty for office spaces, warehouses, and other corporate properties. You can learn about our warranty terms in greater detail, here quartz countertop warranty registration.
Discover More about MSI Quartz Countertops
Today's homeowner has more design options than ever before. It's easy to become overwhelmed, even if you're only designing a small space. Let us help make this step easier.
If you're looking for an elegant, practical countertop that marries high-end luxury with durable convenience, MSI Quartz countertops are the way to go. For more information on our product lines, or for answers to all of your questions, locate a dealer near you today.
More on Quartz Countertops
The Most Popular Quartz Countertop Colors in 2020
The History of Quartz Countertops
What Are Engineered Quartz Countertops?