The Best Hotel Flooring Options For A Safe And Comfortable Stay
November 10, 2021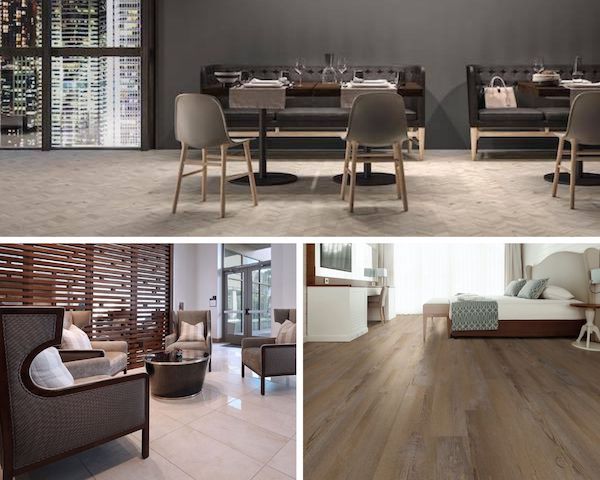 When choosing hotel flooring for the hospitality industry, there is much to consider. It's essential that the flooring fits the space's atmosphere, whether that be the lobby, lounge area, conference room, restaurant, or guest rooms. Flooring perfect for a conference room may not be the best fit for the lobby, so it's important to have a plan in place and track the pros and cons of each flooring type, as well as which works well in each designated area.
The flooring should be both aesthetically pleasing and durable. While you want your guests to be as comfortable as possible, choosing safe flooring is first and foremost. Selecting the perfect flooring for your hotel is a lot to juggle, even with the help of a talented interior designer.

This article covers the most popular flooring options for hotels and some of the things to consider with each. Use it to aid in your selection process.
CARPET

Photo Credit: @bittickscarpetandfloors on Houzz
The warm and cozy feeling of carpet underfoot in bedrooms is as popular as it was on day one. Carpet has a lot of pros, especially in a hotel environment. It comes in a wide variety of designs, textures, and pretty much any color you can imagine. Compared to many flooring options, carpet comes in at a low price point. The right carpet installed correctly is a game-changer in the hotel industry as its sound-absorbing abilities significantly reduce noise pollution between rooms.
Unfortunately, carpet comes with its share of major cons. Keeping your carpets well maintained, disinfected, and clean is a large and often expensive undertaking. Unlike options like porcelain and luxury vinyl tile, your guests can easily stain and damage your carpets. If your hotel is located in a beach setting or one with high moisture, your carpets may emit a mildew smell if not properly maintained.
Finally, carpets wear out more quickly than other flooring options, especially in high-traffic areas. Before you know it, your once beautiful carpets have become damaged and faded and need replacing.

The replacement will share the same fate, as will its replacement, and on and on and on until your once wallet-friendly choice becomes quite the opposite.
LUXURY VINYL TILE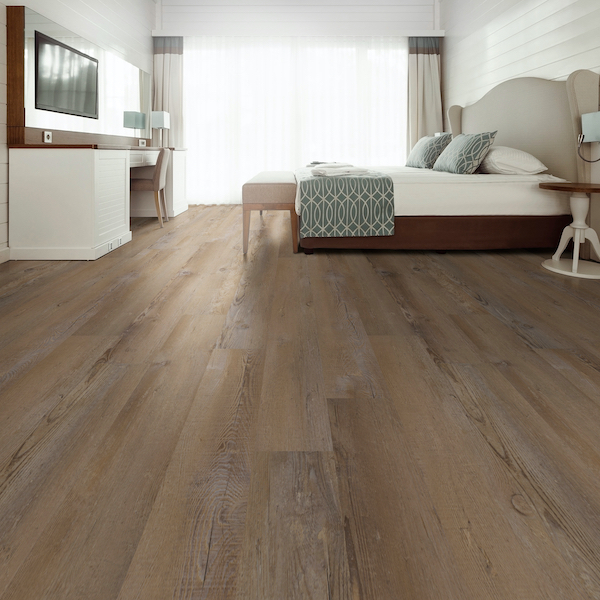 Luxury vinyl tile, which includes vinyl plank flooring, is a widely popular choice in and outside of the hotel industry. It's easy to see why, as the benefits of luxury vinyl tile are many. For starters, luxury vinyl tile delivers the look of authentic wood or stone flooring at a much lower price point. So you get the look of more expensive flooring without all the ongoing maintenance such as sealing and refinishing.

On top of this, luxury vinyl tile is waterproof, non-porous, and stain resistant. Another huge bonus is luxury vinyl tile floors are usually installed with underlayment. This underlayment serves up the same, or better, sound-dampening qualities of carpet, depending on the underlayment you select and how many layers you use. Not only does this underlayment lessen noise pollution from room to room, but it's also tremendously comfortable underfoot.

This on-trend, highly durable MSI Lime Washed Oak Luxury Vinyl Tile from the Wilmont Series features neutral beige tones and knots and graining for an authentic washed-wood look. This beautiful luxury vinyl tile is an excellent choice for guest rooms and larger areas. Just imagine all the compliments your check-in staff will receive after your guests inspect the room for the first time. Vacations are so much more than exploring a new area—the luxury and style of your guest rooms goes a long way when piecing together the perfect vacation.
Not only is the Lime Washed Oak Luxury Vinyl Tile less expensive than authentic stone or wood and easier to care for, but they're also backed by a 10 Year Light Commercial and 5 Year Commercial Warranty to give you added peace of mind.
WOOD LOOK PORCELAIN TILE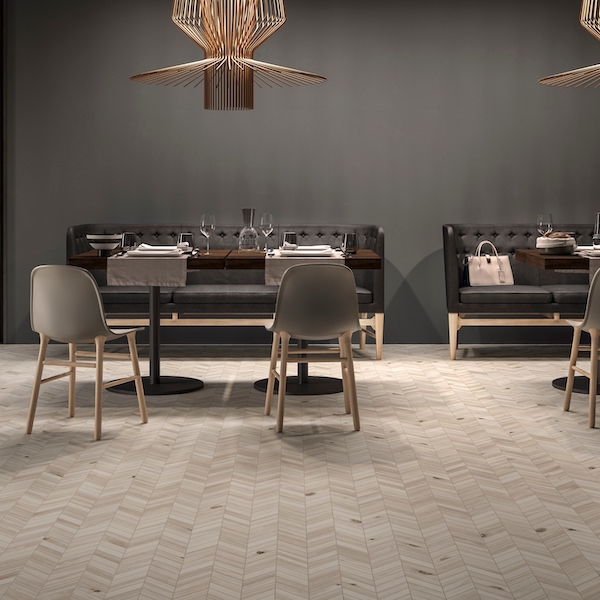 Wood look porcelain tile delivers the look of authentic hardwood flooring without all the upkeep required from the real thing. Wood look tile is all the rage as it offers the timeless beauty of hardwood flooring in a more durable package.

Wood look or not, porcelain tile is perfect for hotels. Porcelain tile is ideal for large areas like lobbies or hallways. Despite these spots being high traffic areas, porcelain tile is long-lasting since it's durable, easy to clean, and more hygienic than wood flooring, carpeting, or rugs. Add to this how porcelain can realistically mimic the look of hardwood flooring, marble and other natural stone, and more, and you're getting a timeless luxurious look at often a fraction of the cost.

The tile patterns in MSI's Havenwood Dove Chevron mosaic porcelain tile pictured in this hotel restaurant setting are sure to wow your guests as they stop in for breakfast before a big day in and out of your hotel. These tiles not only add style and warmth to the space, but they're durable, low maintenance, and easy to clean.
LARGE FORMAT TILE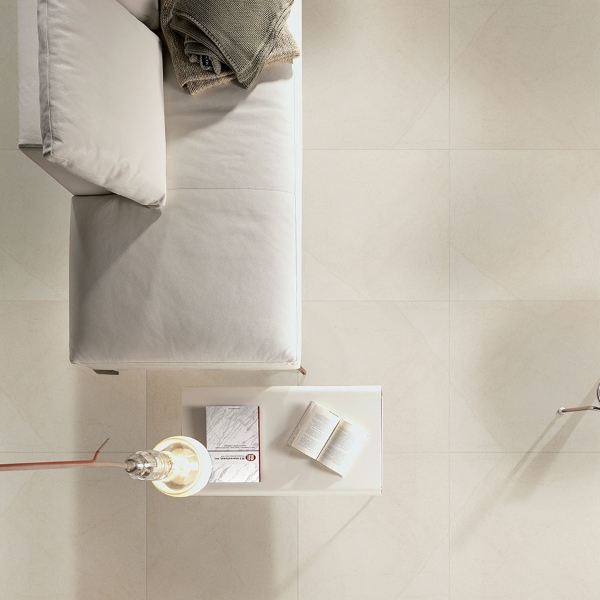 Large format tile adds a streamlined luxurious look to your hotel's tile flooring. It covers a larger area for less than marble or other natural stone surfaces it mimics. Large format porcelain tiles also use fewer grout lines, which makes a clean and modern statement. Like other porcelain tiles, these large format offerings don't require any unique care requirements or maintenance. They're also more hygienic than carpet, rugs, or wood, as germs and allergens have nowhere to hide on the porcelain tiles.

These Cream Porcelain Tiles from MSI's Livingstyle Collection are ideal for areas of your hotel that transition from indoors to outdoors. Use this indoor/outdoor tile to create a dramatic and seamless transition from indoor dining to the outside patio. This glazed tile is sure to impress your guests in a variety of spaces. Once they return home, it won't take long for word to spread among their family and friends that your hotel was so lovely that they had a hard time leaving to enjoy daily planned vacation activities offsite.

While there are benefits and drawbacks to any hotel flooring, some options simply outweigh others when tallying the pros and cons. Please explore our wide selection of hotel flooring options at your leisure.
READ MORE ABOUT HOTEL AND HOSPITALITY SURFACES:
8 Trends For the Hotel Industry: Hotel Flooring And More!
Hotel Bathroom Countertop And Vanity Buying Guide
The Perfect Hotel Countertop For Your Reception Area