Tile Style: The Secret To Making Ceramic Tile Look Expensive
February 23, 2018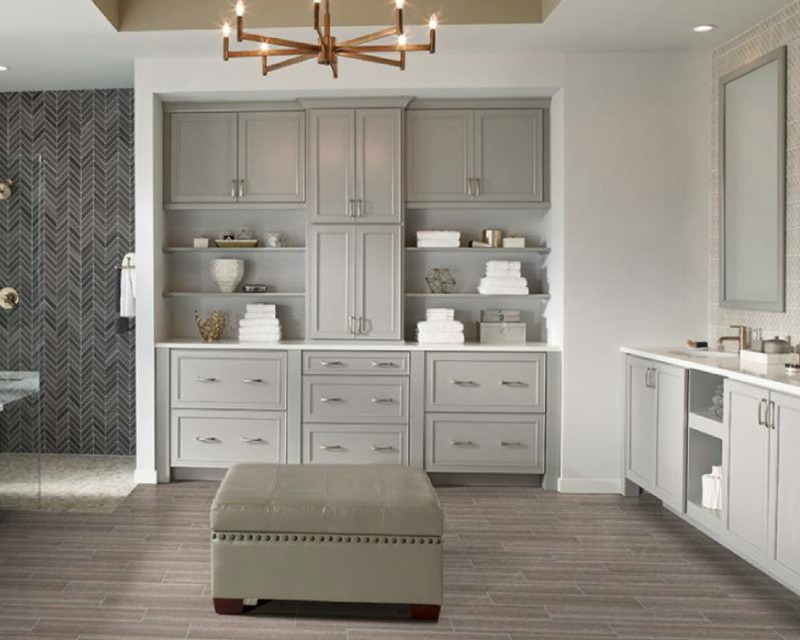 Creating a space that is luxurious but doesn't break the budget is everyone's dream. MSI's expansive inventory of slabs, floor and wall tile, and mosaics are available in every price range. Our affordable budget-friendly tiles can create a luxurious and sophisticated space; the secret to designing a luxury bathroom for less is to carefully prioritize the budget, and know where to splurge. It is a delicate balance, but the best advice is to spend more on the permanent features like cabinetry and flooring, and less on accessories and lighting.
Using a neutral color palette is one of the ways to make any tile look more expensive. Soothing tones that evoke relaxation and a sense of luxury have timeless appeal. In this beautiful bathroom, wood look ceramic tile is used to bring a subtle texture and grounding tone to this dreamy bathroom. Cabinetry finished in a lighter tone, along with the walls, makes the floor tile and the shower tile the star of this space.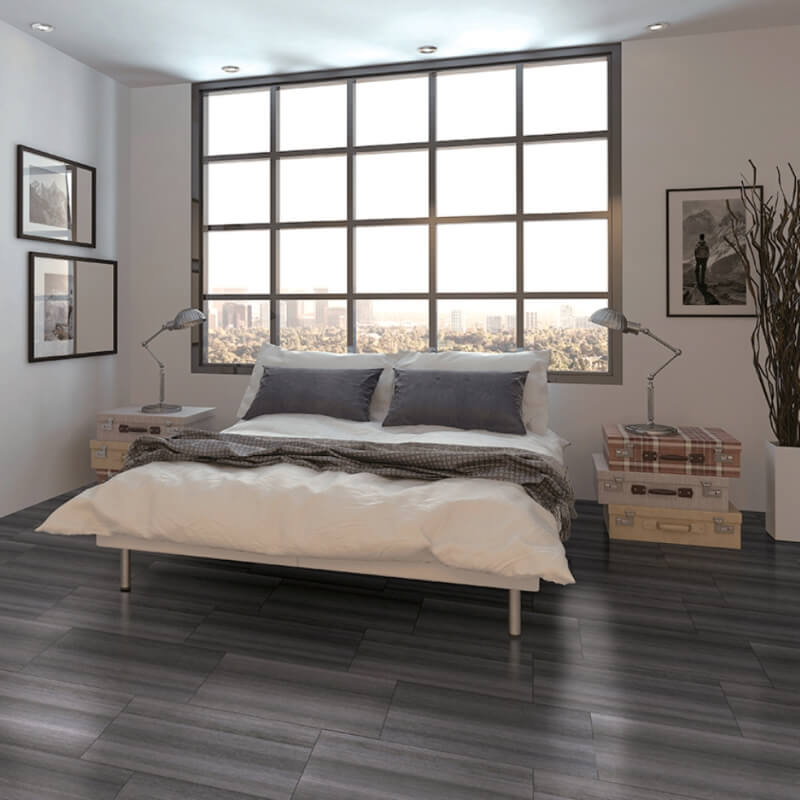 Featured: Nero Turin Ceramic Tile
Bathrooms aren't the only space where beautiful wood look tile is at home. Here, Turin Nero Ceramic Tile lends a modern vibe that sets the tone for the furnishings and complements the architectural elements. The darker charcoal tones of this beautiful tile are on-trend and work well in this space that is flooded by natural light. The rich tones are echoed through the artwork and bedding, tying all of the contemporary hues together perfectly.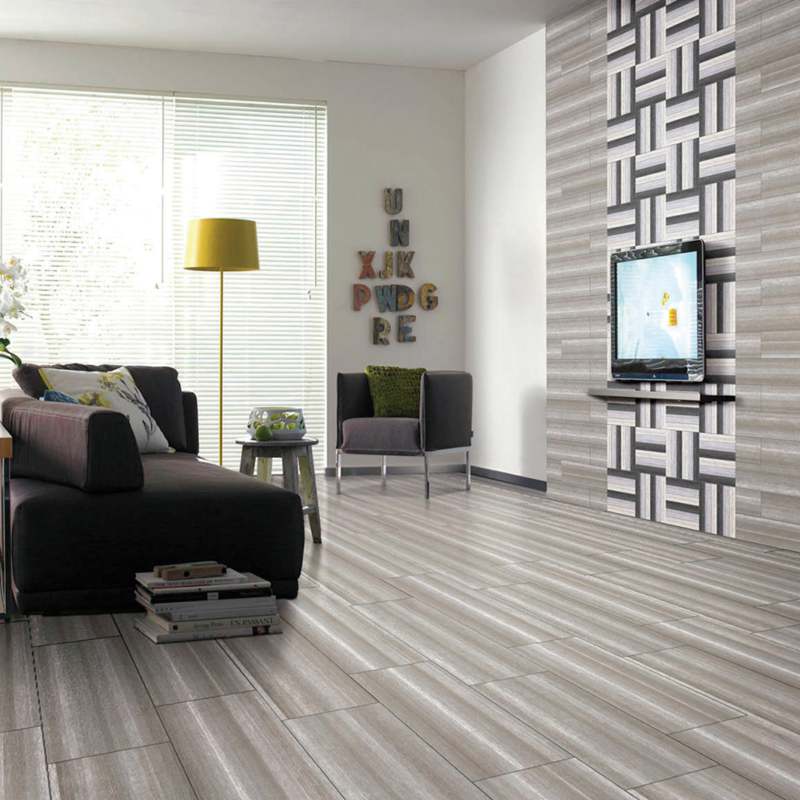 Featured: Taupe Turin Ceramic Tile
Adding a touch of contrast and drama is another way to make ceramic tile look like an indulgent choice. In this living space, Taupe Turin Ceramic Tile extends up the wall from the floor creating an illusion of high ceilings while framing a graphic tile beautifully. Perfect for busy family spaces, ceramic tiles are durable, easy to clean and require no ongoing maintenance.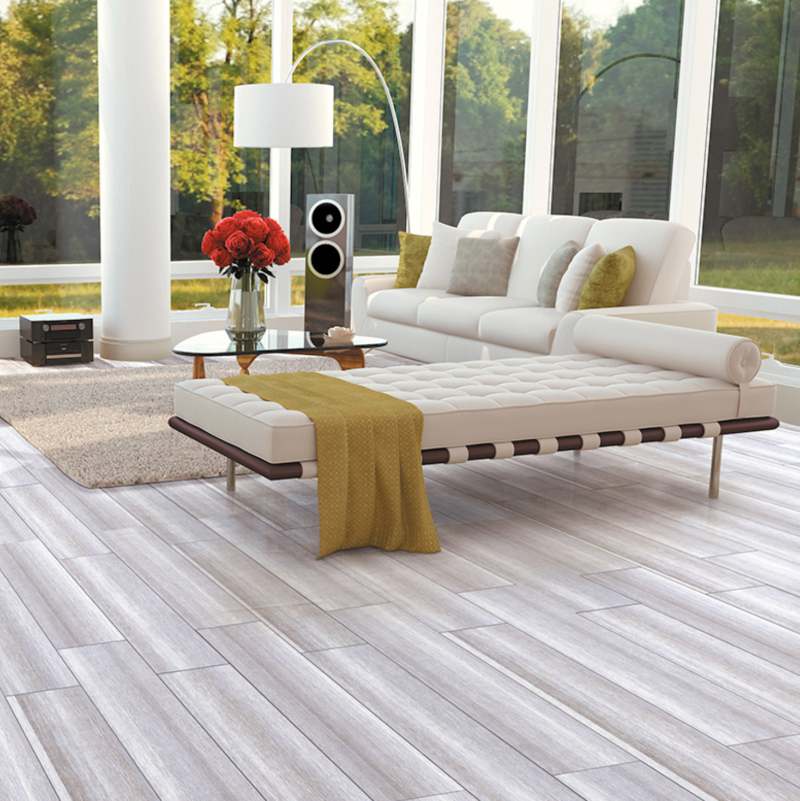 Featured: Grigio Turin Ceramic Tile
Light and bright, from the architecture to the flooring and the furnishings, this stunning sun-soaked space highlights the artistic beauty of Turin Grigio Ceramic Tile. This room, looking out over a forest, is the perfect spot for a modern ceramic wood tile; seemingly bringing the textures of the outdoors, indoors. Simple furnishings in the sample color palette are beautifully balanced with pops of color introduced through the accessories.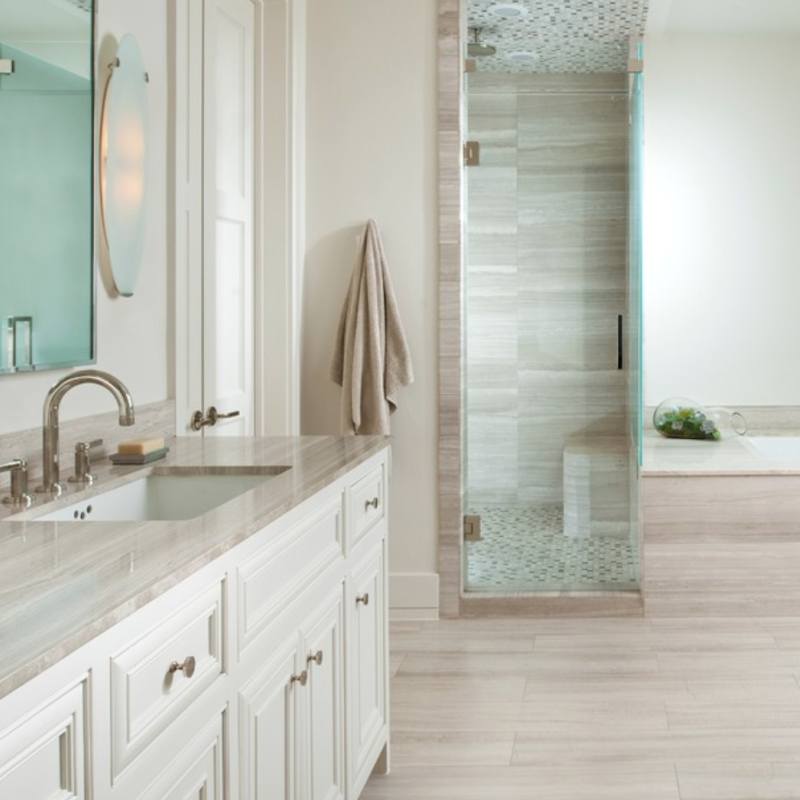 Capture a similar look with MSI's Bianco Turin Ceramic Tile (Photo Credit: Houzz)
And when a lavish, spa-like retreat is desired, Bianco Turin Ceramic Tile is the perfect budget-friendly solution. This bathroom is all about using this beautiful tile on the floor and on the shower walls. Adding to the luxurious feel and adding a contrasting texture, pebbles are used on the floor and ceiling of the shower stall. For a kiss of color, the shower glass and mirrors selected have a lovely green tint, adding to this bathroom's exquisite character.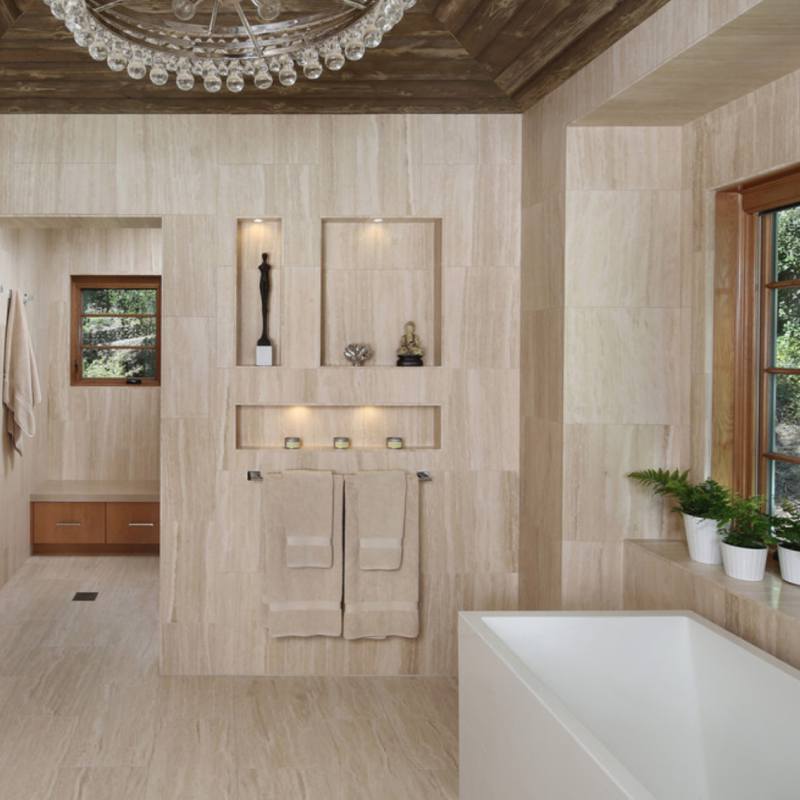 Recreate a similar look with MSI's Grigio Turin Ceramic Tile (Photo Credit: Houzz)
Creating a luxurious space is about striking a balance between color and texture and our Turin Ceramic Tile Collection is the perfect budget-friendly choice for kitchen tile, tile flooring, floors, walls and countertops. Beautifully crafted ceramic tile with a distinctive wood look pattern is an ideal choice for adding timeless and elegant features that enhance your décor and personal style.