Tile Style: Why Designers (Still) Love Ceramic Tile
May 01, 2018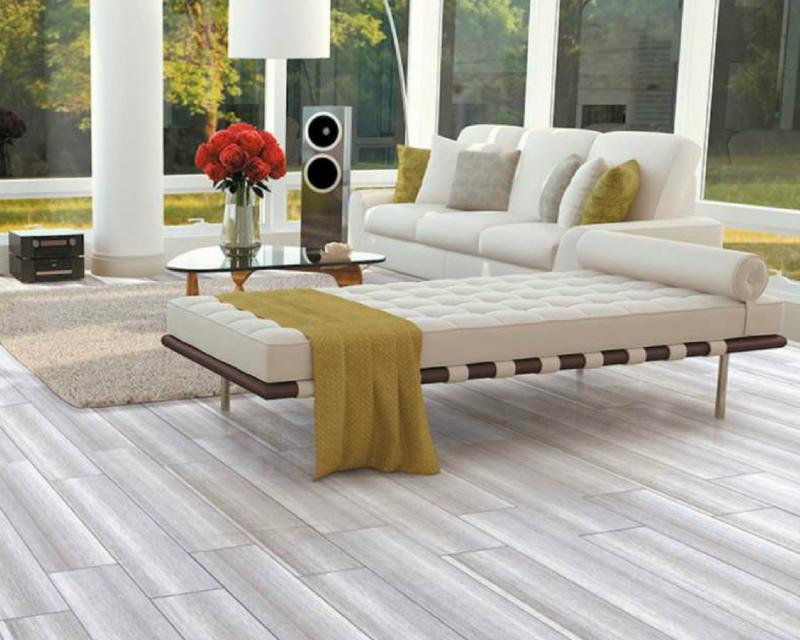 For centuries, ceramic tile has been used in everything from traditional to modern construction. Today, designers still love using this material for their projects because of its dependability and versatility. In fact, it's one of the designer home trends for 2018.
It offers durable strength and value at an affordable price, so it's great for making any home improvement or remodeling budget stretch. Ceramic tile comes with limitless potential because it can be used just about anywhere, from flooring and walls to high-moisture and high-traffic areas to outdoor spaces.
The versatility in patterns, shapes, and colors mean that ceramic will always be fresh and trendy. It is available in a variety of sizes and features rich textures and shades. Ceramic tile can also mimic the look of natural stone like Italian marble and travertine as well as beautiful hardwood.
Whether you live a casual or formal lifestyle, ceramic is a great choice for your house in the suburbs or high-rise in the city. Here are some ways you can make your home look like it was designed by a professional using beautiful ceramic.
White Vena Ceramic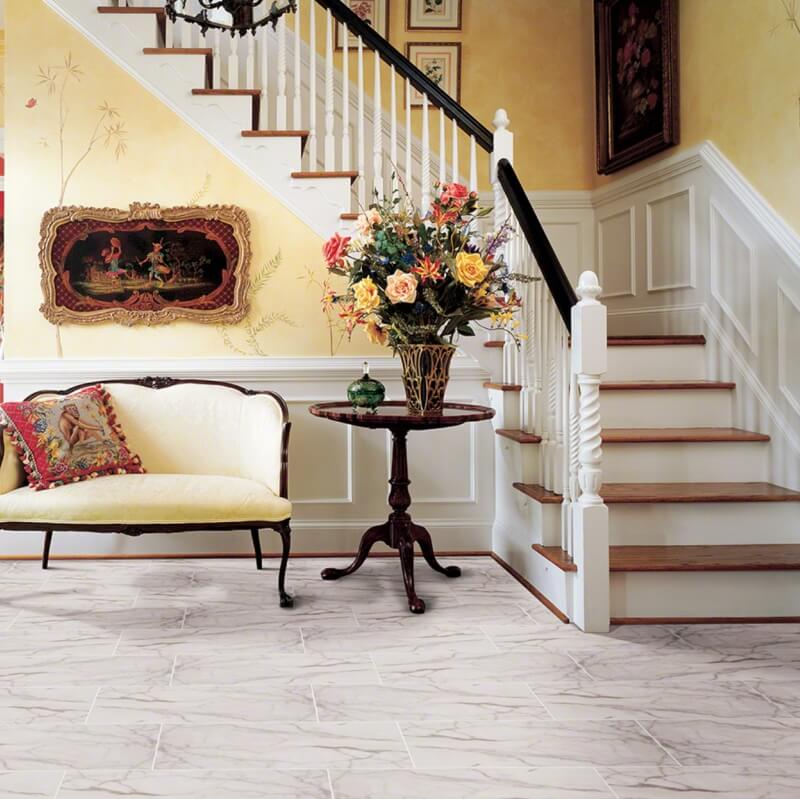 Featured: White Vena Ceramic
Opt for a more affordable marble look using White Vena. This tile flooring made of ceramic includes a beautiful, soft white background with stunning gray veining. The 12-by-24 tiles come with a matte finish for a more modern look. This very traditional foyer features the spectacular pattern on the floor for a luxurious and elegant first impression.
Grigio Turin Ceramic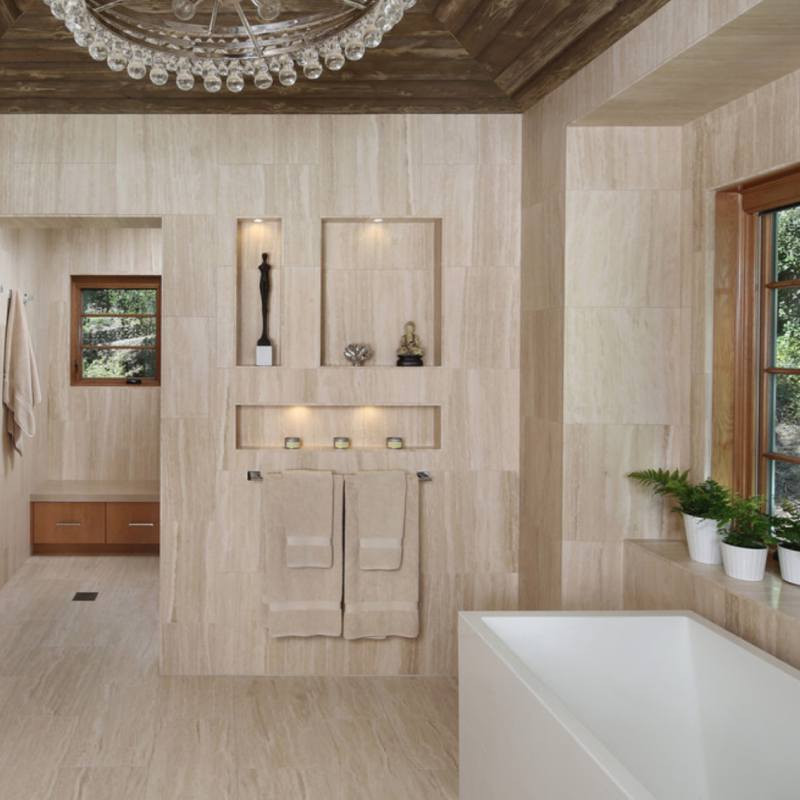 Create a similar look with MSI's Grigio Turin Wood Look Ceramic (Photo Credit: Houzz)
Get the look of wood in a wet area with a ceramic tile like Turin Grigio. This wood-look tile combines soft creams with beiges and grays in a wood-grain finish. Not only is the ceramic material used for the floors, but it's also featured throughout this spa-like bathroom. Tile is excellent at keeping moisture at bay, so it will protect the walls from any splashes or steam from a long, hot shower or soak in the tub.
Taupe Celeste Ceramic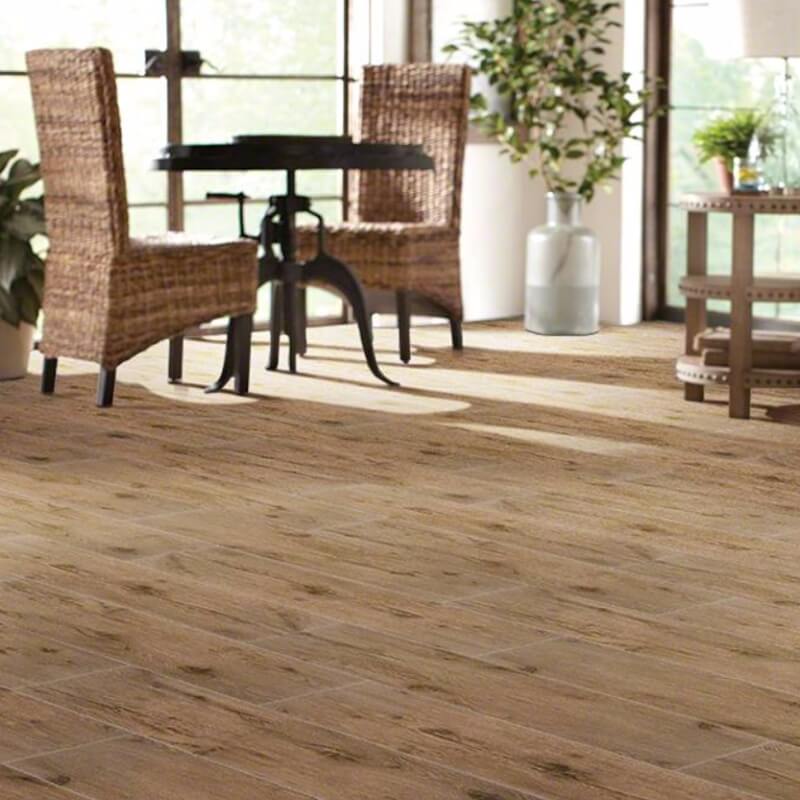 Featured: Taupe Celeste Wood Look Ceramic
Add a natural look to your room without the worry of natural wood with Taupe Celeste. This wood-look ceramic floor tile offers a classic refined wood grain in warm browns and taupes. The coloring gives this dining room an airiness and calmness that works beautifully with the white walls and green foliage. And because it's tile, it's great for easily cleaning up spills or splatters without having any issues of warping actual wood.
Taupe Turin Ceramic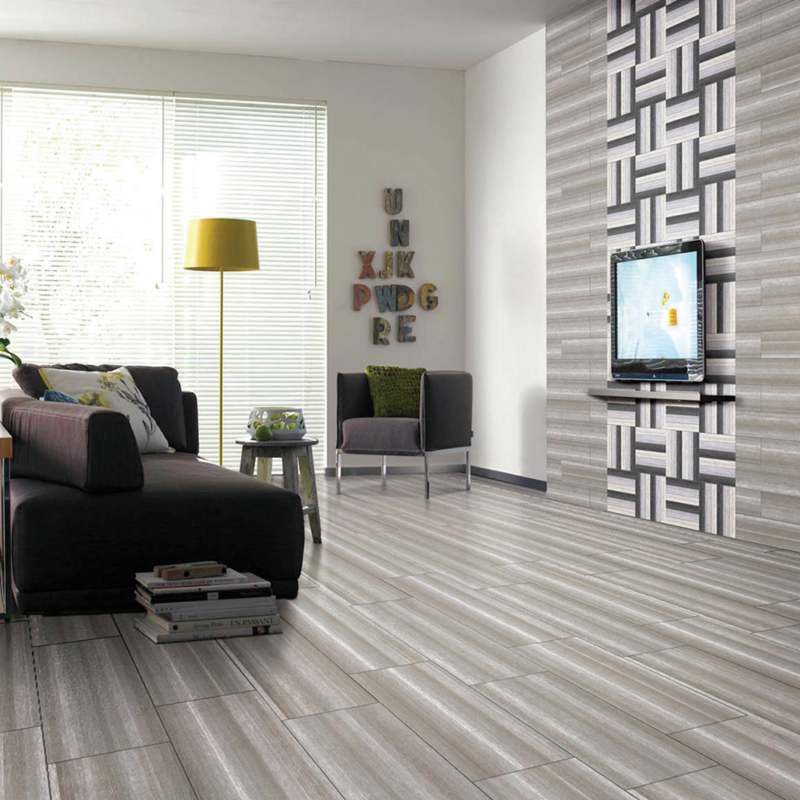 Featured: Taupe Turin Wood Look Ceramic
Choose a different width of a wood look tile, and you might get a different pattern like with Taupe Turin. While its 6-by-24 planks may be reminiscent of fine hardwood, this warm taupe pattern with lighter shades can create a more linear appeal when installed in the larger 12-by-24 sizes. It's a more dramatic flooring choice for this living room, and with the extension of the tile continuing on the feature wall, it creates the illusion of taller ceilings.
Café Sygma Ceramic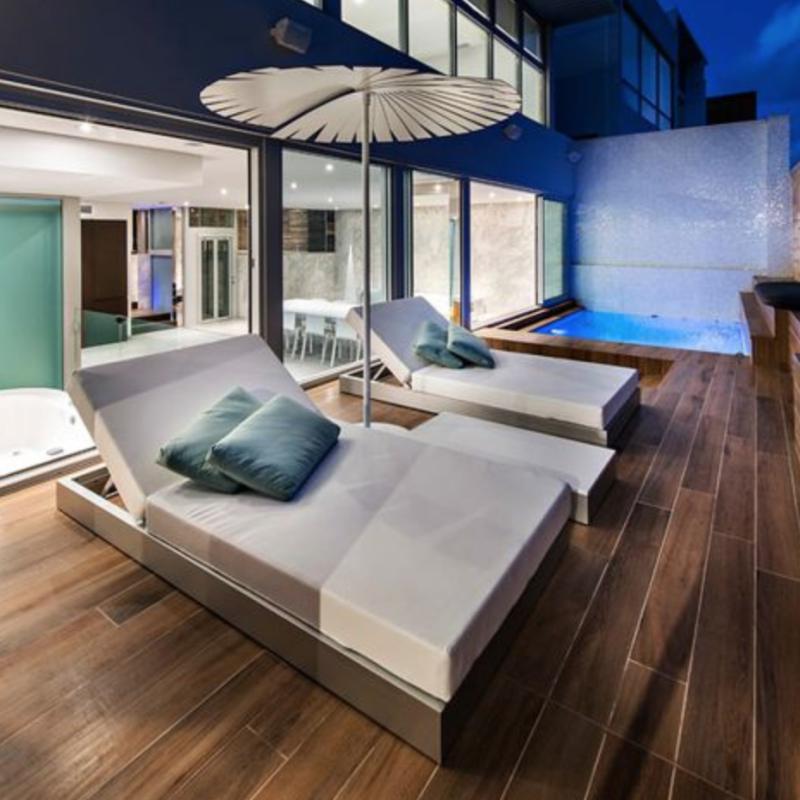 Recreate this look with MSI's Cafe Sygma Wood Look Ceramic (Photo Credit: Houzz)
Create a high-end look outdoors using ceramic tile like Café Sygma. This elegant ceramic wood tile combines rich brown tones with darker veins for a more modern look. It's perfect for the great outdoors because it can handle the elements and be installed around a pool or spa. The ceramic tile on this sun lounging space mimics that of a beautiful outdoor deck, and best of all, it doesn't come with any maintenance.
Transforming your home into the luxurious, modern, or organic vibe you're after can be achieved with ceramic flooring or kitchen tile. These products work well with a number of other materials, including MSI's ceramic mosaic tiles. Check out the full collection online or at your closest MSI showroom.