5 Tips For Choosing The Right Landscape Rock For Your Exterior Design
August 22, 2021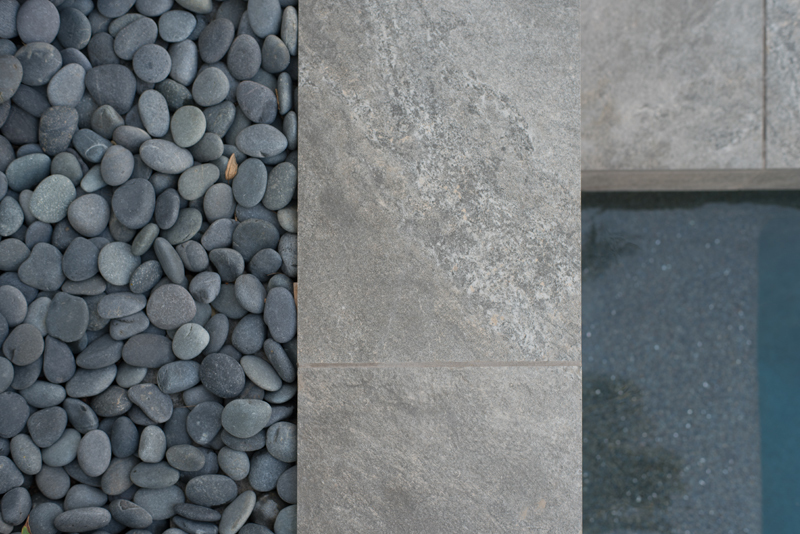 Choosing the right landscape rock for the design of your outdoor space can transform a dull yard into a statement area that compliments the architecture and styling of your home.
Landscaping stones are simple to install, don't need much maintenance, and bring a sense of natural order wherever they are used. Yet, with the wide variety of sizes, shapes, finishes, and colors available, making the right choice can seem daunting.
If you're considering a landscape overhaul to freshen up your exterior, but aren't sure where to start, consider these five aspects as you plan.
1. Seamless Style
When it comes to creating an outdoor aesthetic, allow the style you've created inside your home to flow out naturally to the outdoor area. Focus on elements such as finish, texture, and color.
If your interior design leans toward an eclectic boho feel, echo that in your exterior hardscaping with multicolored pebbles and brightly colored fire glass.
If your home exudes elegance and sophistication, you might consider large pavers combined with shimmering white pebbles for effortless distinction.
Continuing the mood and feel of your home into your outdoor areas creates a cohesive living space that lends itself to easy lifestyle flow between indoors and outdoors.
2. Pleasing and Practical
Effective design is a marriage of beauty and functionality that blurs the lines between the two. Blending the best of both looks, and practicality delivers an end product that is both breathtaking to look at and completely functional for its purpose.
For a meandering walkway that invites feet to go wandering, don't choose gravel that is painful to walk on. Opt for smooth stepping stones surrounded by smooth pebbles instead. Not only do they give the right effect, but they are barefoot friendly.
In the same light, pool paving needs to be kind to bare skin, but should still fit in with the look and feel of the outdoor identity you've created.
Always run your design ideas through the function and form check before making a final decision. With the variety of landscape rock products available, meeting these two requirements has become much simpler.
3. Winning Water Features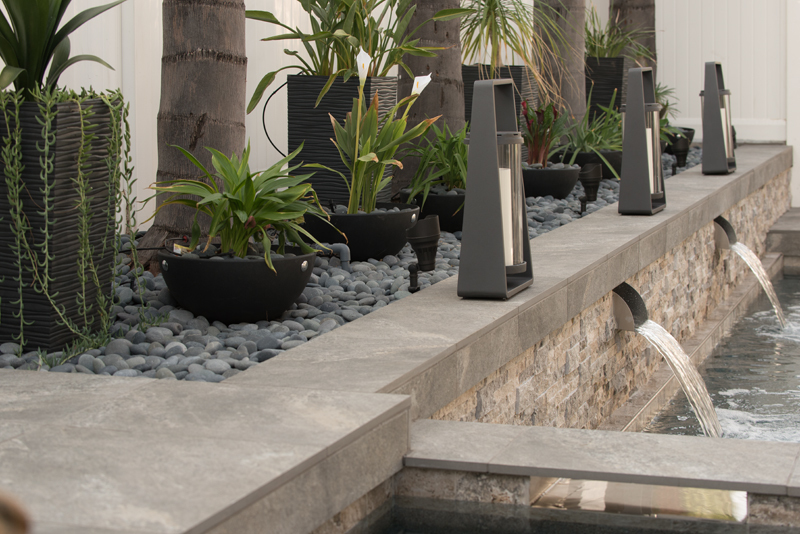 For an element of pure bliss and luxury include a water feature in your outdoor design. Running water adds sparkling life to an area that is thoroughly irresistible and refreshes the soul.
There are no limits to what you can create with garden rock to bring the life of water into your outdoor living area. Even within a limited space, clever design and innovation can create a stunning conversation piece.
Pick the location of your water feature to suit the purposes of your outdoor areas. A water feature can fulfill a number of different purposes:
An impressive welcome piece for visitors
Bring relaxation to the family downtime area
Create a peaceful ambiance near a home office
Provide extra fun for the children near a pool
Water features need not be limited to traditional fountains but can take on whatever form will complement your home. Create a small river to run through your garden for the ultimate romantic touch.
When it comes to choosing the right type of stones, river rock is the go-to for all things water-related. These understated beauties show their true colors when wet and lend charm to the magical qualities of water.
4. Balance and Contrast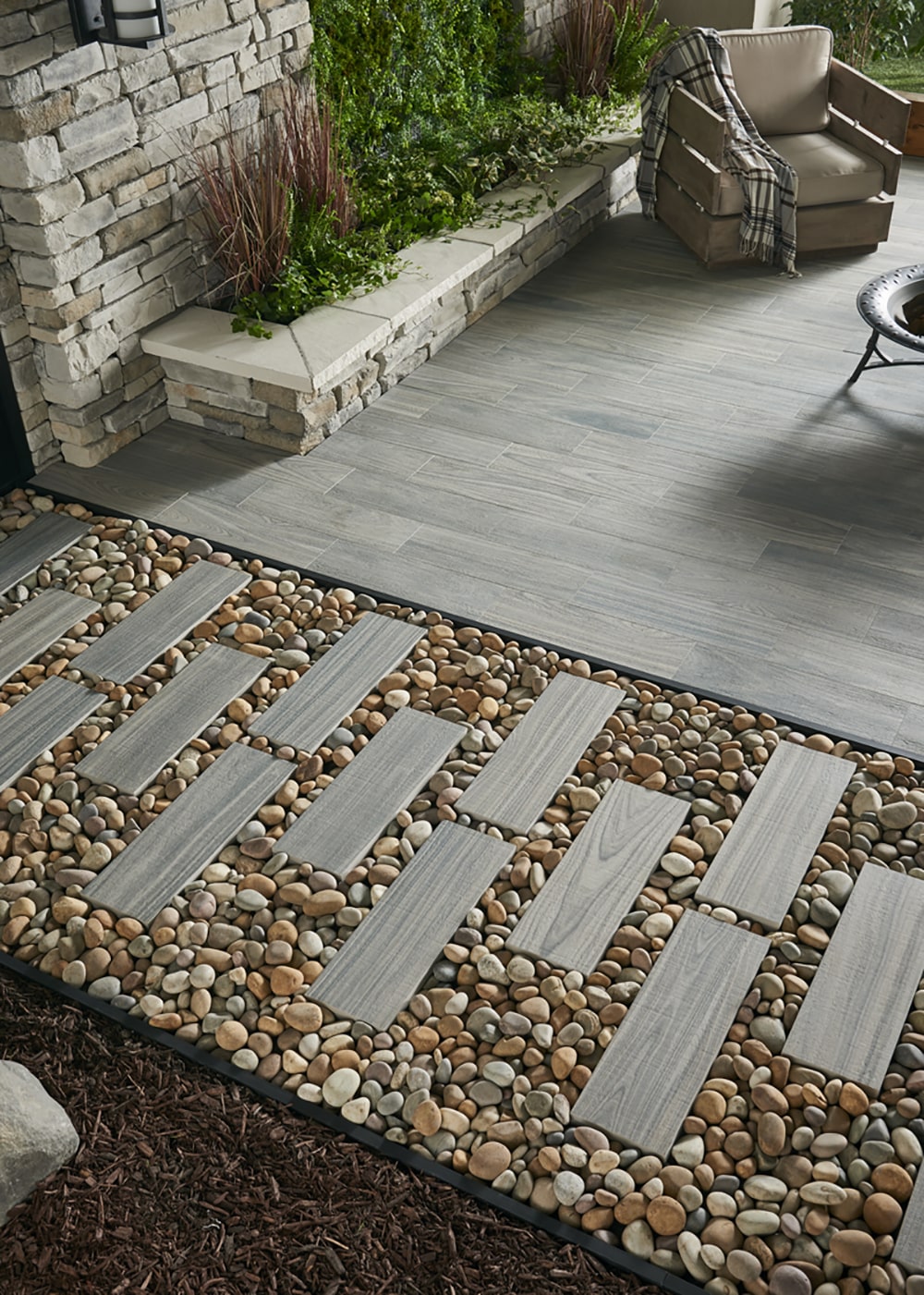 When choosing the type of landscape rock you'd like to use, don't settle for one type of rock only. Play with the space you have available and let the rock you choose enhance the area and bring out its true potential.
Incorporate balance into your design by layering areas of different textures and sizes. This creates a multi-dimensional experience in your outdoor space that is both appealing and practical.
Intersperse large pavers with small stones, such as MSI Piedra Pebbles. Using two completely different sizes of stone in close proximity creates an effective synergy as one plays off the other, enhancing the beauty of both.
Contrasting colors bring a striking element of style that speaks of bold, yet understated luxury.
For a natural feel, allow the surroundings to inform your choice of stone. Choose colors and textures that fit into the existing plant life and surroundings organically to create a tamed area that is symbiotic with the natural beauty of your garden.
5. Use Stones to Create Shape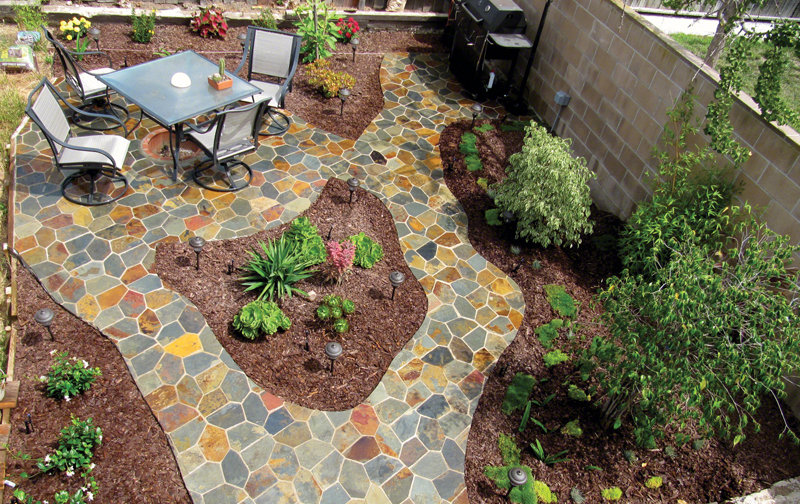 Landscape design involves taking the blank canvas of outdoor space and defining it. Using stones to carve out shapes, areas, and walkways is a unique way of creating spaces that didn't exist before.
The bold color contrast of exotic pavers can be offset by a neutral shade of ground cover. Mixing striking features with mellow neutrals is a perfect way to enhance the shapes created through deliberate landscaping.
Using stones opens up endless options to achieve the exact vision you have for each particular spot. Clever use of stones can draw attention to a focal point, or lead the eyes away from less appealing areas.
To create a spacious, contemporary feel, big stones are a timeless choice. There is a decadence to their size that wordlessly conveys an easy luxury and opens up a smaller space. The space between stones can be filled with smaller stones that either complement or contrast the colors in the larger rocks.
Smaller stones, such as beach pebbles, create an intimacy that helps make a large space feel less expansive and more personal. If you're looking to create old-world charm, you can't go wrong using cobblestones.
Reinvent Your Outdoor Areas with Landscape Rock
Embarking on the journey of reinventing your outdoor areas is an adventure that requires access to a myriad of beautiful stones to complete. Having an expansive array of landscape rock options to suit every unique taste and style to choose from, simplifies the process.
Understanding the aesthetics of your interior decor spills over into making the right choices for your outdoor landscaping. With MSI's range of outdoor rocks, your vision is a step away from reality. Browse our hardscaping options to find your style.