5 Reasons Why Kitchen Designers Love Glass Backsplash Tile
March 25, 2021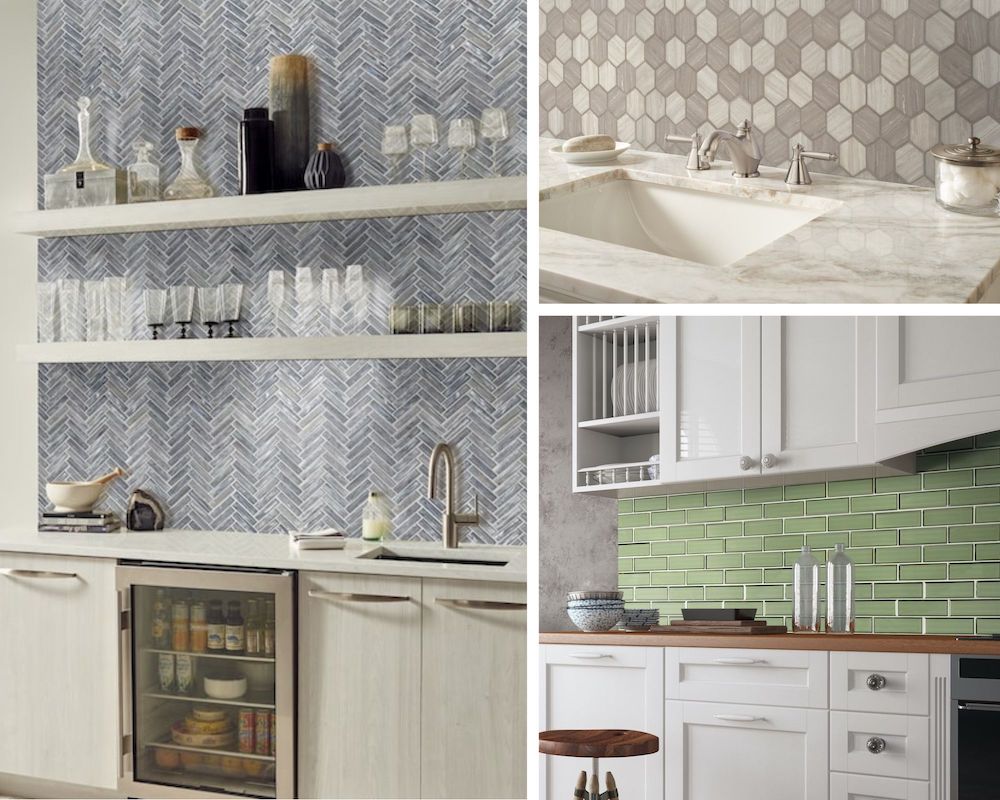 When designing your dream kitchen, you need a backsplash that can withstand wear and tear without compromising beauty. That's why glass backsplash tile is such a popular choice amongst homeowners and kitchen designers. From its durability and appearance to its ease of maintenance and versatility, there's nothing quite like beautiful glass tiles.
If you're still debating if a glass designer tile backsplash is the right wall tile for your kitchen, we're going to walk you through the top five benefits of glass backsplash tile.
The Benefits of a Glass Designer Tile Backsplash
With so many options to choose from, it's important to consider the pros and cons of all the backsplash tile choices on the market. Here are five reasons why homeowners and kitchen designers love to incorporate glass backsplash tile into their kitchen designs.
It's Eco-Friendly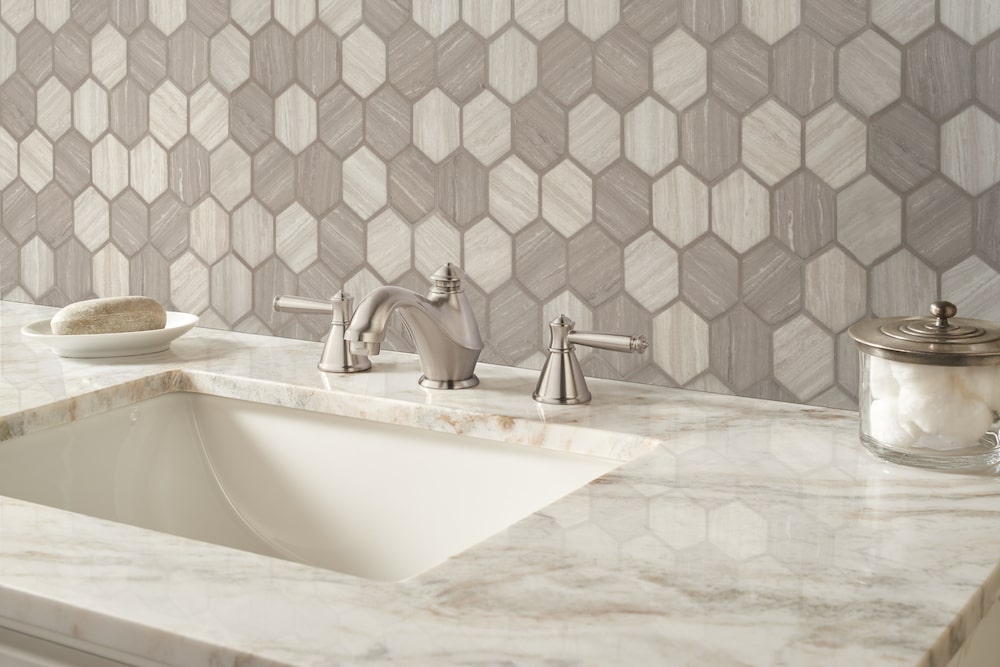 Silva Oak 2" Hexagon Mosaic Tile
While remodeling your kitchen, you might be looking to add eco-friendly touches to your home. This can range from installing a smart thermostat or investing in solar panels, but it can also be smaller elements such as glass backsplash tiles.
Glass tiles are an eco-friendly alternative because of their ability to be repurposed for later use. This means you can use varying types of glass to create your dream kitchen backsplash. You can even add a personal touch to your backsplash by incorporating recycled glass mosaic tile pieces from your own materials into your design. If you have an heirloom vase that is broken or damaged china, these pieces of glass can be repurposed and used to create the patterns and designs of your backsplash. This can be a lovely way to incorporate important parts of your family history into the heart of your home — your kitchen!
It's Versatile
Depending on your desired kitchen aesthetic, you might already have your ideal backsplash tile color and patterns planned out in your head. But if you're still unsure about the look and feel you're trying to achieve, glass is a superior option because of how versatile it is. Glass mosaic tile comes in an array of shapes, sizes, and colors, allowing you to truly customize the appearance of your kitchen backsplash. Whether you want to create a uniform appearance with a similar shape and size tiles or you're looking to add dimension with varying shapes and sizes, mosaic glass tile allows you to do that. Its versatility offers complete flexibility while designing your dream kitchen.
It's Easy to Maintain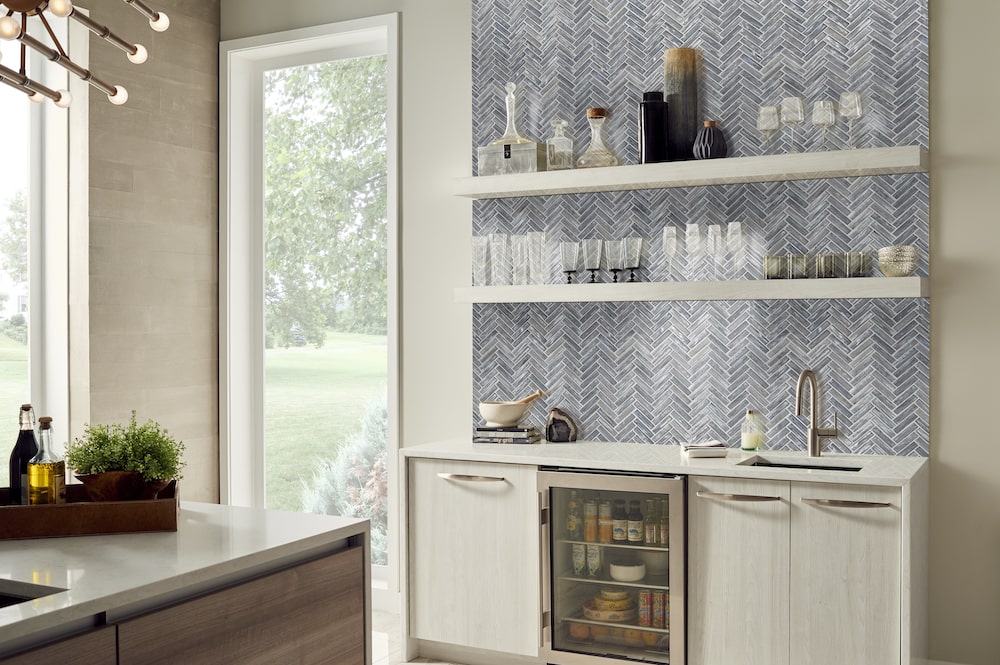 Shimmering Silver Herringbone Tile
Because of its location, your kitchen backsplash needs to be able to withstand the wear and tear it will be subjected to over the years. From gatherings with friends to teaching your children to cook family recipes, there's a high probability that your wall tile will get dirty. Glass tiles are ideal as a kitchen backsplash because of their non-porous properties and stain-resistance. This also means it won't harbor bacteria and germs!
With a glass tile backsplash, you can have peace of mind knowing your backsplash will continue looking good as new as you simmer tomato sauce on the stove or make a mess baking chocolate chip cookies. When your backsplash gets dirty, all it takes is a bottle of glass cleaner and a sponge to maintain the beauty of your glass tile. You can also use traditional household disinfectants or a homemade cleaning solution of equal parts water and vinegar.
Keep in mind that the glass tile's shiny surface will make dirt splatters, fingerprints, and water stains more apparent. But that shouldn't be a deterrent because of how easy it is to restore the luxurious shine of your glass backsplash.
It's Appealing
Close your eyes and picture your dream kitchen. What do you see? Maybe you've pictured a large open space with a modern aesthetic. Or maybe you prefer a warm and cozy space that is the heart of your home. Whatever you're envisioning, a glass mosaic tile backsplash will work within the space! Most individuals assume that glass tiles are clear, frosted, or white — but your backsplash doesn't have to be subtle or boring if you prefer a bit more flair! Glass tiles come in an abundance of vibrant colors, multi-dimensional tile patterns, and backsplash designs, allowing you to be as subdued or bold as you feel like.
When battling a kitchen's small square footage, you're probably looking for a way to make the kitchen appear larger than it actually is. Glass tile is the ideal solution because of its light and bright tones that help to reflect natural light off of their shiny surface. With all of these factors combined, a small space will appear much larger simply by installing glass tile.
While it can be extremely beneficial in a smaller space, it's equally as appealing for a large kitchen. With more counter space, you'll be able to highlight the varying shapes and sizes of your glass tiles — making your backsplash the focal point of your kitchen. Plus, the glass's natural high polish finish increases light in the room through reflection, creating a beautiful glow that spreads throughout your entire kitchen.
It's Durable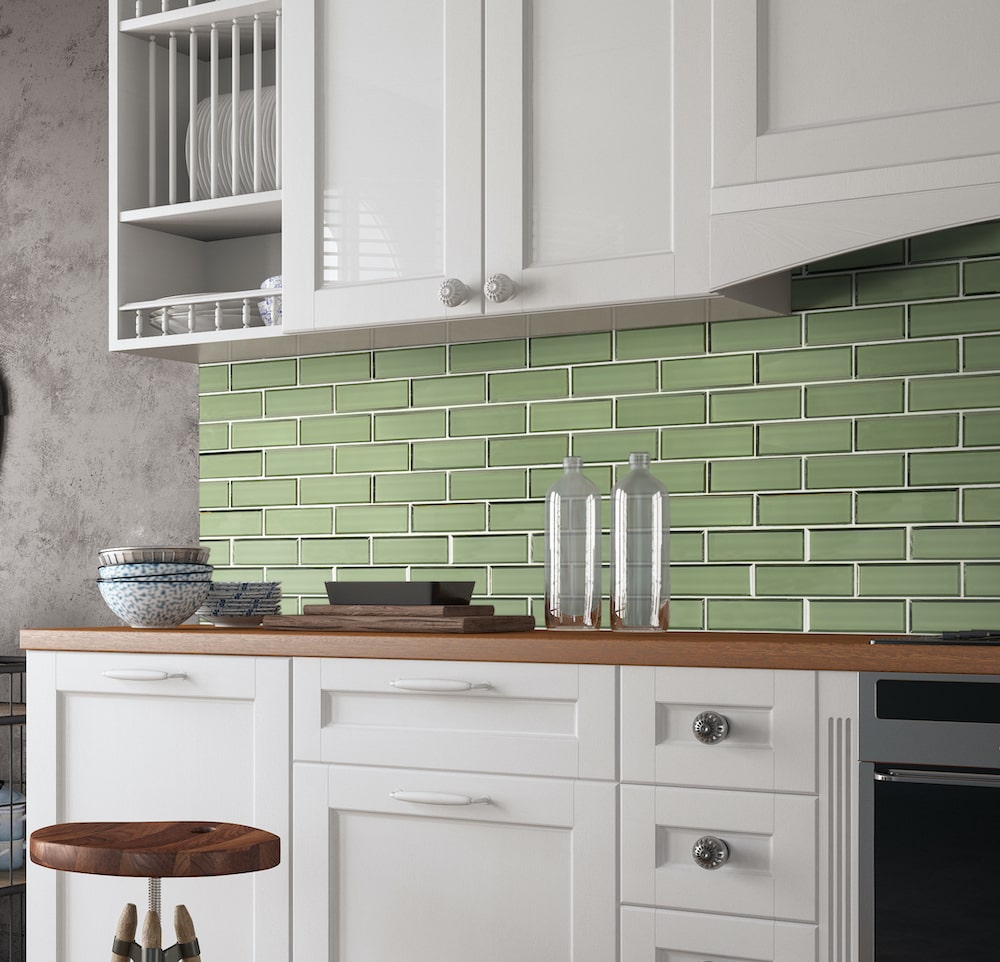 Evergreen Beveled Subway Tile 2x6
Because glass is often seen as a delicate material, many homeowners aren't sure if it's the most durable option for a kitchen. While glass might seemingly be fragile when compared to other backsplash materials such as ceramic, natural stone, or metal, it doesn't mean it won't be able to withstand everyday wear and tear.
While glass tiles can break when exposed to excessive force, they likely will hold up just fine in your kitchen — even a high-trafficked kitchen where you and your family spend most of your time congregating!
Plus, in the event of an emergency, glass tiles are a durable choice. They are both water and fire-resistant, making them the ideal backsplash option in a kitchen where fires are more likely to break out.
If you're in the middle of a kitchen renovation project and still trying to narrow down which backsplash option to go with, our backsplash visualizer and other tools, like our image search tool, will allow you to find a backsplash by picture.
Ready to elevate your home with new backsplash glass tile? Start by chatting with us online, visiting an MSI showroom, or contacting an authorized MSI dealer near you.
READ MORE ABOUT THE DIFFERENT TYPES OF GLASS TILE
Artistic Glass Backsplash Tile
Imaginative Backsplashes: Glass Subway Tiles
Distinctive Backsplash Tile: Palisades Handcrafted Glass