Artistic Glass Backsplash Tile
November 21, 2016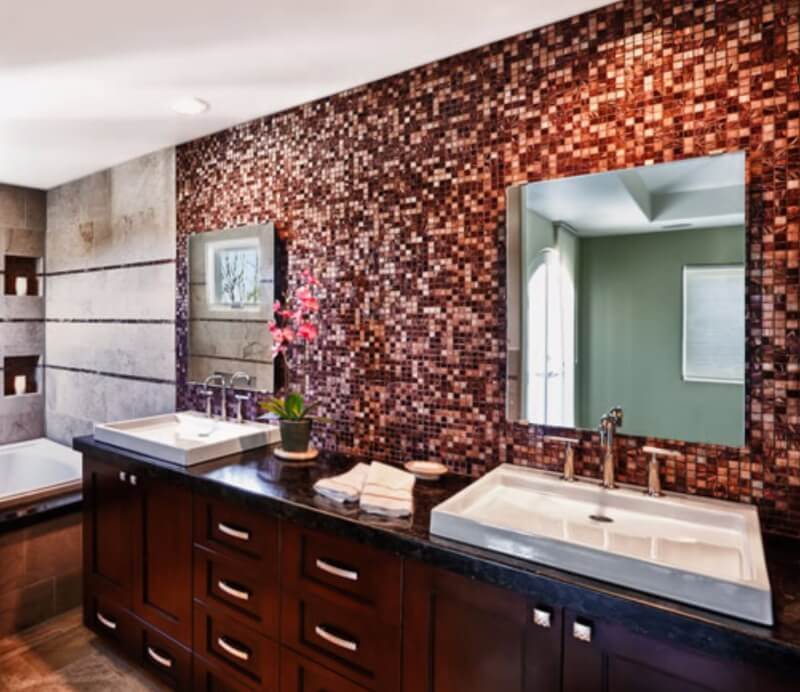 Sure, an art degree might be out of your reach, but that shouldn't stop you from flexing your creative, artistic muscles and adding something special to your décor – an element that's out of the ordinary, guaranteed to impress all who see it.
Here are some ideas to inspire that creative muse:
• Add a colorful vase full of fresh flowers, or a dried arrangement for longer-lasting beauty.
• Show your nostalgic side by displaying black-and-white family photos either on the wall or grouped on a side table or mantel.
• Toss a bright-colored, funky-patterned pillow on a neutral couch for a big creative pop!
• Visit a flea market or antique shop for a special item that catches your eye – a mid century lamp, perhaps, a rusty metal wheel, faded wooden sign, or antique china to hang or display on a shelf.
And here's one more artistic touch you're going to love: glass tile mosaics!
Tile is a sophisticated way to express your creativity because there are so many options – that means your kitchen, bath, or other living space can be one-of-a-kind.
Design your kitchen backsplash tile, accent wall, or border using MSI's Virtual Kitchen Designer and one of MSI's pre-assembled mosaics, and you can count on a professional, stunning result.
Mocha Cream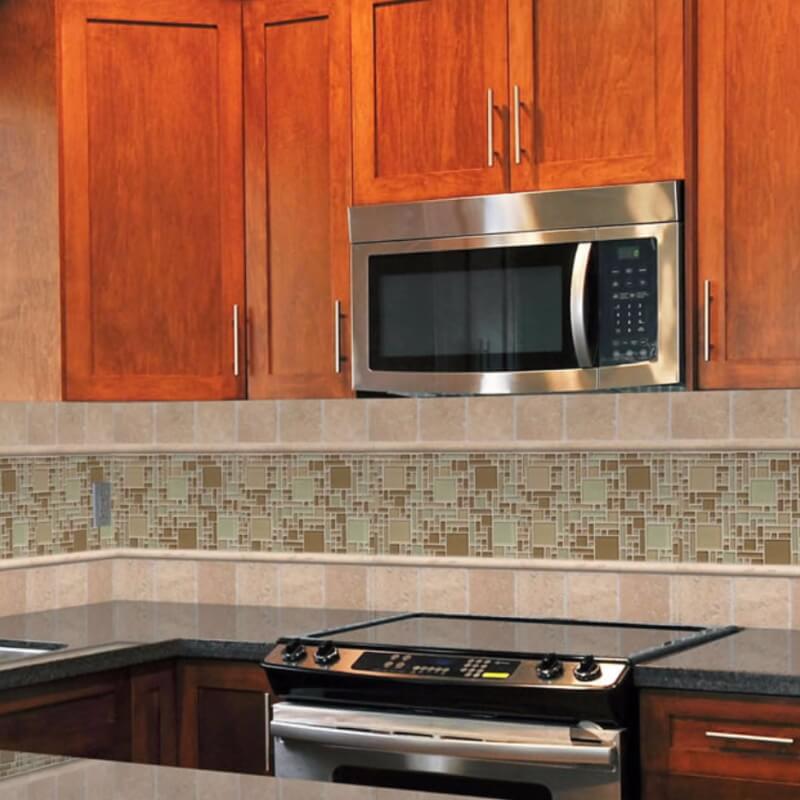 Featured: Mocha Cream Blend Glass Mosaics
Mocha Cream Blend Glass Mosaics include several sizes and shapes in crystalline shades of brown, cream, and white. Anyone who admires your artistic installation will wonder how you did it – all of those squares and rectangles fit together just right, in a pattern that appears random, and the way it catches the light adds so much charisma to the room! The backsplash is the suggested use for this tile, though it's tough enough to install as flooring as well.
Key Largo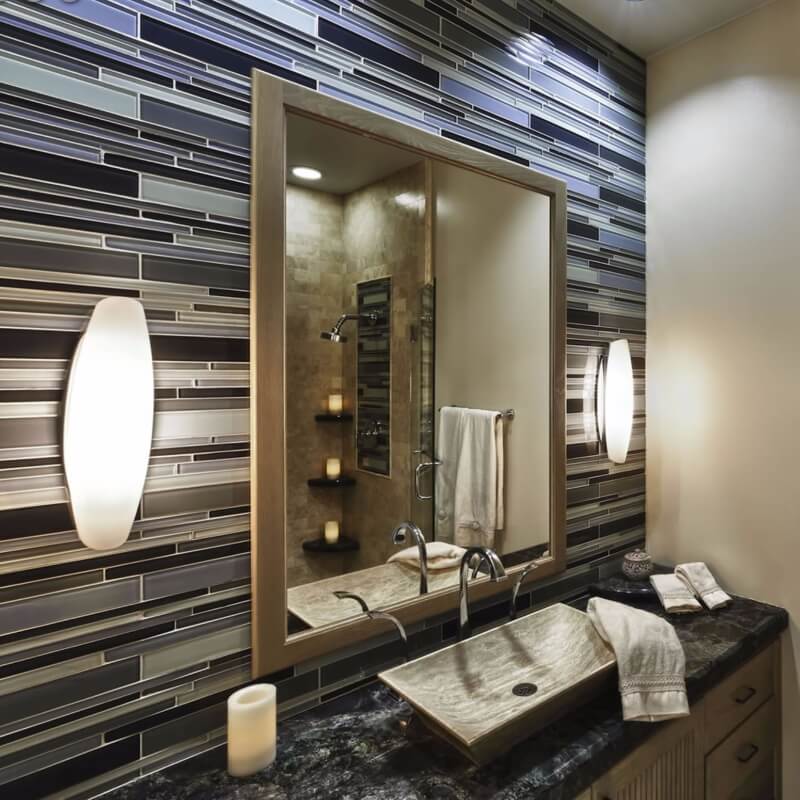 Featured: Key Largo Interlocking Glass Blend
Contemporary and sleek Key Largo Interlocking Glass Blend 8mm includes elongated, rectangular blue tiles in four different shades and varying sizes. The crystallized glass tile catches light, appearing almost 3-D. Why stop with just a glass backsplash? Continue this gorgeous mosaic up the wall from countertop to ceiling and reap the rewards that come from living large with a bold pattern.
Iridescent Brown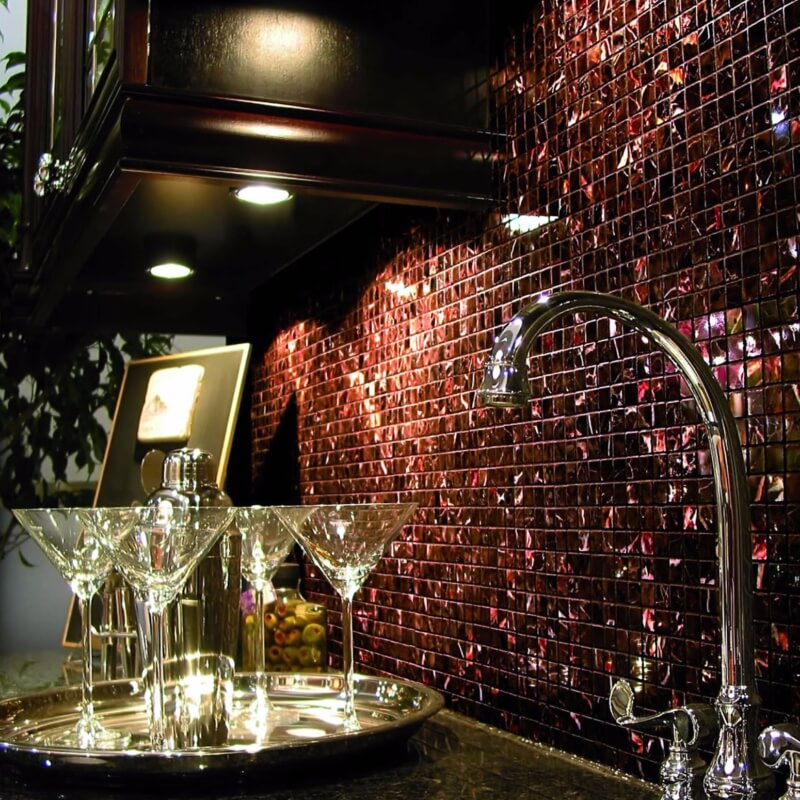 Featured: Iridescent Brown Glass
Iridescent Brown Glass sparkles like no other – it looks slightly different, as your perspective changes. Featuring rich shades of dark brown, with lighter veins of cream, in a random pattern. The square ¾" tiles are stunning in a simple straight run pattern.
Mochachino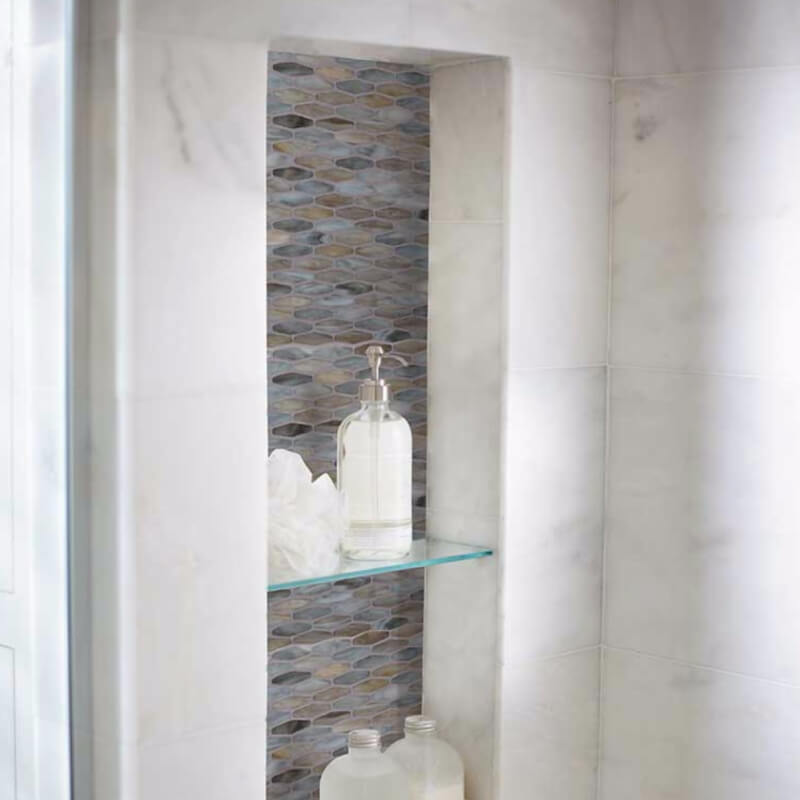 Featured: Mochachino Hexagon Pattern 3mm
Mochachino Hexagon Pattern 3mm mosaic tiles include shades of gray, gold, and beige in random swirls. They are stained glass tiles, which means they'll present a cheerful glow, subtly catching the light wherever they are installed. The neutral shades are a great complement to other surfaces such as quartz countertops or wood cabinetry, so they're ideal for backsplash tiles – but also, consider a larger installation such as a shower surround.
Europa Elongated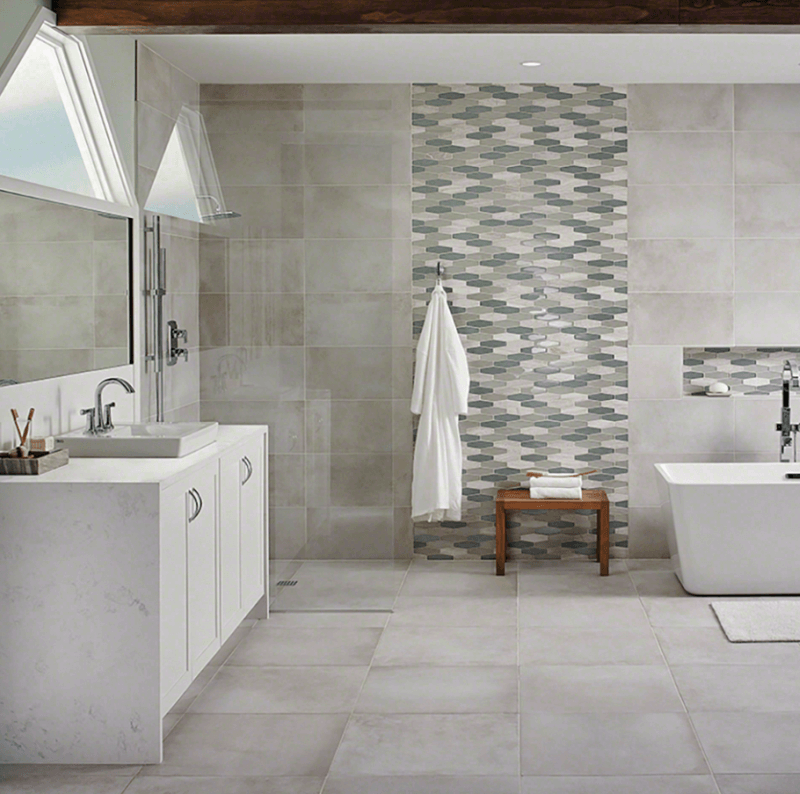 Featured: Europa Elongated Hexagon 8mm
Europa Elongated Hexagon 8mm is another hexagon glass tile, this time featuring a blend of glass and stone tiles in a masterfully combined mosaic. The crystalline glass tile is complemented by the striated gray shades of the stone. It also matches extremely well with other surface materials such as marble, porcelain or travertine. Imagine how great this would look as your bathroom or kitchen backsplash tile or accent wall!
Aria Interlocking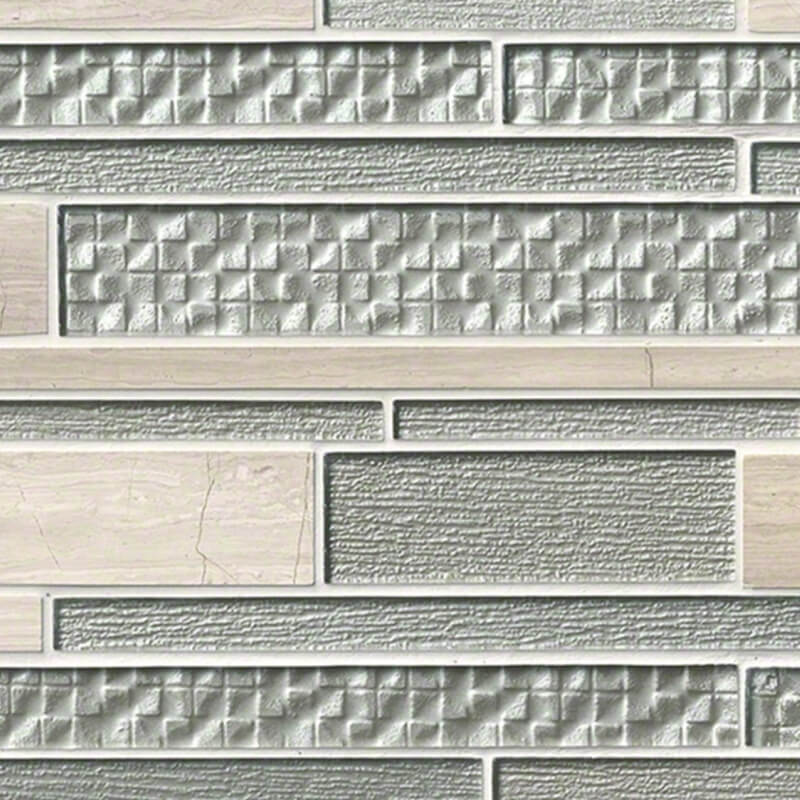 Featured: Aria Interlocking Pattern
Aria Interlocking Pattern proves that there's never too much of a good thing – namely, too many complementary patterns, shades, and textures assembled in a breathtaking combination mosaic. This combo includes textured glass and variegated natural stone, and although the result is bold and dramatic, the pale gray color scheme is a cinch to coordinate with the rest of your décor.
Modern interior design trends encourage showcasing the homeowner's creativity to create a unique look with singular personality! If you're a bit shy about using your own artistic talents to add this flair, these tile mosaics are a great way to begin. They're bold, they're stylish, and most of all, they look very difficult to achieve – they're not, but we'll keep your secret.
READ MORE ABOUT THE DIFFERENT TYPES OF GLASS TILE
5 Reasons Why Kitchen Designers Love Glass Backsplash Tile
Imaginative Backsplashes: Glass Subway Tiles
Distinctive Backsplash Tile: Palisades Handcrafted Glass