Current Obsessions: 7 Kitchens That Prove Quartz Countertops Are Luxurious
October 01, 2017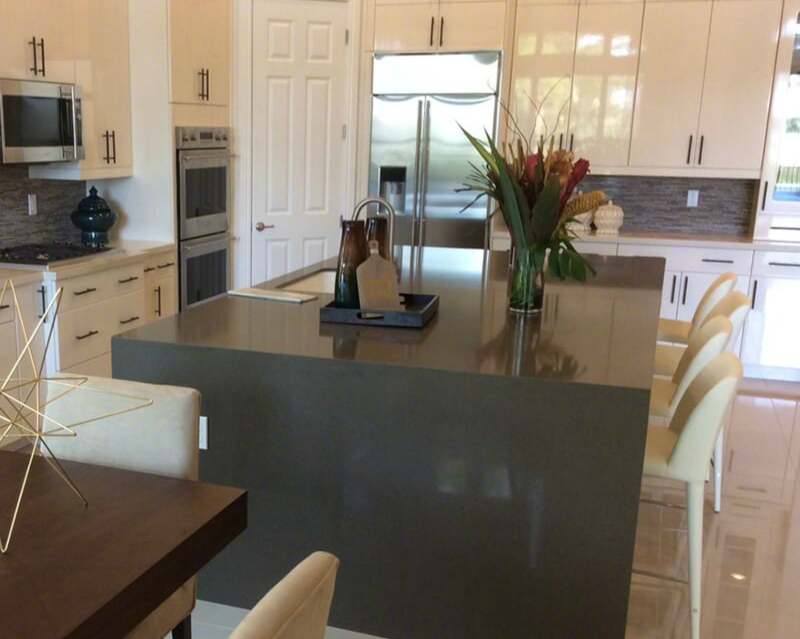 If you desire the look and feel of true luxury in your home, a quartz countertop might not be the first option that pops into your head. Most people associate "luxury" with marble, granite, or other natural stone.
While it's true that those materials can add a lush opulence to your décor, they can also add a lot of work and worry. Who says luxurious kitchens and baths must come with that kind of responsibility and labor?
Today's quartz countertop style is surprisingly luxurious, with a range of colors and patterns to suit anyone's style. They can mimic finicky materials like marble and granite with realistic veining and speckles, and fit too well in even the highest-end homes. Quartz countertops are versatile, and can give you the luxury of time to relax and enjoy your home!
Mystic Gray
Opulent décor showcases a designer's creativity, using dramatic materials and accents – and sometimes calls for a subtle, conservative countertop that won't compete with the rest of the décor.
Mystic Gray Quartz fits well in this contemporary kitchen, quietly serving as a hardworking countertop along the wall and window. When you've got a kitchen this gorgeous, you want to spend time there cooking and enjoying good food, not cleaning up.
Gray Lagoon
A waterfall countertop on the kitchen island is one of the most luxurious touches you can add to a contemporary kitchen design.
Gray Lagoon Quartz features swirls of gray and gold on a white background, a beautifully neutral scheme that pulls together other design elements. Quartz is an excellent choice for vertical surfaces, like backsplashes and island sides, because of its light weight relative to natural stone, as well as its durability.
Calacatta Taj
No matter how beautiful and spacious the rest of your home may be, it seems the guests always congregate in the kitchen – especially when there's a lovely center island to gather around.
Calacatta Taj Quartz offers the look of marble, with gray and beige veins on a creamy white background. But unlike a real marble countertop, you can relax and make everyone welcome to use it. Isn't that what luxury is all about?
Carrara Grigio
A slab of fine, polished white Italian marble on a kitchen island countertop is the pinnacle of luxury. However, marble isn't for everyone – it needs sealing and constant protection against stains and etching, especially the lighter shades.
Live the dream with Carrara Grigio Quartz, an impressive white quartz countertop with realistic marble-like gray veining against pure white. Go ahead, pour the red wine.
Cashmere Oro
A pristine, airy, refreshing white kitchen is one of the year's hottest trends – and it's purely sumptuous. After all, to keep it looking clean and bright, you'll need to work hard and constantly clean, or perhaps you have a household staff to take care of it?
A Cashmere Oro Quartz countertop may fool your guests because it needs hardly any work at all to stay gorgeous. For decades.
Stellar Gray
The industrial aesthetic isn't easy to pull off without upscale materials to go along with your raw concrete, stainless steel, and chrome. That's where a similarly tough and sturdy countertop material such as Stellar Gray Quartz comes into the picture.
It fits in perfectly with a modern design. This quartz countertop is a timeless classic, so if you should tire of modern minimalism, your countertop can adapt to your changing ideas.
Fossil Taupe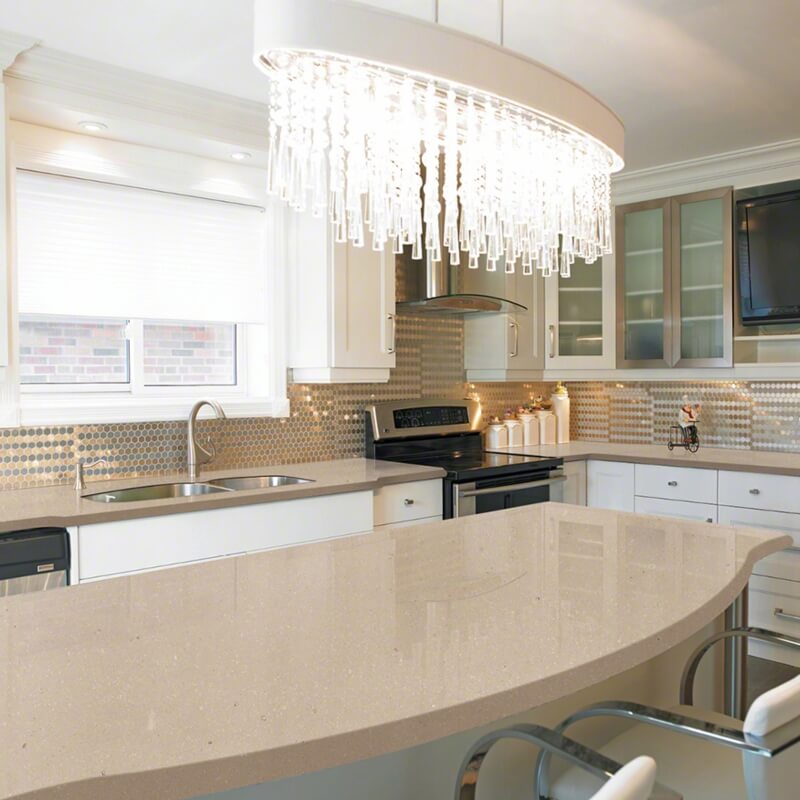 Featured: Fossil Taupe Quartz
We might have already mentioned how versatile a quartz countertop can be. This matching set of Fossil Taupe Quartz countertops demonstrates how elegant a simple, subtle color and pattern can be, alongside such graceful touches as crown molding, a metallic backsplash, and a dramatic light fixture. The mid-tone taupe shade is universally flattering.
Perhaps MSI's collection of quartz countertops can change the way people think about luxury when it comes to kitchen designs. No longer is it limited to materials that are expensive and difficult to maintain, or exclusive and exotic. Today's luxury is about elegant living, with the emphasis on living.
Download MSI's 2017 Quartz Countertop Brochure and see the full collection of versatile, high-end countertops we have to offer.