Go Big With Large Format Luxury Vinyl Tile
April 27, 2022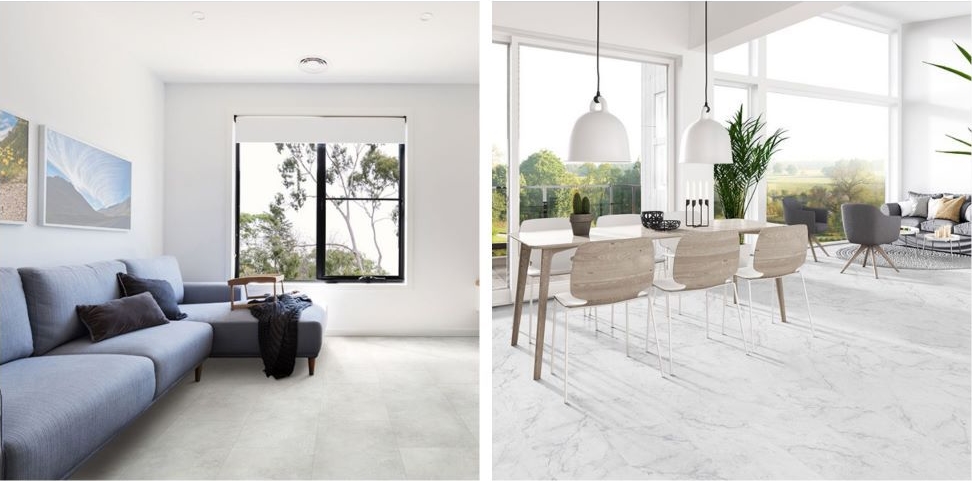 Choosing the best flooring for your home upgrade project will depend on a range of practical concerns and aesthetic preferences. Whether you select wood, natural stone, laminate, or luxury vinyl tile, you'll want a surface material that elevates your interior design, holds up under heavy traffic and helps to raise your home value.
Of course, features like waterproofing and easy installation and maintenance never hurt, especially in a busy household. One of the hottest trends in the flooring market right now is luxury vinyl tile (LVT), and large format styles are among the most popular.
Why should you consider this style of flooring for your home, and how can you choose the MSI design that perfectly suits your personal tastes?
Benefits of Luxury Vinyl Tile
People often confuse the sheet vinyl of old with modern LVT, but the two are almost nothing alike. Luxury vinyl tile is a product composed of multiple layers that provide a soft-yet-durable walking surface along with a top wear layer that protects against scratches, stains, and other damage.
Paired with these functional layers are attractive designs that accurately resemble other flooring types (like natural stone or wood planks).
What truly sets LVT apart from other materials, however, is that it's 100% waterproof. Certain flooring types may be water-resistant, but LVT is non-permeable, so when kids spill or pets have accidents, you won't have to worry about warping, rot, or damage.
LVT can even stand up to a flood — you could actually remove it and replace it as-is after remediating water damage to surrounding surfaces.
Luxury vinyl tile installation instructions are among the easiest in the flooring world, and this surface material often comes with inbuilt underlay, making for faster installation.
When your project is complete, you'll enjoy beautiful flooring that looks like your favorite natural stone or wood but in a durable, waterproof material that provides comfort and warmth underfoot, holds up well to high traffic, and dampens sound.
Why Choose Large Format LVT?
There are a couple of reasons why a larger style floor tile might be the best choice for your flooring upgrade. Oversized tiles are ideal for emphasizing the grandeur of large spaces, but they're also great for smaller rooms.
While a tighter tile pattern could make flooring too busy, creating a cramped appearance, a larger tile can actually make a small room look bigger. In addition, large format LVT offers quicker installation, saving time and money, and is easier to clean and maintain, thanks to fewer seams.
MSI large format LVT comes in sizing of 12″x24″ or 18″x36″ and features a rigid core, 5mm total thickness, a 1mm pre-attached backing, and a 12-mil wear layer. Some feature high-shade variations to create a dynamic and attractive flooring surface, while others offer low variation for a more subtle and calming aesthetic.
Calacatta Legend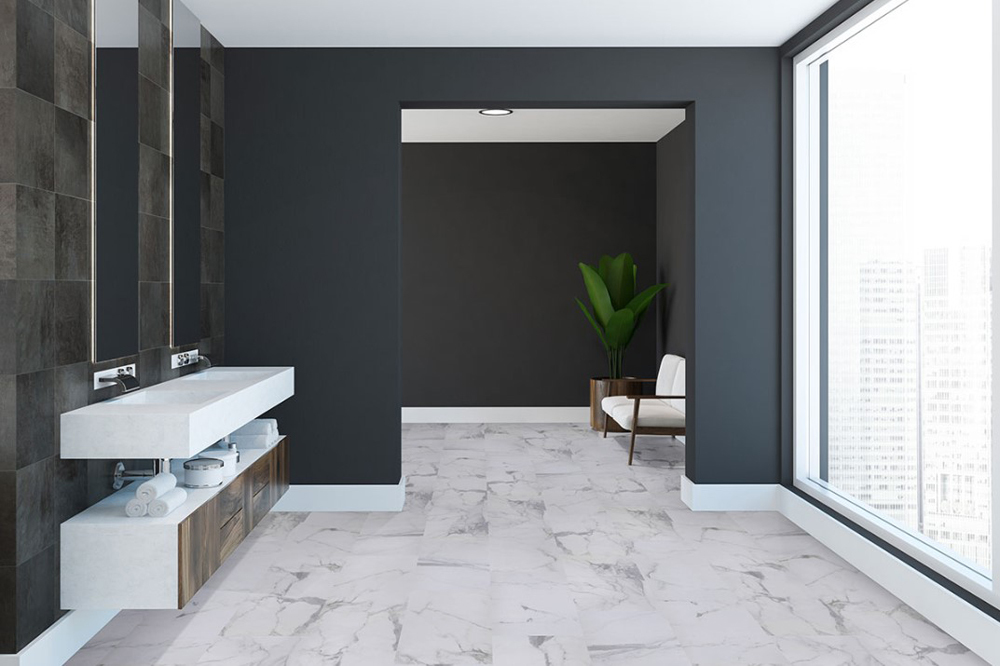 This waterproof vinyl flooring is sure to appeal to anyone who loves the look of Calacatta marble, thanks to a bright white background marked by abundant veining in pale to smoky gray hues. Soft and expressive, veins range from pencil-thin to thick and ropy, creating a visual variation that feels authentically organic.
The overall appeal of Calacatta Legend lies in both the eye-catching patterns and the soothing ambiance these large format tiles exude.
Calacatta Marbello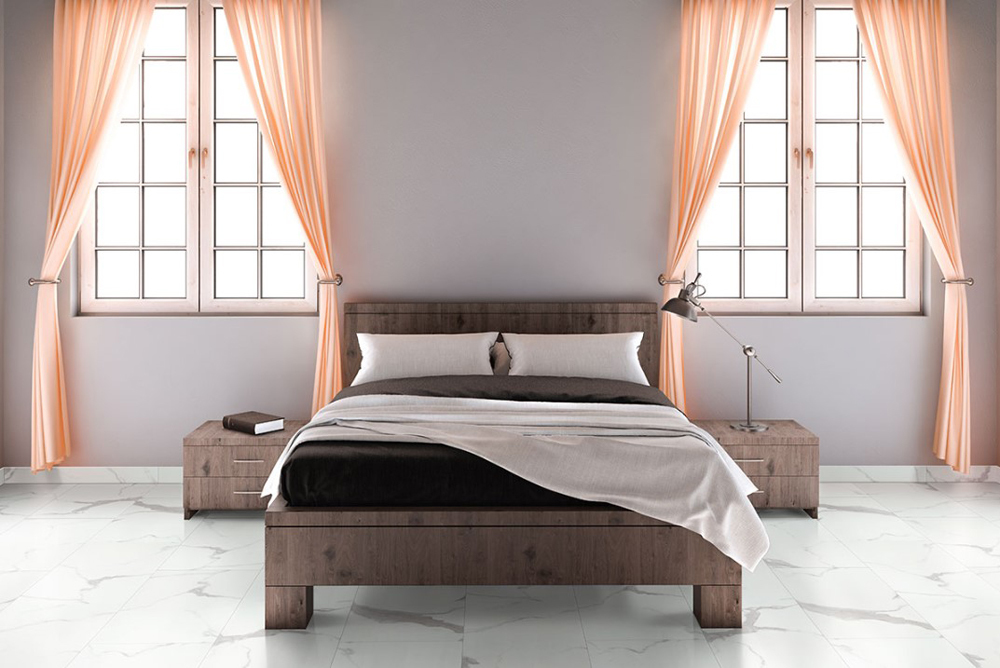 Calacatta Marbello is marked by more intense and defined veining than Calacatta Legend. The cool white background contrasts dramatically with heavy veining in medium gray tones, streaked with darker gray.
If you are looking for flooring options that act as the starting point for a room design but still go with absolutely any cabinet and countertop choices, you won't be disappointed. This design is equally ideal for elevating all-white designs or offsetting black or dark wood cabinetry.
Calacatta Serra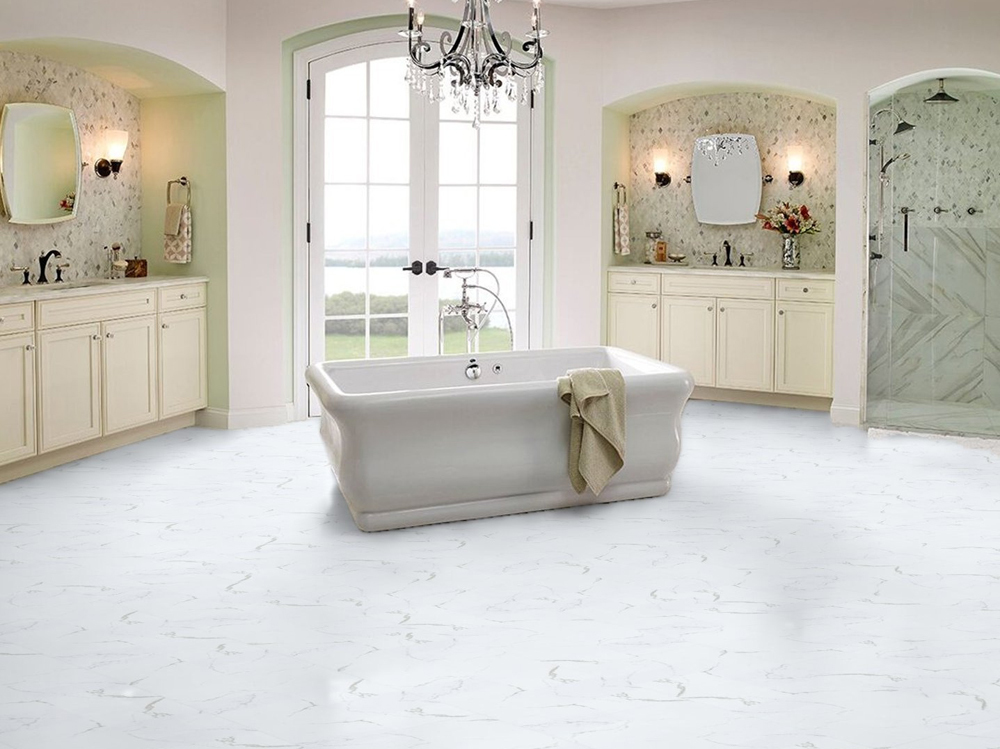 Subtle and serene, Calacatta Serra is the perfect base for a tonal kitchen, a spa-like bathroom, or any area of the home that you want to serve as an escape from the madding crowd.
The soft white background is sparsely painted with delicate, barely-there veins in pale and medium gray tones. It's the perfect complement to a Zen space filled with natural light and an overall neutral palette.
Calacatta Venosa Gold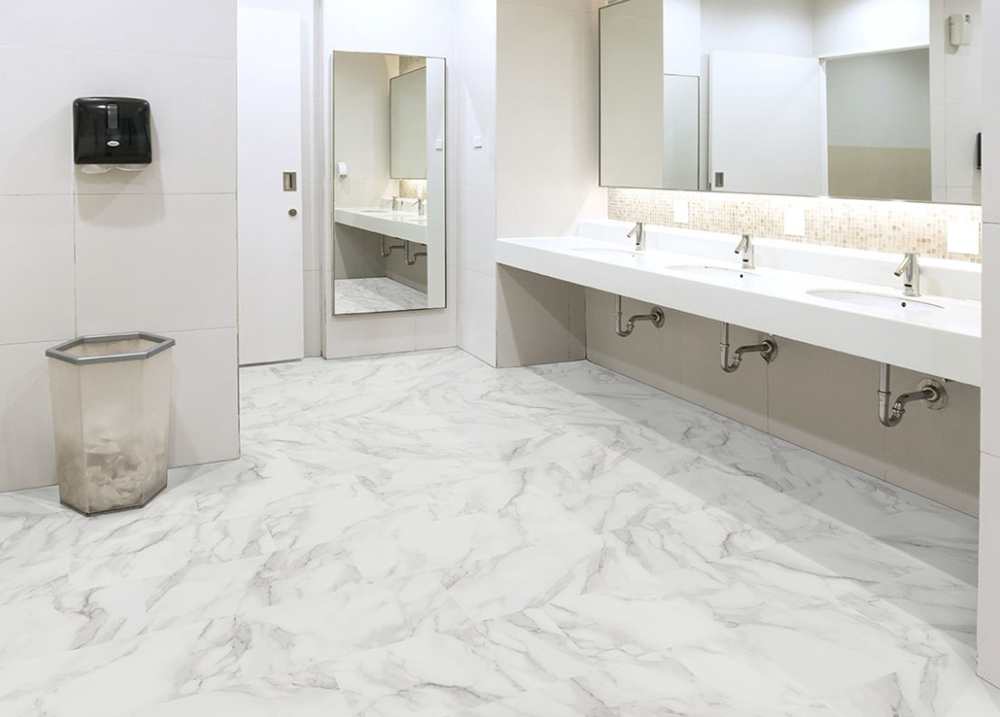 The sheet vinyl of old will be the furthest thing from your mind when you see Calacatta Venosa Gold, which delivers a classic marble look with upscale appeal.
This gorgeous, large format tile is the perfect marriage of cool and warm, with a bright white background and thick veins of pale, translucent gray accented by golden highlights. It's the ideal variety to elevate spaces outfitted with warm wood tones.
Carrara Avell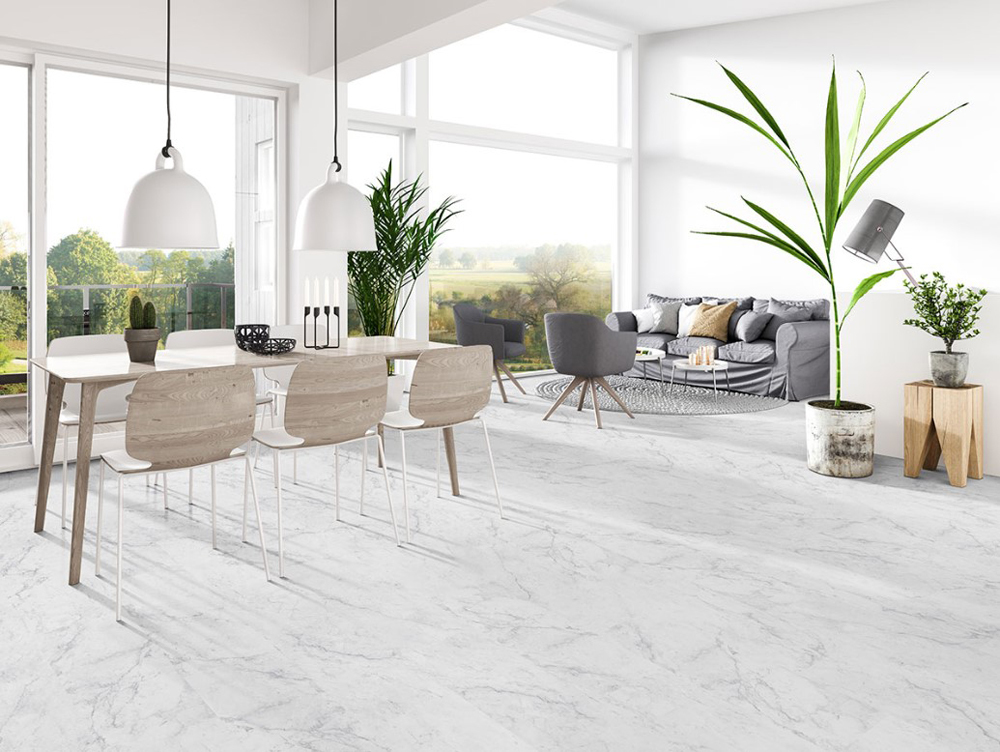 When it comes to the potential pros and cons of LVT, the one thing you can't argue with is how closely it resembles authentic stone. To the untrained eye, Carrara Avell could be mistaken for real marble, with wispy gray veins dancing across a cool white background.
Carrara varieties are unrivaled when it comes to creating a tranquil environment, and this subtle, sophisticated style will help you develop an atmosphere of calm respite.
Mountains Gray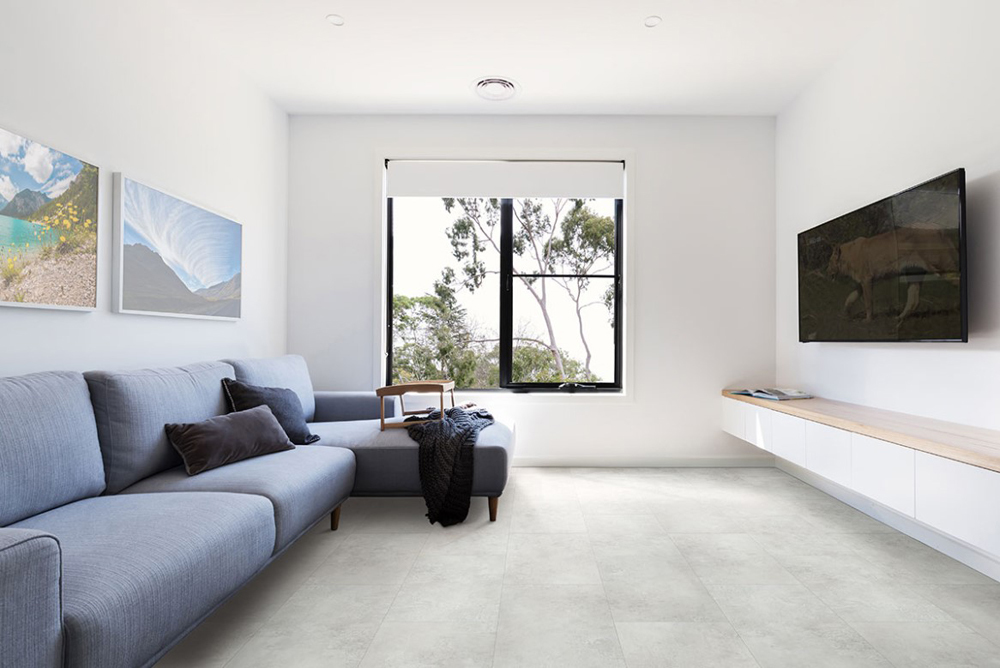 Mountains Gray LVT offers a lovely blend of pale, dove gray with warmer, greige tones, creating a cloud-like aesthetic that's soft and dreamy. This versatile option works well with both cool and warm color palettes and has a slightly rugged appeal reminiscent of natural stone.
It's a great choice for high-traffic areas in the home, particularly if your busy schedule makes it hard to clean daily.
Quarzo Taj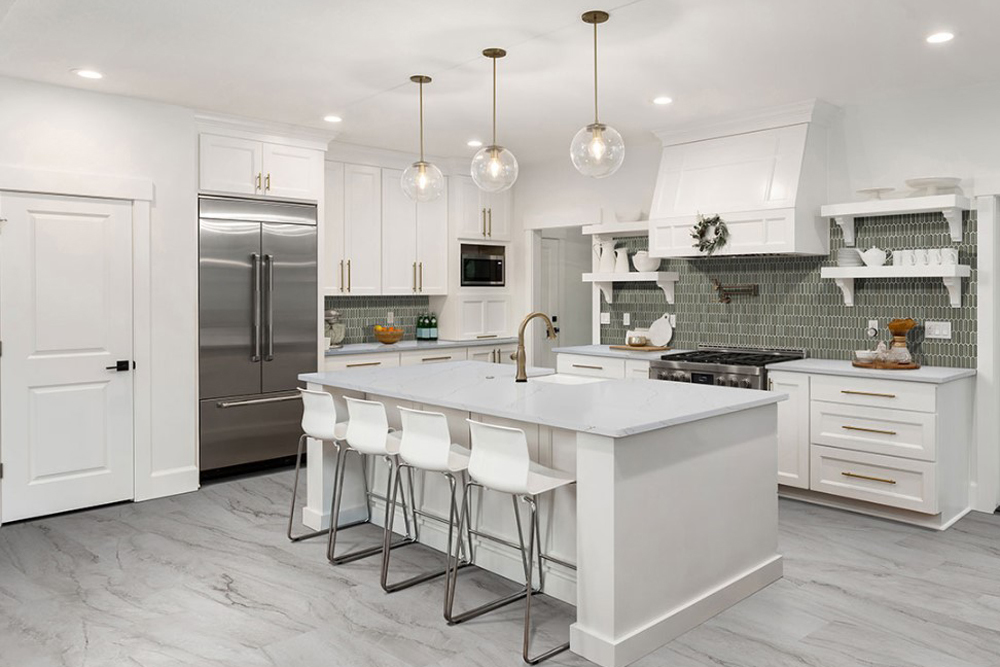 If you love the pale neutrals and fine striations common to quartzite, you're sure to appreciate Quarzo Taj LVT, featuring a soft ivory background and delicate veining in shades of light and dark gray.
Every square foot you cover with this calming flooring material will help to put you at ease, and the understated pattern blends seamlessly with any interior design.
White Ocean
The linear striations of White Ocean LVT bring both stone and wood flooring looks to mind, although the pale gray and greige tones are closer to marble than weathered barn wood.
With understated appeal, this option works equally well in kitchens, bathrooms, bedrooms, and even hallways, making it a great choice for anyone looking for uniform flooring throughout the home.
MSI offers many attractive types of flooring, but LVT is among the most popular options, thanks to a blend of functional benefits and gorgeous designs that meet the practical needs and style preferences of modern homeowners.