Outdoor Oasis: Are Travertine Pavers A Good Idea For Driveways?
March 10, 2018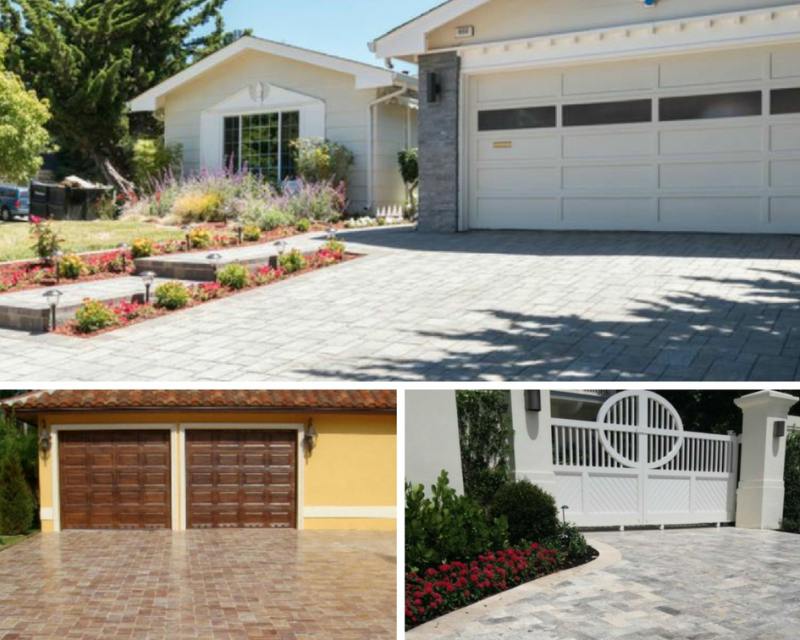 The first impression of your home happens before guests or potential buyers even enter the front door. Elements such as your hardscaping, sidewalk, garage door, front door, and siding can all combine to create that coveted "wow factor." And the driveway also plays a crucial role in your home's overall curb appeal, setting the stage for the interior.
In most areas of the country, the most popular driveway material is concrete. It has been used for generations, partly because it is a more budget-friendly option than pavers…but only in the short run. In the long term, pavers are more durable, resistant to staining and cracking, and significantly easier (and cheaper!) to repair than concrete.
It's not surprising that pavers are popular for patios, with their perfect balance of elegance and durability, but the right kind of paver can handle more than foot traffic!
With that in mind, let's take a look at one of the most popular and beautiful options available today—travertine pavers—and how they are an ideal way to upgrade your curb appeal and function of your home.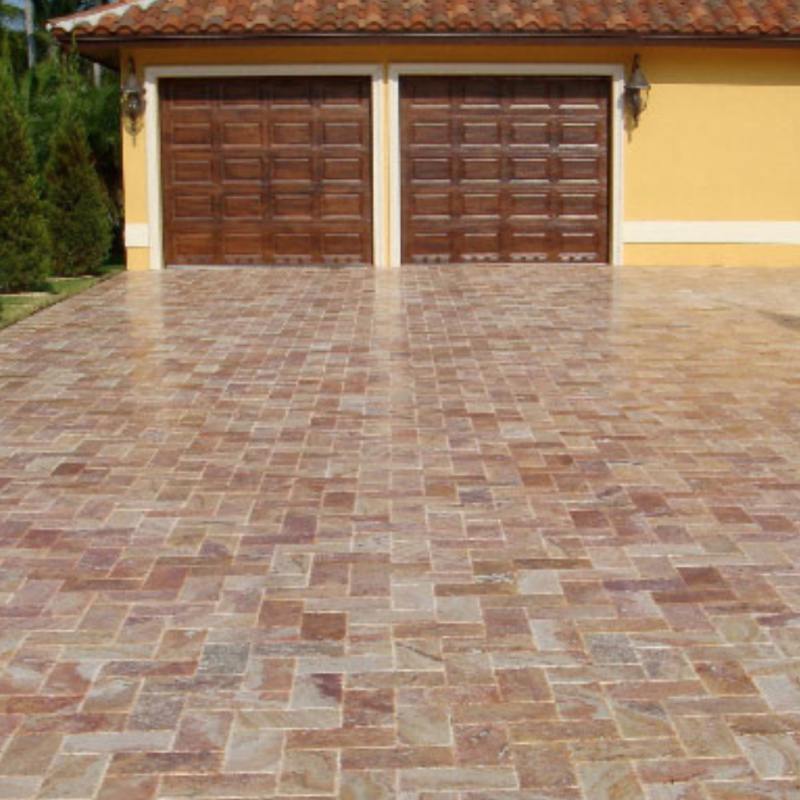 Recreate a similar look with MSI's Tuscany Riviera Travertine Pavers (Photo Credit: Houzz)
Let's talk durability first. When installed properly, travertine pavers such as Tuscany Riviera Travertine Pavers can easily handle the weight of vehicles without cracking or damage.
These pavers are truly a worry-free and durable material that adds character to any driveway and can last for decades. Stronger than concrete, pavers are ideal for all climates. That's because they allow for superior drainage over concrete slab driveways, and ground shifts don't affect the entire surface as they do slabs of concrete.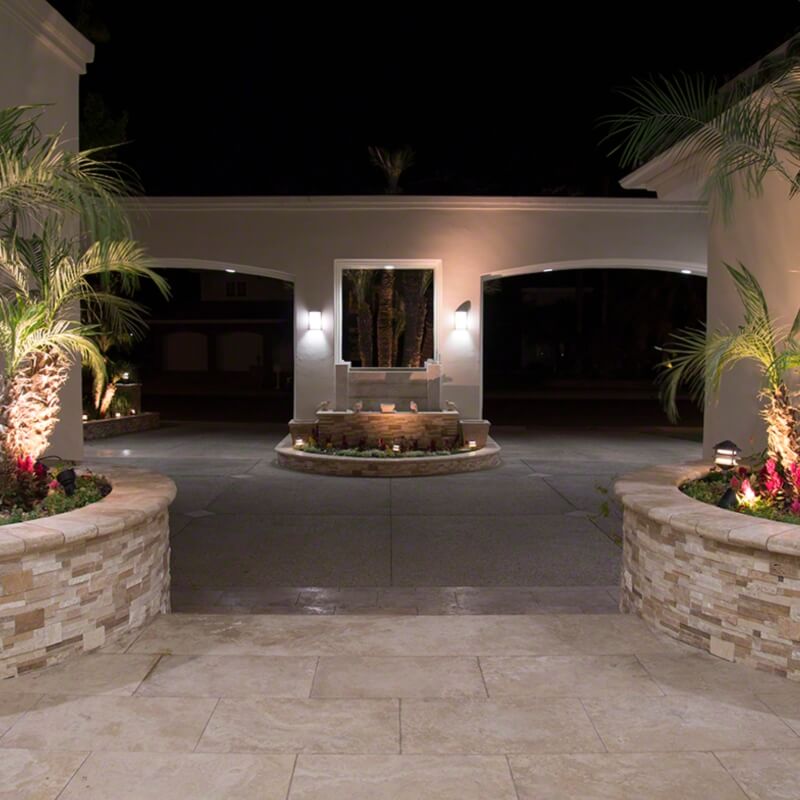 Featured: Paredon Crema Travertine Pavers
Travertine pavers are available in many shapes and sizes, allowing for creative design patterns and coordinating features. For example, Paredon Crema Travertine Pavers are available in eight popular sizes, ranging from 6x6 to 24x24, as well as rectangular options.
The soft creamy tones and natural veining of this travertine complement a wide range of styles, giving them timeless appeal. These pavers are also available in two kit patterns, making design and installation a breeze. Mix and match to create your driveway masterpiece, wandering walkway, or family-friendly patio.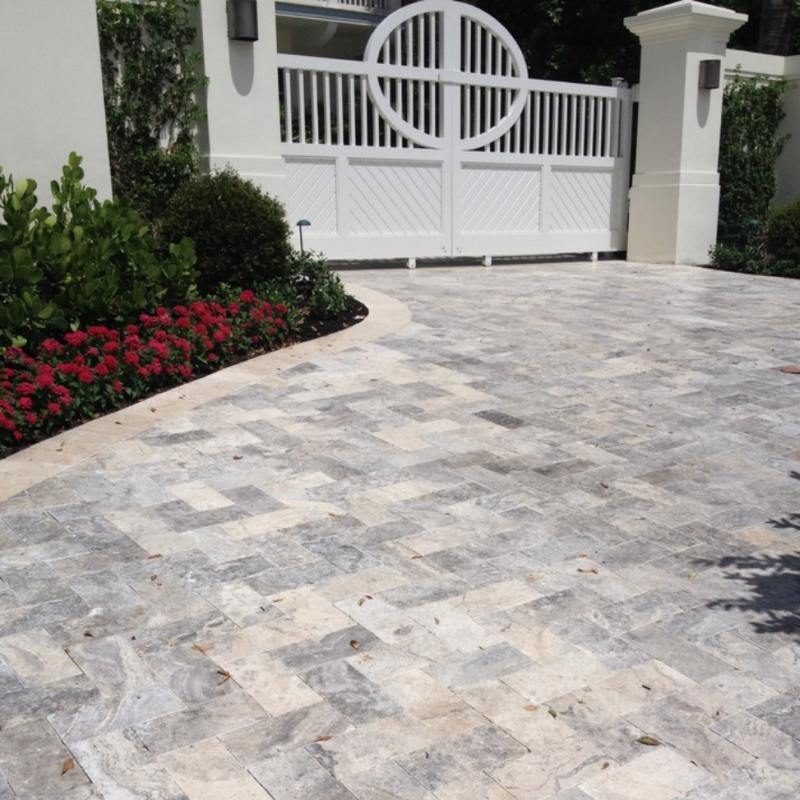 Get a similar look with MSI's Silver Travertine Pavers (Photo Credit: Houzz)
Whether you want the first impression of your home to be sleek and contemporary or elegant and sophisticated, there's a paver to match your personal style and complement your home's design. Silver Travertine Pavers have a unique palette that effortlessly blends cool and warm tones.
The overall effect complements a variety of other hardscaping installations and landscapes, such as this elegant gateway and the fringe of foliage and flora that follows the curve of the peach-bordered driveway. Use the wide range of sizes and dimensions to your benefit; create a custom look by installing pavers in a chevron, herringbone, or other pattern that accentuates other elements of the driveway.
If you are selling your home, a cracked or discolored driveway will turn away potential buyers, who will barely slow down to give it a look. Some will see a damaged driveway as a sign of poor maintenance that will extend throughout the property. If you have a concrete driveway, repairing it can be a challenge, and patching rarely produces pleasing results. In contrast, if any of your pavers become damaged or cracked, it will be easy to fix by simply replacing the affected paver.
Hot tip: You might want to purchase a few extras and keep them on hand, just in case.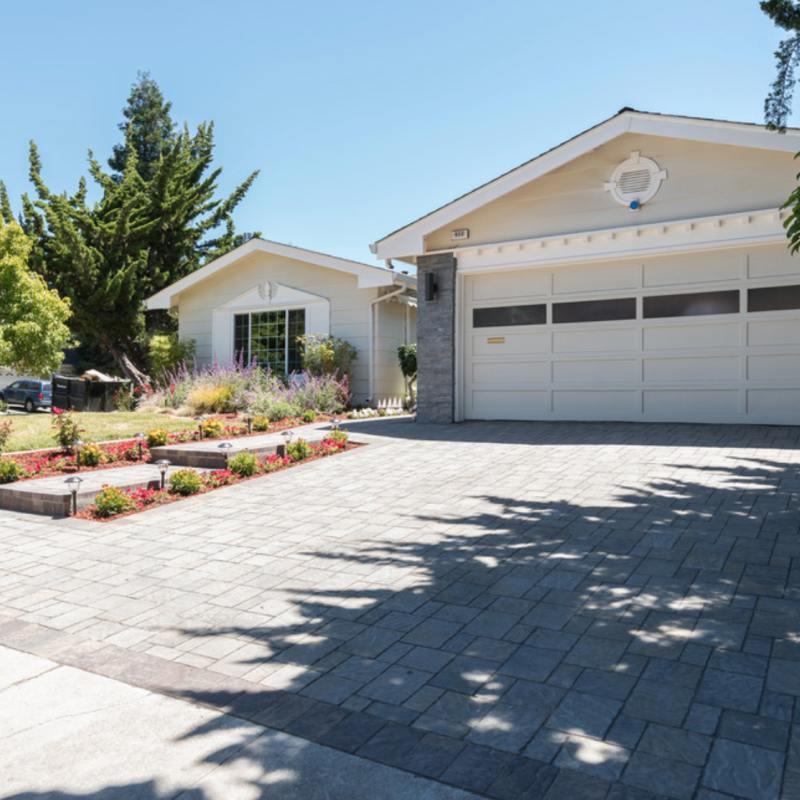 Create a similar look with MSI's Tuscany Beige Travertine Pavers (Photo Credit: Houzz)
Drainage is also a concern for many areas of the country with frequent rainfall. The good news is that pavers like our gorgeous Tuscany Beige Travertine Pavers allow rain to soak in between the joints, making the driveway more slip-resistant than many other surfaces.
Investing in your home for a sale, whether tomorrow or in the future, requires high-quality products that add value. Natural stone is a highly sought-after material, both indoors and outdoors. Homebuyers are wooed by granite or marble countertops, fine travertine tile floors, beautiful stacked stone walls…and driveways with natural stone pavers.
In addition to their inherent beauty, pavers add value because they are long-lasting, enhance curb appeal, are durable, and are easy to repair if the need arises.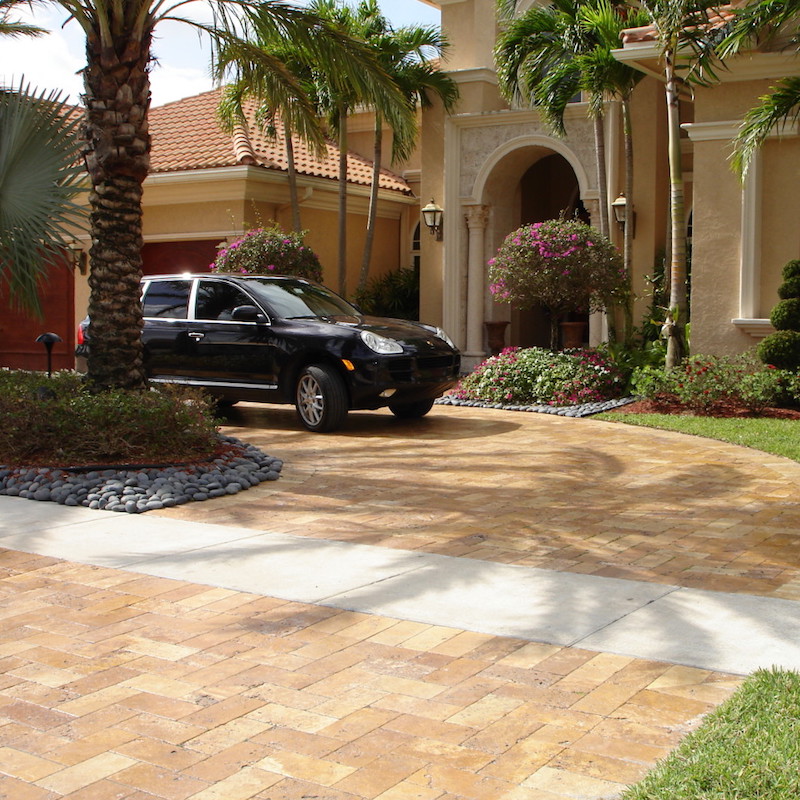 Get a similar look with MSI's Tuscany Porcini Travertine Pavers (Photo Credit: Houzz)
Another of our favorites for exteriors is Tuscany Porcini Travertine Pavers. Their Old-World appeal makes them a great choice for Mediterranean styled homes. Here, the red tile roof, columned entryway and gracious palms are grounded by the rustic yet elegant curved driveway. The effect is luxurious. When the driveway complements the home's overall style, buyers will fall in love with the unified theme and feeling evoked by the design.
Driveways laid with pavers tend to be more expensive than basic concrete driveways, not only because of the material, but because of the labor required. Each paver must be carefully laid by hand. However, in climates where the ground freezes and thaws multiple times a year, this is a good thing. A driveway made from pavers tends to drain better and be more flexible during freezing and thawing cycles, self-adjusting without cracking.
In the final analysis, don't let the upfront investment of pavers be a deterrent. After all, in the long run, most concrete driveways will end up costing you more than if you choose travertine or even porcelain pavers for your project.
When you're ready to check out all the options, take a look at MSI's Collection of Natural Stone Pavers, and choose the perfect look for your home!