Large Format Wood Look Tile In Coordinating Indoor/Outdoor Tile And Pavers
December 13, 2022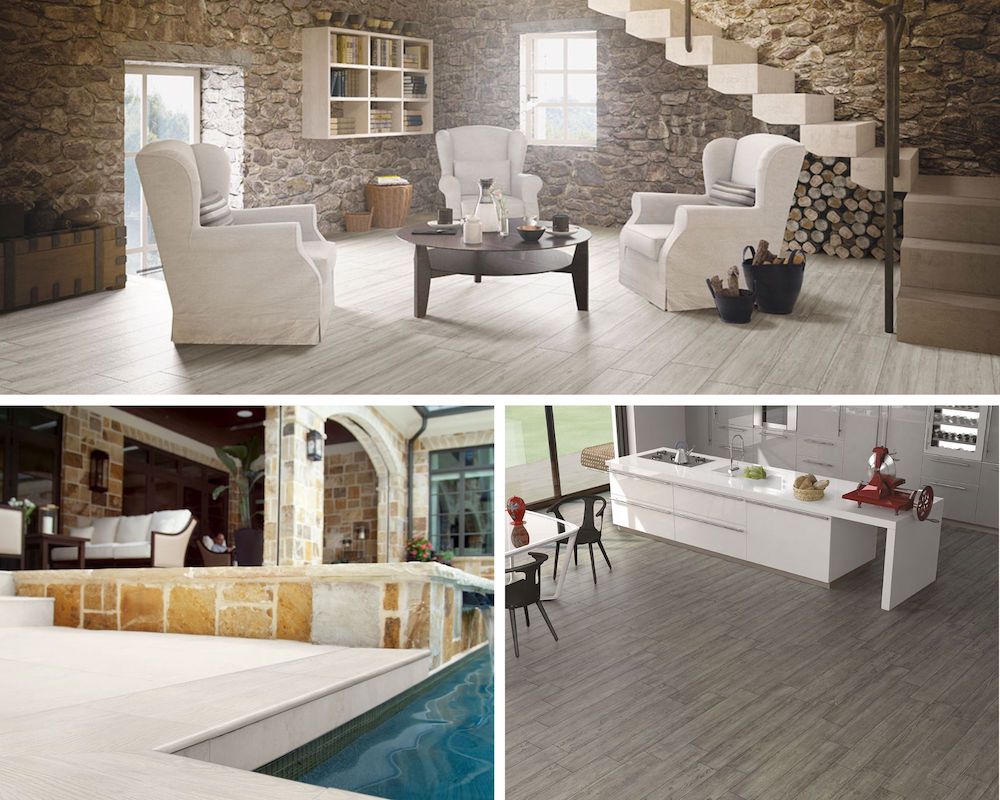 Adding wood to your home interior is a great way to imbue your space with the warmth and beauty of nature and add a dose of luxury to your design. That said, natural hardwood flooring comes at a premium, especially if you have a lot of square footage to cover. It also has many other drawbacks you won't face with pavers.
While wood is porous and susceptible to heat, humidity (or dryness), and sunlight, you'll never have to worry about warping, rot, or fading when you choose porcelain tile flooring for your living spaces. In addition, you'll find that porcelain can go places wood can't or shouldn't, such as in bathrooms, laundry areas, and even outdoors.
Beautiful, resilient, and easy to clean, wood-look tile adds sophistication and the organic appeal of wood grain to your design while making home upkeep easier.
You'll find many elegant and modern options with the Caldera Collection from MSI. So what is Caldera tile, and how can it update and elevate the look of every room in your home and your outdoor living spaces?
What Is Caldera Tile?
The Caldera Collection is a series of premium porcelain pavers in various attractive colors and popular sizes. Designed for residential and light commercial use, this collection includes both indoor tile and matching outdoor pavers so you can carry the ambiance of grace and tranquility throughout your property.
Caldera designs feature tile that looks like wood, with subtle veining and knots that imbue any space with a calming, organic vibe. These tiles are available in three versatile, neutral hues to match any aesthetic: Blanca, Coala, and Grigia.
Planks are offered in 8" x 47" dimensions for interior use and a larger 16" x 47" size for exterior use. So, whether your plan calls for backsplash tile and flooring, a statement accent wall, or a fireplace surround, the Caldera Collection delivers the perfect foundational element to anchor any room design.
With an aesthetic that rivals solid and engineered hardwood, you'll enjoy a luxury look with a low-maintenance appeal. The only question remaining is: Which Caldera tile is right for your home?
Caldera Blanca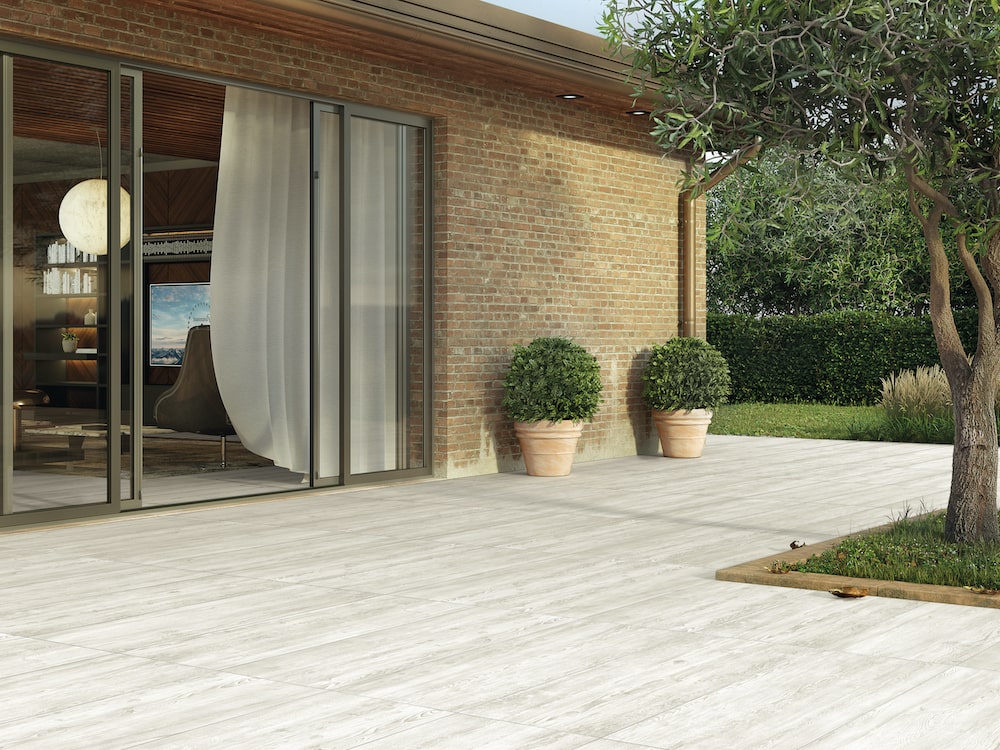 In a creamy mix of white and pale beige hues, Caldera Blanca tile is the solid hardwood alternative you didn't know you needed. Each tile is brushed with graining and knots that lend authenticity, mainly because the texture is reminiscent of natural wood.
This pale flooring and wall tile perfectly complement a bright or soft white interior, keeping the ambiance light and airy. In addition, it lends your spaces a feeling of cleanliness that's easy to maintain. As an outdoor patio tile, it can boldly delineate dining, and lounging spaces, or even a poolside area, amidst the greenery of your landscaping.
Blanca tile is also stunning when paired with pale pastels if you want to keep the mood serene, and it goes well with modern neutrals like grays and greiges. Adding natural materials like leather and wood furniture to your design is easy with this breezy neutral, which features just the barest hint of warmth for cohesive appeal. The matte finish cuts glare and contributes to a casual, comfortable vibe.
Caldera Coala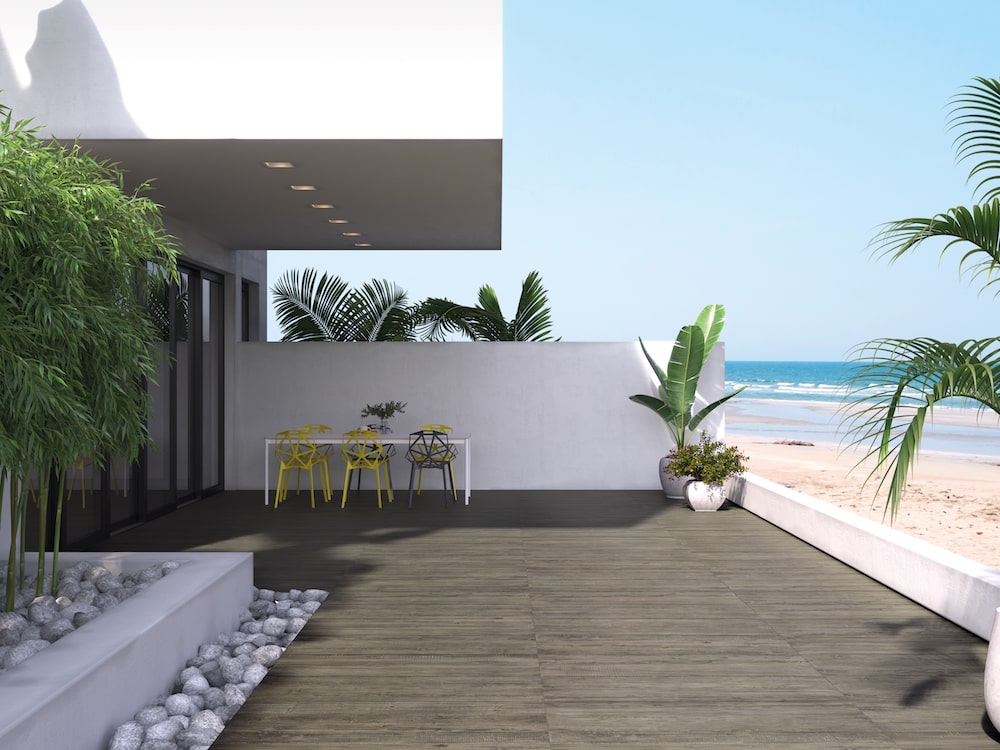 Even though wood tile flooring is incredibly easy to clean and maintain, you might not feel confident installing lighter colored flooring throughout your busy household. Or your interior design may call for darker flooring to ground a room or blend better with more saturated hues.
Caldera Coala tile, in a mid-tone gray hue just slightly north of graphite, offers the perfect solution for high-traffic areas in your home. This flooring will hide the dust of daily living until you have time to clean — and it provides a truly modern and refined foundation for any room design, thanks to trending neutrals and a matte finish.
Enhance the calm, serene atmosphere in your living room, bedroom, or home office with this rich, lovely tile. It offsets white walls beautifully and holds its own next to saturated jewel tones and the maximalist wallpaper popping up everywhere these days. It's also great with rustic or industrial designs.
Coala outdoor pavers are closer in tonal quality to most landscaping than bright Blanca tile. This option is ideal if you want hardscaping that makes a subtle statement rather than serving up the drama of contrast.
Caldera Grigia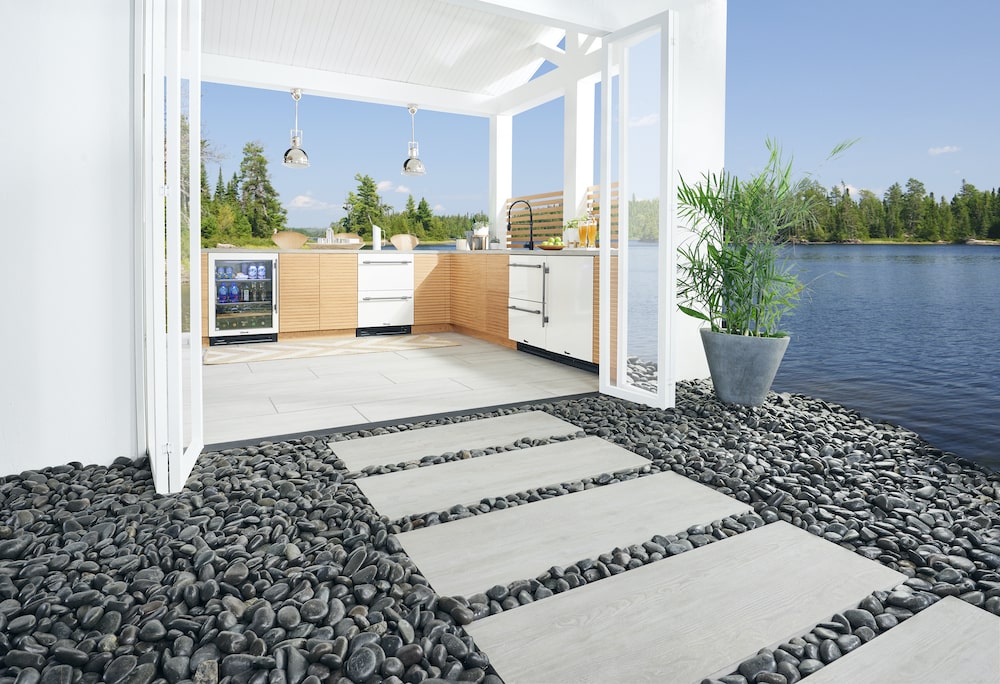 Perhaps you're interested in something that hits the mark between light and dark. This is where Caldera Grigia tile comes in, with soft greige tones that blend soothing dove gray and warm beige. It is the perfect modern neutral, pairing easily with warm and cool hues in your color palette.
Grigia planks suggest a hardwood floor in weathered barn wood — but much more refined. The shade is well suited to pairing with natural elements like wood and stone, and it's just dark enough to add some contrast to white or ecru walls. For outdoor use, the graining and knots create an elevated look that adds luxury to your upscale patio.
Benefits When you Install Porcelain Tile and Pavers
When exploring flooring options, you need more than a beautiful material that suits your design and personal style sensibilities. You also must take practical considerations into account, and MSI's Caldera Collection delivers on every score.
Caldera tile stands out among porcelain and ceramic tile for versatile neutral hues and attractive, three-dimensional grain patterns. It also has the resilience to rival other hard flooring options and holds up to your busy lifestyle. It's also incredibly easy to clean and maintain.
Porcelain is a more refined clay than ceramic tile and can be fired at a higher temperature. This creates a stronger, denser, more durable material that many homeowners turn to as an alternative to hardwood or natural stone.
For cleaning, a simple wipe will suffice for everyday dust buildup. As for grime or tougher messes, mopping with a pH-neutral solvent should do the trick, and you can always use a plastic scrubber if needed.
Caldera Collection tiles offer the elegant appearance and resilient nature modern homeowners prefer, along with the ease of maintenance you need.
Are you ready to choose the perfect flooring options for your home from the wide selection available at MSI? Use our convenient live chat to speak with a knowledgeable team member right now or find an authorized dealer and start perusing samples at a showroom near you.