Current Obsessions: Modern Indoor Installs With Stacked Stone
June 23, 2017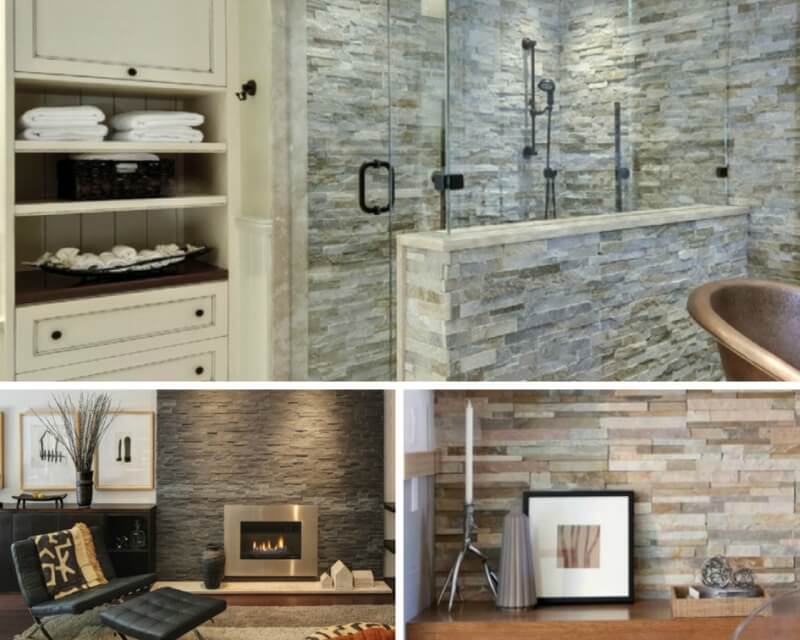 Through the decades, modern interior design has meant different things; trends come and go. Traditional materials and techniques are reinterpreted and reimagined to create something new. Today's modern home décor elements emphasize sharp lines, simple color palettes, and a surprising addition that could be small and subtle, or breathtaking in its scope.
One of the hottest trends today is natural modern design. This type of contemporary design brings in elements of nature, such as stacked stone, used in surprising new ways. This twist adds an earthy element to the aesthetic, while still maintaining the elegant simplicity inherent in today's contemporary décor.
Golden Honey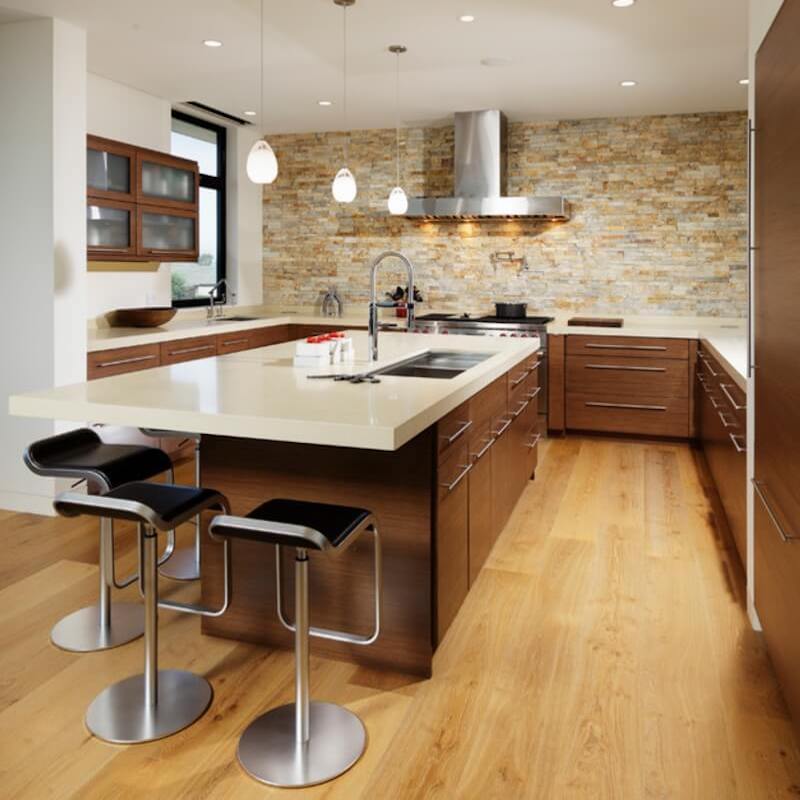 Featured: Golden Honey Stacked Stone
Take a simple kitchen design, with clean lines and uncluttered minimalism, to the next level by adding a full-wall installation of stacked stone.
Golden Honey Stacked Stone offers a 3-D texture and just a touch of nature, without overwhelming the space. The tones of gold, gray, and cream are ideal complements to the hardwood-look flooring, sleek wood cabinetry, and stainless steel appliances.
Sage Green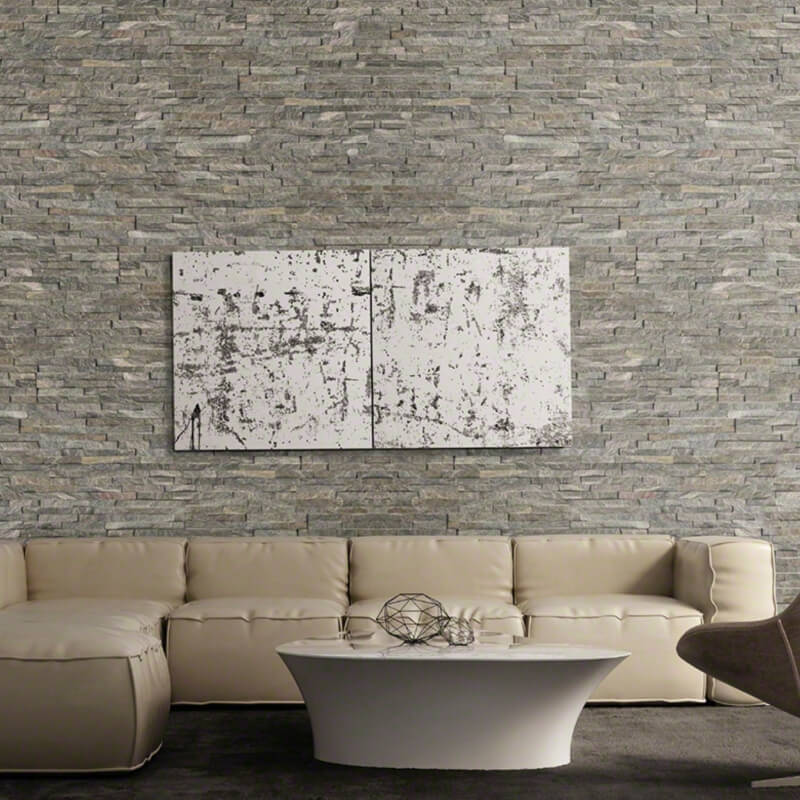 Featured: Sage Green Stacked Stone
You don't need to live in a castle to enjoy the rugged beauty of stacked stone in your living room décor. This full-wall installation of Sage Green Stacked Stone allows for a minimalistic room design while ensuring the result is anything but plain.
This room's furnishings echo the linear pattern of the stones in the shape of the leather sectional sofa, simple accent table, monochromatic abstract wall art – and the complete lack of clutter.
Fossil Rustic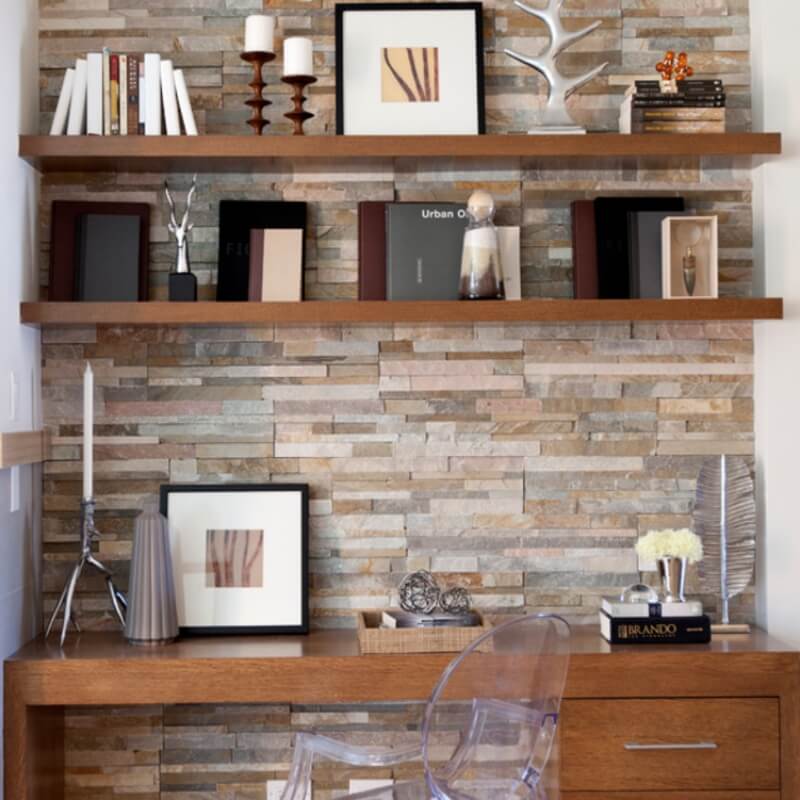 Featured: Fossil Rustic Stacked Stone
Maximize small spaces, like an inset desk nook, with the surprising addition of a stacked stone wall. Not only does it provide a pleasant view for those working at this desk, it transforms a utilitarian area into an element of décor.
Fossil Rustic Stacked Stone is a simple sandstone ledger panel with subtle variations in shades of cream and gray, with rust-colored highlights. It's an excellent complement for the clean lines of contemporary wood furniture and shelving.
Charcoal Pencil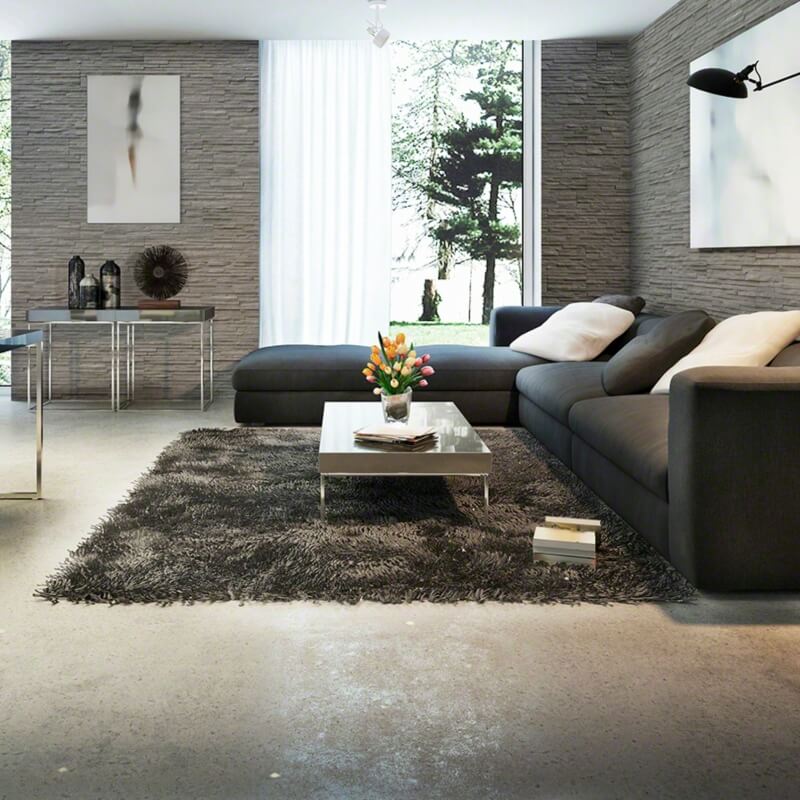 Featured: Charcoal Pencil Stacked Stone
Decorators once turned to wallpaper to add dimension and character to plain living room walls. Today, stone veneer panels serve that purpose, with much greater elegance.
Charcoal Pencil Stacked Stone is crafted from a monochromatic gray split-face slate, adding natural beauty to this interior room. Texture plays an important role here, from the rough walls to the fluffy, plush rug.
Coal Canyon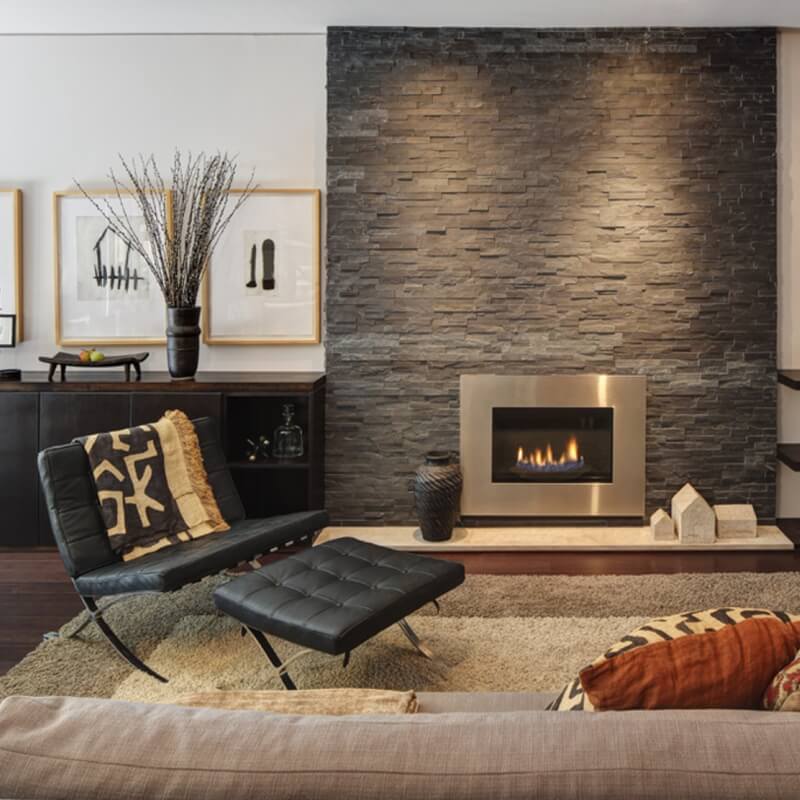 Recreate this look with MSI's Coal Canyon Stacked Stone (Photo Credit: Houzz)
Fireplace accent walls are one of the most common ways to incorporate stacked stone into interior design, whatever the style of décor. Modern design is all about simple elegance, however, so this calls for monochromatic stacked stone veneer panels such as Coal Canyon Stacked Stone in gray quartzite. It offers subtle texture without detracting from the straightforward, un-fussy furnishings and accessories.
Most homeowners would agree that a touch of nature's beauty, incorporated into interior designs, is soothing and luxurious. With modern interior design, however, care must be taken to maintain clean, simple lines and not cross over into a more rustic aesthetic.
Bringing a hardscaping product indoors – such as MSI's ledger panels – offers a surprising twist on a traditional material, accomplishes that objective beautifully.