Cost Comparisons Of Luxury Vinyl Flooring
June 12, 2022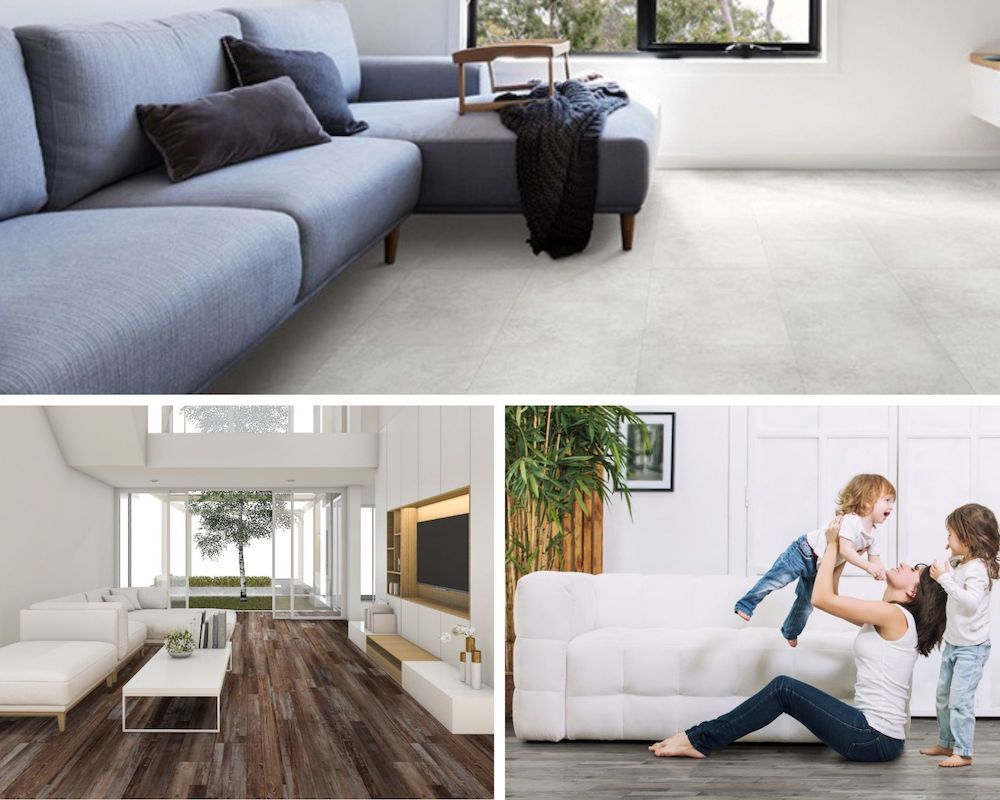 The benefits of luxury vinyl flooring are numerous: they're near, if not impossible, to differentiate from the natural wood and authentic stone they mimic; they're nonporous and more durable; they're waterproof or water-resistant, and scratch, stain, and dent-resistant; they don't require sealing or ongoing resealing; and you'll save a good deal of money when you choose luxury vinyl flooring over the real thing.

While the cost is indeed cheaper than other premium surfaces, the different categories of luxury vinyl flooring vary in price. This article will explore the costs associated with luxury vinyl tile vs. luxury vinyl planks vs. glue down vinyl plank flooring. We'll also look at what sets one type of luxury vinyl flooring apart from the other.
LUXURY VINYL FLOORING SQUARE FOOT & INSTALLATION COST
Luxury vinyl tile is your go-to for the widely sought-after look of authentic stone. An excellent example is MSI's Mountains Gray Luxury Vinyl Tile. This captivating vinyl tile delivers the sophistication of natural stone in a more affordable, easy-to-care-for vinyl flooring that's 100% waterproof.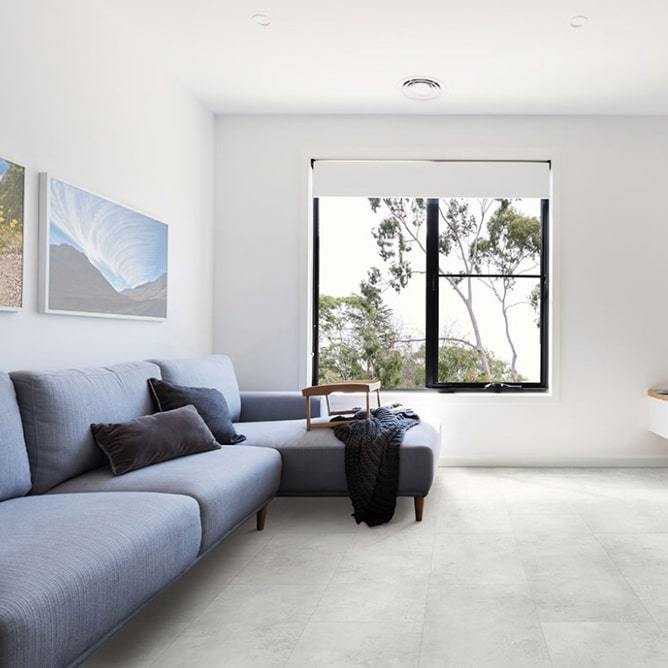 With understated shades of gray and greige, Mountain Gray adds an on-trend elegance to any project. Notice how these stone look tiles add a tidy sense of luxury to this living room.
Another stunning example of this breathtaking tile is Quarzo Taj Luxury Vinyl Tile. By using an ivory backdrop and gray veining, this luxury vinyl tile offers the look of natural marble without all the monotonous upkeep.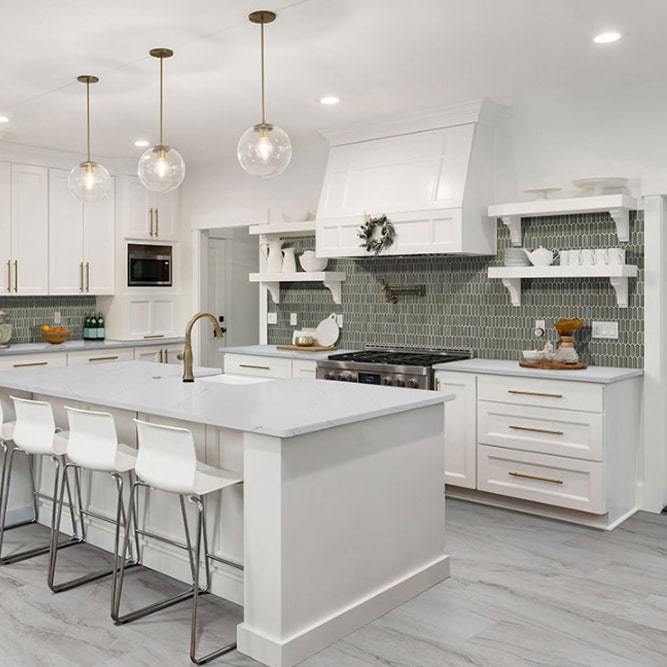 Now that we've looked at some of the benefits of luxury vinyl tile, take some time to explore a more detailed list of luxury vinyl tile pros and cons.
Luxury vinyl planks serve up the coveted look of real wood flooring for less. Like luxury vinyl tile, these planks do not require sealing or regularly scheduled resealing. They're easy to care for, durable, nonporous, and so much more.

MSI's Mezcla Luxury Vinyl Planks and Bembridge Luxury Vinyl Planks feature high shade variations and detailed knots and grains to deliver a wood-look vinyl that looks like the real thing.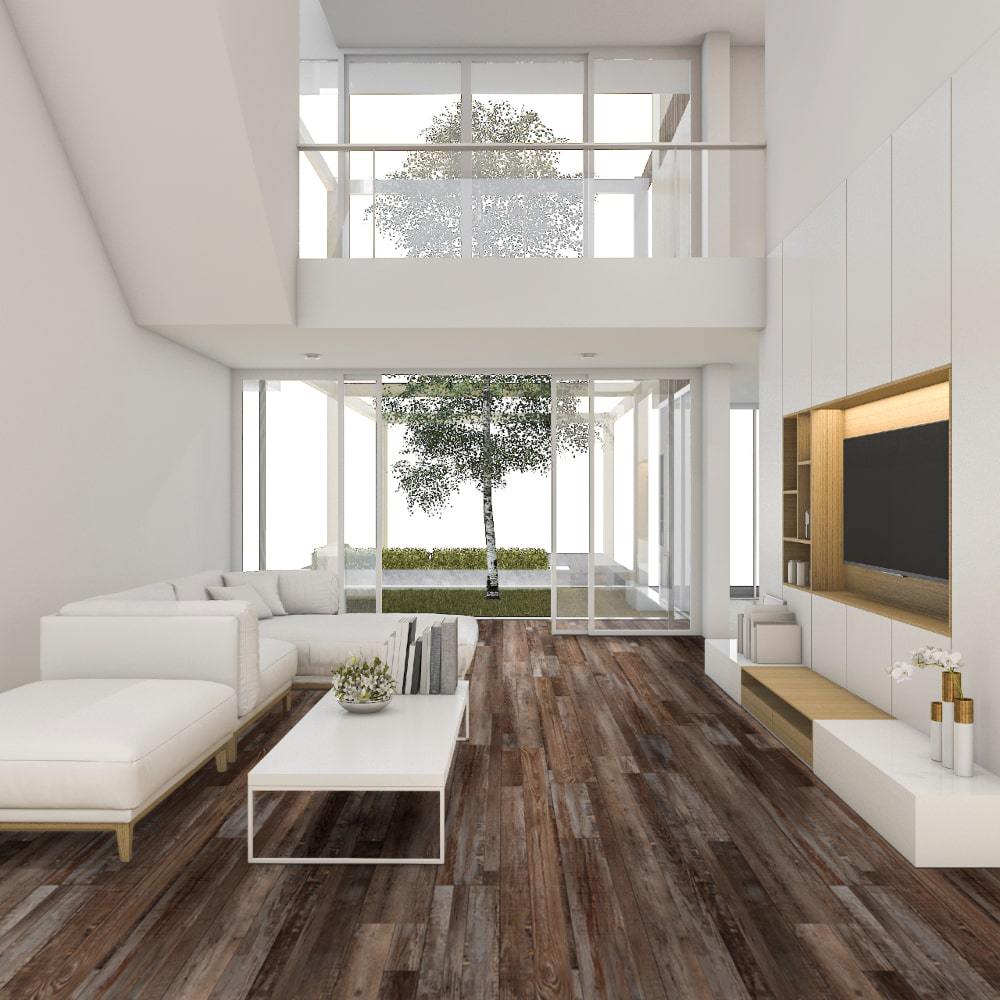 When considering luxury vinyl planks vs. luxury vinyl tile, luxury vinyl tile comes in at a lower price per square foot.
Glue down vinyl plank flooring shares all the benefits of luxury vinyl tiles and planks. The main difference is an adhesive is used to attach them to the subfloor. This flooring is easy to maintain and perfect for high-traffic rooms. The material cost per square foot for this flooring is higher than both luxury vinyl planks and luxury vinyl tile. Still, as the most expensive per square foot of the three floorings, the investment is well worth it for a long-lasting, durable floor that can stand up to high traffic.
The installation cost for luxury vinyl flooring will depend on where you live. It's essential to get quotes in your area before budgeting your entire project. There may also be additional costs for removing existing flooring, if needed, and glue and backings for certain luxury vinyl types.
Comparing the installation and material cost per square foot of luxury vinyl tile vs. luxury vinyl planks vs. glue down vinyl plank flooring is easy enough. Still, there are numerous other factors to consider, such as material, style of flooring, and the details of the installation area. Let's take a look at five factors that affect the overall cost of luxury vinyl flooring.
But first, check out this short, informative video about MSI's Everlife Luxury Vinyl Tile.
LUXURY VINYL FLOORING TYPE
All luxury vinyl floorings are not created equal. For example, floating installation flooring that clicks into place like luxury vinyl planks will be the easiest to install, but they cost more, especially if equipped with a rigid core.
Luxury vinyl flooring in the peel and stick category comes equipped with adhesive backings that stick easily to the subfloor. While this type of luxury vinyl is quite affordable, you're looking at a wide range of installation costs. For a proper install, your subfloor must be perfectly level. If it's not, you'll need to spend to get it there.
Glue down luxury vinyl flooring may be the least expensive to buy, but it's the most costly when it comes to installation. Additionally, this flooring is rarely DIY, so you need to budget for professional installation and the price of adhesive.
LUXURY VINYL MATERIAL
The materials used to make your luxury vinyl flooring, and their lifespan, affect the overall cost. Budget flooring is going to save you on square foot costs, but where you lose money is their short life which runs about a decade.
On the other end of the spectrum, high-end luxury vinyl flooring costs more. However, the product lasts longer, is of much higher quality, more durable, and looks nearly identical to the natural wood or authentic stone it mimics.
STYLE OF FLOORING
Additional cost also depends on the authentic material your luxury vinyl flooring imitates. Geometric and herringbone patterns influence the price as well. You'll find stone and wood-look luxury vinyl flooring to be the most affordable.
INSTALLATION LOCATION
The installation location in your home will also factor into the overall price of installing luxury vinyl flooring. Wide open spaces with few corners will cost less than rooms with many corners. Likewise, expect to pay more if the room has stairs where you'll need trims like stair noses, treads, and more to complete the look.
WHERE YOU LIVE
We've already discussed the importance of getting quotes from contractors as the price of their services can vary significantly from state to state. State taxes play a big role in these labor costs. When obtaining quotes for your project, make sure a contractor's estimate includes state taxes. This is an important step as contractors often leave taxes out of their estimates.
WRAPPING UP
You come out on top no matter which style of luxury vinyl flooring you choose. Luxury vinyl flooring is a no-brainer with more benefits and a lower price tag than the authentic stone and real wood surfaces they mimic.
Learn more about these awe-inspiring floorings and where to buy LVT, or contact us by phone or online for more information.
Learn More About Luxury Vinyl Flooring
Best Practices for Installing Luxury Vinyl Flooring
Get Easy Care Wood Looks With Flexible Glue-Down Luxury Vinyl Planks
Find Inspiration With Our 10 Most Popular Luxury Vinyl Flooring Colors
Bigger And Better Than Ever: XL Luxury Vinyl Flooring
Beautiful Stone-Look Luxury Vinyl Tile Featuring MSI's Pietratech™ Technology
Whitewash Vinyl Flooring Planks From MSI