Which Is More Expensive – Granite Or Quartz?
July 15, 2018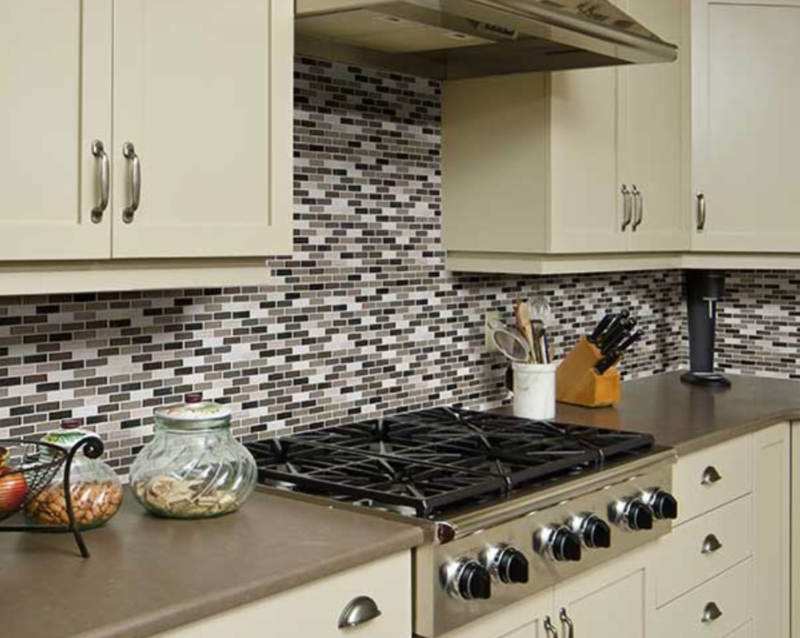 Let's face it—the first thing most people notice in a kitchen is the countertop! When you walk into a kitchen with beautiful countertops, it is only natural to run a hand over its smooth, unique surface in appreciation.
And when it comes to selecting a countertop for your new kitchen, there are virtually countless premium surfaces from with to choose, including granite, quartz, granite, marble, soapstone, and limestone.
When selecting a countertop, homeowners take into account durability, care, and cost. After all, for as many patterns, colors, and materials that are available, there are just as many prices per square foot.
At the lower end of the price scale, granite or quartz start at about $60-$80 per square foot, with most quartz countertops averaging around $100 -$150 per square foot. As for granite countertops, the most exotic granites—those with the most dramatic veining and colors—can run upwards of $250 plus per square foot.
Fossil Brown
Let's be honest, kitchen islands take some abuse. It is where keys are tossed, cookies and pies are rolled out, buffets are set, homework is done, and science projects come to life. In a busy, multi-tasking kitchen, quartz on the island may be the perfect choice.
For example, in this charming, sun-filled kitchen, the countertops and island feature our Fossil Brown Quartz, one of the more popular quartz colors. Durable and requiring no sealing or ongoing maintenance, this engineered surface is a perfectly warm neutral for a busy space.
Nilo River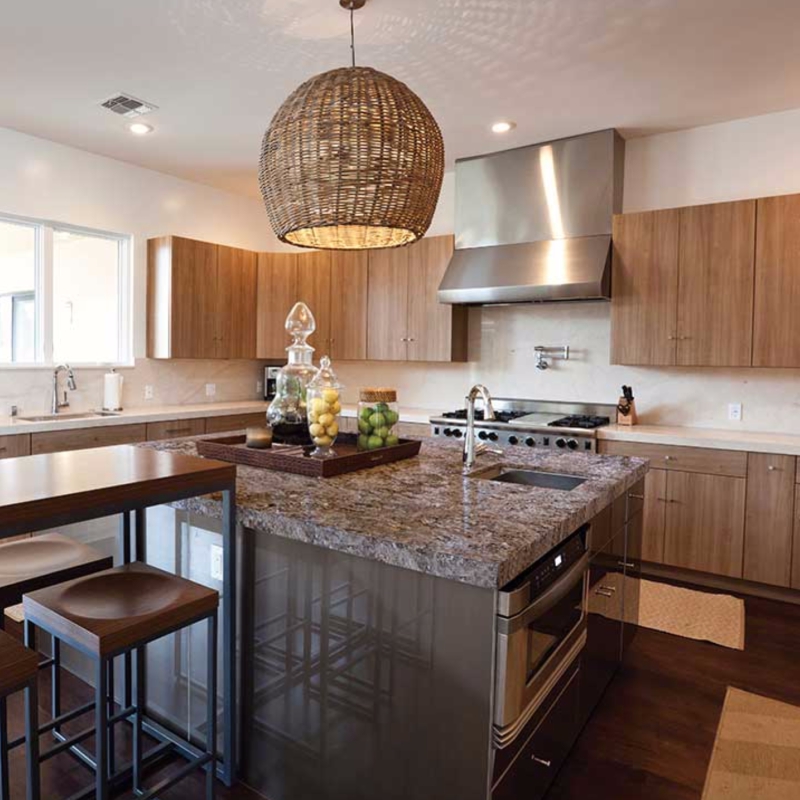 Featured: Nilo River Granite
That's not to say that granite cannot or should not be used on an island. Granite is a hard, natural stone that is heat-, stain- and chip-resistant, and is sure to look beautiful for decades to come. It does, however, require annual or semi-annual sealing to keep it looking its best.
In this beautiful contemporary kitchen, our Nilo River Granite is rich with chocolate, gold, white, and warm Bordeaux red, capturing the richness of Mother Nature perfectly. Set atop a contrasting island, it provides a grounding element that unifies the warm wood cabinetry, trendy accessories, and dark flooring.
Azul Platino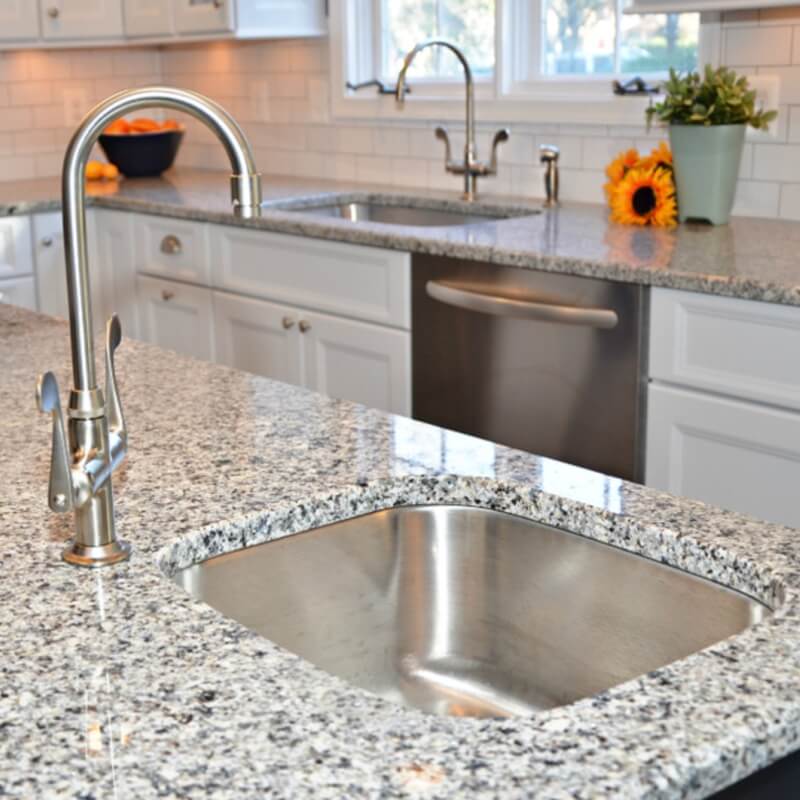 Featured: Azul Platino Granite
Granite's natural patterns, veins, and colors provide a unique character to every slab. From dark, moody tones to light, uplifting hues—and everything in between!—granite countertops are a timeless choice. Many homebuyers still yearn for granite countertops, and in many parts of the country, this natural stone is still the best-selling countertop material.
White kitchens are always in style, and white granites are a perfect choice for complementing the design. Our Azul Platino Granite combines icy white, gray, and charcoal tones that unify the white cabinetry with stainless steel appliances and reflective subway tile. The effect is a bright and cheerful space that will draw in the whole family!
Perla White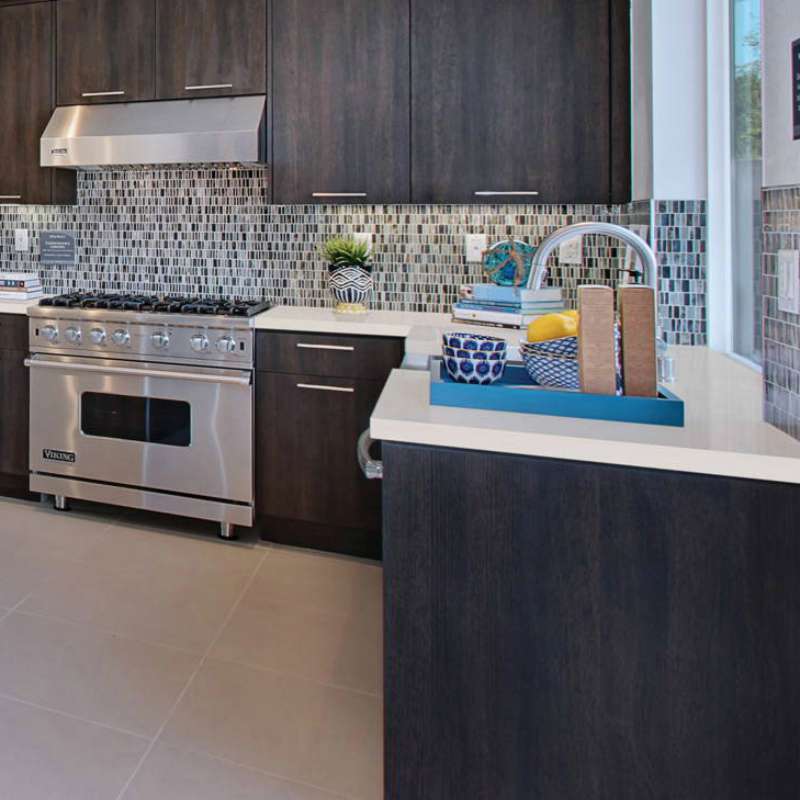 Featured: Perla White Quartz
In contemporary spaces where a more solid color is desired, our Perla White Quartz countertop is a perfect choice. Believe it or not, with quartz, it's possible to have a white countertop that won't stain or etch, and never needs sealing.
Spilling red wine, spaghetti sauce, or even watercolor paints doesn't need to make your heart stop! In this contemporary kitchen, the serene quartz lets the beautiful mosaic backsplash and the fine wood cabinets be the star of the space.
Calacatta Taj
Most bathrooms take a lot of abuse, too; that's because beauty products can etch and stain countertops. Regardless of your countertop material, it is important to choose cleaners and sponges that won't harm the finish.
Quartz is a tough-wearing choice for bathrooms, and for an elegant and classic look, our marble-look quartz Calacatta Taj Quartz is simply divine. Its creamy background is complemented by random-looking veins, giving this man-made slab an authentic natural stone look. Simply use a soft cloth and mild soap to wipe up any makeup or hair products, and you'll keep the finish looking like new for years to come.
At the end of the day, countertops are an investment in the value your home, and even as the desire for lower-maintenance counters grows, granite countertops are still in demand. Natural stone is timeless, while quartz requires virtually no maintenance, making it a matter of preference which you choose.
Weigh the characteristics, look, and of course, price, when selecting the right countertop material for your project. And remember, both budget-friendly options and luxurious options are available to complement your design.
MORE FACTS ABOUT QUARTZ AND GRANITE COUNTERTOPS
Get The Facts About Quartz Countertop Costs
Take It For Granite: Granite Countertops Are A Worthwhile Investment
Tips From The Trade: How To Estimate Your Quartz Countertop Cost
How Do I Choose Between Natural Granite and Man-made Quartz Countertops?
Quartz vs. Granite for Countertops
The Dark Side: Black Quartz and Black Granite Countertops Compared
How To Save Money On A Granite Countertop
Tips From The Trade: Everything You Need To Know About Buying Quartz Countertops
READ MORE ABOUT GRANITE COUNTERTOPS
Quartz Vs. Granite for Countertops
Granite vs. Quartz for Countertops
Will Hot Pans Damage Your Granite Countertops?
Your Granite Countertop Health Concerns Answered