Current Obsessions: White Quartz Countertops That Look Like Carrara Marble
November 04, 2017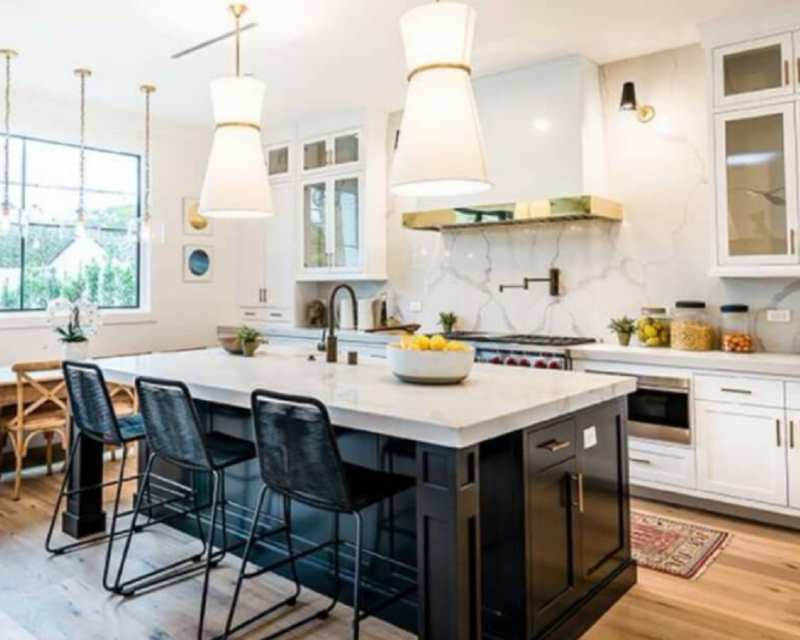 Carrara marble is highly sought after for its unforgettable beauty. It's not surprising, given its distinctive and gorgeous range of whites and grays and soft, smoky veining. Believe it or not, Carrara is also one of the more affordable high-end countertop surfaces.
However, when it comes to choosing the perfect countertop, price isn't the only factor to consider. In fact, many homeowners are turning to the luxurious marble look of quartz to achieve a countertop that fits both their budget and their lifestyle. And choosing quartz over marble is no compromise. For many homeowners, this realistic natural stone lookalike is a dream come true because it's a durable, nearly maintenance-free countertop that won't harbor germs. After all, most busy couples or active families don't want to spend time sealing their countertops or worrying about spills staining their gorgeous surface.
Is quartz starting to sound like it might be the perfect alternative for your home? Take a look at these beautiful rooms that feature some of MSI's most beautiful white quartz countertops.
Caldia Carrara
Just because Carrara marble belongs in traditional and opulent designs doesn't mean your marble-look quartz has to. For example, this modern kitchen features Carrara Caldia Quartz. This beautiful surface, with its warm white background, gray veining, and soft gold clouds, offers just enough detail to blend in well with this contemporary cooking space.
Calico White
When you want simple and classic quartz countertops that look just like Carrara marble, look no further than Calico White Quartz. This quartz countertop creates the perfect dreamy white look for any style bathroom or kitchen. Its clean design and durable material make it a great option for heavy use powder bathrooms like this one.
Carrara Marmi
Add even more character to your luxurious bathroom with Carrara Marmi Quartz. Its subtle gray veining is a timeless feature, yet it looks current in this monochromatic master bathroom. The soft hues of the quartz atop the brown vanity perfectly match the tiled feature wall.
Cashmere Carrara
If you're searching for a traditional staple, then choose Cashmere Carrara Quartz. This highly polished quartz features a white and ivory background with stunning gray veining. We think you'll love the delicate pattern so much that you'll also want to use it as your backsplash in the bathroom or kitchen.
Marbella White
Whether your style is modern, farmhouse, or traditional, you can't go wrong with Marbella White Quartz. This soft white quartz is an elegant option that includes tonal veins and small specks that evoke natural marble. The waterfall edges in this contemporary kitchen mean you have more stunning countertop surface in sight, so you can appreciate the fine detail even more.
Since Carrara marble is a natural stone, it's no surprise that it comes in all different variations. But with quartz countertops, you can choose the exact look you love most. With nearly 20 white marble inspired quartz designs to choose from, MSI has all of your white kitchen inspiration needs covered. With quartz, your home will feature a no-maintenance surface that's stylish, too!