6 Bold Bathrooms Using Porcelain Tile
December 17, 2021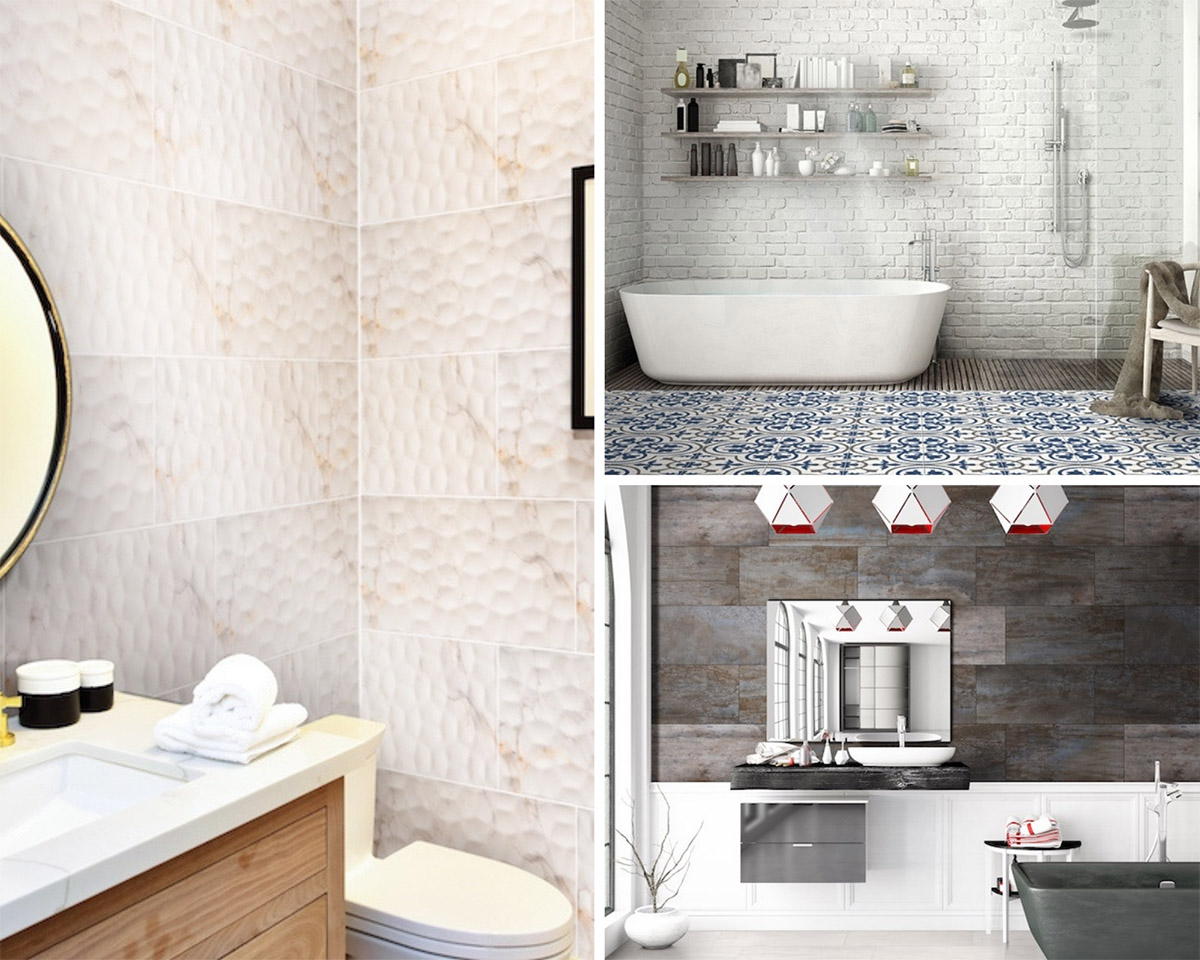 "The Bold and the Beautiful" is the iconic name of the long-running soap opera show. The name fits a soap opera perfectly, but have you ever thought of your bathroom as "The Bold and the Beautiful?"
Bathrooms have become one of the biggest showpieces in houses today. The bathroom is a big component of why people buy houses and the focus on them has increased over the years.
Porcelain tiles bring homeowners the option of creating bold bathrooms that stand out. Because of their natural strength and beauty, homeowners are discovering the best options come with using porcelain tiles in their bathrooms.
Below, we highlight some unique tiles set up in different bathrooms to show you the many style options porcelain tiles bring you.
The Porcelain Tile Designer Look
Porcelain gives you the ability to customize the perfect color and design options for your bathroom. The Paloma Tile in the Kenzi Porcelain Tile Collection is a perfect example of a specialized tile that stands out in a bathroom.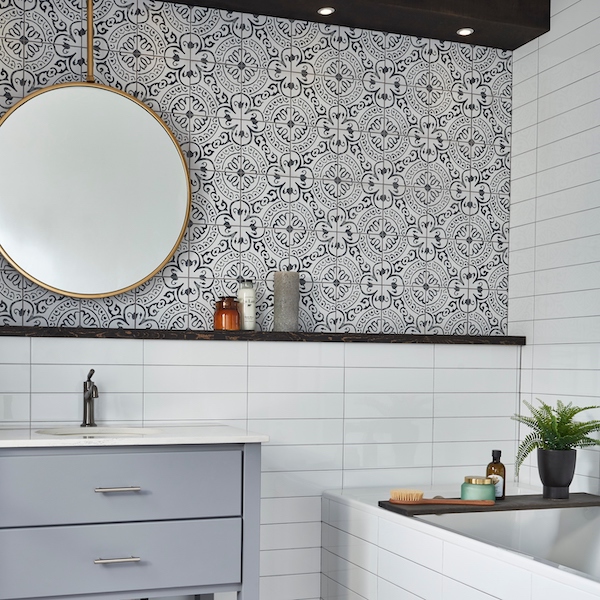 The Paloma tile is used as an accent tile behind the mirror and brings a beautiful contrast to the white tiles. The shower shelves also have tile behind them and it keeps the shower from being too monotone.
Porcelain tiles can come in many beautiful tile patterns. They are clay-based and kiln-fired at higher temperatures than other types of tiles. This makes them very dense, less porous, and incredibly water-resistant.
The Tile Council of North America defines porcelain tile as having a water absorption of 0.5%. This makes it the perfect tile to have in water areas like your bathroom.
The Bold Colors of Porcelain
Porcelain not only brings intricate patterns to your bathroom, but many of the new modern tile options include bold colors. The Zanzibar Tile in the Kenzzi Porcelain Tile Collection is a prime example of bold colors standing out.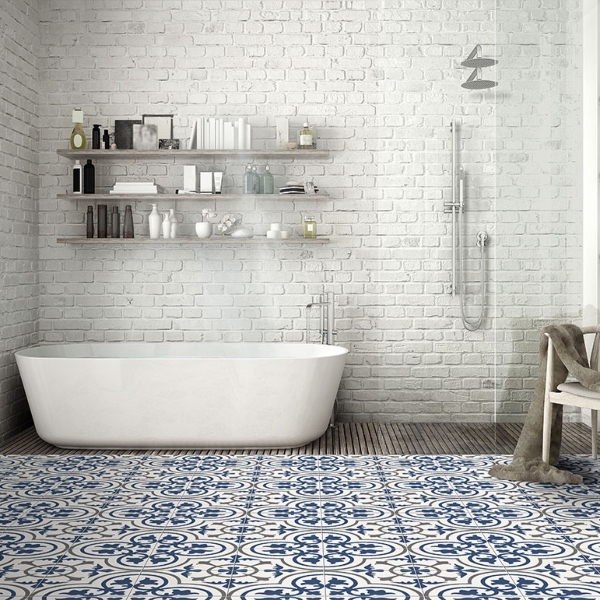 Using these tiles as a floor tile like the picture can add a unique feel to your bathroom design. Their color combination will stand out and bring character to your bathroom or any room you use them in across the house.
The strength of porcelain vs. ceramic tile can be shown with these bold colors. Porcelain is naturally resistant to stains, dirt, and scratches. It is one of the densest tiles so the colors won't fade or get damaged.
Porcelain's Strength in Other Looks
You can gain the advantages of porcelain's strength, but get customized looks that fit your bathroom designs. Porcelain tile can be made to look like many other styles like wood and brick.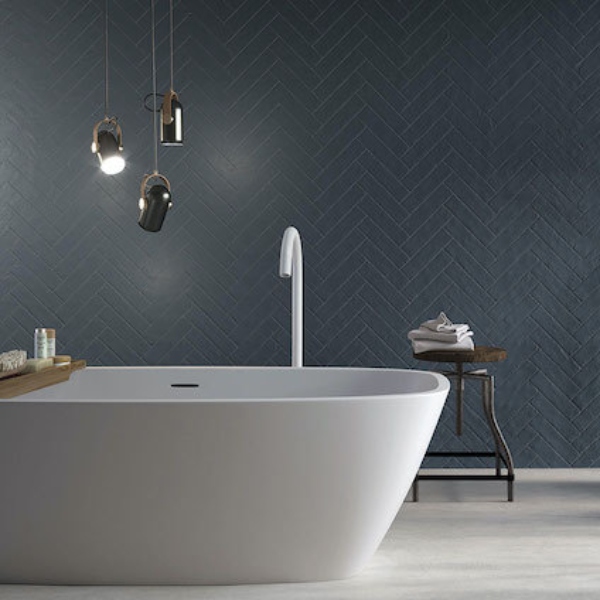 The Brickstone Cobble Brick Wall Tile is a perfect example of this option. The look of brick stands out as the feature wall in this bathroom. The deep blue provides a backdrop that makes the white tub shine.
The Brickstone's rich blue color shows another example of the ability of porcelain tiles to add beauty to your own style. Brickstone can come in multiple colors bringing more options for you to choose from.
Porcelain's Character and Creativity
Your porcelain tiles don't have to just be a single color. The Oxide Iron porcelain tile here is an amazing example of contrast, color, and character that can shine through one tile.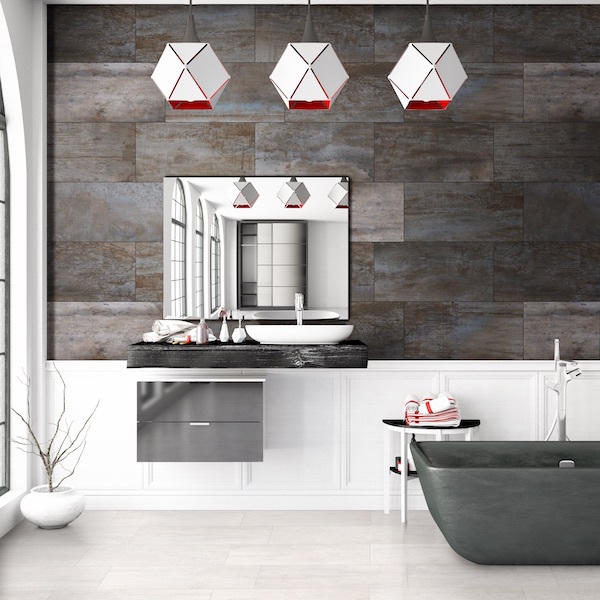 The grey and cocoa brown hues come together on a matte metallic-look finish that will add to your design. You can use it as an accent wall like the image to add a strong creative flair that adds character to your bathroom.
You don't have to worry about the colors staining with porcelain, but you also don't have to worry about odors or bacteria. The nonporous build of porcelain makes it impervious to bacteria growing or odors forming.
Porcelain's Standout Beauty
If you want to create a bathroom that stands out, porcelain gives you the freedom and options to do it. You can achieve this by using a tile like the Marquina Noir Porcelain Tile from MSI's Regallo Collection.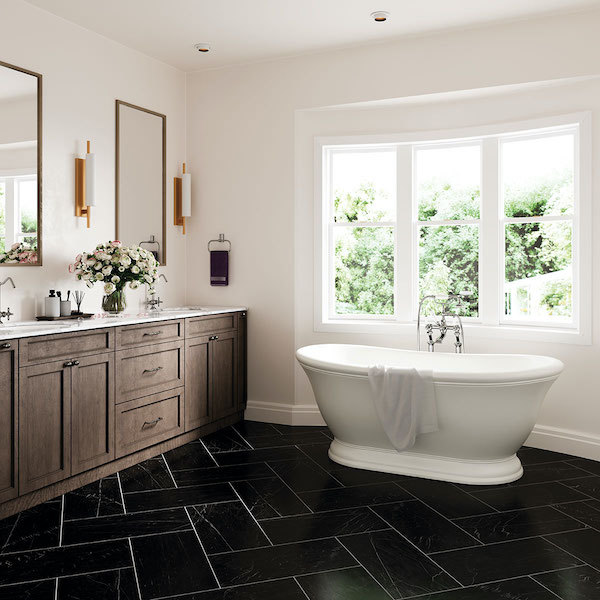 This tile brings a deep black background that has a subtle cascade of white veins running through it. Used as tile flooring in the image, you can see how the white veining connects with the tub and walls to add beauty to the bathroom.
These tiles can be used in any application in the bathroom because of their natural strength. Plus, they give you the option of having a one-of-a-kind color.
Textured Options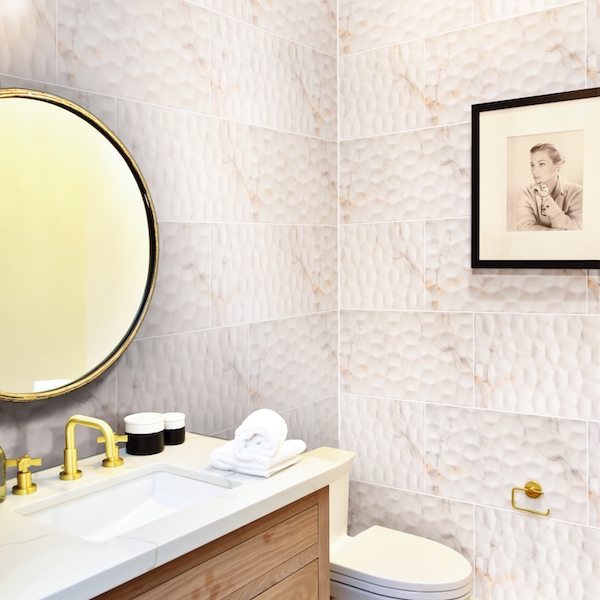 You can also add a textured option to your unique bathroom look. This image of the Adella Vico Calcatta Large-Format Tile showcases the unique addition texture can add to your bathroom.
The tile's white background gives a generous platform for the gold and gray veins to run through. With a special satin-finished ceramic that is easy to clean, this Calacatta marble can withstand all your bathroom has to offer.
These tiles can be used for horizontal or vertical applications across the bathroom. The texture will add a unique feel and look on the wall or around the tub or shower.
Your Bold and Beautiful Bathroom
Why settle for just a plain bathroom when you can make your bathroom a real showpiece? Porcelain tile brings amazing strength, stain resistance, and water resistance to your special bathroom decoration plan.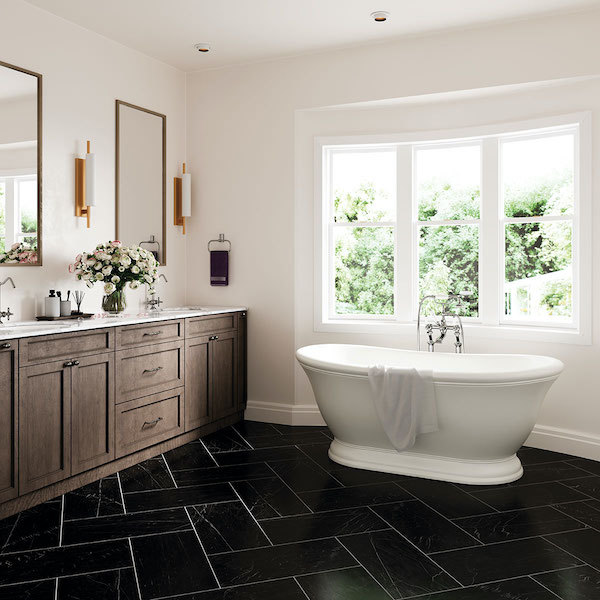 MSI has an expansive selection of porcelain to fit your bathroom designs. We help you find the right styles and colors from around the globe to fit your design dreams. Our website offers many free resources to help you plan your perfect bathroom. Contact us today and find out how your bathroom can become bold and beautiful.
Ask about order
READ MORE ABOUT THE BENEFITS OF PORCELAIN TILE
Can I Install Radiant Heating Under My Porcelain Tile Floor?
Carefree Luxury: Pietra Porcelain Offers All of the Elegance Without the Worry
Choose the Perfect Porcelain Tile with Our New Bathroom Visualizer Tool