perfectly paired pebbles and fire glass
October 24, 2021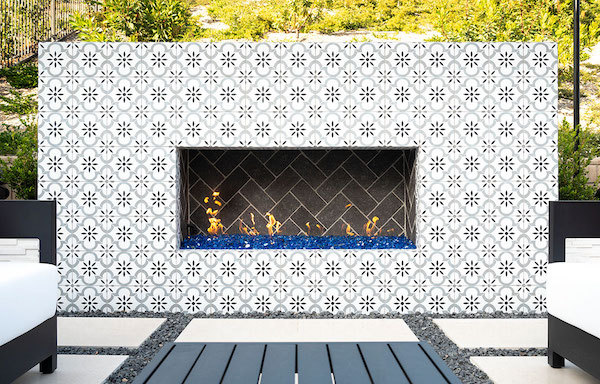 Does your backyard or patio need a style refresh? Pairing pebbles and fire glass creates a gorgeous foundation for other hardscaping in your backyard or on your patio.
Pebbles fall on two ends of the design spectrum, drawing from nature while remaining sophisticated and classy. Translucent and tempered fire glass provides the perfect backdrop for the comforting warmth of a fire - without the fumes and ash that comes with burning wood.
With dozens of dazzling fire glass colors to choose from and pebbles of all shades and sizes, you're guaranteed to find a pairing that matches and elevates your existing outdoor style. Read on for breath-taking pebble and fire glass combinations that will create an outdoor atmosphere worthy of your home.
Grecian Holiday with Aqua Blue Fire Glass and Himalaya White Pebbles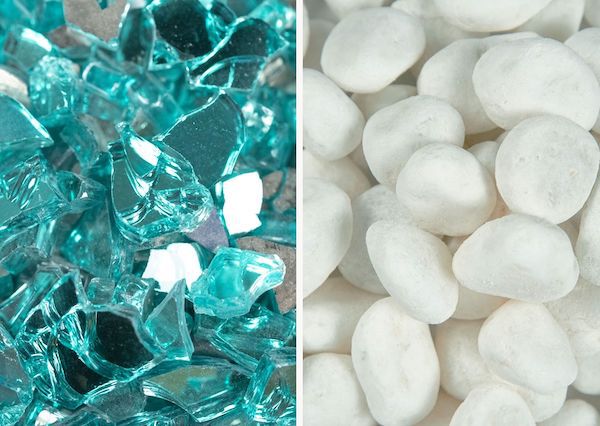 For a patio inspired by the classic color palette of Greece, pair Aqua Blue Fire Glass with Himalaya White Pebbles. This pairing brings to mind homes with a breezy, coastal aesthetic, but works just as well for homes in the city.
With a shade of blue that hints at the warmth the fire glass holds, and bright white pebbles to keep the space feeling open and inviting, this combination brings all the beauty of a crystal coastline into the comfort of your backyard.
Lighter-colored pebbles and landscape stones have the advantage of deflecting heat and won't affect the temperature of the soil in your garden. This makes them perfect companions for fussier plants that need consistent temperatures to thrive.
Keep white pebbles bright by cleaning them with a solution of one part white vinegar to six parts water. Scrub the pebbles with the solution and hose them down to refresh your patio. Allow to dry completely before using them again.
Draw Inspiration from Existing Design Colors
Look to your existing exterior decor and hardscaping as a source of inspiration for fire glass and pebble pairings.
When working with black and white patio furniture, surround your outdoor patio tile with Mexican Beach Black Pebbles to create a strong design base. Pebbles help keep weeds at bay to maintain an effortless, groomed look.
For a bold pop of color and shimmer, use Sapphire Blue Fire Glass to make the space stylish and memorable. Fire glass is highly reflective and polished to perfection to make it the ideal fire enhancer.
Taking proper care of your fire glass keeps it shimmering and glittering for years. Propane gas tends to burn dark and require more frequent cleaning; it's recommended you opt for natural gas to minimize this maintenance. With occasional dusting and polishing, fire glass can remain the focal point of your patio for years.
Watery Wonder With Glacial Silver Fire Glass and Mixed Polished Pebbles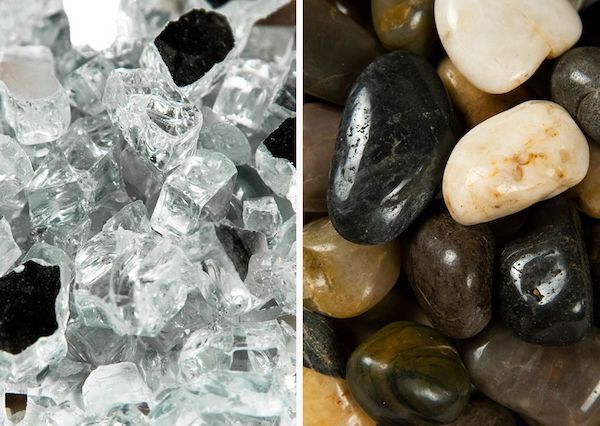 If you're looking to curate a fresh, light atmosphere to relax in, this is the combination for you.
Glacial Silver Fire Glass creates the sparkling illusion of ice set on fire, while Mixed Super Polished Pebbles mimic the cool, gleaming wet rocks found beneath waterfalls. Relaxing on your patio will have the same effect as dipping your feet into a babbling brook on a hot day.
You can use Mixed Super Polished Pebbles or other types of river rock in water features throughout your garden to continue with the hydration inspiration. Their many different natural tones make them a versatile and multi-faceted color choice for fountains or water displays around your pool.
Bold Contrast with Rainbow Beach Pebbles and Galaxy Black Fire Glass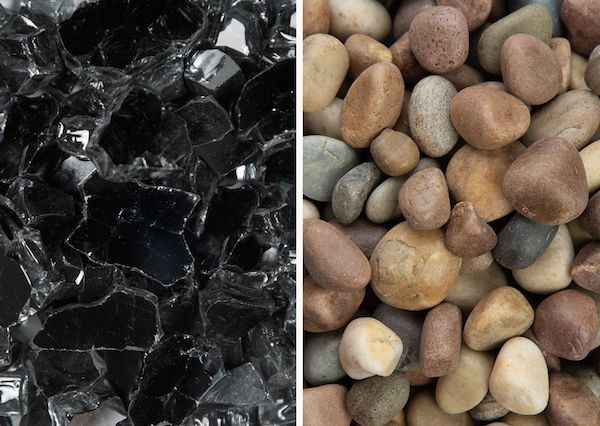 For a design that oozes elegance and class, you can't beat a black and brown color combo. The sleek drama of Galaxy Black Fire Glass forms a powerful focal point to your patio. The look is warmed up by the varied brown hues of Rainbow Beach Pebbles. The texture of this garden rock brings the character of the beach into your backyard, creating the perfect environment to welcome and entertain.
This is the extrovert's pairing - guests will feel right at home surrounded by these polished quartzite rocks, whether they're in the form of meandering garden paths or accent landscape features. The many different uses of pebbles all upgrade and enhance your patio into a whimsical, functional, and entirely individual space.
Brown-on-Brown with Amazon Multi-Colored Pebbles and Titan Brown Fire Glass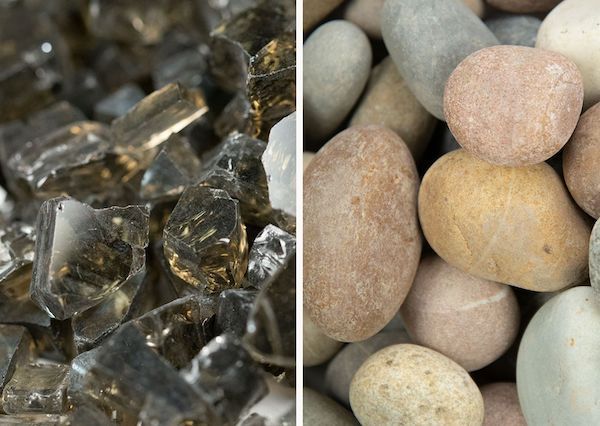 Pay homage to nature's gentleness with this soft hardscaping design. The gentle, earthy tones of Amazon Multi-Colored Pebbles are the perfect base to build your design off of, with multiple sizes available to suit your needs. Titan Brown Fire Glass looks like liquid gold as it's lit - glistening and shimmering like water in the sun.
For a family that prioritizes comfort and warmth, this pairing creates a homey exterior.
The smooth, round shape of the pebbles makes them comfortable to walk on, keeping every corner of your beautiful garden accessible. They can be used near a pool or playground, and accent garden greenery when placed at the base of trees or throughout a flower bed.
To break up the brown and add visual interest, use contrasting pavers to create paths or walkways in your garden. Having materials of different shades and textures keeps your exterior feeling multidimensional, while contrasting colors lead the eye from one feature to the next.
Find The Perfect Fire Glass And Pebble Pairing For You
Creating the right atmosphere is essential when transforming your house into a home. A beautiful, versatile backyard or patio gives you the chance to hang out with your family, entertain friends, or escape from reality with a glass of wine and a good book.
Pairing fire glass and pebbles offers you endless design options. You can get creative while taking care of the practicalities of designing an outdoor space. For more information on finding the perfect pebble and fire glass pairing for your home, contact us today.
---