Top 7 Granite Countertop Colors For 2021
February 23, 2021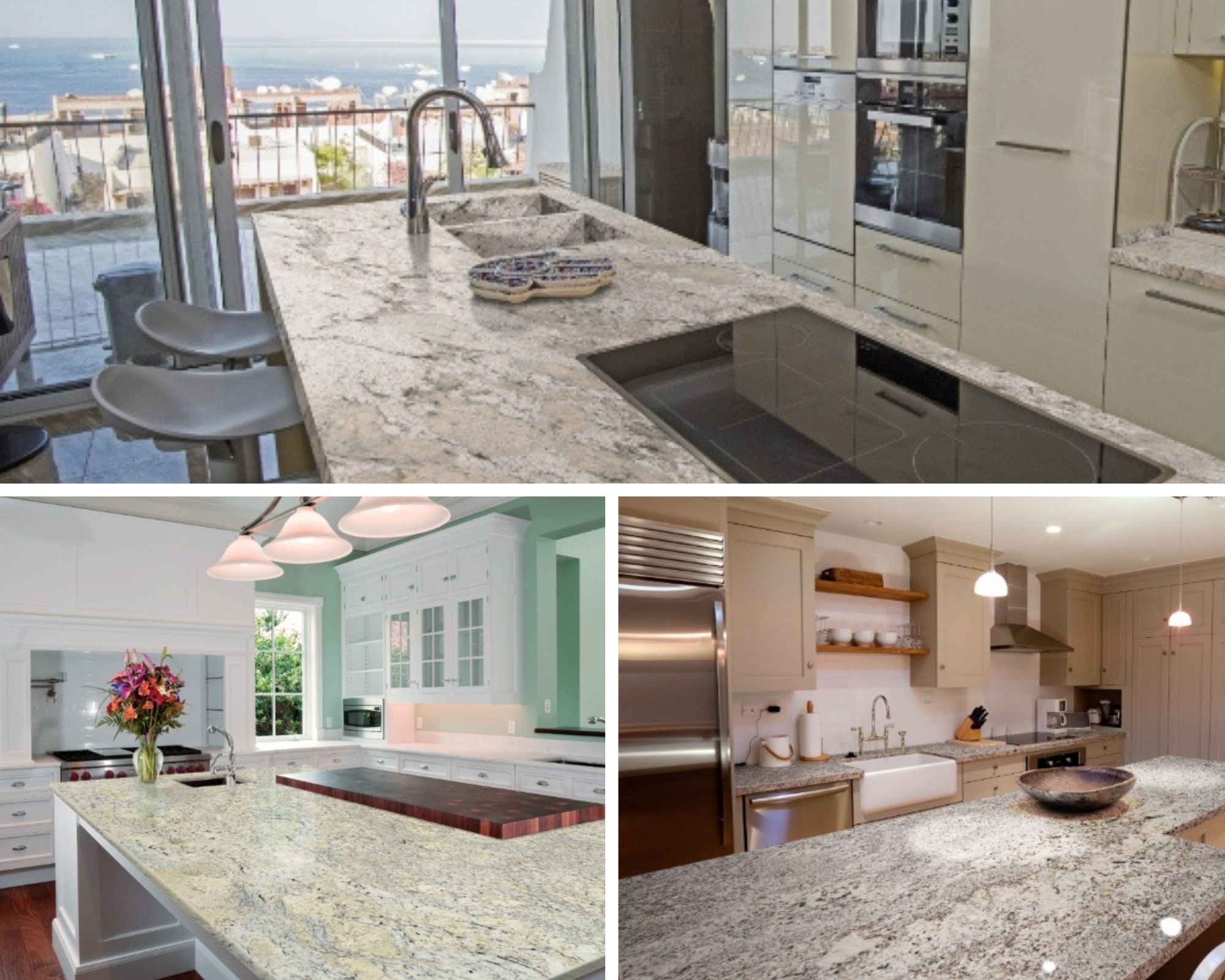 There's no denying that the kitchen is the focal point of the home — it's so much more than a place to prepare food. So, what's the focal point of the kitchen? Without a doubt, it's the countertop. Whether your kitchen is a small galley-style area or a large open space with a big center island, granite countertops become the star of the show.
Many homeowners are choosing new granite countertops for remodeling their kitchen in 2021, and they're doing it for so many reasons. Granite counters are long-lasting, beautiful, and a true workhorse in the kitchen. Despite their opulent beauty, granite countertops create a space where families can spend time, engage their creativity, cook delicious meals, and generally enjoy the room instead of worrying about preserving its value.
Each slab is a unique work of art; no two are precisely the same — just like today's homeowners and their lifestyles. You can further customize it with a variety of countertop edges.
This year's trends include a movement toward contrast and drama, especially compared to yesterday's love affair with minimalism. At the same time, homeowners are choosing more soothing, subtle colors, especially since they've been spending so much time at home lately. The biggest trend, though, is neutral shades. Although granite countertops are available in a multitude of exotic colors, it's the neutral gray, brown, white, and cream shades that dominate this year's design trends.
Although these granite countertop colors are on-trend for 2021, their beauty is timeless. Try these shades with MSI's granite visualizer, where you can find countertop by picture, select a variety of flooring and cabinet colors, and see how they look in a real kitchen.
Sunset Canyon

Sunset Canyon granite features neutral shades of brown, taupe, and cream, which are always popular with homeowners. That's because shades of brown are so easy to blend with any color of cabinetry, wall paint, and flooring. This easygoing combination brings a feeling of warmth to the kitchen or bathroom, and who couldn't use a little extra coziness in the home this year? Besides, it's a well-known fact that granite countertops offer an excellent return on investment when it comes to your home's resale value. Sunset Canyon's soothing hues are sure to please even the pickiest home buyer.
Alpine White

One of the big trends this year is the movement away from the plain, stark, minimalist styles popular during previous years. Alpine White is a great example of the dramatic veining and movement homeowners are falling in love with. This bold combination of deep gray, coffee-brown, and snowy white adds cheer to the all-white kitchen aesthetic that continues to be popular. Moving away from minimalism doesn't mean you need cluttered countertops or fussy decor; just the unique contrasting light and black granite hues in Alpine White will allow you to make the best of both worlds.
Azul Celeste

Shades of gray have been working their way into home decor for some time now, and this year is no exception. Azul Celeste offers elegant, soothing shades of silvery gray, pale blue, and charcoal, and looks perfect alongside gray-hued cabinetry and stainless steel appliances. It's bold enough for the focal center island, but muted enough to let other decorative elements shine, too.
White Ice

White granite, such as White Ice, is easy to pair with any color of cabinetry — all shades of wood, along with pure white. That's because white granite is never pure white; there's always going to be contrasting shades and a pattern of movement, even if it's subtle. White Ice is a bright white that's accented with pale gray and black. Light-colored countertops make the kitchen area appear more open and spacious.
White Valley

Cleanliness and purity in the kitchen and bath have always been essential, but never more than in 2021. White Valley is a soft, soothing mixture of snowy white and pale gray. And, since granite is one of the toughest, most durable countertop materials available, you can have that elegant brightness without worries about staining or high maintenance needs. If you're looking for a surface that's a cinch to keep clean and antimicrobial, the choice of quartz vs. granite can be difficult, but you can't go wrong with White Valley granite.
Makalu Bay

Flexibility and versatility is always a welcome quality for a kitchen countertop. This is especially true when you're investing in a granite slab — although it's a substantial investment, it's one that will pay off big over the years and last a long time. Makalu Bay offers beige, brown, and golden hues that are beloved and timeless, with a relatively subtle pattern that's suited for many different types of decor. So, you can be confident that if you should change your aesthetic, from traditional to contemporary or rustic, Makalu Bay will be just as lovely and complimentary.
Oyster White

Pairing just the right countertop color and pattern with existing or already-chosen cabinetry can be a challenge. Today's homeowners are matching these other design elements to the veining, or accent colors, in a granite countertop, rather than trying to match the whole slab. Contrasting shades add drama. Oyster White is a natural choice for this technique because it features a warm white background and deep gray and black veining. This gives you three different shades to play with — as shown in this image, including taupe cabinetry, warm brown wood-grain flooring, and bright stainless steel appliances, all picked up in the varying shades of the glossy countertop.
MSI's picks for 2021's most popular granite countertop colors illustrate several points. First, there's the trend toward neutral shades, particularly with a heightened use of gray. Second, they highlight the durability and low maintenance of granite, even with the paler shades. Most of all, this year's most beloved countertop colors illustrate that a comfortable, beautiful home is more important than ever — and the kitchen continues to be its most important room.
Learn More about Popular Granite Colors
9 Popular Black Granite Countertops
Why Granite Tile Is a Popular Flooring Choice
Gorgeous Granite Countertops That Are Easy to Come By
The Latest Marble & Granite Countertop Trends
READ MORE ABOUT GRANITE COUNTERTOPS
Top Granite Colors for Modern Kitchen Design
Trend Alert — Granite Countertops with Under-Mount Sinks
Understanding the Cost of Granite Countertops
Versatile Granite Countertops Offer Colorful Options for Your Kitchen