Everlife Waterproof Flooring Is Affordable And Easy To Maintain
January 12, 2023
When choosing the perfect flooring for your design needs, you want the premium surface to be durable, easy to maintain and care for, long-lasting, affordable, and for the safety of your family and guests, waterproof. When it comes to waterproof flooring, MSI has all your bases covered with our Everlife® Waterproof Flooring Collection and beyond. With six captivating flooring types to choose from, you'll have no trouble finding the right selections for your inspired design ideas.

Below we'll explain these six flooring types and the benefits of each, including being waterproof, affordabile, easy to maintain, and so much more.
LUXURY VINYL TILE
The luxury vinyl flooring benefits you'll receive through luxury vinyl tile are challenging to beat. One of the top benefits of luxury vinyl tile is its ability to mimic the look of natural stone. With luxury vinyl tile, you'll get the sophisticated appearance of irresistible stone without the heavy price tag of the real thing or the maintenance.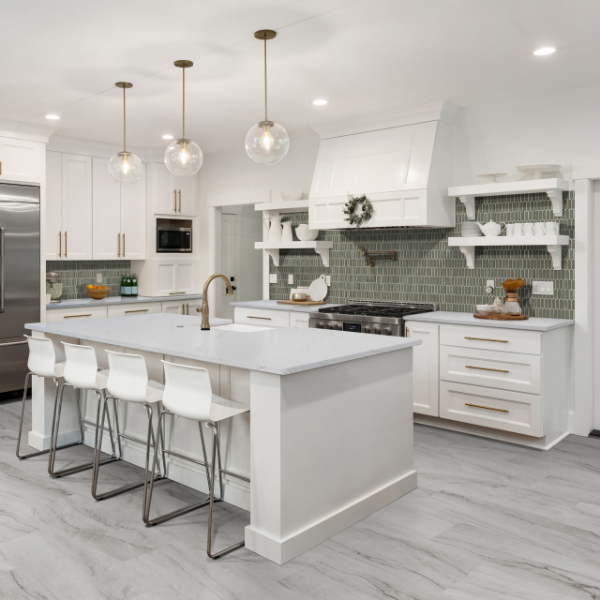 Our Quarzo Taj Luxury Vinyl Tile pictured here is a fine choice for this kitchen scene. This luxury vinyl tile looks fantastic and is 100% waterproof, so you won't need to worry about installing it in a kitchen like this one. What's more — Quarzo Taj boasts a rigid core which is the ideal thickness for installing over existing flooring, as well as a host of additional benefits that we will cover later in this article. For now, take another look at this beautiful kitchen scene. It's nearly impossible to differentiate premium surfaces like this one from authentic stone.

Learn more about the benefits of our Everlife luxury vinyl tile in this short video:
LUXURY VINYL PLANKS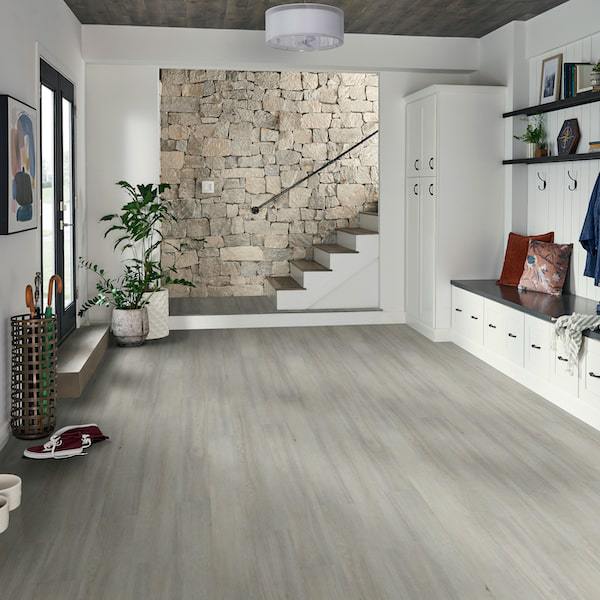 Luxury vinyl planks are another luxury vinyl flooring type where the benefits far surpass those of the material (in this case, natural wood) it mimics. An excellent example of this is our Brianka Luxury Vinyl Planks. As these luxury vinyl planks are 100% waterproof, they do not require ongoing sealing to protect them from water damage as real hardwood flooring does. With a mix of silvery grays and soft creams paired with understated knots and graining, these planks deliver the authentic wood look at a much more affordable price.
These planks come with a lifetime luxury vinyl flooring warranty for residential use. Additionally, the striking planks feature MSI's CrystaLux™ protection layer, which protects against daily wear and tear.
HYBRID RIGID CORE
Our Smithcliffs™ Hybrid Rigid Core flooring series looks great, is highly durable, and is 100% waterproof. Using our exclusive engineering, Smithcliffs™ offers a solid core construction that is extra thick and comes with a pre-attached 2MM closed-cell comfort & acoustic pad. As a result, it feels great underfoot and serves as a top-notch noise dampener.
Also equipped with our CrystaLux Ultra™ protection layer, this rigid core flooring delivers the durability and longevity protecting against daily wear and tear that you've come to expect from our premium products. In addition, they come with built-in Anti-Microbial protection to make these products even more worry-proof.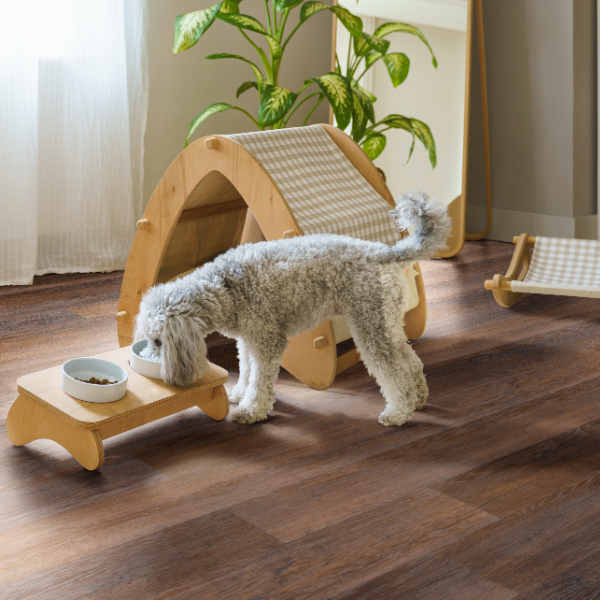 Check out the Hillsdale Hybrid Rigid Core Flooring pictured here. In addition to all the benefits listed above, this sophisticated flooring stands up to the wear and tear your adorable pet may deliver, including spilled water and kibble.
WATERPROOF WOOD FLOORING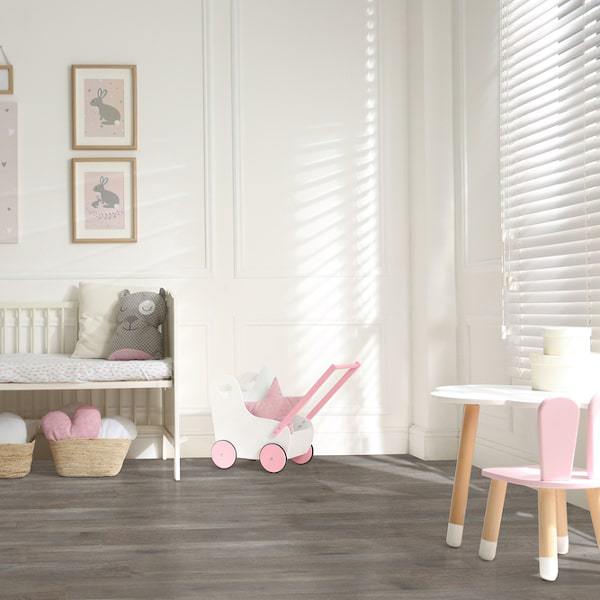 Our Brook Timber Wood Flooring is the perfect choice if you're in the market for waterproof wood flooring. Since we incorporate our DryLuxe™ technology into this product, you can rest assured that it's 100% waterproof making it perfect for kitchens, bathrooms, and other moisture-rich spaces.
A stone-based core and pre-attached 1MM pad make this flooring comfortable and quiet underfoot, and our patented locking system makes installation easier. The flooring's use of browns and dark chocolate hues with subtle knots and graining make this more durable, easier to care for, and more affordable than the real thing, a desirable choice.
Using CrystaLux Ultra™, Brook Timber delivers a protection layer that provides the longevity you need to protect against daily wear and tear. You also receive a lifetime warranty for residential, 20 years for light commercial, and 15 years for commercial use.
PORCELAIN TILE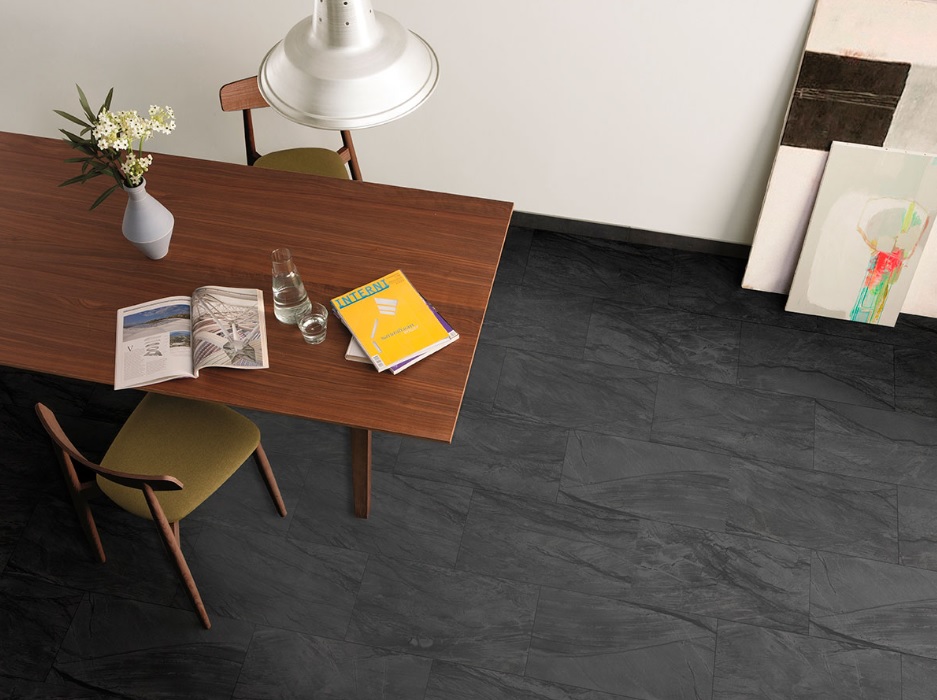 Durban Anthracite Porcelain Tile comes equipped with our proprietary ZeroSlip™ technology offering tremendous slip resistance that will provide you with peace of mind, especially in busy households with children, well, being children. This porcelain tile is also low maintenance and water and mildew-resistant. Durban Anthracite delivers a mysterious allure with its smokey vibe that instantly adds a sense of mystery to any space. Due to its non-porous nature, porcelain tile is durable, easy to care for, and never requires sealing maintenance.
Note the luxuriousness this premium flooring adds to the simplicity of this scene. Not only does the tile make a bold statement, but the possibilities for decor, additional premium surfaces, and furniture is seemingly endless.
CERAMIC TILE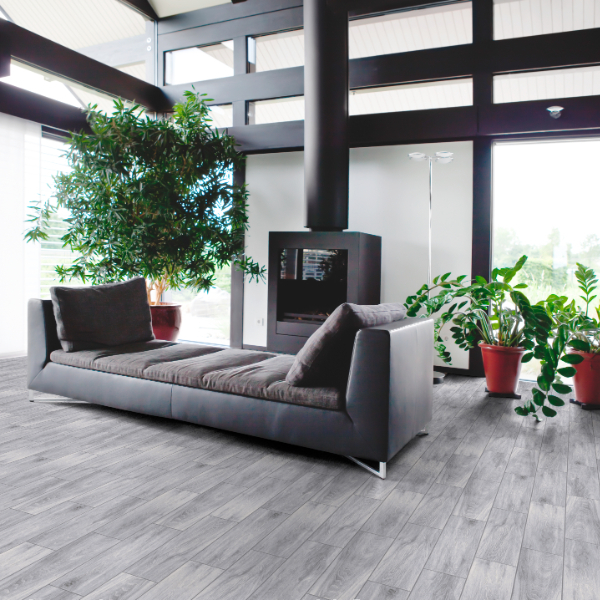 With each passing day, ceramic tile gains in popularity. A case in point is our Balboa Ice Wood Look Tile planks. The ceramic planks are scratch and water-resistant, require little maintenance, and are ideal for busy families with kids and pets. These elegant planks capture the look of natural birch hardwood at a lower price point and without all the ongoing required maintenance. With ceramic tile that looks this good, how could you go wrong?
Is our Everlife Waterproof Flooring stirring up exciting and creative design ideas for your next premium flooring project? Before getting started, visit one of our showrooms or find an authorized MSI countertop dealer near you. Have an immediate need? Reach us now using the chat feature at the bottom right of your screen.
LEARN MORE ABOUT WATERPROOF FLOORING
Get The Look and Warmth of Wood with Waterproof Flooring
Check Out These 7 Instagram Worthy Rooms Featuring Waterproof Flooring From MSI
What Is the Best Luxury Vinyl Flooring for Bathrooms?
Waterproof And Pet-Friendly New Luxury Vinyl Flooring