Current Obsessions: Creating A Bright Kitchen With Black And Gray Quartz Countertops
February 02, 2018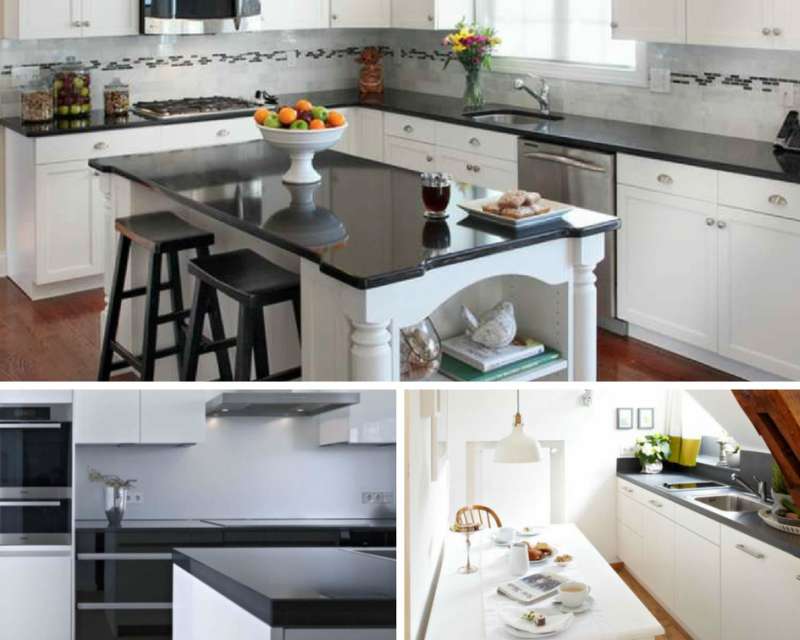 Timeless. Classic. Elegant. On Trend. These are just a few of the descriptions that come to mind when you walk into a black-and-white or gray-and-white kitchen. The reason? These color schemes work marvelously within any design style from traditional to modern. In the end, it's the finishes and accessories that make all the difference.
Although black or gray may seem too heavy or dark for kitchens, when paired with white, quite the opposite is true. In fact, the contrasting hues in black-and-white or gray-and-white combos can actually make a space feel larger and brighter.
The key is color placement. Use the darker color on horizontal surfaces such as countertops and floors, and the lighter color on vertical surfaces like cabinetry and walls. Here, Sparkling Black Quartz countertops create a stunning grounding element that adds a touch of glamour and personality to this family-friendly eat-in kitchen.
The above photo shows how a black on white color palette can create a fresh, airy kitchen. The glossy black countertop pops atop simple Shaker-style cabinets, and the dark floor keeps the entire traditional design grounded.
However, this contrasting color palette can just as easily go modern. Flat front high-gloss cabinetry partners effortlessly with Midnight Majesty Concrete-Finish Quartz countertops. And the minimalist look also requires minimal maintenance. That's because unlike granite countertops or marble countertops, quartz never needs sealing. Here, its subtle textured finish lends an industrial feel to this clean, modern kitchen design.
The next design softens the look of contrasting colors by adding warm natural hues— hardwood flooring, wood furniture, and a hand-hewn beam architectural element. In order to make small kitchens feel more spacious, it is essential to choose a lighter color for the largest surfaces—walls, ceilings, cabinetry, and large furniture like this kitchen table. The dark gray or black countertops, like this sleek Midnight Majesty Quartz, ground the space and set the overall contemporary tone for the design.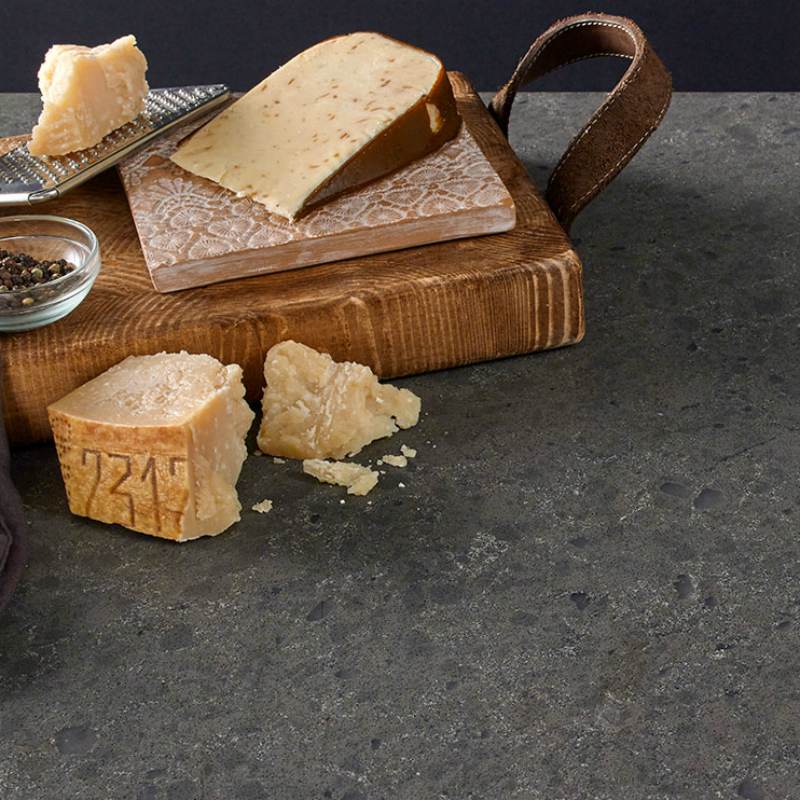 Featured: Babylon Gray Concrete Finish Quartz
One of the most on-trend colors in current kitchen design is gray. Gray is a fabulous neutral that complements a wide range of accessory colors and textures. This Babylon Gray Concrete Finish Quartz countertop, for example, is equally at home in traditional or contemporary designs. And as you can see in the kitchen above, it looks stunning with rich wood-grain tones that help to soften its industrial edge. As you can see, the direction of a kitchen design is defined by both the countertop and the accessories.
But let's not forget lighting! Kitchens with dark countertops need great lighting to stay bright. Well-appointed kitchens include task lighting over countertops and range, as well as mood lighting over the dining table and island.
For example, this glowing kitchen is lit to perfection, highlighting the cabinetry details, glossy backsplash and countertops, and accessories. While it may be tempting to go with a less contrasting beige quartz or granite color, Shadow Gray Quartz shows just how inviting a gray-and-white kitchen can be.
To recap, for a light and bright kitchen, consider a high-contrast kitchen that puts the darkest elements on horizontal surfaces and the lightest elements on vertical planes. Beyond that, your own aesthetic will guide your choice of cabinetry, countertops and accessories.
Countertops are arguably the most crucial design element choice in a kitchen. They have to be durable, easy to clean, low maintenance, and of course, beautiful. Fortunately, MSI offers a wide selection of exquisite quartz, marble, and granite countertop slabs. You're sure to find the perfect fit to create your perfect kitchen.
If you're ready to start checking out actual slabs that are available near you, go to our Real-Time Slab Inventory Tool and get dreaming!