Pairing Gray Granite Countertops With Different Cabinet Colors
June 12, 2023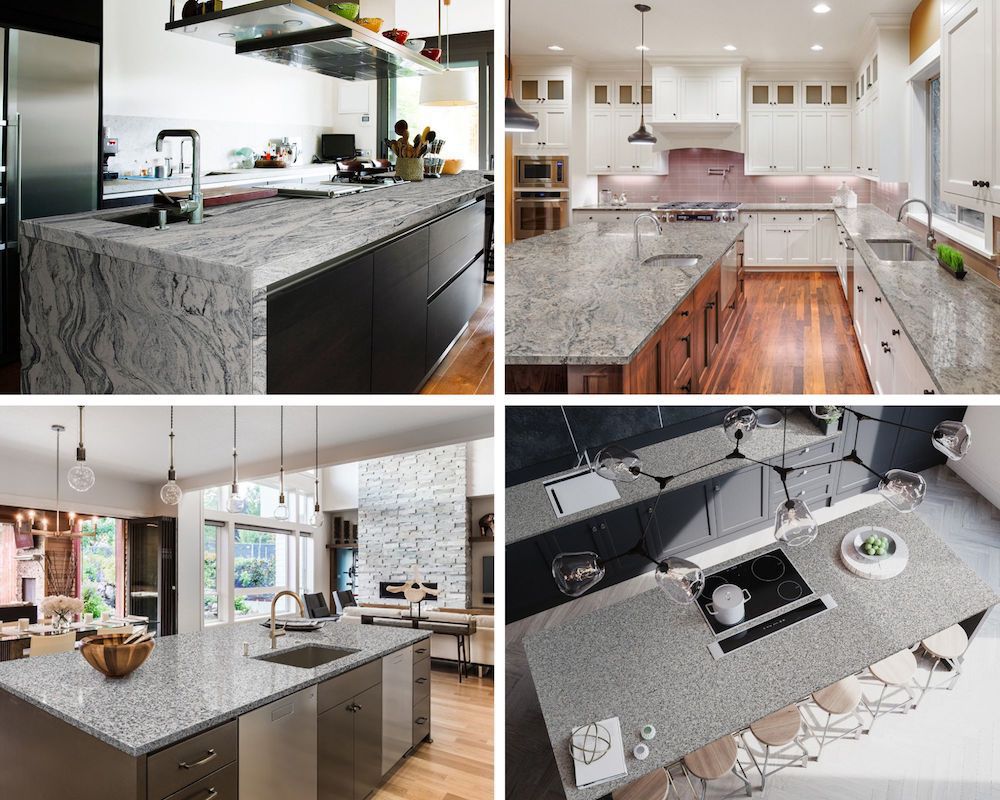 Granite countertops have long been admired for their aesthetic appeal and enduring resilience in kitchen design. Homeowners and interior designers find gray granite the chameleon of countertop colors, easily matching any décor style.
Positioned between black and white granite countertops, gray offers a stylish compromise, softening extreme contrasts and harmonizing beautifully with practically every color. As a result, gray granite presents a stunning spectacle of luxury and dimensionality, immediately elevating any kitchen's ambiance.
Whether you prefer the cool undertones of traditional grays or trendy beige-infused 'greiges,' gray granite can perfectly match your unique design style. As an integral part of your home improvement project, these versatile stone countertops are an ideal canvas, compatible with contemporary to traditional designs.
Regardless of your design plans or personal taste, there is a gray granite out there to complement your unique vision. Let's spark your inspiration by exploring some MSI gray granite varieties and their pairing potentials with different cabinet colors.
Gray Atlantico Granite:
A Perfect Match for Gray Cabinets
Gray Atlantico Granite
Gray Atlantico Granite paired with gray cabinets might be your ideal match for creating a kitchen space that radiates tranquility and seamless design continuity. Inspired by the serene hues of the Atlantic Ocean, Gray Atlantico showcases a beautiful mix of light, medium, and dark gray and black tones.
This Brazilian stone features a highly speckled surface that captivates the eye and creates a calming and cohesive kitchen design when paired with gray cabinets. The interplay between the different gray shades of the granite and the cabinets evokes an elegant monotone aesthetic that exudes sophistication and depth. The result is a smoothly unified and peaceful space.
Silver Cloud Granite:
A Striking Pairing with Black Cabinets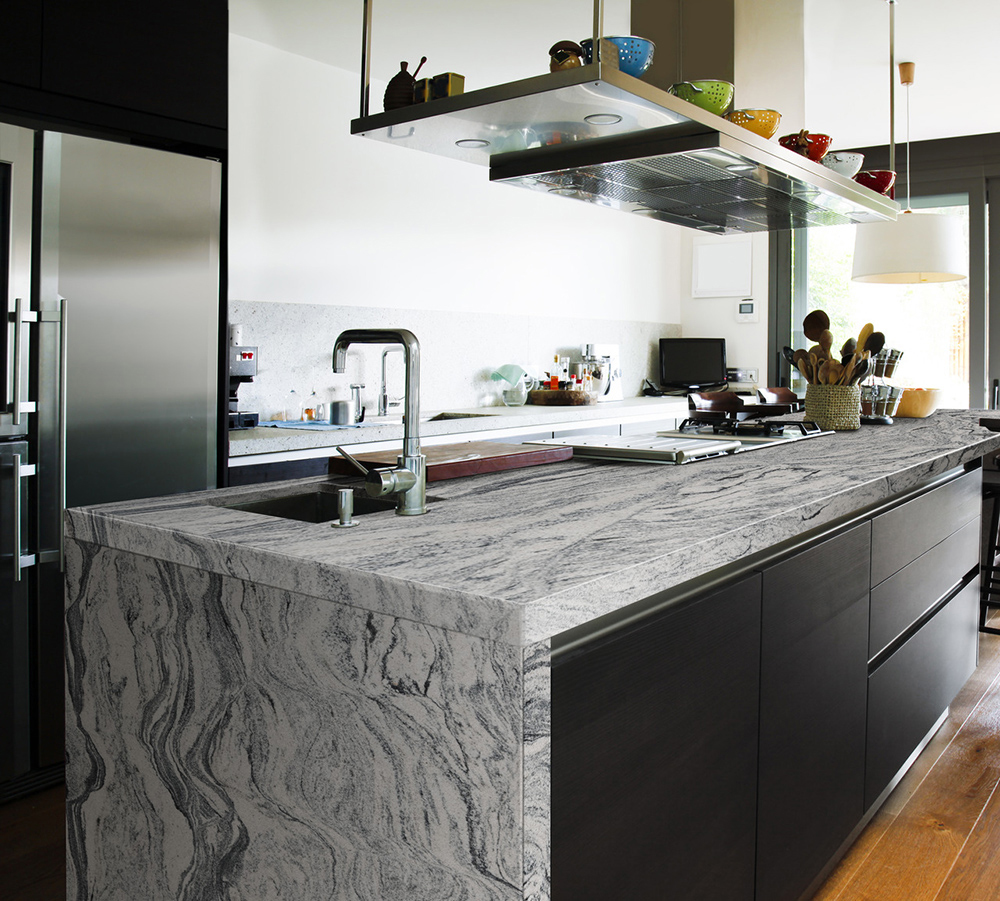 Silver Cloud Granite
Silver Cloud Granite paired with black cabinets could be your ideal solution for those seeking a modern and edgy kitchen design. This elegant countertop features a finely-grained design where jet, sterling, and fog-gray hues swirl through a backdrop of ivory, alabaster, and white. The result is an exquisitely enchanting look reminiscent of a silver cloud floating against a serene sky.
When this exquisite natural stone is paired with black cabinets, the overall effect is nothing short of a modern, chic, and strikingly gorgeous kitchen space. These kitchen countertops are also robust and durable, making them a long-lasting choice for a stunning statement kitchen without sacrificing practicality.
Luna Pearl Granite:
Enhancing the Elegance of Dark Brown Cabinets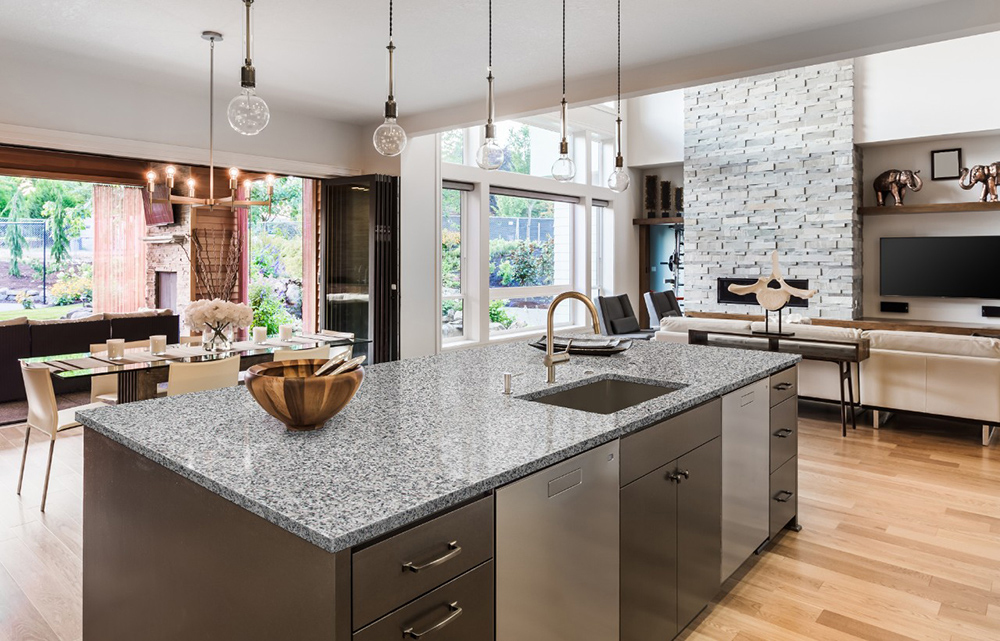 Luna Pearl Granite
Luna Pearl Granite countertops are a distinguished option that boasts intricate patterns of grays and whites, providing a tasteful touch to any room in the house. When paired with dark brown cabinets, the resulting space exudes warmth, elegance, and an inviting charm perfect for entertaining guests.
The way that light plays on this natural surface also enhances the richness of dark brown cabinets, creating a balanced atmosphere for intimate family meals and grand entertaining occasions. You can even consider adding a stacked stone feature to provide increased dimension. No matter how you design the rest of your kitchen, this timeless countertop helps create a functional and refined kitchen that feels as inviting as it looks.
Nevasca Mist Granite:
Harmonizing Cherry Wood & White Cabinets with Sophistication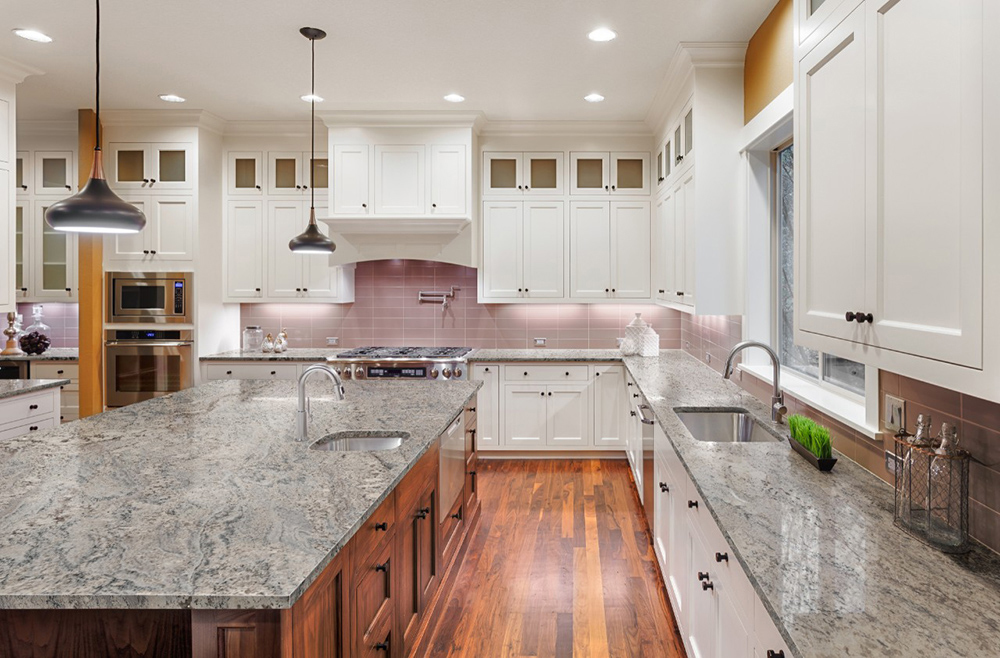 Nevasca Mist Granite
A visual treat of grays, greiges, and beiges swirling together, Nevasca Mist Granite is truly a gem! This charming countertop features on-trend neutral tones for kitchen counters that are anything but ordinary and harmonize exceptionally well with cherry wood and white cabinets.
This Brazilian gray granite presents a neutral palette that makes creating stunning countertops, islands, and backsplashes easy. Try pairing it with cherry wood island cabinet surrounds and floors, and contrasting white cabinets across the walkway to combine traditional and modern design elements to create a modern farmhouse or upscale cottage-core kitchen.
Designing Your Perfectly Harmonized Kitchen
Creating a perfectly harmonized kitchen is as much about choosing the right granite countertop as pairing it with the appropriate cabinet color. The magic of gray granite lies in its unrivaled versatility, making it easy for anyone to design their ideal kitchen that perfectly aligns with their style and preferences.
Your dream kitchen is just a few steps away. Let MSI be a part of your journey to create a space that reflects you. Chat with us online, visit an MSI showroom, or contact an MSI authorized dealer to get started.
Learn More About Granite Countertops
5 GRANITE COLORS TO MATCH ANY BATHROOM STYLE
6 MODERN GRANITE COUNTERTOPS TO ELEVATE YOUR KITCHEN
DESIGNING YOUR KITCHEN WITH BOLD BLACK GRANITE COUNTERTOPS