Tips From The Trade: 5 Reasons To Consider Quartz Countertops
January 05, 2017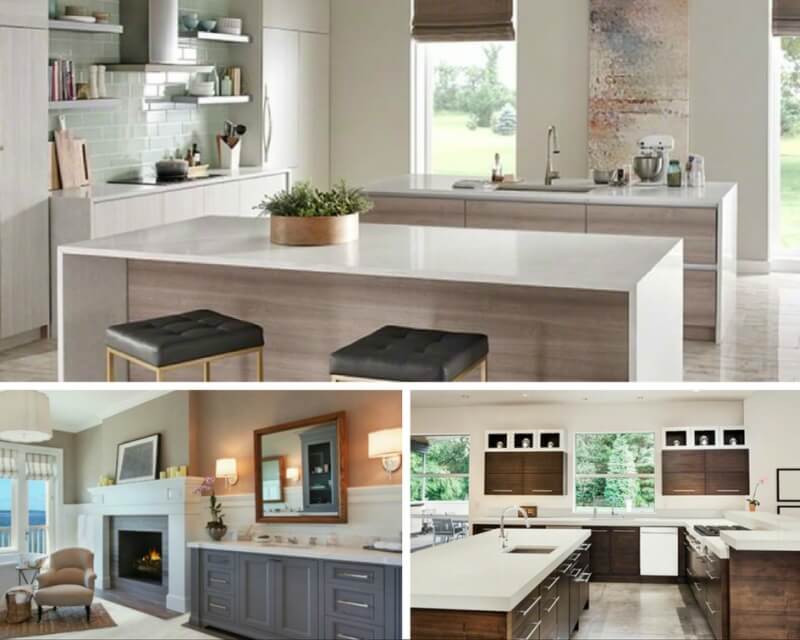 With the many choices for countertop surfaces available, Quartz countertops should be at the top of your list. We've listed five reasons quartz is a popular, and wise, choice.
1. Durability: There are few surfaces within the home that receive harder wear and tear than the kitchen or bathroom countertop. A countertop must withstand spills, resist stains and scratching, hold up to sharp and heavy objects and even high heat. Quartz is manufactured with quartz stone and a precise blend of resins, which is mechanically pressed into sheets. The result is a super-hard surface!
2. Low Maintenance: Unlike natural stone surfaces, there's no need to seal a Quartz countertop. Contemporary quartz requires little more than a wipe with mild household cleaner to look pristine.
3. Great Looks: Because the manufacturing process is controlled, there are few imperfections. The uniform look can look both distinctly quartz but can also be made to mimic other stone surfaces. The new Marble Looks are available in many white quartz countertop colors – some that look nearly identical to natural marble, and others that are a brighter white not found in nature.
4. Easy Installation: As a manufactured surface, Quartz countertops have few, if any, imperfections. This predictable, consistent product is easier to install, and produces less wasted material.
5. Lower Cost: Q Premium Natural Quartz is an affordable luxury. Available in more than 60 designer styles and colors, MSI's quartz countertops are more affordable than natural stone and other quartz brands.
Babylon Gray
A deep charcoal gray accented with pale gray veining, Babylon Gray Quartz is a sleek, elegant choice that fits well in traditional or contemporary design schemes. It's available in 2 cm and 3 cm thicknesses, with a polished finish. Although ideal for countertops, it is also suited for backsplashes and flooring.
Cashmere Oro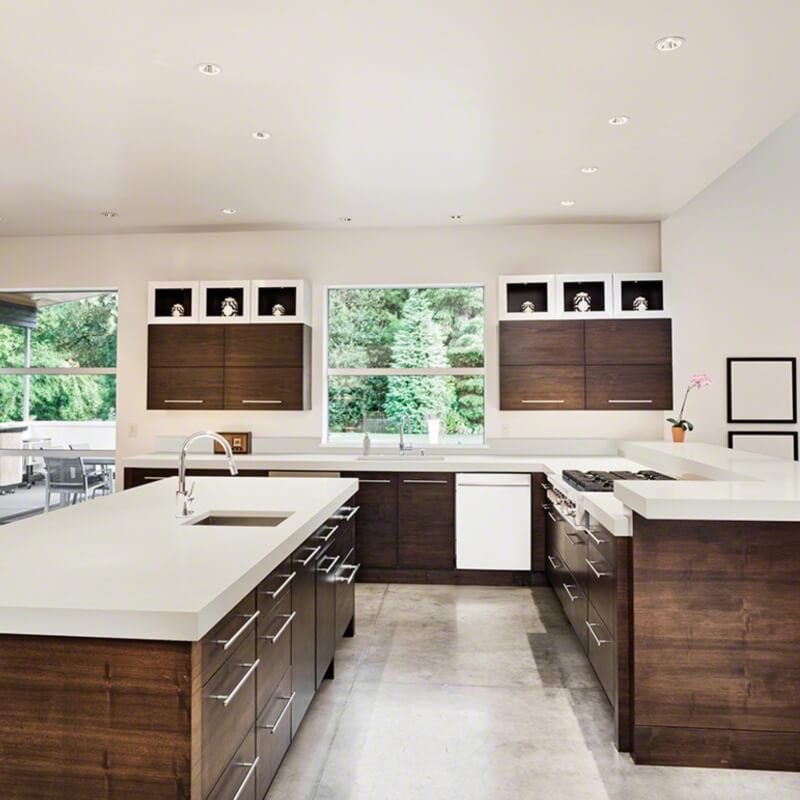 Featured: Cashmere Oro Quartz
If your ideal kitchen is light and airy with pristine white countertops, Cashmere Oro Quartz is a great choice. Variations are low, just a subtle ivory veining on a soft white background. A white surface has never been easier to keep clean and lovely than this Quartz slab.
Meridian Gray
Neutral but never bland, Meridian Gray Quartz features subtle darker flecks on a mid-tone gray background. Well suited for contemporary décor, it's easy to coordinate with a variety of materials – glass, wood, stainless steel, porcelain, and your kids' refrigerator art gallery.
Marbella White
A soft white with tonal veins mimicking marble, Marbella White Quartz is well suited for traditional, classic styles, or the clean lines of contemporary décor. This marble look quartz is durable enough to use as flooring, and also creates a stylish backsplash, but countertops are where this Quartz surface truly shines.
Carrara Grigio
The ultimate marble lookalike, Carrara Grigio Quartz has the exquisite look of fine Carrara marble, without the high maintenance! No need to seal, and if you splash some spaghetti sauce on the counter there's no need to worry about staining or etching. Just wipe it up and enjoy your meal!
MSI Premium Quartz surfaces are precisely engineered for consistency and resistance to scratching, staining, and the wear and tear of normal usage. Visit our Virtual Kitchen Designer and "try on" the various choices to see how they look in an authentic setting. You may choose them for their remarkably easy care, affordability, and long life, but you'll fall in love with their beauty!
More on Quartz Countertops
Warm Quartz Countertop Colors Create A Welcoming Space
The Best Quartz Countertop Edge Options For 2021
Why Quartz Countertops Are A Popular Choice for Reception Areas and Hotel Vanity Countertops
The 10 Most Popular Quartz Countertop Colors For 2021