Why Companies Are Switching To Hard Surface For Hotel Flooring
December 14, 2020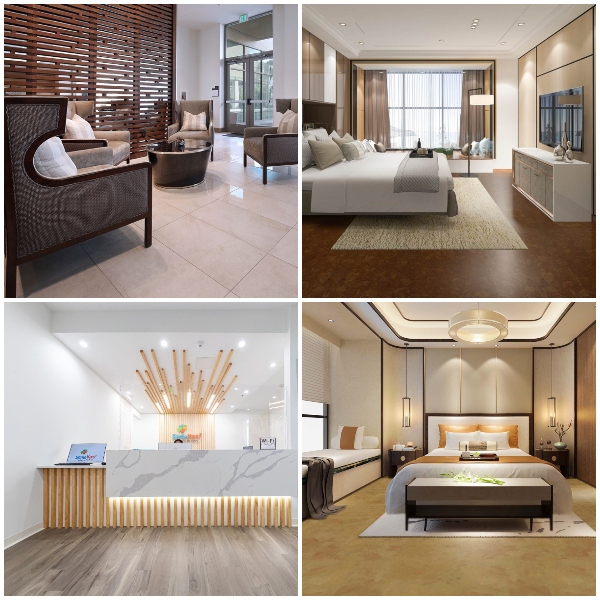 For hotels, maintenance has always been at the top of the list, but keeping surfaces clean and sanitized is even more of a priority during the current pandemic and for the foreseeable future. That's why so many companies are changing out previous go-to materials like carpet with hard hotel flooring surfaces that include porcelain, quartz, luxury vinyl tile, and even hardwood. These types of products are much easier to keep clean, especially when experiencing 24-hour traffic, and they still come in a wide array of beautiful, luxurious looks. Take a look at the following reasons why hotels are making the transition to hard surfaces and how they're changing the way hotels look and operate.
Soft Materials Are Too Challenging
A lot of hotels are ditching carpet for flooring and other surfaces that are more easily maintainable. They continue to get rid of fabrics and soft textiles from guest areas and other high-traffic areas. You may see more leather or vinyl upholstery instead of fabric furnishings. And while area rugs are easier to clean than wall-to-wall carpets, some are even getting rid of them altogether. That's because they're becoming too hard and time-consuming to keep clean, especially when you need frequent cleanings in-between guests and are required to follow new cleaning guidelines.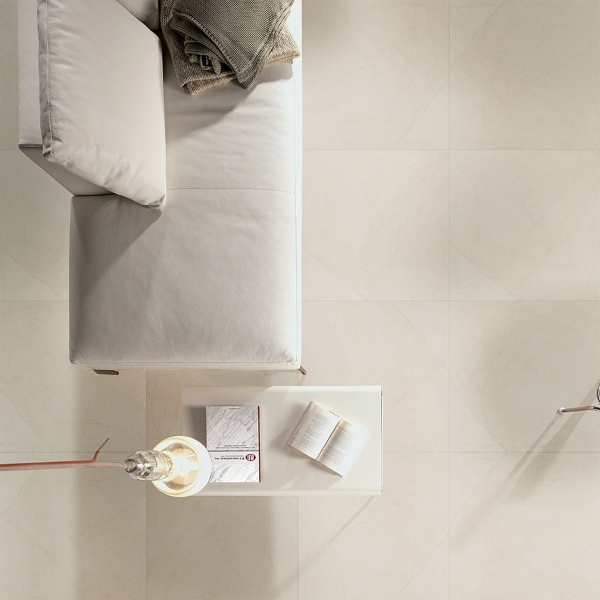 Plus, when you have thousands of people walking around in shoes that pick up germs, bacteria, and viruses from sidewalks, asphalt, stores, and gas stations, carpets are difficult to keep clean and looking fresh. Not only does it take longer to maintain, but you also have to consider the amount of dry time it takes before it's ready to be used again. But, that's not to say that all carpet will be history. However, hotels that keep carpet or even rugs in place may need to replace them more often due to the worries of the pandemic, as more cleaning will put more wear and tear on the fibers and backings.
Nonporous Surfaces Are Easier to Clean
As cleaning protocols have become stricter, hotels are looking to other materials they can easily clean, such as nonporous surfaces. Floor tiles made from porcelain, quartz, and luxury vinyl tile can be easily sanitized because they're poreless, meaning they won't harbor germs or bacteria in the first place. These materials can also be used for other surfaces like hotel bathroom countertops, vanities, shower surrounds, walls, and even furniture like a quartz-covered dresser. With traditional tiles, it's best to opt for large-format tiles since they reduce the amount of grout joints, a common place for collecting dirt and other particles. Yet, one way to solve this problem is to seal the grout. Let's take a closer look at a few of these options:

Porcelain Tile
Porcelain tile is one of the best hard flooring surfaces because it can be steam cleaned. This clay material is able to handle the heat and provides a natural way to reduce bacteria and viruses on these high-touch surfaces. Other ways to clean may depend on the type, but vacuuming and sweeping will get rid of dirt first before using a vinegar-water solution or a commercial cleanser, rinsing the floors with hot water, and then drying with a clean cloth.
Quartz
When it comes to cleaning quartz, whether it's a hotel vanity, countertop, or floor, a simple solution of a drop of dish soap to every eight ounces of water will help get rid of dirt and grime, but to sanitize surfaces against bacteria and viruses, you can add four tablespoons of isopropyl alcohol to the solution. It's an affordable cleaning mixture that doesn't take long to let it work, either. Just spray it on the floors or other surfaces, like quartz countertops, and let sit for a minimum of 60 seconds before scrubbing, wiping, and drying.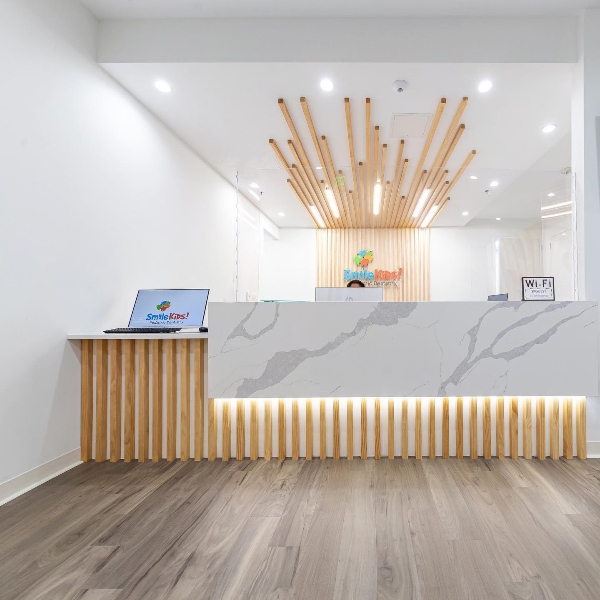 Luxury Vinyl Tile
Luxury vinyl tile is a go-to hard floor surface because it's so low maintenance and cost-effective. A simple mix of warm water and either a small amount of dishwashing soap or a neutral pH cleaner with a microfiber mop will keep them clean. It's always best to avoid using a steam mop on vinyl since it can damage the floors.
Sealed Hardwood
Surface-sealed hardwood can be damp mopped with either a water-soap solution or a water-vinegar solution, and there are also commercial cleaners specifically made for certain finishes. No matter which one you use, make sure to mop again with clean water and dry with a clean cloth or mop.
Of course, with all of these hard flooring surfaces, you want to avoid using harsh cleansers like bleach, something that is often used in times where you want to kill germs quickly, because it can damage the material's surface. Abrasive cleansers and sponges can also damage the floors.
Hard Surfaces Look Beautiful, Too
Instead of grungy, grimy carpets, hard hotel flooring premium surfaces offer an elegance, modernity, and beauty all on their own. They're an excellent way to elevate guest rooms, bathrooms, hallways, and lobbies thanks to their durability and stunning beauty. Porcelain tiles come in a wide variety of colors, patterns, and styles, including natural stone looks to wood grains to encaustic patterns to brick styles. Quartz offers a wide array of solid neutrals to bold hues to marble-look designs. Luxury vinyl tile mimics the looks of natural hardwood and stone, which is perfect for seaside hotels, rustic cabins, or traditional bed and breakfasts. Of course, real hardwood provides a warmth and softer feeling underfoot that's not exactly replicated and also comes in various hues with unique knots and graining.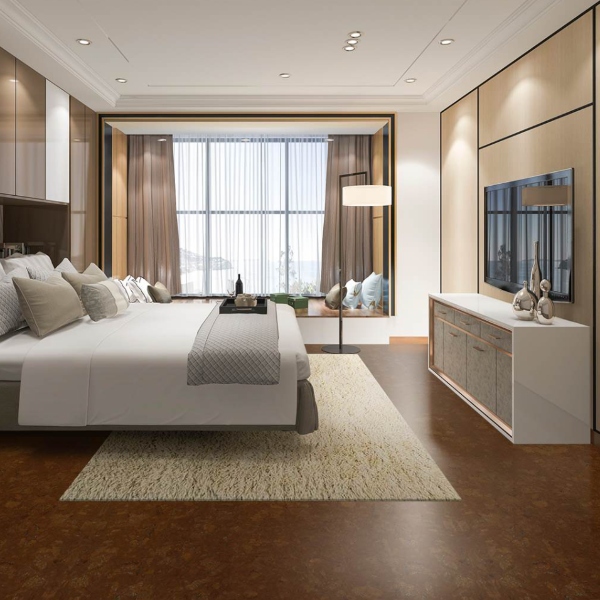 Photo Credit: Houzz
Hotels Are Making the Switch
Many major hotel chains have already made the switch to harder surfaces, especially LVT and quartz countertops, for their low maintenance and aesthetics. Yet, now new cleaning guidelines in tow to help battle bacteria and viruses, more hotels are changing out their soft surfaces for harder materials that are fast and easy to keep clean. Guests are also noticing the changes and loving the new upgrades because they make the spaces look cleaner and feel larger. Replacing carpet with one of these durable flooring options is sure to make your spaces look stunning and help housekeepers cut down on cleaning time.
READ MORE ABOUT HOTEL AND HOSPITALITY SURFACES:
Why Quartz Countertops Are A Popular Choice For Reception Areas And Hotel Vanity Countertops
Inspiration For Relaxing Hotel Tub Surrounds
Hospitality Design Tips: Hotel Bathroom Vanities And More!