Outdoor Oasis: Outdoor Kitchens 'The New Man Cave'
February 06, 2018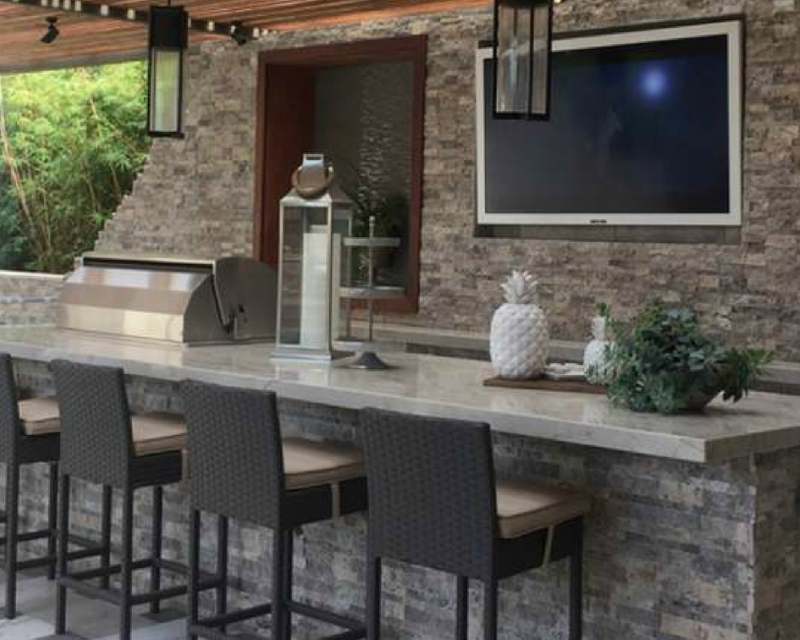 Your definition of a "man cave" depends on a lot of factors — your family, your lifestyle, your hobbies, and your passion for entertaining, just to name a few. Traditionally the man cave was an area inside the house, like the basement or garage, where a man could retreat into his own world after a tough day at work. But times are changing!
Man caves are evolving because men are evolving too. Today's men equally share child-rearing and housework (at least they should!). But every family member has their own decorating tastes, and deserves a place to express it. Even celebrity "man caves" are getting in on this trend. Today's man caves don't need to shut out the rest of the family, they can merely be a place where the men are allowed full rein on its creation.
Hardscaping, with stacked stone for example, is ideally suited for outdoor man cave design because of its ability to instantly add a rustic, rugged touch, and its durability. Here are a few options from MSI, in outdoor spaces fit for a king.
Silver Travertine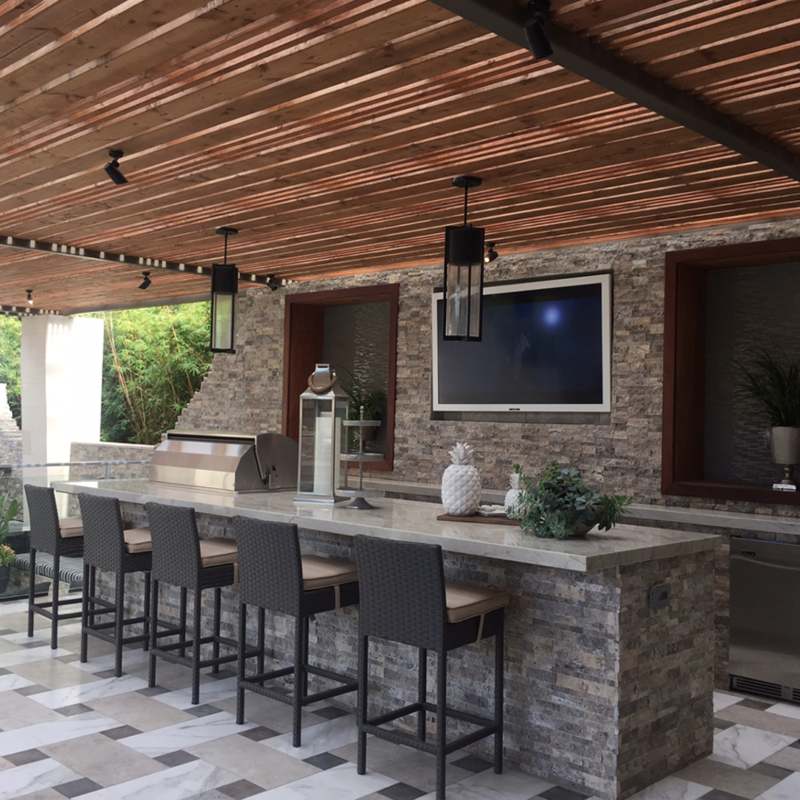 Featured: Silver Travertine Stacked Stone
Two essential parts of the outdoor man cave are the grill and the TV. Silver Travertine Stacked Stone ledger panels are another important part because they bring it all together. It's easy to create niches in the wall for a television, fire feature, or storage with these panels; matching corner pieces are available to finish off the look. A matching bar creates the perfect space to dine, drink craft beer, and watch the game with your buddies.
Castle Beige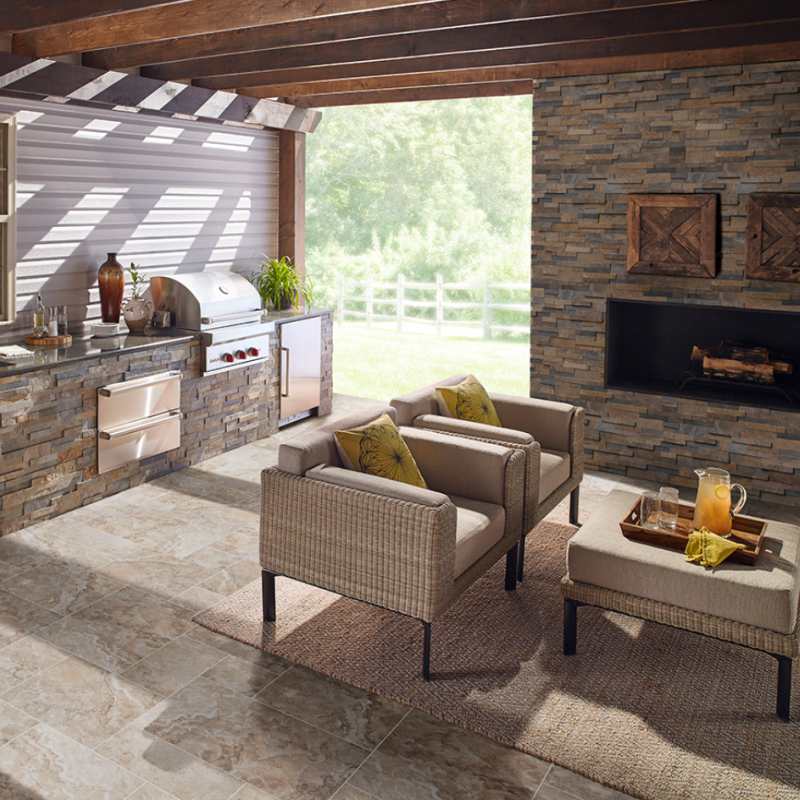 Featured: Castle Beige Porcelain
Every guy secretly has a yearning for that childhood clubhouse, a place with all the comforts of home but without all the rules. You know, like no feet on the furniture, no food in the living room. In an outdoor man cave, it's OK to put your feet up because the furniture is easy to clean. Likewise, if you spill something on Castle Beige Porcelain tile, you can just hose it off. It resembles travertine pavers, and is a perfect match to the rustic stacked stone walls.
Black Pearl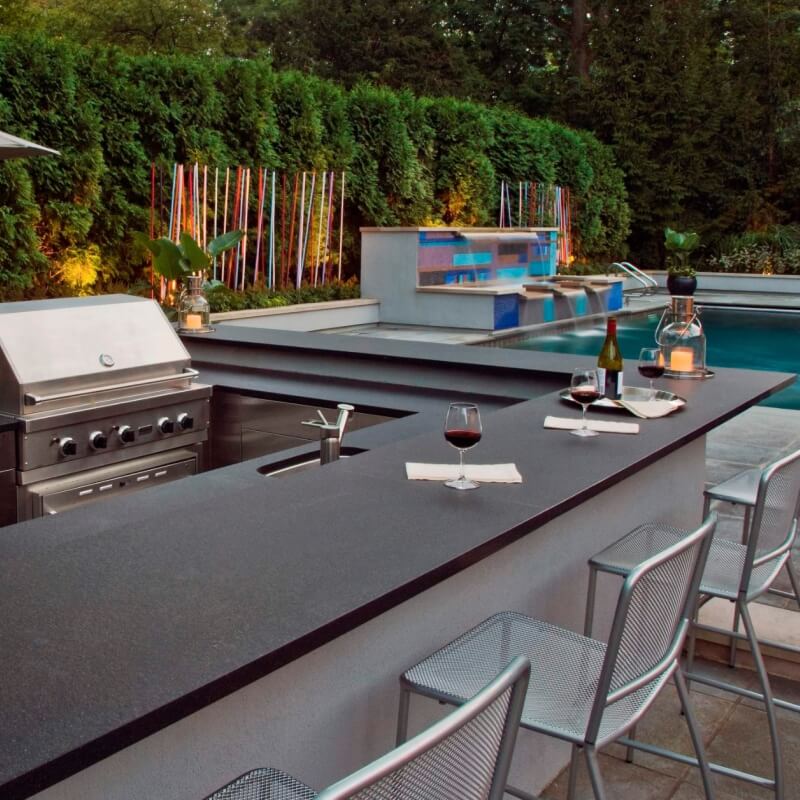 Recreate this look with MSI's Black Pearl Granite (Photo Credit: Houzz)
Why would a man ever want to retreat inside when the outdoors looks this good? Black Pearl Granite contributes to this minimalistic, contemporary patio by the pool. Drinks and pub grub served on this sleek bar, whether the granite countertop is installed with a matte brushed or polished finish, would taste particularly delicious.
Montauk Blue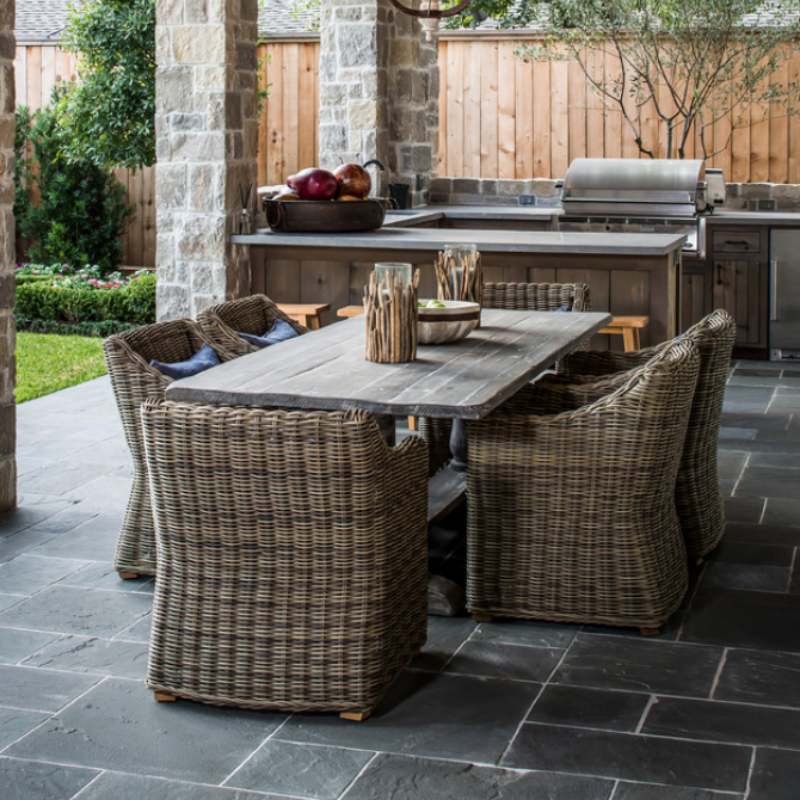 Get this look with MSI's Montauk Blue Slate (Photo Credit: Houzz)
Men like to cook, sometimes just as much as they like drinking beer and watching football. Entertaining friends and family is easier and more fun with an outdoor dining area, just steps away from a fully-equipped kitchen created to his exacting specifications. Montauk Blue Slate pavers bring it all together, linking the natural surroundings to your sophisticated taste.
Arctic White
Go ahead, spoil yourself. This retro, mid-century-inspired outdoor kitchen and dining space has everything you need to throw a party: fully stocked bar, refrigerators with a glass door to chill and display your favorite craft brews, a grill, a ceiling fan to keep your cool — and a dining table topped with an easy-care quartz countertop. Even though it's bright Arctic White Quartz, you don't need to worry about staining or scratching under normal use.
Are you convinced yet that today's man cave is more about self-expression and luxury than about shutting yourself away from it all? Sure, it's a space that the whole family can share, but togetherness is a treasure you don't want to miss out on. Visit MSI's hardscaping webpage to see even more outdoor hardscaping options, and get ready to plan the outdoor man cave you've been dreaming about.