Create The Perfect Outdoor Living Space With Pavers And Turf
December 23, 2022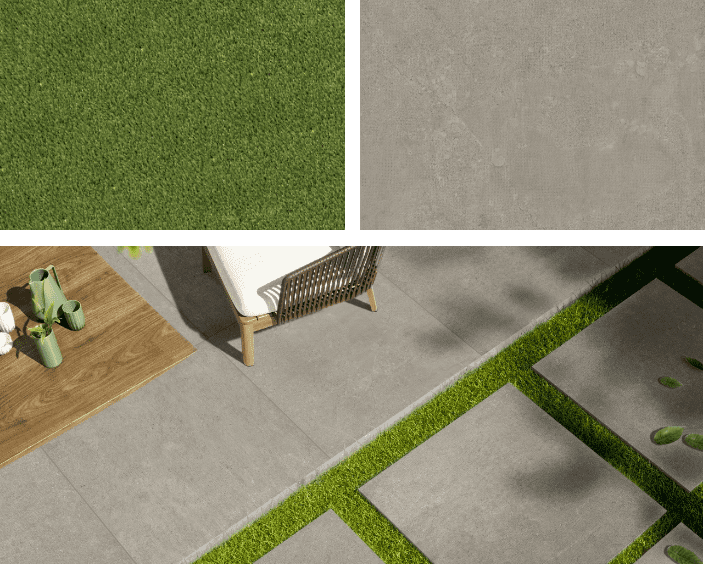 Your backyard or other outdoor areas are extensions of your living space. With the right porcelain pavers you can create seemingly endless elevated outdoor living spaces that captivate the senses and soothe the soul. Of course, this outdoor sanctuary should be comfortable, calming, and, most of all, safe. Our Arterra Porcelain Pavers with ZeroSlip™ Technology provide benefits that keep your family and your guests safe while allowing you to spend less time worrying and more time enjoying your surroundings.
Used separately or paired with our Evergrass™ Artificial Turf, Arterra Porcelain Pavers can create the perfect outdoor living space.
Benefits of ARTERRA® PORCELAIN PAVERS
Your outdoor living space should be about enjoying your surroundings and the company of others. The area should be durable, elegant, easy to maintain, comfortable, and safe. Our Arterra Porcelain Pavers offer all these benefits and more. When it comes to pavers, you have many options, but how many products come engineered with technology that keeps you, your family, and your guests safe?
By utilizing MSI's ZeroSlip™ technology, Arterra Porcelain Pavers deliver first-rate slip resistance. These outdoor spaces often involve pools, and you know how kids love to run and play, especially when there's water involved. Wet or dry, these pavers provide the slip resistance necessary to give you peace of mind.

Just because Arterra Porcelain Pavers offer so much safety, that doesn't mean they lack in the beauty department. On the contrary, these luxurious porcelain pavers provide the highly sophisticated look of natural stone in a durable paver. In addition, these pavers guarantee a dynamic coefficient of friction value that is at least 50% more substantial than the industry standard and exceeds the friction value of most porcelain pavers on the market today. This coefficient of friction value is a measurement that determines the amount of friction on level, wet floors while walked upon

If you're still weighing the pros and cons of porcelain or authentic stone, it's essential to look at porcelain's non-porous benefits. These durable, non-porous surfaces help keep your pavers 100% UV, mildew, stain, and mold resistant. Over time they won't fade or discolor. Additionally, these porcelain pavers are highly capable of standing up to freeze-thaw cycles, utilizing the same installation techniques and features of natural stone.
Learn more about our stunning Arterra Porcelain Pavers with ZeroSlip™ Technology by watching the video below.
Benefits of EVERGRASS™ ARTIFICIAL TURF
Using our Arterra Porcelain Pavers with ZeroSlip™ Technology alone is more than enough to elevate your outdoor living space. But if you want to take that elevation to even greater heights, incorporate our Evergrass™ Artificial Turf into your designs. Not only does this artificial turf provide an awe-inspiring look, but it also delivers its own host of value-adding benefits.

When you opt for Evergrass™ Artificial Turf, you get a product that requires no water, is mud free, and is virtually maintenance-free. This antimicrobial turf also battles odor, comes with a lifetime residential or 10-year commercial warranty, and offers fast drainage and a realistic look. Who doesn't want a lush lawn that is pet and kid-friendly and doesn't require the use of harsh chemicals or the need for constant upkeep?
BENEFITS OF COMBINING ARTERRA® PORCELAIN PAVERS WITH EVERGRASS™ ARTIFICIAL TURF
Durable and Easy to Care For
Pairing your Arterra Porcelain Pavers with ZeroSlip™ Technology with Evergrass™ Artificial Turf will lead to an enchanting outdoor living space. Through everlasting protection, this fabulous duo delivers worry-free surfaces that can stand the test of time, even in your most high-traffic areas. Additionally, a tremendous upside is you no longer need to worry about your guests or children tracking in unwanted dirt.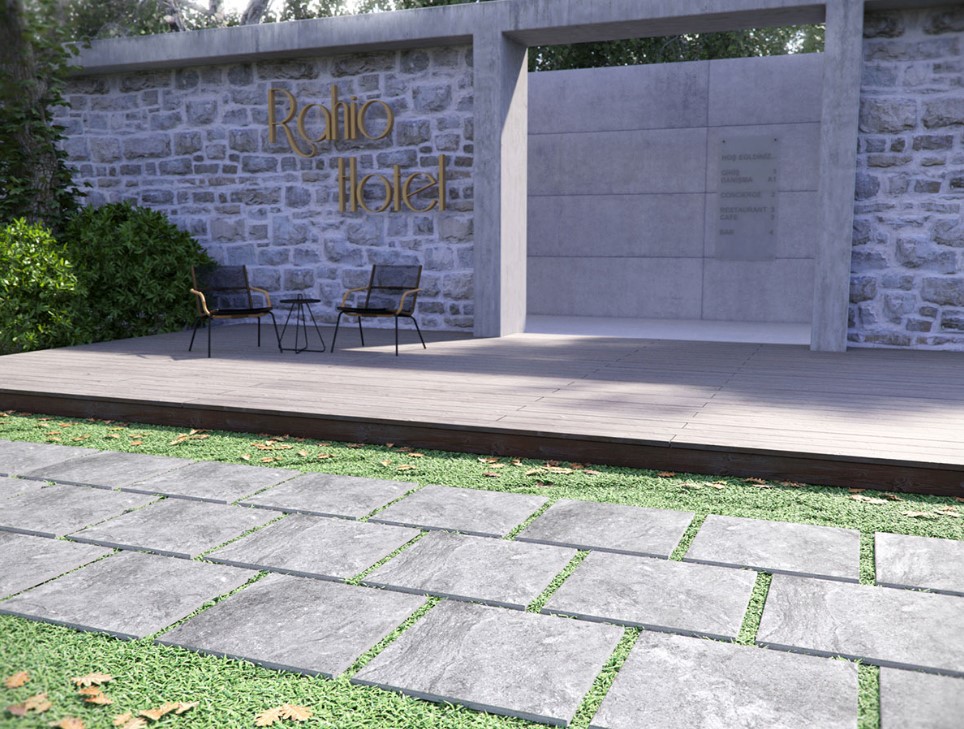 Check out these Vulkon Grey Arterra Pavers among this gorgeous artificial turf. Outdoor patio tile like this brings so much balance to this welcoming scene. The pavers' understated gray works so well against the brilliant green of the artificial turf, not to mention the stone wall and the rest of the scene's manufactured elements.
Always on Trend
When you invest in premium surfaces, a huge bonus is if they are always in style. That's certainly the case with these two products. The porcelain pavers among brilliant green grass help keep your outdoor space at the forefront of style. The last thing you want is for faded rocks and wilted dry grass to rain on your design parade. You'll never have to worry about that with Arterra Porcelain Pavers with ZeroSlip™ Technology or with Evergrass™ Artificial Turf. Both will keep your space Elevated and beautiful for years to come.


Built to Last
Built-to-last materials make up these porcelain pavers and artificial grass offerings. Say goodbye to fading, ongoing resealing, and stains. These top-notch products exceed industry standards with their high slip resistance on wet or dry ground, so you can worry less and enjoy more.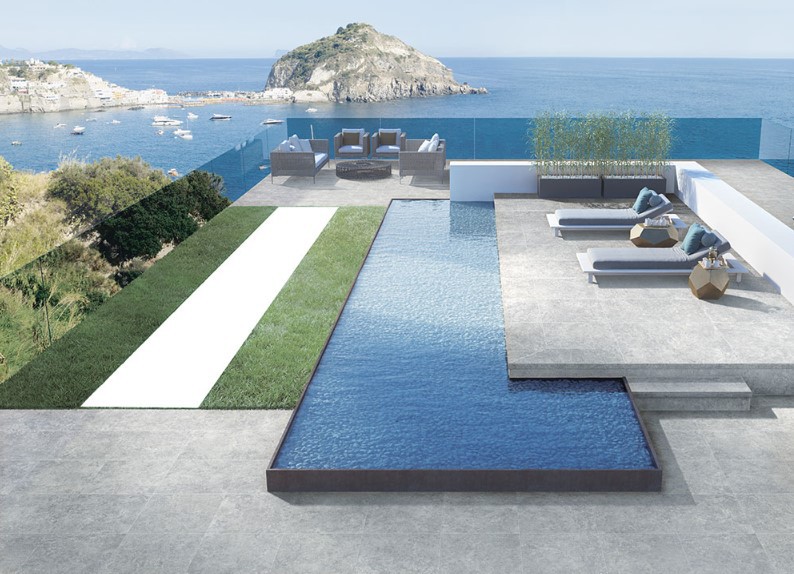 Our Lunar Silver Arterra Pavers pictured here use calm whites and grays to offer an on-trend, contemporary appearance. In this scene, simple lines between the artificial turf and hardscaping are nothing short of hypnotic. Just imagine the compliments you'd receive once your guests walk into a scene as elegant as this one.
A Safer Surface
When you combine these two glamorous surfaces, you'll never need to worry about surface water building up during frequent watering or heavy rain. Instead, the pavers swiftly redirect the water into the turf, which helps keep water from pooling. Then, the water diverts into the artificial turf and moves through a storm drain or other spillage area.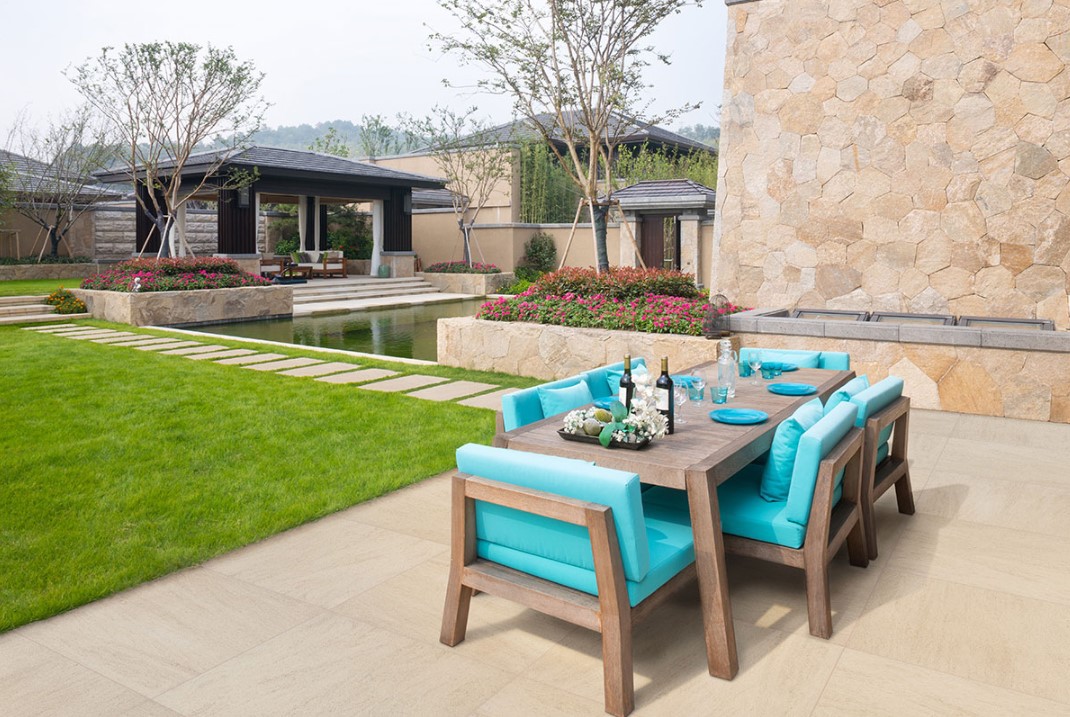 Pictured here, our Livingstyle Beige Arterra Pavers form an elegant walkway through the artificial turf before coming together to create the irresistible patio that brings it all together.
WRAPPING UP
Do our Arterra Porcelain Pavers with ZeroSlip™ Technology and Evergrass™ Artificial Turf have you itching to start your next outdoor living space project? Before you begin, contact us at MSI and see how we can help you find the perfect products for your project. As experts in the outdoor industry, we are here to assist you. You can reach out to us through the chat feature at the bottom right of your screen, or visit one of our showrooms at your convenience.