Best Granite Color Options For Dark Cabinets
August 29, 2017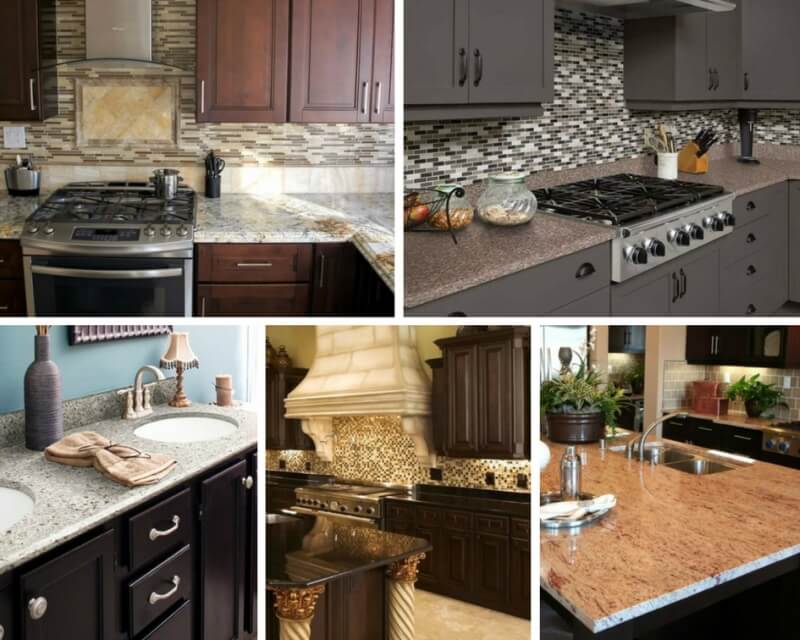 Dark-colored cabinetry adds a sophisticated, upscale look to the kitchen. However, pairing dark cabinets with a countertop can be a tricky issue. Choose the wrong countertop, and your dark color scheme in the kitchen or bath will look dreary and dull instead of polished and welcoming.
One of the best countertop materials for dark cabinetry is granite – here's why. It's available in a huge range of colors from pale to deep black, with subtle to bold patterning and variation. It's this granite color variation, veins, flecks, speckles, that makes it ideal for matching, because many granite countertops have hints of that same dark cabinet color.
The key is to balance and complement the colors. Depending on the amount of natural lighting the room gets, and the other surfaces such as flooring and walls, it's even possible to match dark cabinets with dark countertops and still have a beautifully balanced design. Here are some of our favorite examples.
Juparana Delicatus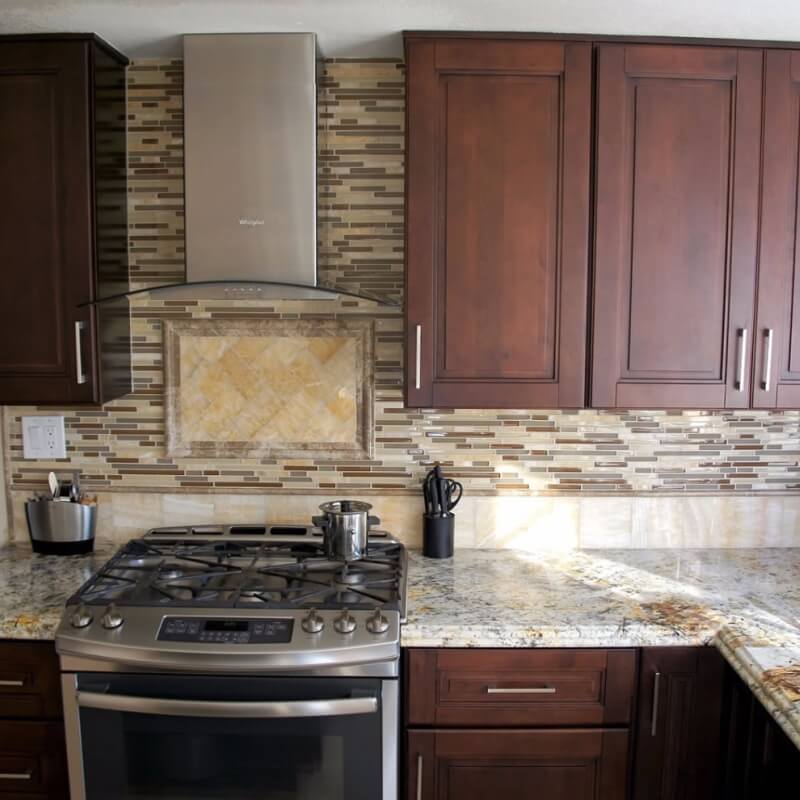 Featured: Juparana Delicatus Granite
Juparana Delicatus Granite features bold patterning in a mixture of shades that's easy to match. Its veining includes dark ebony and cocoa brown with hints of gold on a cream-colored background.
It will pick up the color in your dark cabinetry and fit in equally well with steel appliances and light-colored walls and flooring. And although it's bold, its pattern isn't so glaring that you can't use other focal elements such as an eye-catching mosaic backsplash.
Moon White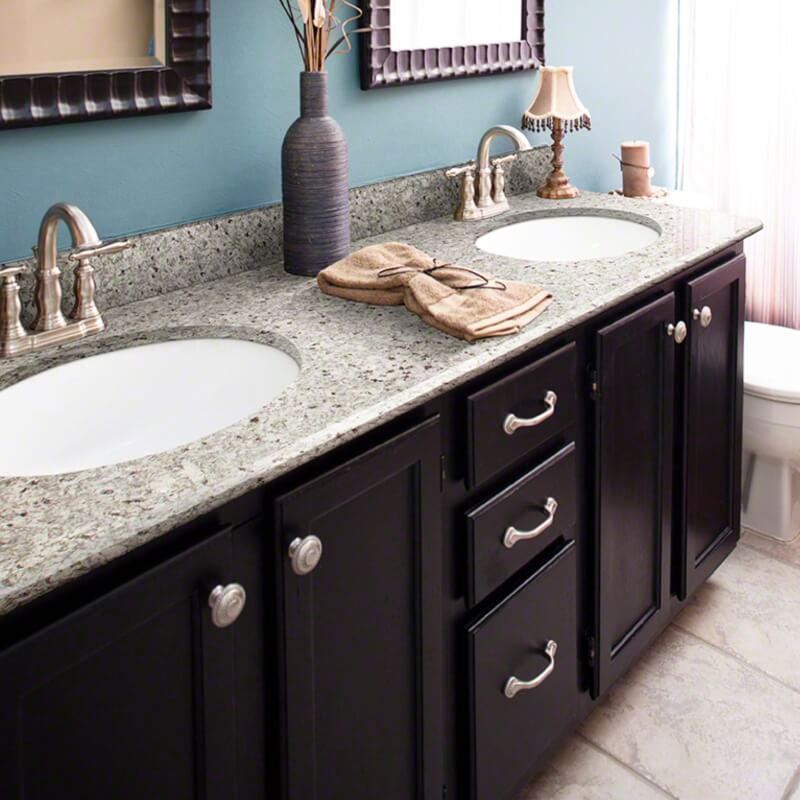 Featured: Moon White Granite
Despite the name of this granite, Moon White Granite isn't only white. After all, neither is the moon! The speckles and flecks include shades of black and gray as well as pale ivory.
These dark specks in the otherwise white granite countertops match well with even the darkest cabinetry, and the overall combination in the countertop is still a light color, perfectly in balance.
Granite is a tough natural stone, and though it needs regular sealing, granite countertops are tough enough to handle wet, messy places like the bathroom counter.
Bain Brook Brown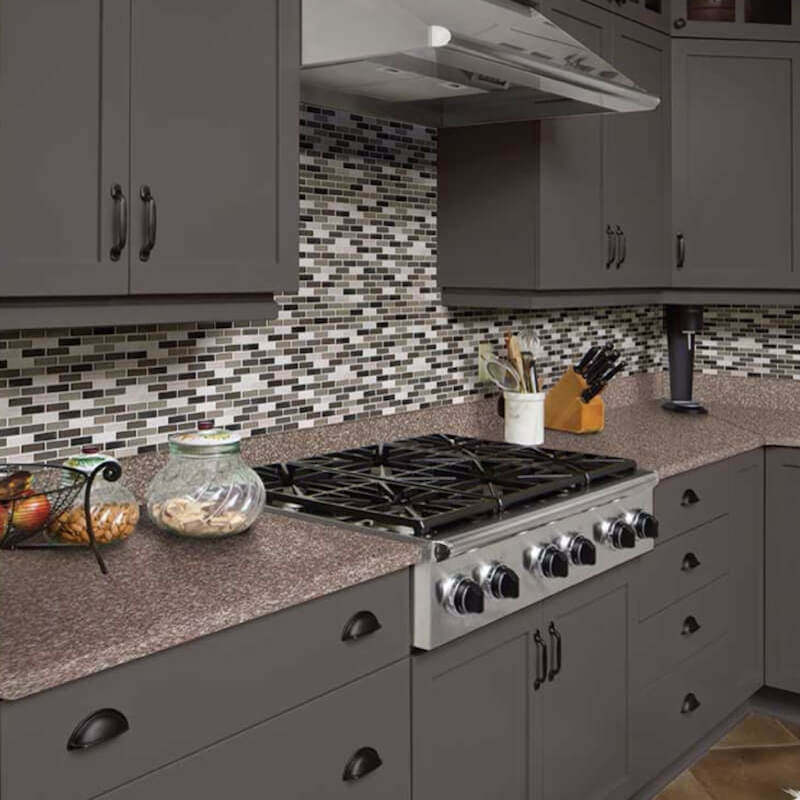 Featured: Bain Brook Brown Granite
An all-gray kitchen can look drab on its own. Combined with the warmth of speckled, freckled Bain Brook Brown Granite, it's dynamic and modern. It's not easy to match shades of gray with just any brown, but since this granite also has shades of cream, black and gray in the mix, it's a complementary pairing.
Granite countertops are suitable for use in outdoor kitchen spots as well.
Raja Pink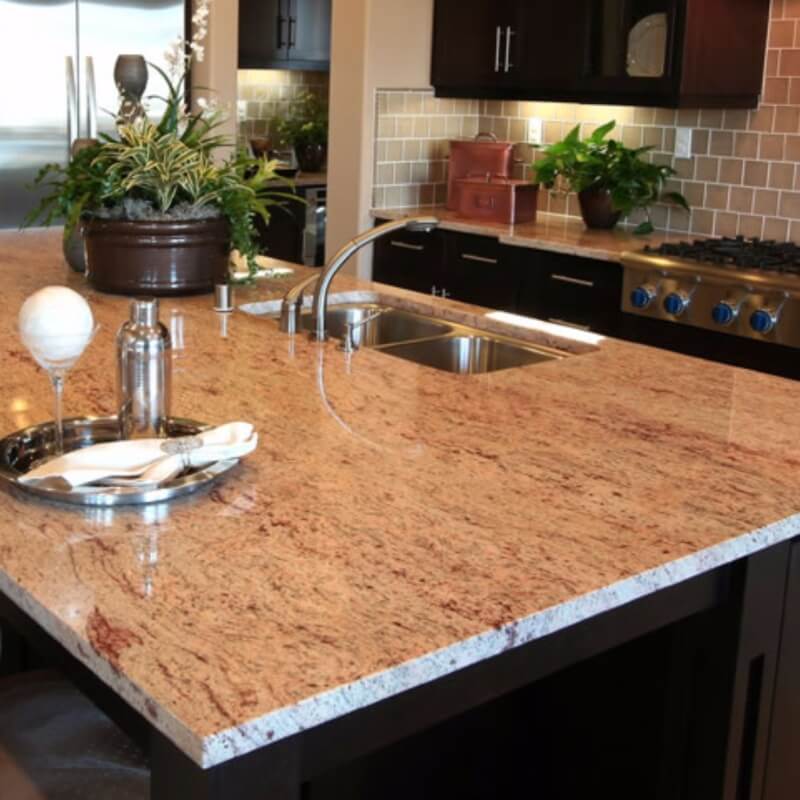 Featured: Raja Pink Granite
One way to balance out the drama of dark cabinetry is by adding a touch of color to the room. Raja Pink Granite accomplishes this in a subtle way – and if you're thinking you can't use pink countertops in your kitchen décor, keep in mind it's natural stone, with a generous blend of gray and cream, just on the fun side of neutral. You'll love it enough to make it your room's focal point, such as atop a center island.
Black Galaxy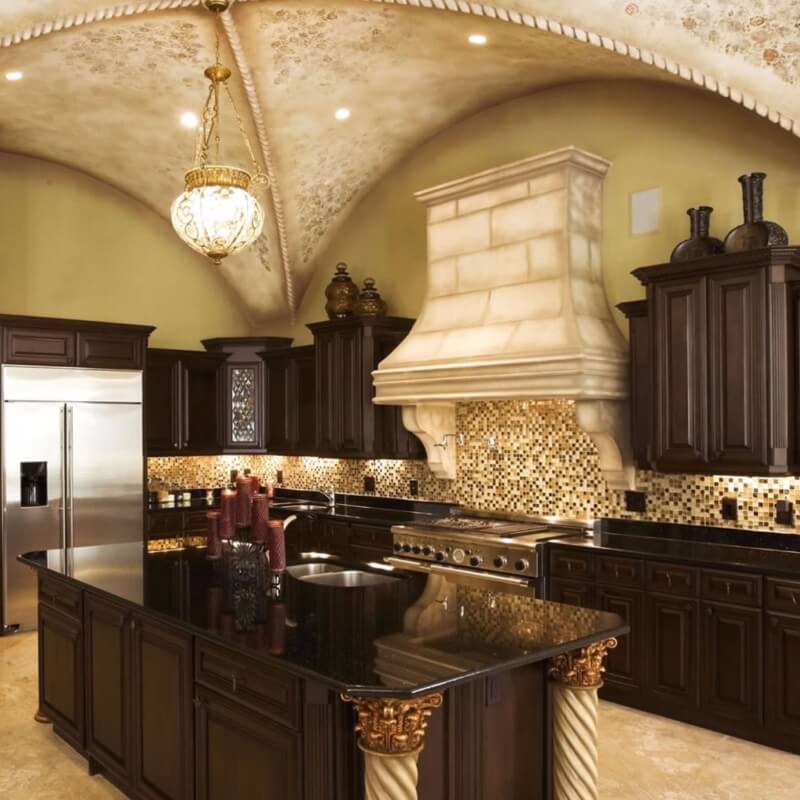 Featured: Black Galaxy Granite
Sometimes what a set of dark cabinetry needs is more darkness. Black Galaxy Granite is a jet black accented with tiny flecks of white and gold and a sparkly polished surface. It's just the right anchor to a kitchen that includes other dramatic elements in paler shades, particularly in a room with high ceilings. In this kitchen scene, anything less would seem meek and unsubstantial.
Dark cabinetry may not be the "safe" choice for your kitchen or bathroom, but it's a choice that will pay off big when balanced well with other elements of décor. If you're up to the challenge, so is MSI's collection of bold, beautiful granite countertops. Visit our gallery of granite on our website and find your perfect pairing.
Red More about Granite Countertops
Granite Countertops for a High Style Home Office
5 Unbelievably Beautiful Granite Kitchen Countertops from Nature
5 Natural Granite Countertops for Ultimate Luxury
Granite Combinations That Go Together Hand-in-Glove
READ MORE ABOUT GRANITE COUNTERTOPS
Cost-Benefit Analysis Of Prefabricated Granite Countertops
Easy Care And Maintenance For Granite Countertops
Granite And Quartz Countertops Compared
Quartz vs. Granite Countertops Compared