Viva Brazil! Sports, Festivals, And Granite
May 29, 2013
What do you think of when you think of Brazil? If you're like most people, two things immediately come to mind: soccer and Carnival. Indeed, Brazil has won more world cup soccer tournaments than any other country, and Carnival is internationally famous as one the world's largest parties. When MS International thinks of Brazil, however, a third thing comes to mind - granite.
Brazil exports 60% to 70% of the world's granite, an estimated 18,000 tons, from quarries widespread throughout the country. Ubatuba and New Venetian Gold are among their most popular exports. Ubatuba granite is a remarkable mixture of shimmering black, gold, gray and green speckles; New Venetian Gold is recognized by its lively personality with beige and golden tones and light veining of deep reds, grays and browns.
Granite is found on every continent, above and below the sea. Yet Brazil exports it more readily than any other country in the world. Given that Brazilian topography and climate is highly varied (from hills, mountains, rainforests, and semiarid deserts to plains, savannas, coniferous forests, and scrublands), Brazil's conditions for mining granite are as varied as its terrain. Why then is Brazil such a force in granite export when compared to all the countries worldwide that may offer a better landscape for such an industry?
The answer rests with the people of Brazil. Whether a small quarry found in the rustic countryside or along the coast of the Atlantic that yields only a few blocks of desirable granite or a mountain quarry (like a quarry of Ubatuba) that easily yields 10 to 20 blocks of granite a month for decades or centuries, Brazilians mine responsibly and sympathetically. They carefully control production and abide by strict environmental laws that require quarries to be filled and replanted when they close, preserving the beautiful landscape and ensuring environmental impact is negligible. In addition, mining granite blocks, cutting them with gang saws into thick granite slabs, and readying them for inspection and transport provides good, sustainable livings for those in communities near excavation areas.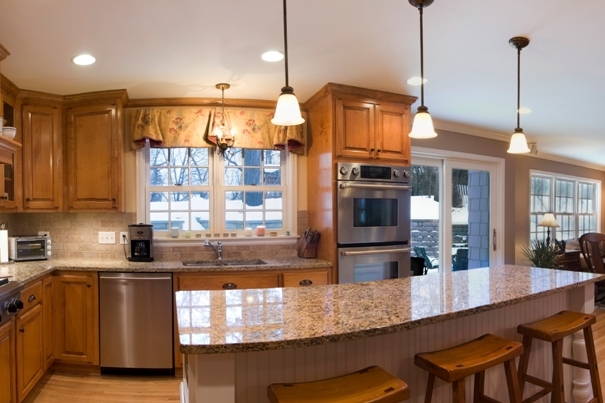 Environmental responsibility, local support by its people who value granite as part of their economy, and gorgeous color options make Brazil an attractive location from which to obtain granite –Ubatuba and New Venetian Gold granite are two popular selections. Ubatuba's reputation has grown as trends in design have moved toward creating striking color contrasts. Its reflective, black glass look, with intriguing flecks of gold, gray and green, contrasts beautifully with stainless steel, glass, or light wood cabinetry. Ubatuba is a high demand granite selection for home use as well as for business applications where a sophisticated, sleek look is desired.
Similarly, New Venetian Gold is an excellent granite selection for contrast as well. Its primary colors are beige and gold, which contrast nicely with dark cabinets and appliances. Kitchen countertops, bathroom vanities, and wet bars are a few of the many options for this durable, versatile granite. The light veining in deep reds, grays, and browns of New Venetian Gold also offer accent options for carrying through into other aspects of design and décor.
Though granite is found the world over, regions often offer their own special flavor of granite. Colors, movement, and intriguing patterns are native to specific areas and those regions become known for them. Ubatuba and New Venetian Gold from Brazil are among the most sought after granites anywhere in the world; additionally, MSI, as the largest importer and distributor of natural stone in North America, actually offers over 130 selections of granite from Brazil.
READ MORE ABOUT GRANITE COUNTERTOPS
What Can Cause Granite Countertops to Etch?
What to Ask Your Contractor Before Buying Granite Countertop
When Is a Prefabricated Granite Countertop Is the Best Choice?