Our Favorite White Granite Countertops
May 15, 2019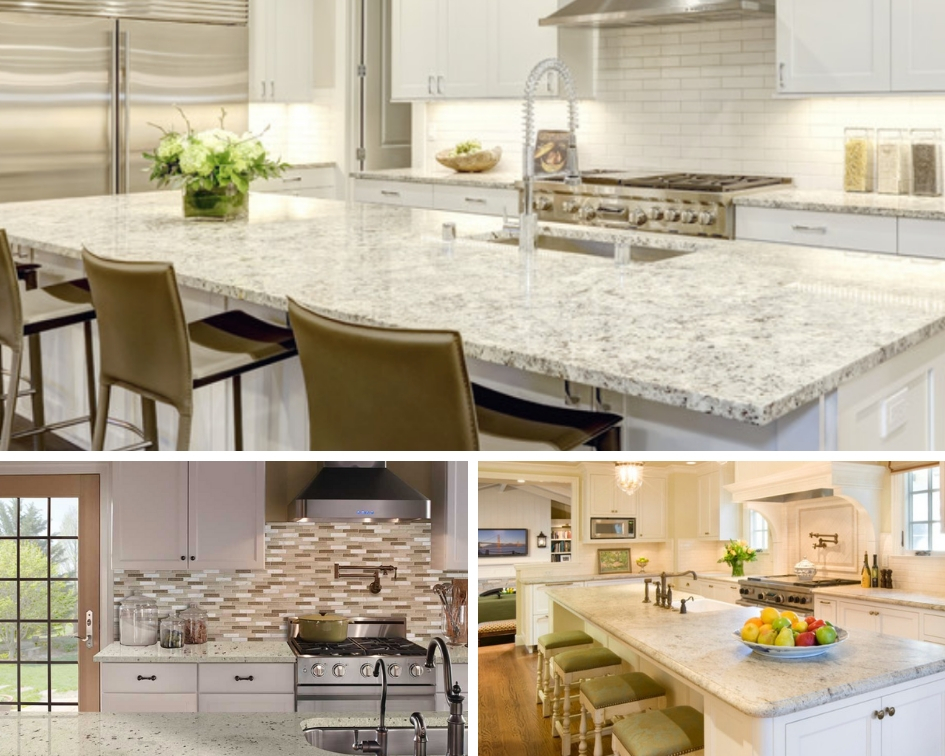 White granite countertops can feel contradictory when considering them for your kitchen. After all, aren't spills and stains best covered up in any color that isn't white? However, white granite is a topnotch selection for a functional countertop and offers a variety of advantages. When considering this stone, keep in mind there are lively veining and flecks of color that lends nuance and character—white granite is hardly ever just plain white. Ultimately, this is an optimal choice to incorporate into your home with countless benefits.
Countertops are focal points of any room or kitchen and white can offer a bright and spacious atmosphere. Few colors—even black granite—can rival the sophistication and freshness of white. It can set an aesthetic tone for a warm and welcoming atmosphere, making a room feel more open, which is what most people strive for in their décor. Additionally, these premium surfaces are known for their compatibility and can compliment a variety of colored cabinets, furniture pieces and flooring.
The stunning beauty of a white granite countertop can increase the value of your home, since it's a practical and provides a transformative timeless quality to any room. Granite, on the whole, is an ideal food preparation surface, since it's not susceptible to scratches and can withstand heat. Naturally, this is top of mind for any homeowner's kitchen.
Let's explore some of MSI's popular white granite countertop selections so you can see the versatility and beauty of this stone for yourself. If you find one you particularly like, feel free to use our Virtual Kitchen Designer to see how well it would match up in your own home!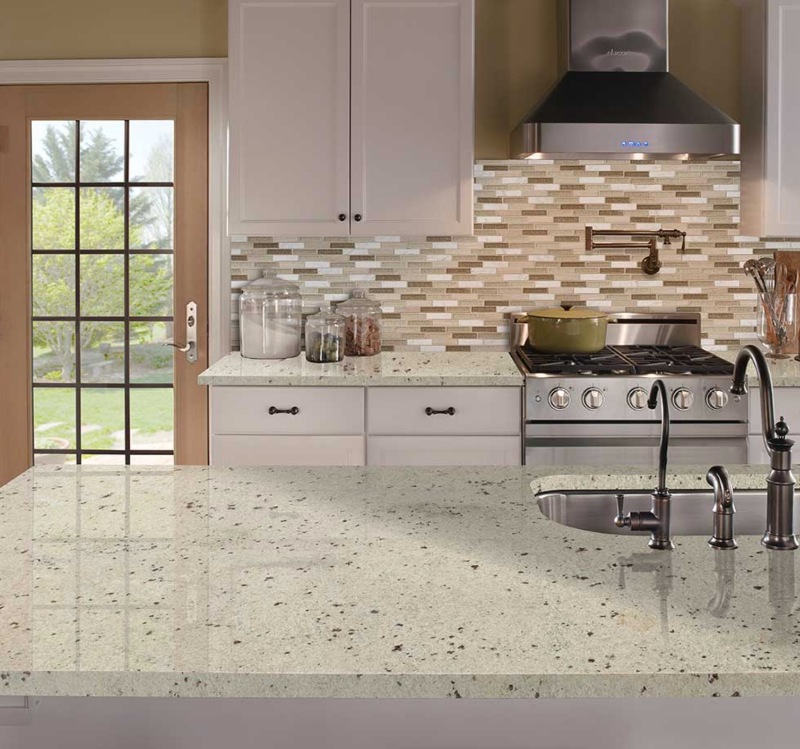 Featured: Colonial White
Colonial White Granite comes from India, known as a blend of grey and cloudy silver decorated with precise black speckles. This nuanced granite would make a great addition to any kitchen and compliment a variety of backsplash designs.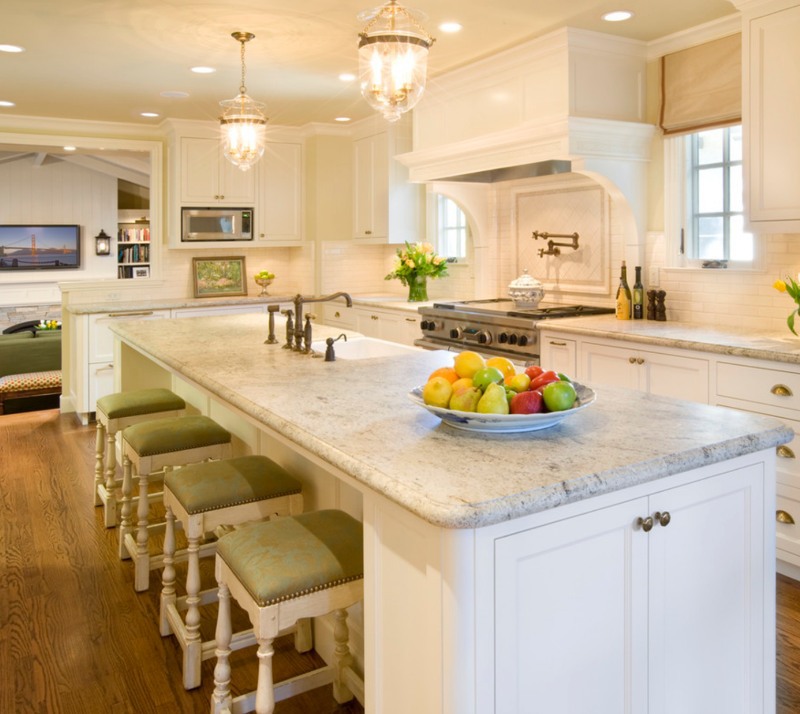 Create a similar look with MSI's Salinas White (Photo Credit: Houzz)
Salinas White Granite is a polished granite, consisting of snowy white stone with various speckles integrated with light pewter. Salinas White Granite comes from Brazil and is sure to ground any kitchen island with its tinges of color and gradation.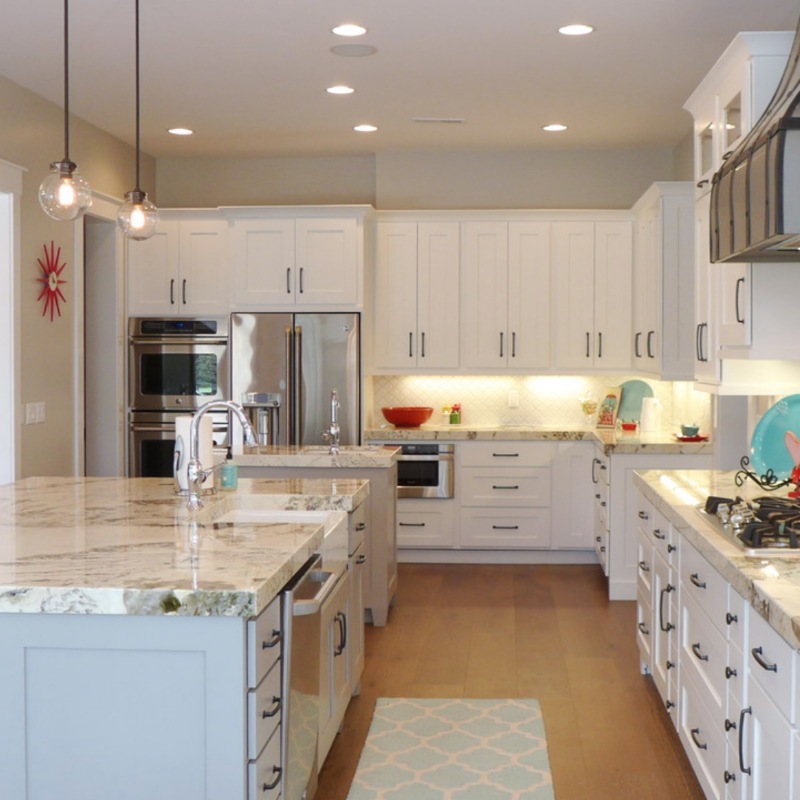 Recreate this look with Alpine White (Photo Credit: Houzz)
If you're looking for a granite countertop full of variations of ebony set against a backdrop of veiny icy white, Alpine White is just the pick for you. Also from Brazil, this design features a polished granite accented with greys and graphite, durable and highly versatile for a variety of kitchens.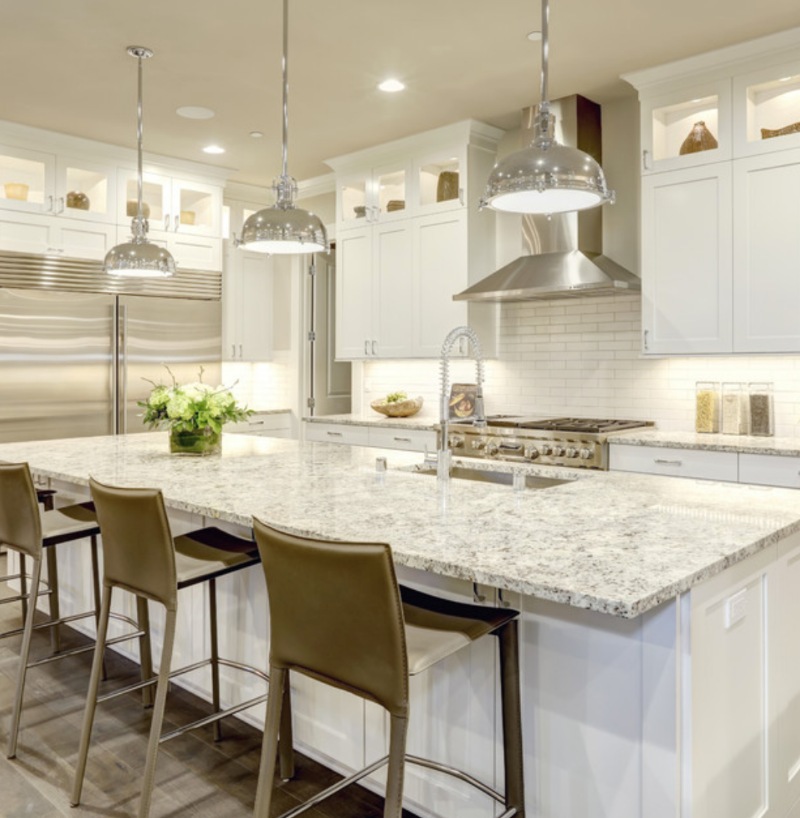 Create a similiar look with MSI's Bianco Frost (Photo Credit: Houzz)
Bianco Frost Granite integrates a soft white palette with black veining and specks of burgundy, available in slabs of 2CM and 3CM of thickness. It's easy to picture this particular design accenting island stools and nearby cabinets.
All in all, it's important to keep in mind that white granite countertop has a variety of advantages and comes in a spectrum of enticing designs. Take some time and explore it as a viable option, as it's sure to enhance your kitchen tenfold!
Learn More about White Granite and White Cabinetry
Cold No More: 5 Warm and Inviting White Granite Countertop Ideas
5 Timeless White-on-White Kitchen Looks
Are White or Light Granite Countertops Practical for Kitchens?
5 Granite Colors That Go Perfectly With White Cabinetry
Winning White Bathroom Designs With Granite Countertops
White Marble & Granite: When the Absence of Color is the Color of Choice!
READ MORE ABOUT GRANITE COUNTERTOPS
Our Virtual Tools Are Here For You - Help with Granite Slabs And More!
Pairing Granite Countertops with the Perfect Backsplash
Quartzite Countertops Vs. Granite Countertops