Installation Tips For Your New Granite Countertop
February 29, 2020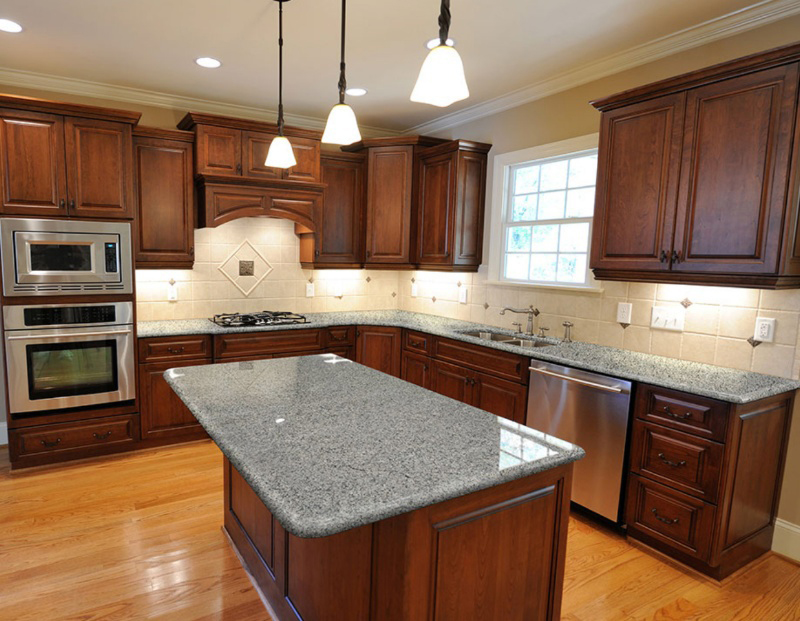 Most homeowners know and appreciate that doing a project themselves — such as installing a granite countertop — instead of hiring a contractor is a great way to save money on remodeling and repair. There's also that feeling of pride when you can say you did it yourself! Each time you complete a DIY project you develop new skills, so future projects are easier and you might be anxious to try more complicated work.
However, installing a new granite countertop is not considered an ideal DIY job for those with limited DIY or "handyman" experience. There are several reasons for this. For example:
• Even though granite is one of the toughest materials you can choose for a countertop, the surface can easily be damaged during the installation process.
• Granite is very heavy, so you may need several people to help you lift and guide the countertop into place.
• Also because of the weight, your cabinetry and even flooring may need extra support prior to installation. This may be an important factor in choosing between quartz vs. granite for your countertops.
• All measurements must be precise, or it won't line up just right and you'll never be quite satisfied with the results. Seams where pieces meet may be too visible, especially with black granite or any slab with a subtle pattern.
• The granite countertop may need to be cut onsite to make sure all cutouts align perfectly, and professional installers have the correct tools to do the job properly.
• Professionals get the job done much more quickly! That means you can use and enjoy your newly remodeled kitchen sooner.
With all of this in mind, many homeowners will still choose to self-install. If you have DIY or "handyman" experience, and feel confident with your abilities and skills, it may be a good option. If you do decide to plunge in and tackle it on your own, follow these tips to help installation go more smoothly and successfully. Also, check out MSI's Online Installation Guide for even more information and helpful advice.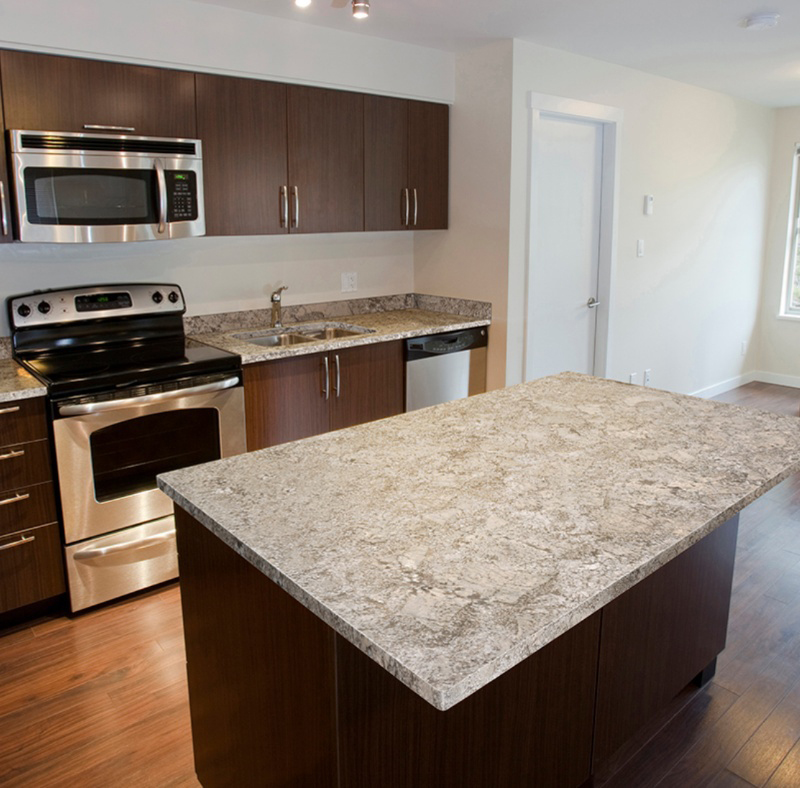 Preparation
Abraham Lincoln said, "Give me six hours to chop down a tree, and I will spend the first four sharpening the axe." Although it's natural to want to jump in and get the project started as soon as possible, be patient. Spending some time preparing is crucial to your success.
1. Set aside enough time for the installation, which will take anywhere from two to six hours.
2. Clear the area of all small appliances, such as toasters, microwaves, etc., and all decorative items.
3. Leave all appliances in place until careful measurements can be made. Then, remove them and pull them well out of the way.
4. Do not remove the sink or other built-in items until proper measurements have been taken and marked directly on the new granite slab.
5. Clear a path from the door to the area where the slab will be installed. Since granite is extremely heavy, you don't want to stop and move furniture or other items out of the way.
6. Gather all of the tools and materials that will be needed for the project. Make sure this is done ahead of time so you won't need to interrupt the process to search for an item.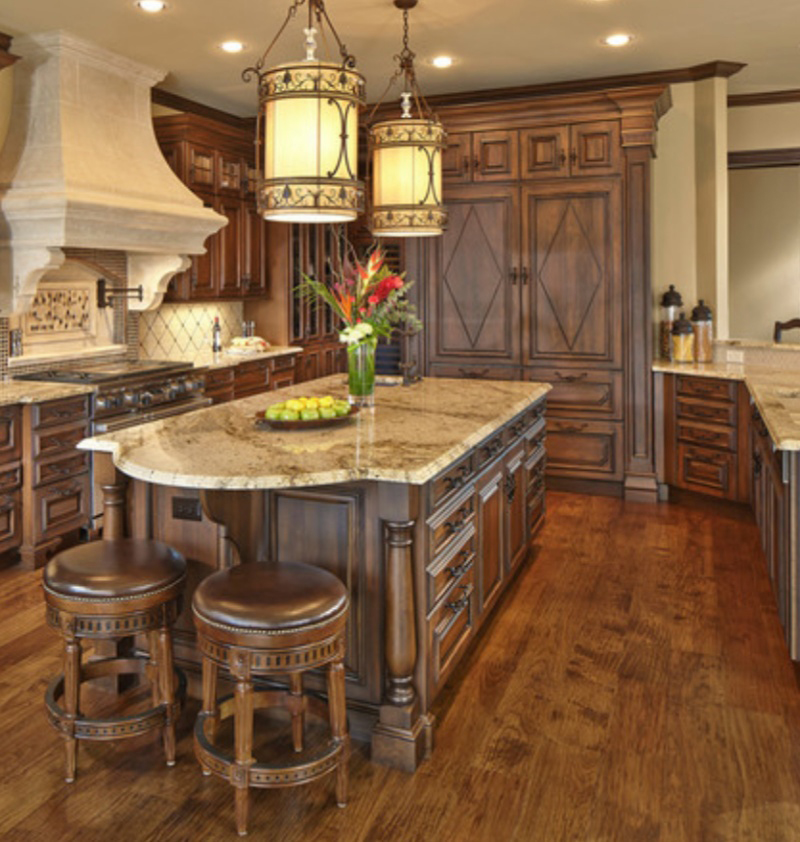 Tools and Materials Needed
• Cardboard or kraft paper
• 0.75 inch plywood
• Circular saw
• Screws
• Granite slabs
• Whiteout pen
• Caulk adhesive
• Caulking gun
• Wet grinder wheel
• Waterproofing membrane
• Safety goggles
• Safety mask
• Measuring tape
Measurement
Most home improvement projects require careful measurement, but with a granite countertop it's especially important that all measurements be precise. First, you want to make sure that the granite slab you choose is large enough — but not too large — for the area you need to cover. If you plan to install a matching backsplash, bar top, island, or other feature, be sure to include that measurement as well.
• Lay your kraft paper or cardboard on top of the cabinets.
• Trace the cabinets and cut away the extra paper or cardboard to create your countertop template.
• Mark the location of your sink, any curves, bends, and any other cutouts you will need.
• Decide on the size and type of overhang you want for your countertop. The typical overhang is 1.5 inches. Larger overhangs may need additional support or bracing.
• Record your measurements.
• Repeat the process at least once to make sure it's exact!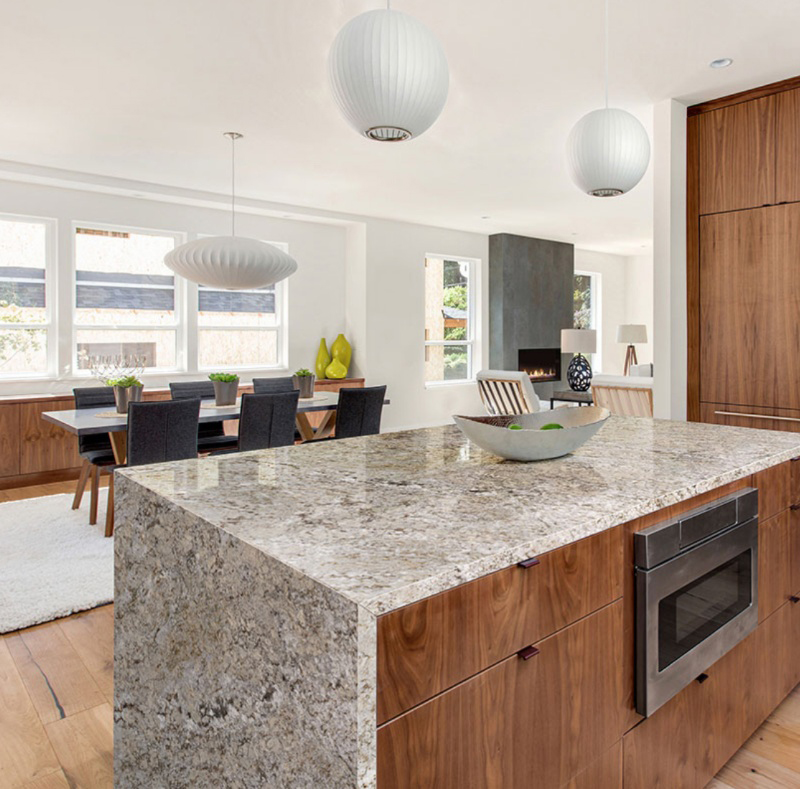 Reinforcing Cabinets
Before installing your granite countertop, you should reinforce the cabinets with 0.75-inch plywood. Although granite is an extremely durable material, it can crack if it's not thick enough or given extra support.
• Use your kraft paper or cardboard template to measure plywood pieces, including all cutouts such as the sink hole. Be sure to include the additional overhang.
• Cut the plywood with a circular saw.
• Place the plywood on top of the cabinets and make sure it is level.
• Attach the plywood reinforcement to the countertop by drilling screws through it to the cabinets. Place screws 8 to 10 inches apart.
• Apply a waterproof membrane to protect the plywood from internal, invisible water damage and rot. Let it dry for 12 hours.
Cutting and Fitting the Slab
Make sure you have enough people to safely carry the heavy slab into place — carrying it horizontally, not vertically. At this point, if all of your measurements were correct, the granite countertop should line up perfectly. You may still need to make small adjustments to ensure it fits just right. Here are some tips:
• Mark any cuts that need to be made by laying the template on top of the slab using painter's tape or a whiteout pen.
• Before cutting, put on masks, goggles, and other protective gear.
• Use a wet handheld circular saw to make cuts, in order to minimize the dust created by the process.
• Position the saw just outside the lines for the first cut, which leaves room for grinding and smoothing edges.
• Use a caulk gun to apply caulk to the underside of the granite, including the edges by the wall. Let it dry for 12 hours.
• Smooth countertop edges with a wet electric grinding wheel by gently dragging it back and forth along the granite edge.
• Install the sink: Apply caulk around the perimeter of the sink hole and affix the sink. Let dry for 12 hours.
• Apply a granite sealer to the countertops, especially if you've chosen a white granite, to keep it water-resistant and protect it from staining. Let it dry for 24 hours, and you're ready to enjoy your new countertop.
As you can see from the above instructions, installing a granite countertop is not a simple job — and it's definitely not an ideal project for an inexperienced DIY-er. However, if you're confident in your abilities, and have some friends to help out with the heavy lifting, installing it yourself can save a lot of money on the project. For more information, check out our Quick n' Easy Countertop Installation video.
Read More about Granite Countertops
All Your Questions About Granite Countertops Answered...Right Here!
Choose the Perfect Granite Countertops With MSIs Virtual Visualizer
You Can't Go Wrong With These Granite Countertop Designs
Our virtual tools are here for you - help with granite slabs and more!
For more detailed information on vinyl flooring, including installation costs for Luxury Vinyl Flooring, visit our website for our entire line of luxury vinyl planks.
Are you ready to get your DIY project started? First, find your granite countertop by reviewing MSI's expansive Granite Collection, then find and visit an MSI Countertops Dealer in your area.
READ MORE ABOUT GRANITE COUNTERTOPS
How to Save Money On A Granite Countertop
How to Seal A Granite Countertop
In Stock And On-Trend Granite Countertops Make A Statement
Is It Worth It to Install Granite Countertops Before Selling My House?