Bringing The Outside In With Natural Stacked Stone
July 01, 2021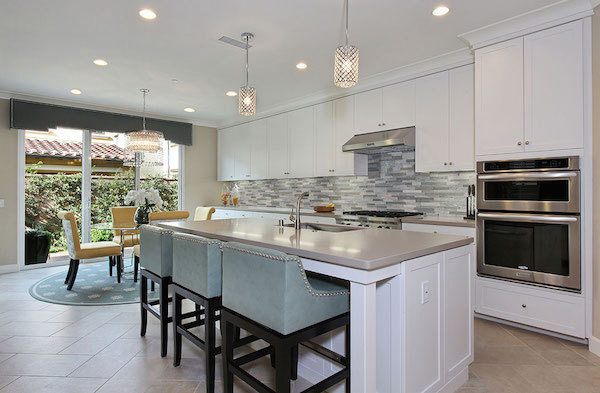 In a modern, contemporary home design, the textural appeal of stacked stone might seem out of place. It's quite the opposite, though! Refined, on-trend home decor is enhanced by stone ledger panels, as they create a captivating and contrasting focal point with just a hint of rustic charm.
The modern, minimalistic home designs so popular today can look cold or plain without the right balance of other decorative elements. Natural stone panels add the right touch of cozy, welcoming charm that makes a house into a home, while preserving the modern vibe. Stacked stone is timeless, and has the feeling of solid, structural permanence.
Here's another plus — no need to think about it too hard! Stacked stone used as an accent wall in a home interior is so easygoing, it's a breeze to match with any type of decor, even if you switch up your style sometime in the future. Just take a look at the variety of colors and installation ideas featured in this post, and you'll be able to install stone ledger panels in your own home with confidence.
Arctic White 3D Honed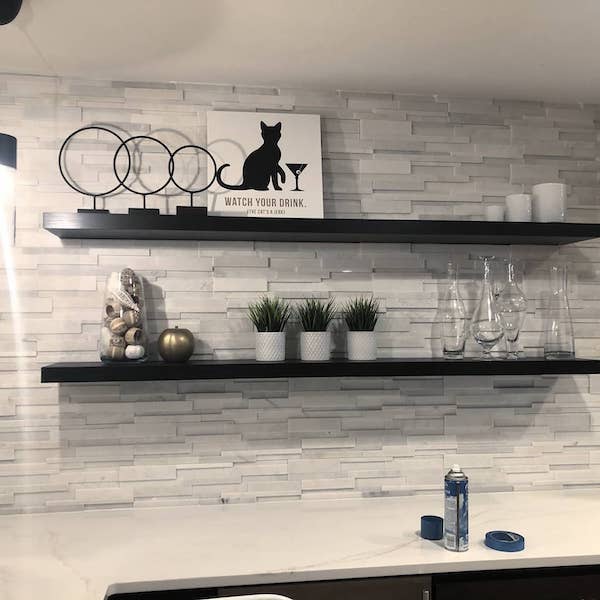 Can you fit stacked stone ledger panels into an ultra-modern, cosmopolitan kitchen or bar area? Arctic White 3D Honed ledger panels are an ideal choice. Crafted of natural marble pieces with a matte, honed texture and staggered depths, this stacked stone is smooth, sleek, and pure snowy white.
Accent walls of white marble look amazing when paired with darker elements, such as shelving and cabinetry. If you have a small space, like a galley kitchen or a nook in a city apartment, you might be tempted to leave the walls plain white to make the space look and feel a bit larger. White stacked stone can serve the same purpose, but with a lot more panache.
Golden Honey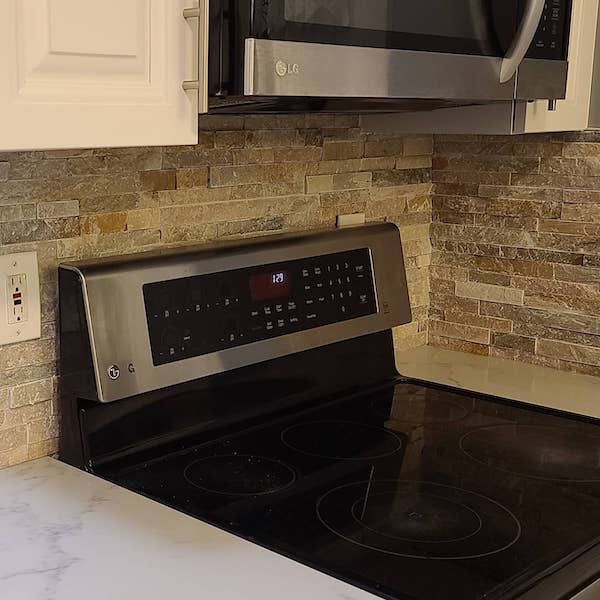 Does a modern design aesthetic mean you'll be stuck with a boring backsplash? Never! Golden Honey features split-faced quartzite in shades of gold, white, and gray. The colors are neutral, so they complement any type of furnishings, appliances, and accents you choose. Although the stones are random sizes and shapes and have a texture, the result is far from rustic — it's refined, soothing, and natural.
It can be tough to tie together the different colors of modern cabinetry, appliances, and fixtures in a modern kitchen. This also holds true in laundry rooms, bathrooms, or any other room in the house! This kitchen has white cabinets and a stove that's both black and stainless steel-colored. The mixture of neutral colors in Golden Honey tie it all together effortlessly.
Arabescato Carrara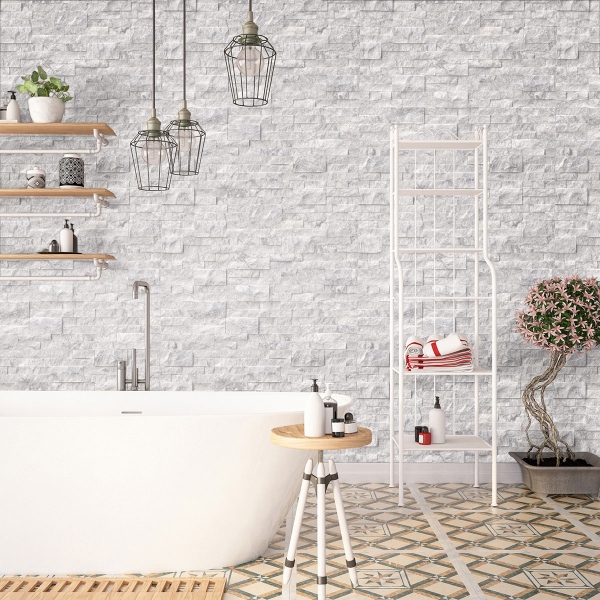 Decorating trends are veering from the harsh, minimalistic styles and incorporating decor with character — but not clutter. The great thing about a white, textured, natural stacked stone such as Arabescato Carrara is that, with a neutral palette of cool white and pale gray, it goes with everything.
Real marble pieces with a rough, split-face texture will elevate the good looks of everything else, and it's an excellent way to tie together old-world features, such as this vintage-inspired bathtub, with sleek, modern shelving and pendant lights. You can even add bold floor tiles like the geometric design shown here. Even though the stacked stone walls are textured and could easily be the star of the show, their subtle shading allows them to perform more of a supporting role.
Rustic Gold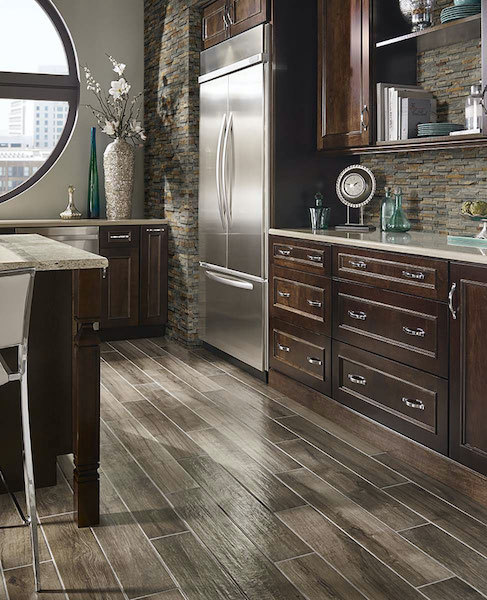 Blending different shades of brown in a room's contemporary decor may be one of the easiest design choices you can make. Here, we see brown wood-look flooring, dark brown wood cabinetry, beige countertops and ivory walls. One might worry that the addition of brown stacked stone as a backsplash or accent wall might be too much, but Rustic Gold stone wall tile is the exception. This slate stacked stone tiledoes have shades of brown, but it also has tones of gray, rust, green, and blue. It's just the ticket to turn a nice kitchen into an amazing space.
Coal Canyon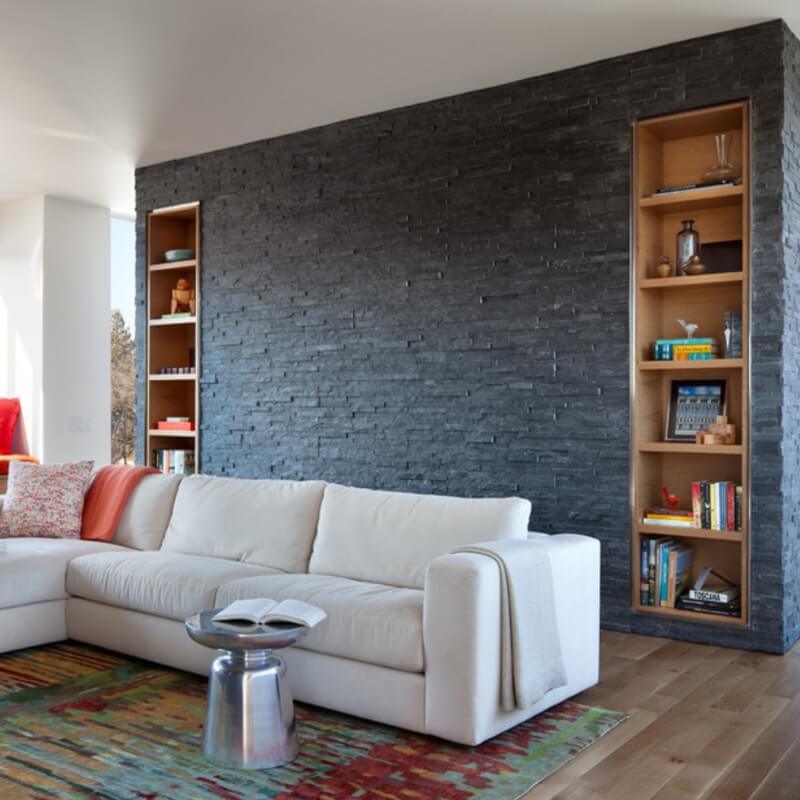 Photo source: Houzz
Many modern design schemes feature a lot of white — warm white in shades of ivory or cream, pure white, or white with a tinge of blue. It makes a room feel light and airy, but too much white can make a space feel sterile and bland. A dark stacked stone interior wall of Coal Canyon. It's crafted of natural split-face quartzite. Unlike some of the other stacked stone panels featured here, these stone pieces are roughly the same shape and size, which tones down the "rustic" aesthetic a bit. The depths are slightly staggered, so the texture is pleasing but not distracting. Matching corner pieces are available to give a professional finish as needed.
It seems that the farther we get away from natural materials and design themes, the more we need to bring a bit of it back into our homes. The uncluttered, simple design styles favored in today's homes need to guard against becoming too stark and plain, and the natural stone ledger panels featured here, as well as the others on MSI's website, offer just the right balance to make a home feel cozy and welcoming. Browse our online gallery to see more stacked stone colors and stone types, as well as more images that use it. We bet you're already thinking about the perfect place in your home to install it.