Bold And Beautiful Granite Colors
January 07, 2016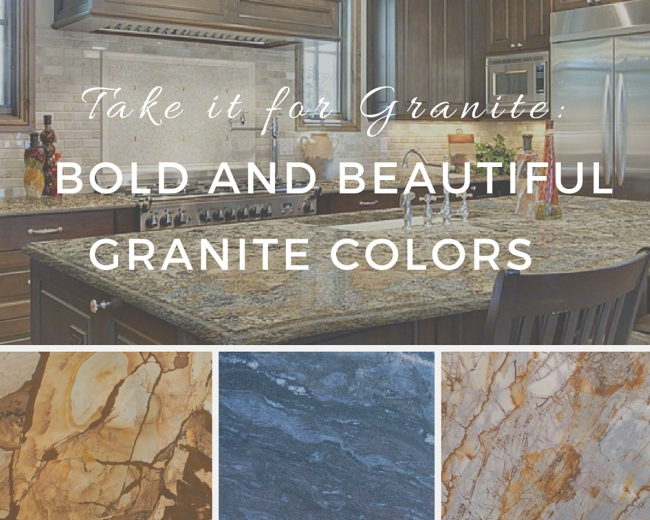 What do you think of when you hear "the bold and the beautiful"? No, we're not talking soap operas but instead interior design! Adding natural stone is a great way to add color and texture to a kitchen, bathroom or even living room. But if you're bored of the same neutral tones, then we've got granite colors that will elevate your design to a whole new level of drama.
Hidden Treasure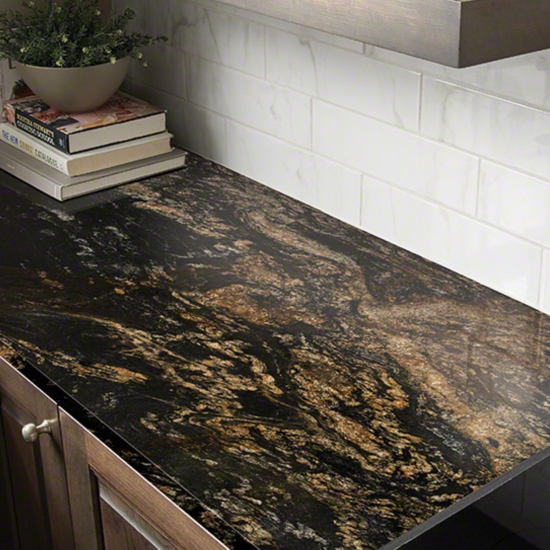 Featured: Hidden Treasure
If you're looking for a dramatic, darker granite countertop, then consider Hidden Treasure. As its name suggests, this beautiful granite from Brazil features a rich mixture of gold, black, gray, and cream colors. The fluidity of the veins draws the eye from one end of the polished slab to the other, thus creating movement within your space. Once you've added Hidden Treasure granite to medium- to dark-tone cabinets in the kitchen or bathroom, you may think that you've hit the jackpot with this brilliant choice.
Caravelas Gold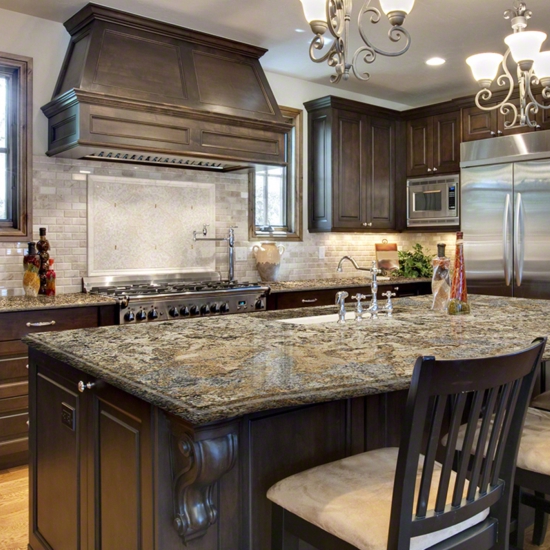 Featured: Caravelas Gold
Want splashes of gold in a softer-toned color palette? Adorn your design with Caravelas Gold. This polished granite from Brazil is a high-movement stone, so with a large slab, you'll be able to see clearly the stunning swirls of creamy, warm browns, and cool grays creating a striking pattern. Add interest to a large fireplace in a contemporary space or finish a more traditional kitchen design with granite counters in Caravelas Gold.
Stone Wood Brazilian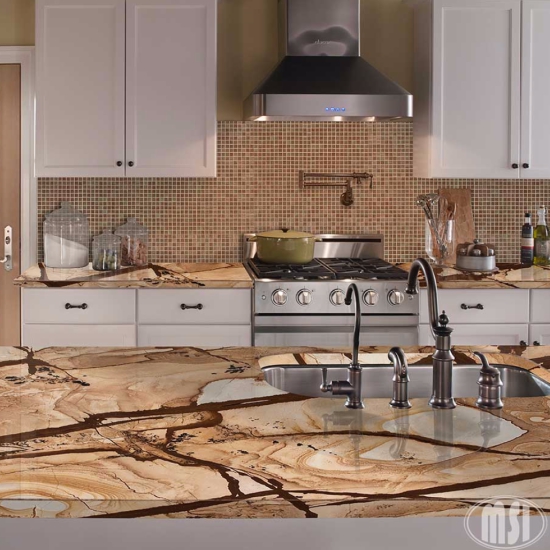 Featured: Stone Wood Brazilian
If you want the look of wood with the cleaning ease and durability of natural stone, then try Stone Wood Brazilian granite. With its high variation of creams, yellows, golds, and browns, this polished stone is probably unlike anything you've ever seen. While this granite may mimic the effect of cut wood or bark, the cut of the granite slabs could be key to how dramatic you want your design to be. Give a narrow bar top a unique yet natural look, transform a large shower into an artistic masterpiece, or install a one-of-a-kind countertop for a show-stopping kitchen with Stone Wood Brazilian.
Titanium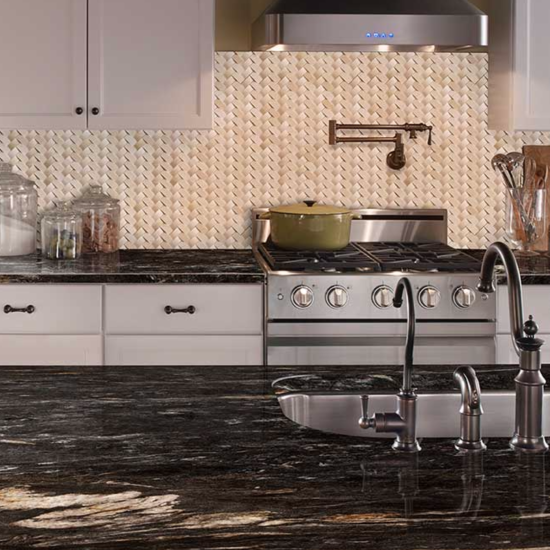 Featured: Titanium
You don't have to opt for all black when desiring a dark, dramatic look. Titanium granite, which also comes from Brazil, mixes blacks, golds, grays, creams, and ivory together to create a lustrous stone with elegant movement. Whether you choose a polished or brushed finish, this granite looks spectacular with both white- or wood-toned cabinets, so you can expect Titanium to be a hit with just about any design style.
Dynamic Blue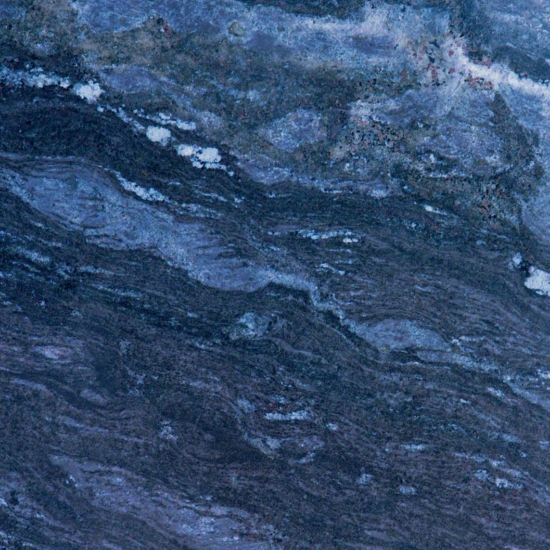 Featured: Dynamic Blue
Want to create space with more energy? Dynamic Blue granite beautifully blends both dark blues and lighter blue accents to give your interior or exterior project the dramatic color it needs. Create a stunning kitchen or bathroom with the addition of a granite slab of Dynamic Blue. Since it also comes in tiles, feature it in a fireplace surround or backsplash, or use it as a bold flooring choice in the bathroom.
Roma Imperiale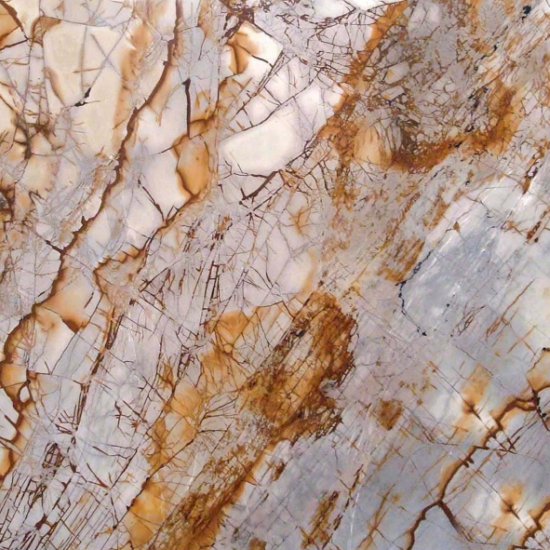 Featured: Roma Imperiale
With the modern look of crackled glass, the gilded and bronze veins on an ivory background are perfect for making a bold statement in stone. Roma Imperiale is an elegantly polished Brazilian granite that is rich in unique variations. Although granite is an excellent choice for countertops and floors, try this attractive color as an artistic centerpiece, such as on walls or fireplace surrounds. The neutral-like colors can also compliment more traditional home decor to give it additional flair.
While adding bold colors to your home may feel intimidating, these perfectly balanced granite colors make it easy to add drama with finesse. These are but a few of the color choices that MSI offers. Browse our ever expanding granite selection at msisurfaces.com/granite-countertops or contact one of design experts for additional help.
Learn More about Popular Granite Colors
13 Unique Colors and Designs of Granite Countertops
Colors of Granite - Creating Your Own Color Scheme
23 New Granite Colors to Love
5 Exotic Granite Colors
Exotic Granite Colors from Around the World
READ MORE ABOUT GRANITE COUNTERTOPS
Beautiful Gray Granite Countertops
Beautiful White-On-White Kitchens with Granite Countertops
Beautiful, Natural-Stone Countertops