Porcelain Durability In Natural Stone Looks: Eden, Savoy, And Kaya Collections
June 05, 2023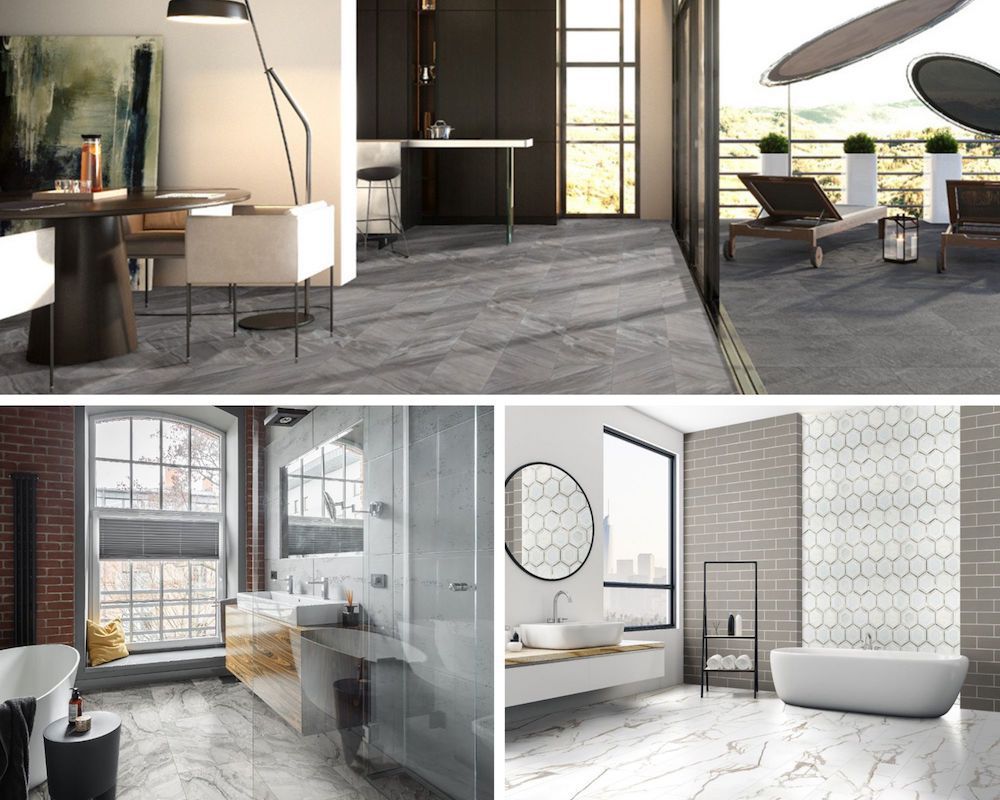 Porcelain tile has gained widespread popularity as a versatile option for various household surfaces, including countertops, backsplashes, flooring, and fireplace surrounds. With a vast array of stunning porcelain designs, finding the perfect products to fulfill your design and functional requirements has never been easier. Whether you're seeking a sleek and modern look or a classic and timeless appeal, porcelain offers a wide range of options to elevate the aesthetics of your space while providing durability and practicality.
MSI porcelain tile boasts comparable strength and durability to natural stone products but also offers a plethora of appealing benefits. With the ability to replicate the look of highly sought-after stone varieties like Calacatta marble, porcelain provides an affordable alternative that is virtually indistinguishable from the real thing. Furthermore, porcelain is exceptionally resilient, ensuring it can withstand the demands of any room. Its non-porous surface promotes safety and hygiene, making it an ideal flooring choice for areas where cleanliness is paramount.
Why Is Durability So Important?
Functional flooring will have to weather a lot of wear and tear, so durability is absolutely essential. If you're considering different types of tiles, from ceramic to stone to porcelain, you'll find that the latter has much to offer in both practical and aesthetic terms.
Ceramic tile is a lovely addition to countertops and backsplashes, but for durable flooring, porcelain really shines. This material is made from refined clay fired at high temperatures, resulting in resilient, long-lasting, and cost-effective tile.
The risk of cracks, chips, or other damage is minimal with everyday use. This saves money over time, keeps your interior looking brand-new, and makes for a safe environment where slips and trips are less likely. Even better, porcelain is easy to clean and maintain, preserving hygienic living spaces.
Other Benefits of Porcelain Flooring
Due to its high density, porcelain tile offers outstanding water resistance, whether glazed, unglazed, polished, or matte.
As part of the Everlife® Waterproof Flooring Collection, MSI porcelain tile offers worry-free performance, easy maintenance, and aesthetic appeal and incorporates MSI's ZeroSlip™ proprietary anti-slip technology. This innovative feature ensures enhanced safety by providing reliable traction, even in wet or high-traffic areas. Additionally, MSI porcelain tile is highly resistant to scratching, staining, and other forms of damage, ensuring its long-lasting beauty and durability.
There are also aesthetics to consider, and MSI porcelain collections offer designs that capture the beauty of nature and appeal to a wide range of style sensibilities. You can view your favorites with our flooring visualizer to see how they fit your overall design, but let's start by exploring some of the most popular options.
The Eden Porcelain Tile Collection
If you desire a cozy, inviting, and serene interior, you will be delighted by the array of options presented in the Eden Porcelain Tile Collection. Selecting the perfect floor tile for your home is no simple task, but with this collection, you'll find a range of beautiful designs and colors that will allow you to create a personalized and harmonious atmosphere in all of your living spaces. With its durable and low-maintenance nature, these tiles ensure that your flooring will remain both stylish and practical for years to come.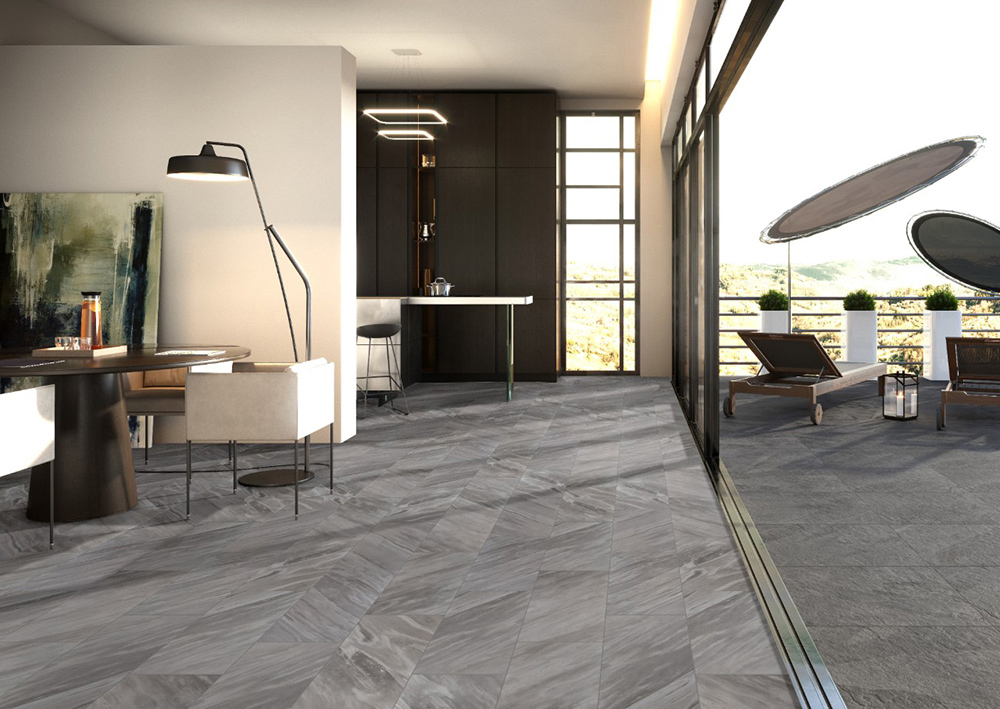 Eden Bardiglio Porcelain Tile
Soft streaks of gray, taupe, cream, and beige gently transition across the surface of the calming Eden Bardiglio Porcelain Tile. This flooring, reminiscent of natural stone, serves as an ideal grounding element for walls and furniture, offering the benefits of low maintenance, durability, and ease of cleaning. Paired with our Midnight Montage Porcelain Pavers, it creates a seamless, nearly maintenance free indoor/outdoor living space.
Eden Calacatta Porcelain Tile
Eden Calacatta Porcelain Tile features a creamy background with sheer gold veining, creating a lighter and airier feel with a touch of drama. The cream and gold combination adds a sense of luxury and sophistication to any area of the home, including bathrooms and showers! The use of large format tiles further elevates the elegance of the design, giving this spa-like retreat a more expansive and upscale appearance, transforming it into a truly refined and captivating space.
The Savoy Porcelain Tile Collection
The Savoy Porcelain Tile Collection offers a sophisticated and opulent touch to your interior design with its timeless Calacatta marble-inspired varieties. By choosing Savoy Porcelain Tile, you can relish in the aesthetic you adore while enjoying the enduring and practical benefits of porcelain. This rectified glazed porcelain tile utilizes advanced digital print technology to replicate the desirable qualities found in highly coveted natural stones like marble. Unlike genuine stone, Savoy Porcelain Tile eliminates the maintenance concerns associated with such materials, providing a hassle-free experience.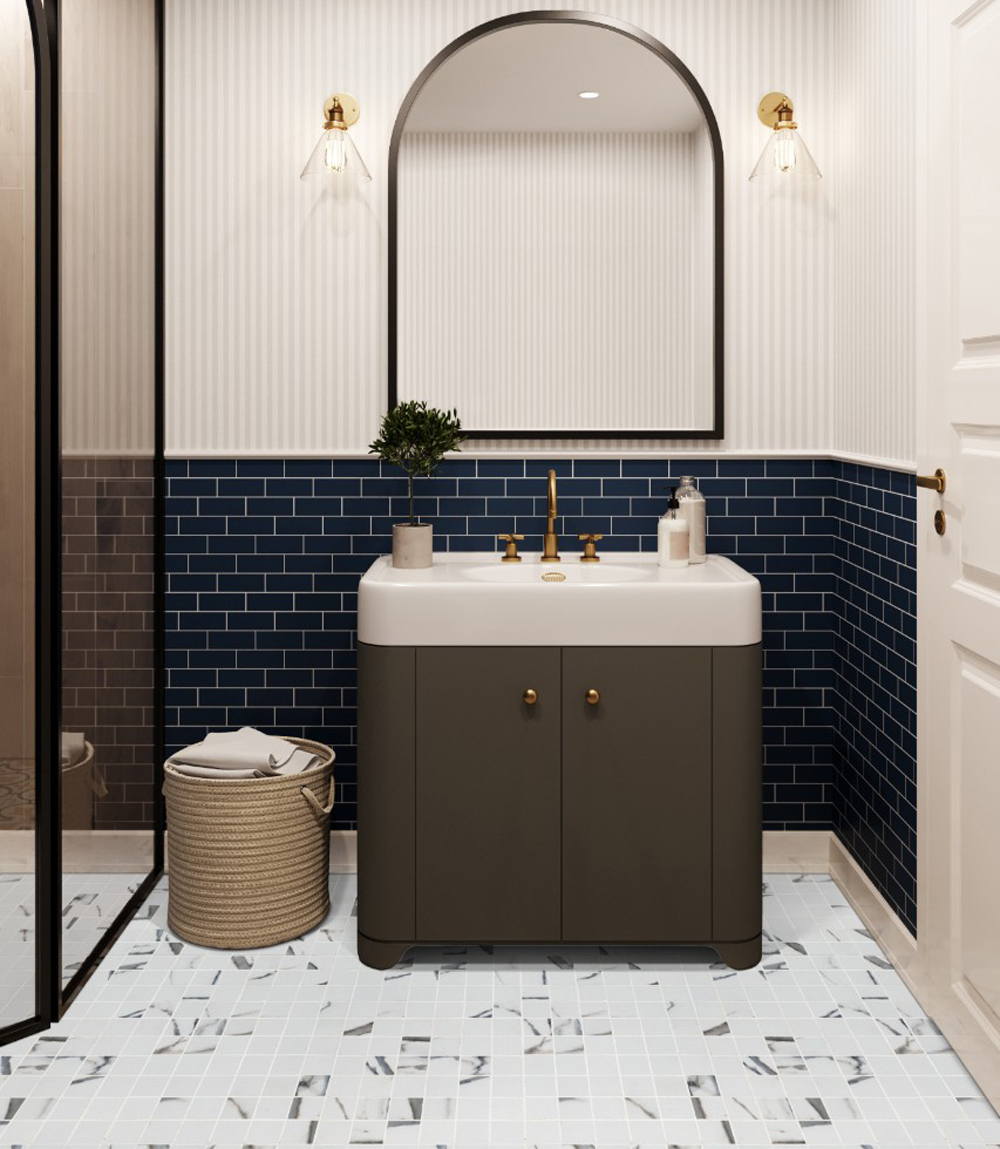 Savoy Azula Porcelain Tile
Savoy Azula Porcelain Tile enhances a bathroom floor with its cool, white background and bold, gray veining. The combination of these features creates a visually stunning and clean ambiance. The bold veining adds depth and character, becoming a focal point of the design. The tile's durability and water resistance make it a practical choice for the bathroom, bringing both aesthetic appeal and functional benefits to any floor or wall.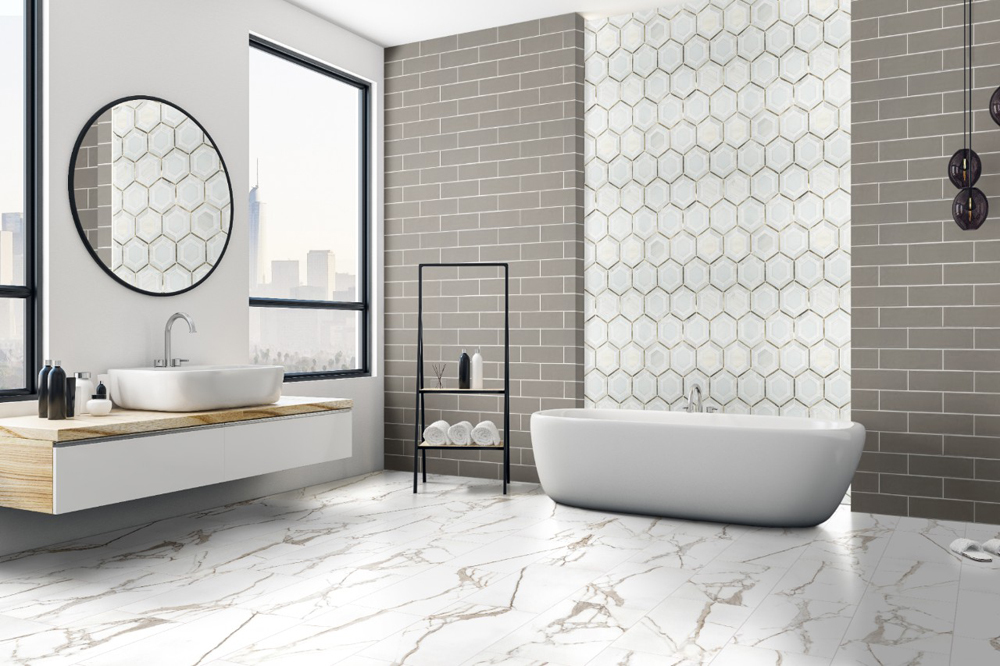 Savoy Crema Porcelain Tile
Savoy Crema Porcelain Tile presents a captivating option for enhancing a bathroom floor. With a creamy background enriched by ribbons of gold and brown veining, it exudes a warm and inviting atmosphere. The dynamic pattern of the tile adds visual interest and the intricate veining adds a touch of luxury and sophistication to the room, making it a welcoming and stylish retreat.
The Kaya Porcelain Tile Collection
Homeowners seeking a statement style will surely appreciate the eye-catching designs and organic mastery of the Kaya Porcelain Tile Collection. Inspired by a style that architects have used for centuries, this collection is chic and timeless and delivers the luxurious elegance of natural marble with the durability and performance of porcelain. With its unique technology, these tiles achieve a remarkable consistency between matte and polished finishes providing a smooth texture unlike any other.
Mesmerizing Onda Gray Porcelain Tile is a stunning choice for those seeking a captivating and vibrant aesthetic. With its swirling pattern, this tile boasts a white background adorned with ample veining in various shades of gray, creating a visually striking effect that is sure to make a splash in your bathroom.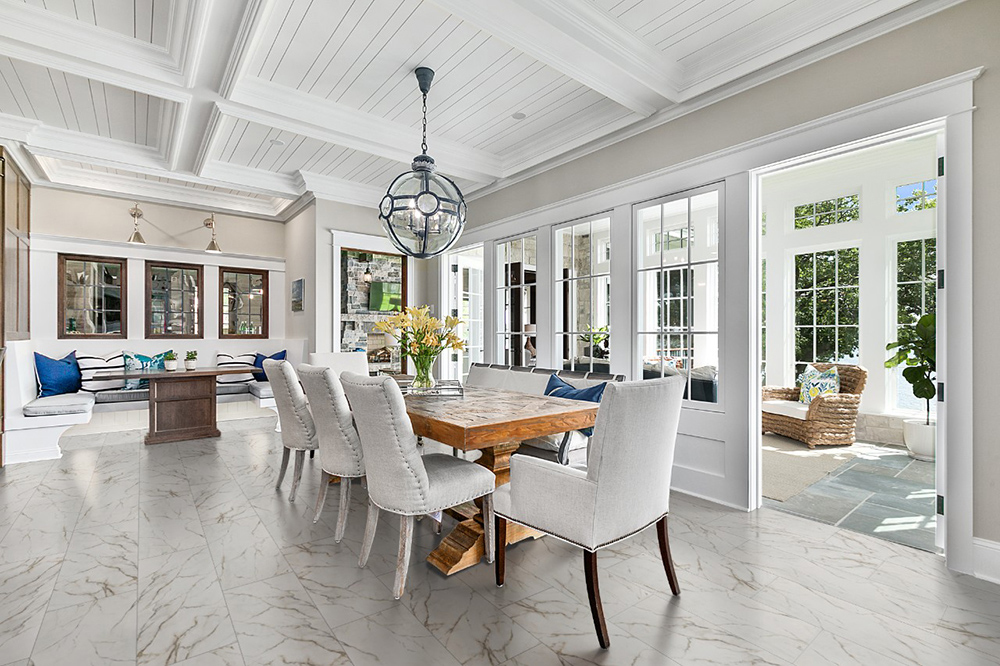 Calacatta Lucca Porcelain Tile
Calacatta Lucca Porcelain Tile, on the other hand, is characterized by striking, dynamic veins in gray and gold gracefully spread across a pristine white background, reminiscent of vines weaving their way through a serene landscape. This captivating design takes visual appeal to new heights in any room, showcasing the exquisite craftsmanship of the Kaya Collection.
How to Choose the Most Durable Porcelain Flooring
Choosing the most durable porcelain flooring for your home can be easier by considering a few key factors. Start by checking the PEI (Porcelain Enamel Institute) rating, which measures the hardness and durability of the tile. Look for a rating of three or higher, indicating suitability for high-traffic areas.
Next, prioritize high-quality materials that offer consistent color and pattern throughout the tile and low absorption to prevent cracking and chipping. Opting for thicker tiles can enhance their ability to withstand heavy use and abuse.
Consider the finish of the tile, which is both practical and aesthetic. For example, glazed tiles provide better protection against scratches and stains, while a modern, matte finish offers a natural slip-resistant texture. Take into account your environment and personal style preferences when making your choice.
Finally, it is highly recommended to have professional installation to ensure the secure and safe placement of the tiles. This will help prevent damage and extend the lifespan of your flooring, providing long-term durability and peace of mind.
Are you ready to start looking at porcelain tile for your next flooring upgrade? Contact the creative professionals at MSI through our online chat feature to learn more, or find an authorized MSI dealer and visit an MSI showroom to get started.