New Granite Colors Offer Endless Possibilities
September 25, 2019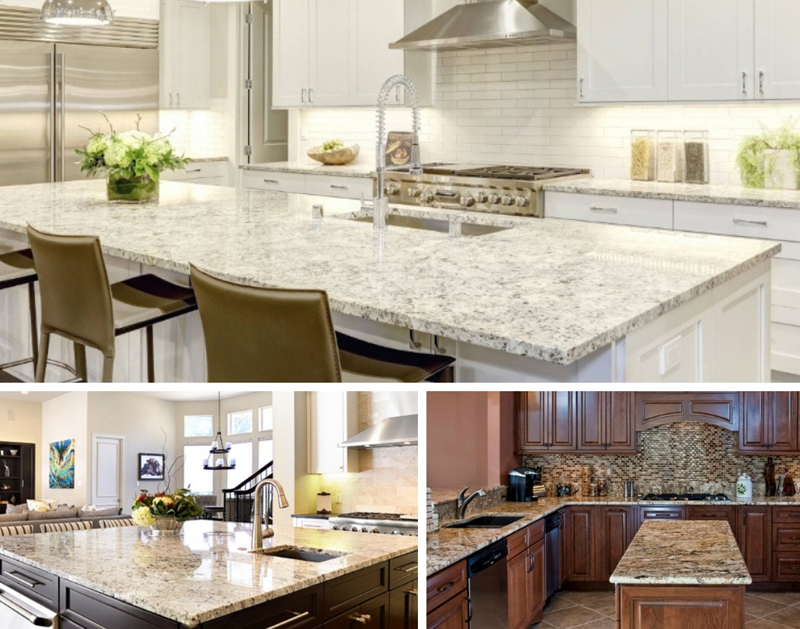 Few things on this planet are as elegant, beautiful, and durable as natural stone. And we are excited to introduce you to four of our new 14 granite colors in our inventory. Granite vs. quartz is a debate that continues to rage on; which is best for you? It really depends on the look you are going for. Both granite and quartz are premium surfaces that are easy to care for and available in a wide range of patterns and colors.
Our new granite colors highlight Mother Nature's artistry and there is no better place to witness the artistry than when natural stone is installed as kitchen counters. Kitchens today are designed for more than just utility. Large kitchens with expansive islands where people gather and connect are the norm—and we love it. Granite counters are an excellent choice for today and for tomorrow. Granite is classic, timeless, and it remains the preferred surface for most homebuyers today.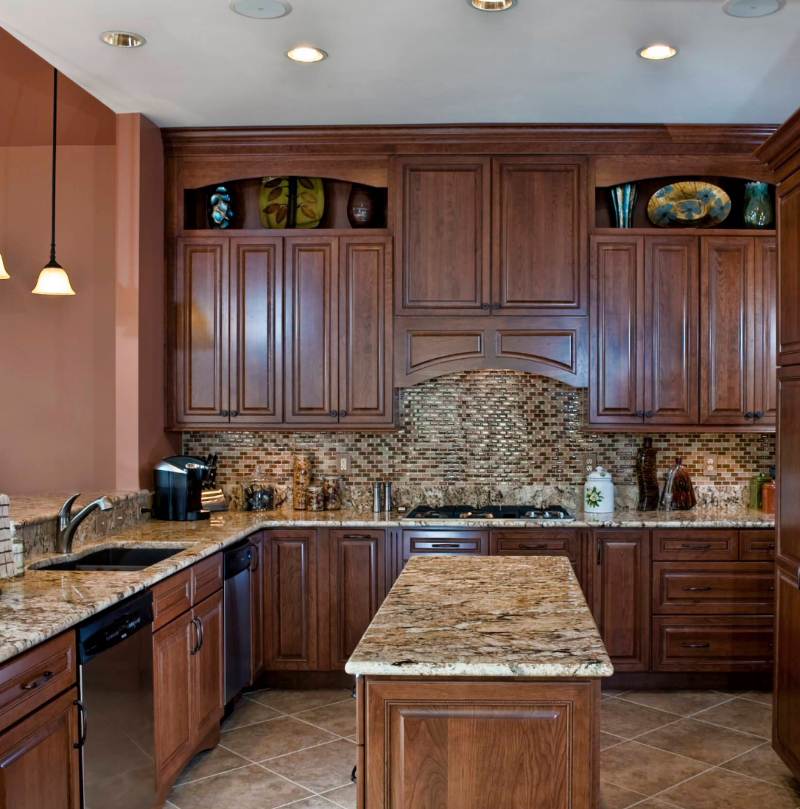 Desert Beach (Photo Credit: Houzz)
Traditional kitchens evoke an aura of grandeur and timeless appeal. Our new granite color Desert Beach was the perfect choice for this deep-toned cabinetry and lighter floors. The play of contrast here is an example of brilliant design and how choosing coordinating materials allow each individual piece to be appreciated. The character of the tile floor isn't overshadowed by the cabinetry and the counters, and the tile backsplash effortlessly unifies each element in the design to create a unified and elegant design.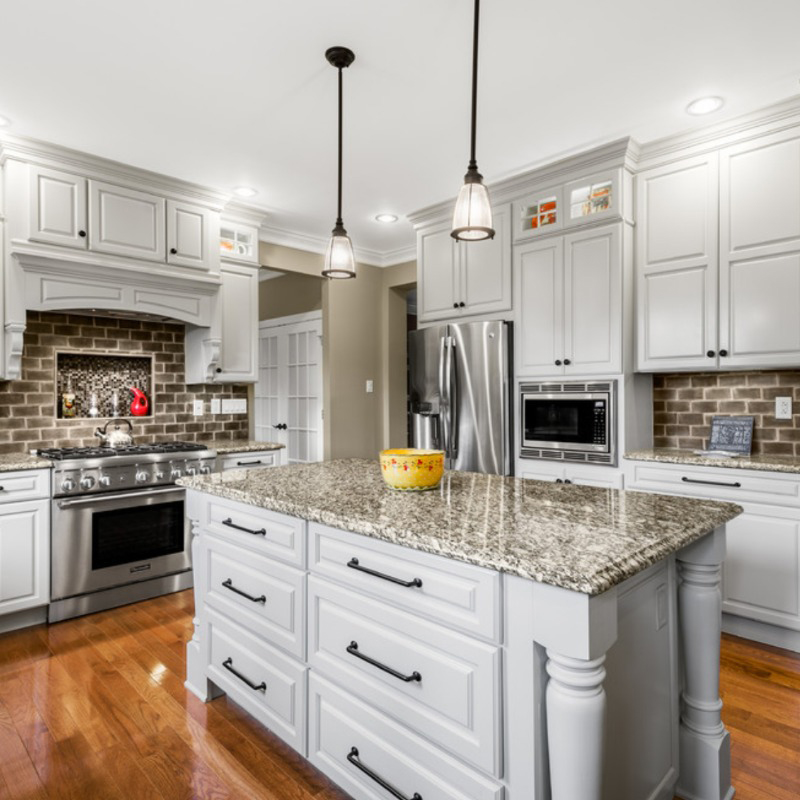 Nevasca Mist (Photo Credit: Houzz)
If you love the trend of mixing cool and warm colors together, you are going to adore our Nevasca Mist granite. This transitional kitchen partners dove gray cabinets with warm hardwood floors which could be quite off-putting if it wasn't for the harmonious blend of cool grays and warm brown hues in this stunning granite countertop. The profile of countertop edges really set the stage for the overall design feel—some edges are more classic and traditional in nature, while others are more sleek and modern.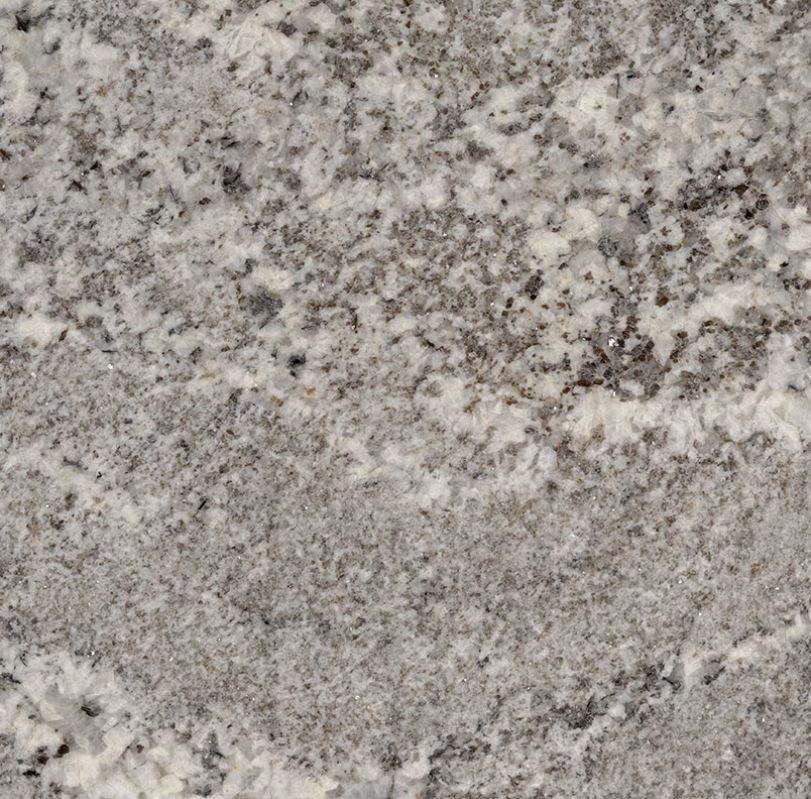 Silver Falls
If you love to entertain, an expansive kitchen island is surely on your wish list. The trend of contrasting cabinetry on the island continues to be celebrated and nothing highlights the beauty of an island like a large slab of granite in a contrasting tone. Silver Falls granite is the star in this chef-inspired kitchen, unifying the surrounding cabinets, island, and backsplash. The whispers of gray, white, silver, and hints of cocoa create a striking balance of cool and warm shades.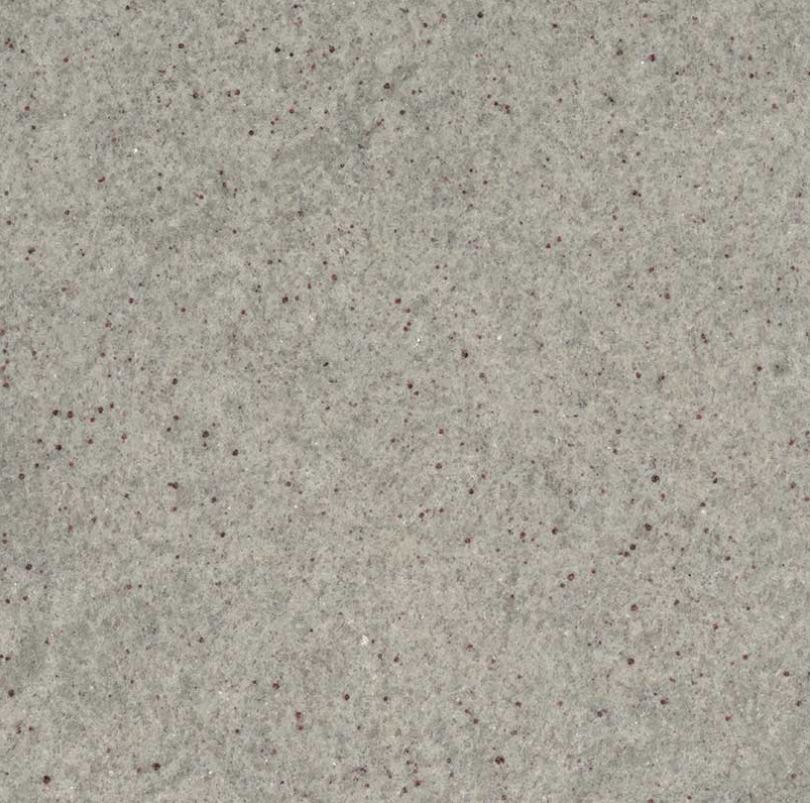 Colonial Ice
White kitchens are always in style, and this kitchen is no exception. The real showstopper here is our new granite color, Colonial Ice that was chosen for the countertops and the island. The icy white background and the silvery specks boost the glamour quotient in this stunning kitchen. The cabinetry, under cabinet lighting, stainless appliances, and striking pendant lights really set the stage for glamourous parties. The best part, granite is naturally durable and easy to maintain—so let the party commence!
Please browse our inventory and see for yourself the wide range of colors and patterns we've recently added to our inventory. We are sure you'll find the granite countertop color and pattern that compliments your design.
Learn More about Popular Granite Colors
Granite Colors That Create a Calming Bathroom
Granite Colors That Always Look Clean (Even When They Aren't!)
Granite Done Right: Your Primer for Custom Edge Profiles
READ MORE ABOUT GRANITE COUNTERTOPS
Is Sealing Granite Countertops Really Necessary?
Look-Alike Granite Countertops In Easy-Care Quartz
Natural Adaptability: New Venetian Gold Granite