Granite Colors That Always Look Clean (Even When They Aren'T!)
March 24, 2018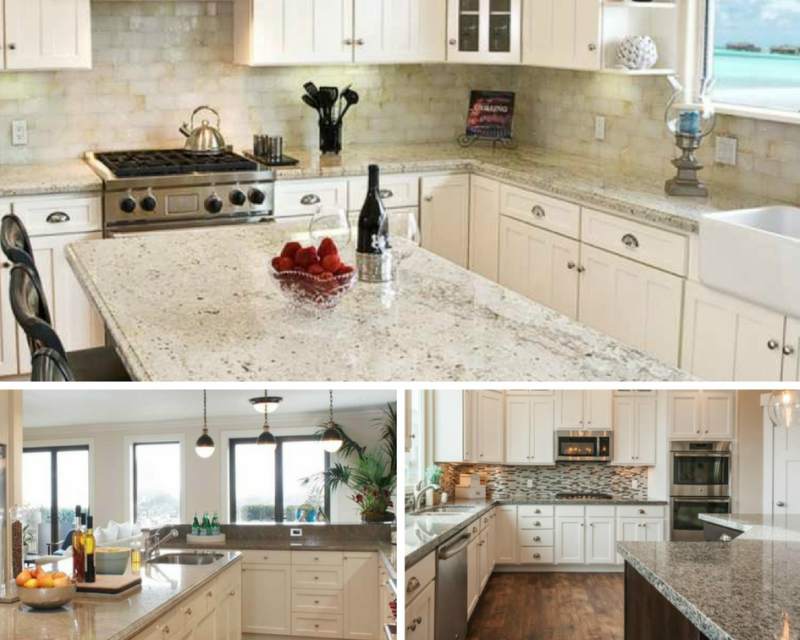 Let's face it, cleaning the kitchen is not always a top priority. There are downward facing dogs to do, work reports to complete, drinks with friends to join in on—all of which sound more pressing than grabbing a microfiber cloth to wipe away those bagel crumbs from breakfast.
Sure, cleanliness is important, and you do your best to keep up. But living your life is important, too. That's why granite countertops in your kitchen and bathroom are life savers.
Granite colors, swirls and veins are masters at disguising the inevitable drips and slip-ups from last night's dinner preparation. And if you want some white kitchen inspiration, light-colored granite on the "white spectrum" can fool the eye. It looks bright and clean, even if you didn't have time to wipe up bits of pie crust from dessert.
The variations in granite slabs hide little messes, and plus, cleaning them up is a breeze. A simple damp cloth with a bit of soapy water can make your counters look brand new again. And if you are careful to seal counters annually, there's almost nothing that can stain your beautiful granite counters.
Another perk is that white-hued granite comes in many different varieties.
In fact, MSI has a host of granite colors that will make your kitchen look white-glove clean, no matter how much or little time you have to complete housework. Let's take a look at some fan favorites!
Silver Creek Granite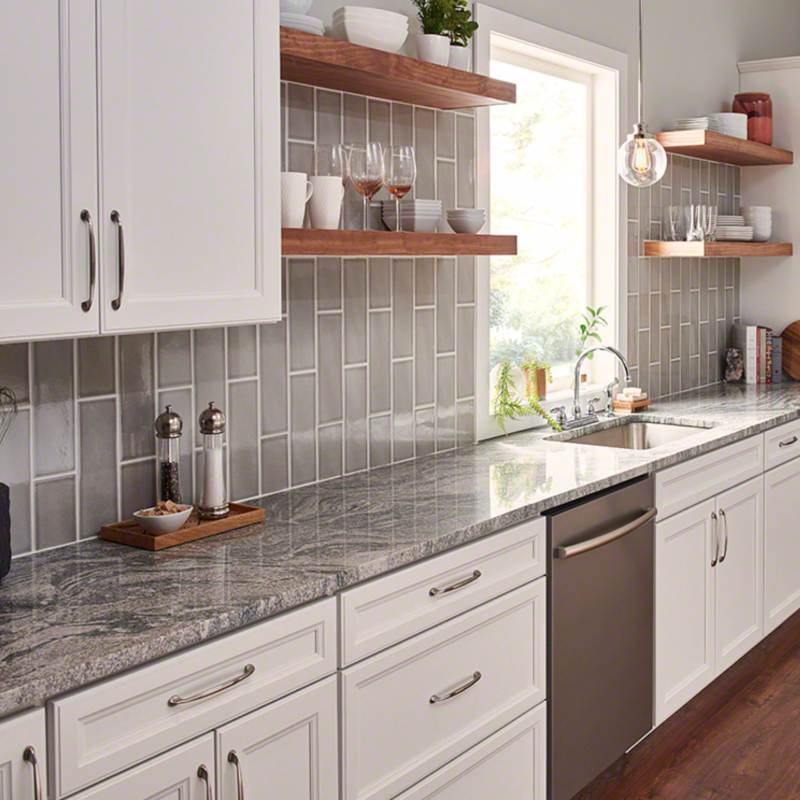 Featured: Silver Creek Granite
Silver Creek Granite is filled with swirls and veins that run from light to dark. The slabs, which are imported from Brazil, feature gray tones accented by black lines and cream patches. The design, with layers of striations, looks like a map of time. This granite color is perfect for kitchen countertops and backsplashes, and it also works well in bathrooms, where it conceals spilled powder and toothpaste smudges.
Nevasca Mist Granite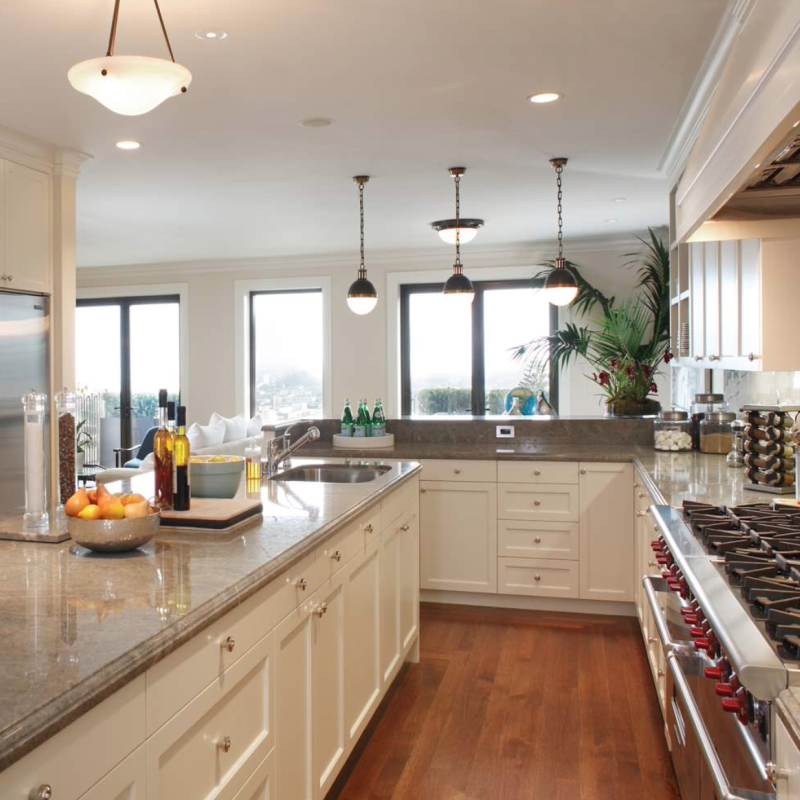 Create a similar look with MSI's Nevasca Mist Granite (Photo Credit: Houzz)
Nevasca Mist Granite is a serene mix of gray, greige and beige, highlighted by dark brown veins. This Brazilian granite is stunning on kitchen islands and handily disguises a little messy prep. No need to immediately clean—first, simply enjoy your meal without a backward glance at your countertop. This natural granite also is highly durable and stain- and chip-resistant.
Alpine White Granite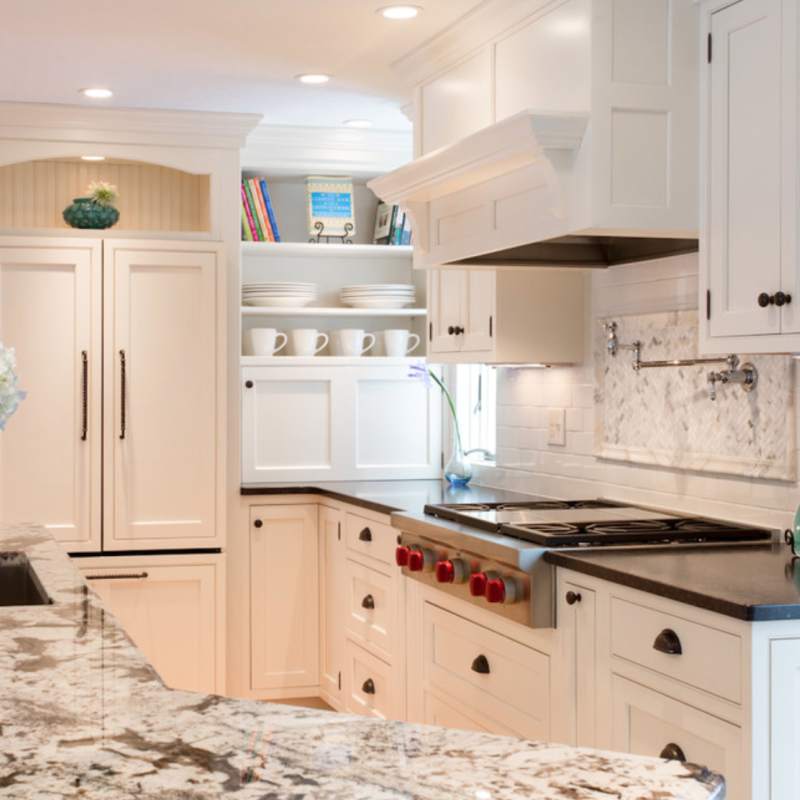 Get a similar look with MSI's Alpine White Granite (Photo Credit: Houzz)
Alpine White Granite is a polished granite that displays hues ranging from gunmetal gray and graphite to a veined, icy white background accented with ebony. This gorgeous stone works well with white, cherry or gray cabinetry. Paired with light cabinets, Alpine White creates a serene vibe; atop dark cabinets, they give the room a pop of light.
Colonial White Granite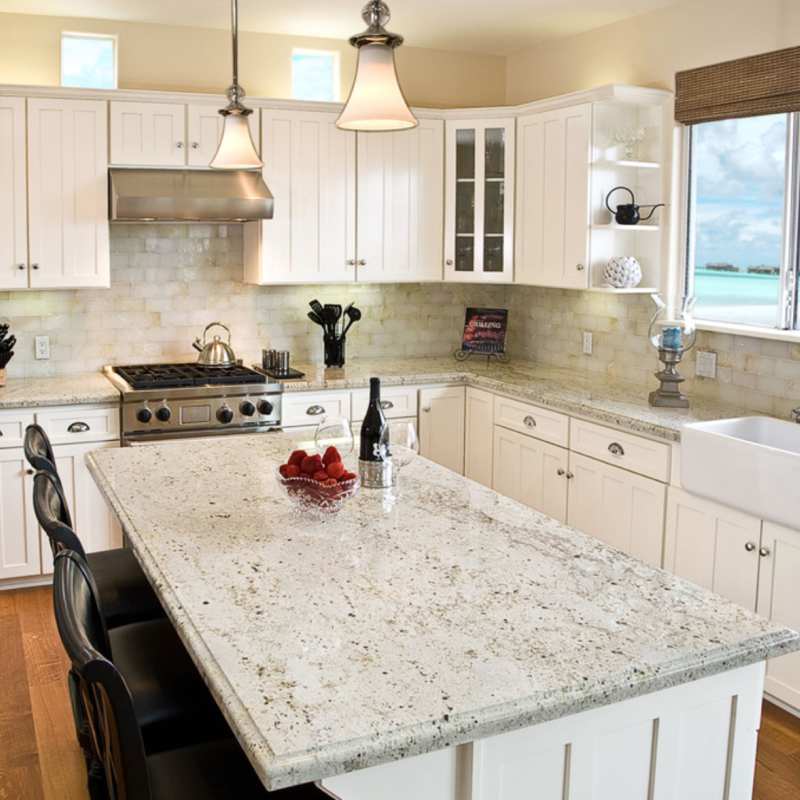 Recreate a similar look with MSI's Colonial White Granite (Photo Credit: Houzz)
Colonial White Granite blends pale gray with cloudy silver, punctuated with jet black speckles. It reads clean and white, yet easily hides crumbs and dust. This Indian granite is a beautiful choice for kitchens and baths.
Caledonia Granite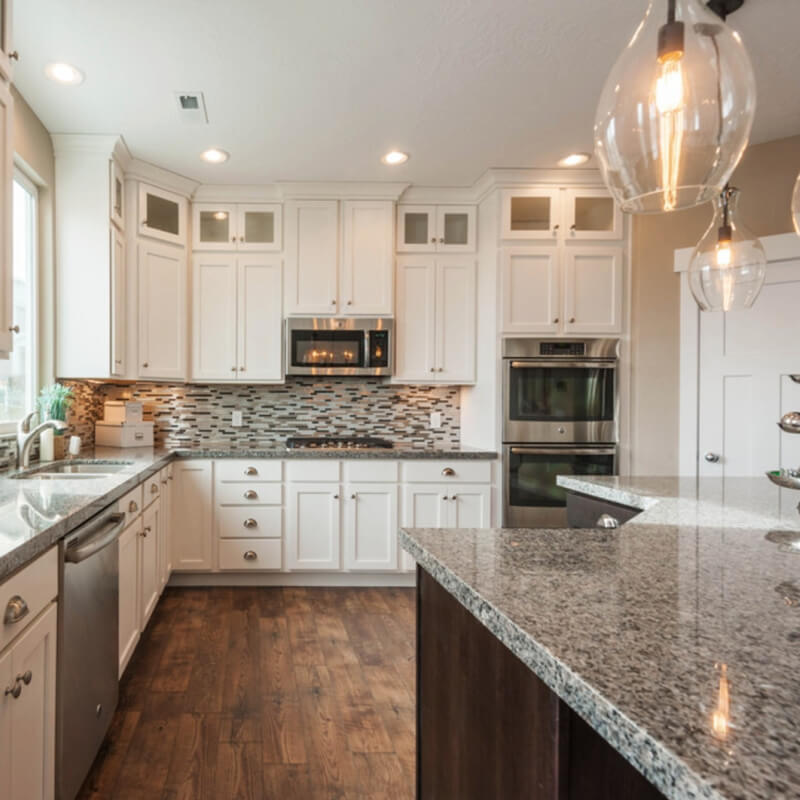 Create similar look with MSI's Caledonia Granite (Photo Credit: Houzz)
Caledonia Granite combines colors ranging from charcoal to light gray, creating an intricate pattern that provides a pop of color and interest in white kitchens. The speckles are so small and close together that kitchen messes virtually disappear until you have the time and inclination to sweep them away with a damp, microfiber cloth.
Tip: Never clean granite with vinegar, which is made of acetic acid that can eat away at sealants.
There's no question that you want both form and function from your kitchen countertop, and with granite, there's no need to compromise! You get the timeless and elegant beauty of natural stone, plus the durability and functionality that lets you live your life without constantly cleaning. For even more options, check out MSI's entire collection of granite countertop colors, and find the perfect look for you!
Learn More about Popular Granite Colors
Granite Colors That Create a Calming Bathroom
Gorgeous Granite Colors That Never Go Out of Style
Granite Done Right: Your Primer for Custom Edge Profiles
READ MORE ABOUT GRANITE COUNTERTOPS
Forget Laminate! Get the Real Deal with Granite Countertops
Granite Colors That Create A Calming Bathroom
Granite Colors with Romantic Hints Of Rose
Granite Countertops Add Value to Your Home