Popular
Living In The Great Outdoors
August 09, 2021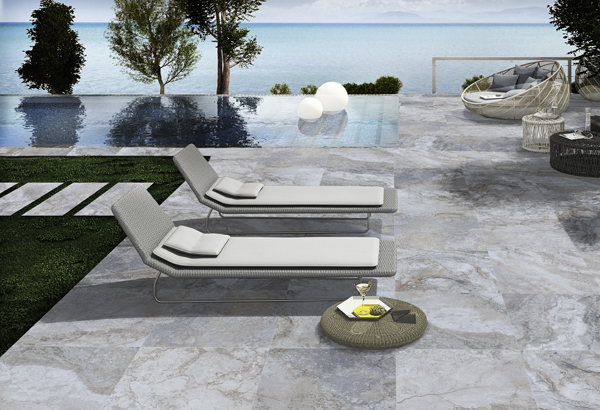 Arterra® Argento Travertino Porcelain Pavers add poolside elegance.
There's something innately human about wanting to connect with our outdoor surroundings. Maybe it dates back to when humans lived in caves, yet spent most of their time in the wild, or perhaps it's a desire to enjoy what the natural world has to offer – beauty, mystery, and possibility. For centuries, people have been looking for ways to incorporate nature into their homes through more oversized windows, the use of natural stone or wood, sunrooms and conservatories, nature-inspired wallpaper, and more. Today, however, more and more homeowners are heading back outdoors and bringing the comfort of home with them.
Outdoor Living is a design trend that is here to stay. From cooking alfresco and dining under the stars to comfortably resting by the water to entertaining while watching a game with friends in the open air, the opportunities to commune with nature from the comforts of your home are unlimited.
THE PLAYBOOK
1) Texture adds visual interest, drawing the eye and differentiating a surface at first glance. Stacked stone panels are ideal for achieving texture and enhancing the perspective of exterior walls, outdoor fireplaces, and columns.
2) Go big! Large-format porcelain and stone pavers add a sleek and streamlined appearance to patios, pool decks, gardens, and driveways. Take advantage of a range of colors to add variation or meet your design goals.
3) Something as small as a pebble can create a significant impact. Add a professional and decorative touch to various installations with polished stones for an awe-inspiring look.
4) All that glitters. Fire glass captures and reflects light for elegance, movement, and a touch of mystique.
5) In the great outdoors, shapes and patterns are found everywhere. Play off the beauty of nature with geometric tiles that add style, whimsy, and an eye-catching element to walls, fireplaces, and more applications.
LAND THE LOOK: ONE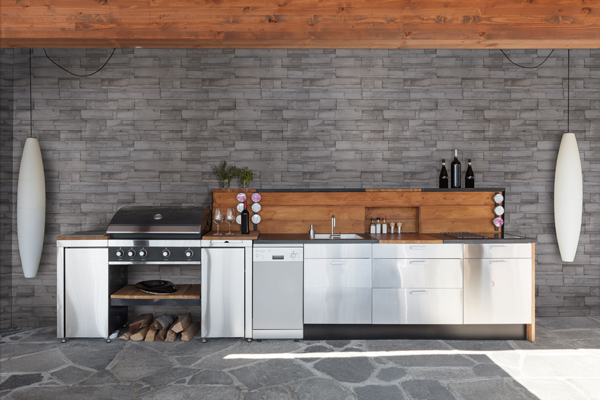 Copen Ash Terrado™ Manufactured Stone Veneers provide
the look of natural stone while creating a strong focal point.
There's something to be said about cooking outdoors – escaping the kitchen's heat and smelling food grilling mixed with the scent of fresh air. The indoor kitchen has often served as the center of the home, with people focusing on making it warm and inviting. Stone veneer panels, stacked stone panels, and porcelain panels carry the hospitality of the kitchen outdoors. The panels' natural stone look and linear elements bring out the bold stainless steel and bright wood detailing of the outdoor kitchen area. The stone panels on the ground provide geometric variation while tying in the overall color scheme and naturally drawing the eye to the sophisticated wall. It's an easy way to make your outdoor kitchen space as welcoming and enjoyable as the indoor one.
Achieve the look with our favorite surface solutions.
Walls: Rockmount Charcoal Pencil Stacked Stone Panel; Rockmount Gray 3D Honed Stacked Stone Panel; Palisade Grey Dekora™ Porcelain Panels; Rockmount M Series Sky Gray Mini Stacked Stone Panels
Floor: Earth Natural Stone Atlantic Blue Pavers; Earth Natural Stone Nova Gray Pavers; Arterra Quarzo Gray Pavers
LAND THE LOOK: TWO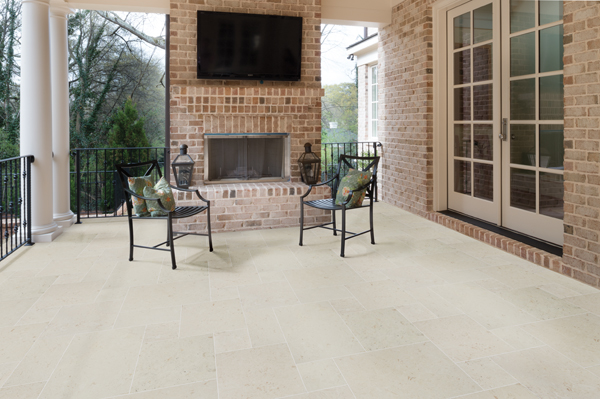 Clean and natural. Earth Natural Stone Pavers in Mayra White
provide a sleek flooring surface that brightens the overall space.
At times it's nice to watch a game from the stadium and enjoy the fresh air while cheering for your favorite team. However, over the past year, many have had to enjoy the experience from their home and are now creating outdoor living rooms that allow them to view movies, concerts, sporting events while still enjoying fresh air and nature. Here, beautiful natural limestone pavers in white and cream lighten the space, making it feel warm and spacious. In addition, the tumbled finish of the stone adds a textural element that harmonizes well with the brick wall.
Achieve the look with our favorite surface solutions.
Floor: Earth Natural Stone Pearl Pavers; Arterra Caldera Blanca Pavers; Arterra Tierra Ivory Pavers; Earth Natural Stone Cosmic White Pavers
Walls: Amber Falls Quartzite Ledger Panels; Brickstone Red Porcelain Tile; Emperador Blend Marble Splitface Mosaic Tiles
LAND THE LOOK: THREE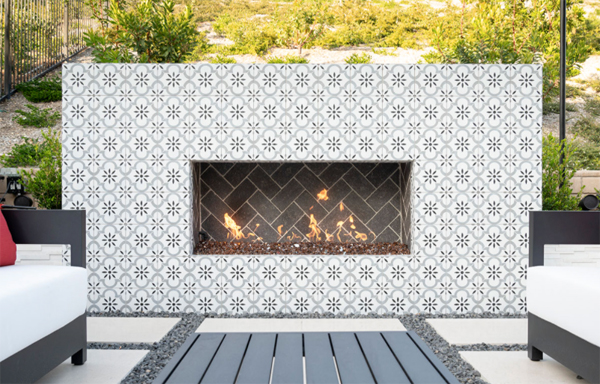 Quantum Brown Fire Glass and Kenzzi Azila Porcelain Tile provide a
distinctive look to this stunning outdoor fireplace.
While a cozy fire pit will never go out of style (imagine it spruced up with fire glass!), the outdoor fireplace is a popular outdoor living trend that continues to grow in both popularity and design flair. Go traditional with a brick fireplace surround or add some contemporary edge with patterned porcelain tiles, as shown here. Well-spaced pavers lined by gorgeous gray pebbles draw the eye to the centerpiece of this outdoor space and coordinate well with the colors of the mosaic tiles. Comfortable seating and a large linear table round out this striking living area, inviting people to relax, unwind, and enjoy the sunshine.
Achieve the look with our favorite surface solutions.
Tile: Kenzzi Paloma Porcelain Tile; Kenzzi Zouda Porcelain Tile; La Fleur; Soho Stax 8mm
Pavers: Beton Blanco; Legions Quartz White; Praia Carrara
Pebbles: Gray Pea Gravel; White Pea Gravel
LAND THE LOOK: FOUR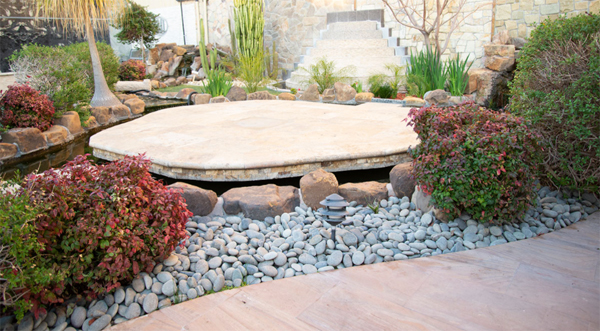 The polished gray and rosy tones of the Grey Island Beach Pebbles
enhance the look of the walkway and plants.
Often when it comes to outdoor living, people seek a quiet reprieve where they can sit with their thoughts, enjoy plant life, or create their private oasis. While nature can at times be chaotic, the delight of outdoor living is that you can create structure. This garden is a stunning mix of stone, flora, color, and texture. The pebbles used to line the walkway and sit between plants complement the natural aesthetic and help keep weeds at bay for a garden that is less maintenance and more enjoyable.
Achieve the look with our favorite surface solutions.
Pebbles: Nile Gray Pebbles; Amazon Multi Pebbles; Ash Beach Pebbles
A BREATH OF FRESH AIR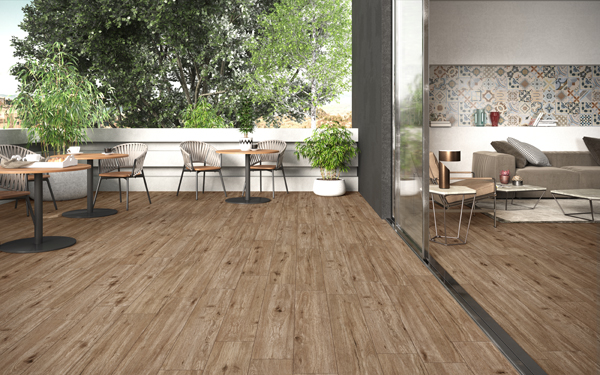 Arterra® Porcelain Pavers Fauna and coordinating in Fauna Luxury Vinyl Planks
carry in the indoors out for a smooth transition between spaces.
Aristotle said, "In all things of nature there is something of the marvelous."
Today more and more homeowners are seeking to find – or create – the marvelous within their own homes and spaces. They are embracing nature in new ways and unearthing different avenues in which to incorporate it into their daily lives. Whether it's finding a way to carry the look of the interior to the exterior for an organic look and flow, or creating an outdoor space that allows you to commune with nature in your unique way, there is no shortage of opportunity.
Don't forget to share the outdoor living looks you create with us on Instagram. Your designs inspire us to create new and beautiful surfaces for you. Tag us – #msisurfaces – on your projects.