How To Clean Stubborn Grime From Your Kitchen Backsplash
April 22, 2019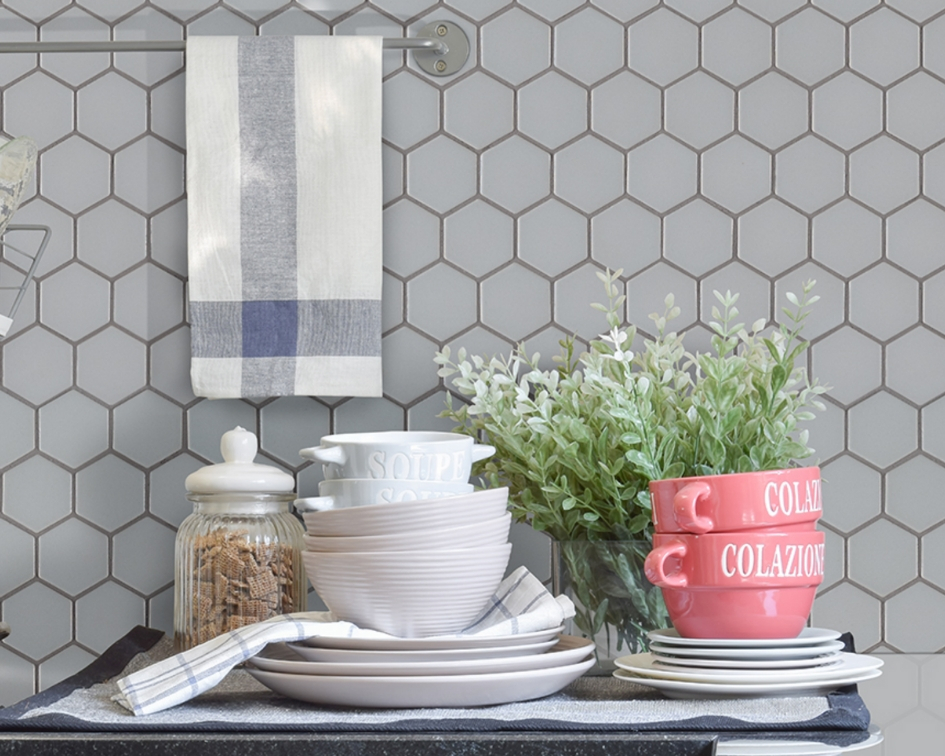 Kitchen backsplash designs come in all shapes and sizes. Whether it's ceramic or porcelain tile, natural stone slabs, exposed brick or even glass paneling—they are often a focal point of any kitchen sure to bring in the compliments. Backsplash tile has a remarkable way of complimenting a room, especially within view of a kitchen island where people mingle and gather or behind the stove cooking. Naturally, everyone wants their wall tile to be the very best it can be, since it is an investment of time and money, but what do you do when it gets dirty?
Any room in a home is bound to encounter dirt, particularly over time and with some wear and tear. Keeping a kitchen clean and functional is a constant job, especially for those who cook and entertain. Splatter is a byproduct of spending time at the stove, since there is inevitably some spillover when making use of those pots and pans. Additionally, airborne grease particles are sure to find their way onto your wall tile and let's not be remiss to forget about everyone's worst domestic enemy—dust. All of this is to be expected as the weeks go by, and frankly, this can accumulate into a sticky and stubborn mess.
Most people value a clean and tidy kitchen, so whether it's part of your weekend chores or a conjoined effort on the part of a household, cleaning wall tile is an endeavor we all must face. In this article, we're going to explore just how to best attend to the dirt that looms large in your kitchen, offering some tips, tricks and techniques to help it shine to its utmost potential. A clean kitchen makes for a happy cook—an old saying that applies to just about anyone who wants to steer clear of dirt and err on the side of cleanliness!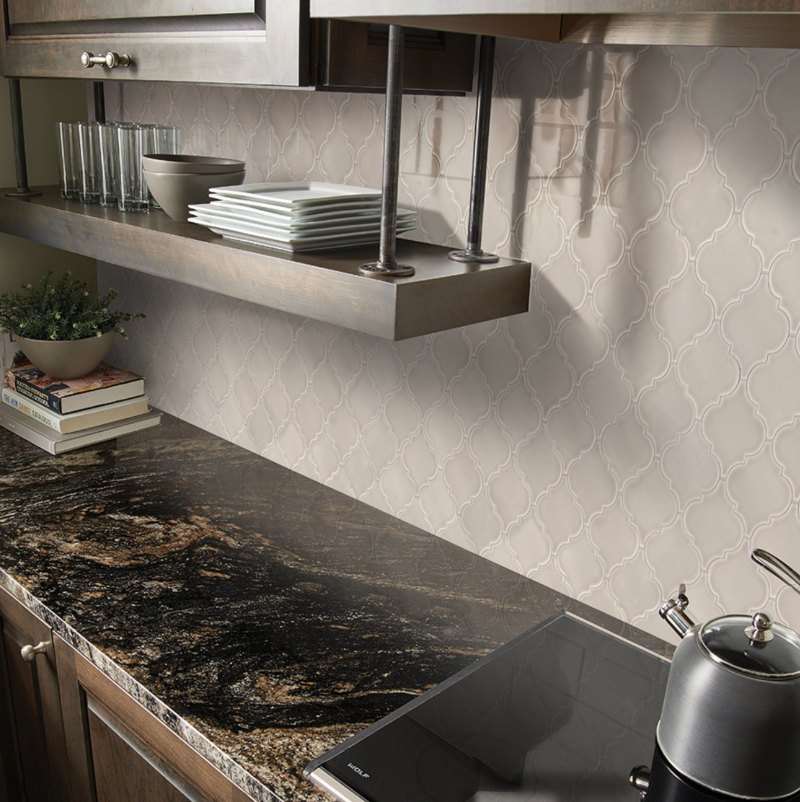 Featured: Portico Pearl Arabesque 8mm Ceramic Tile
When we approach scrubbing our kitchen backsplash, we want to start simple first. This means reaching for the nearby regular dish soap and warm water, working through each tile thoroughly in an attempt to lift up those annoying stains. If after some time this doesn't work, you will need to move onto the next step, which is washing soda. No, no, this wasn't a typo—we don't mean "baking soda"—you want to get a hold of actual washing soda that contains sodium carbonate.
You add this substance to a mop bucket—1/2 a cup, to be exact—along with some warm water. While cleaning, you want to wear rubber gloves and if possible, protective gear over your eyes. Due to the severity of sodium carbonate, ventilation is essential. Upon stirring the solution into the warm water, you can dip the end of a washcloth into the liquid and begin wiping the affected area. In doing so, you want to be extra careful scrubbing sensitive areas like natural stone, paying close attention so there is no fading or abrasion to the surface.
In working with washing soda, you want to be sure to leave the liquid on the tile for five minutes, then proceed to wipe off. If you do not see any sort of change in terms of staining, then you might need to move onto the next level of cleaning. Also, if you see any damage to the tile, you have clearly learned that this cleaning substance is not meant for that particular area. (A useful technique is to apply a little bit to a small area at first to see if any fading occurs, that way you don't run the risk of damaging the entire backsplash!)
Another option you can try is white vinegar. This natural cleaner particularly works well when cleaning glass tile. A great tip is to pour some white vinegar into a spray bottle so you can apply directly and have on-hand for future spills and cleanups. The smell may be offensive at first, but it is a perfectly viable all-natural solution to help you protect your kitchen backsplash from unsightly stains!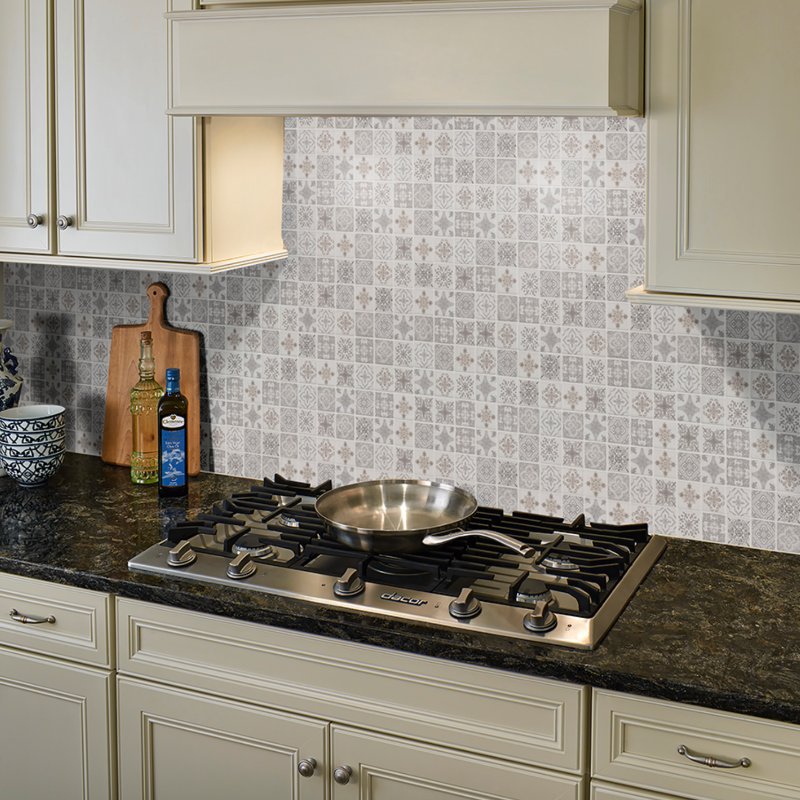 Featured: Anya Blanco 2x2x6mm Ceramic Tile
In addition to effective techniques and solutions, it's not a bad idea to keep in mind easy-to-clean tiles when planning your kitchen backsplash. The grout line, for example, is the line between each tile, known for its cement-like texture. Because grout is porous, it can begin to look dirty very fast—especially in the kitchen—so making sure you apply grout sealer two weeks after installation and then once a year is crucial. Additionally, opting for a thinner and smaller grout line and larger tile can easily solve this problem and take away the focus from the grime and crud that can accumulate on such a porous surface.
Furthermore, you want to choose carefully your tile, especially when it comes to cleaning. For example, ceramic, metal and porcelain are easy to maintain and clean over time because they are naturally nonporous; travertine, marble and other natural stones have special care requirements and need regular sealing to keep stains and grime at bay. If your tile is natural stone, a cleanser formulated for that use is also key so you can avoid fading and damage.
On the same note, if you love the look of certain tiles but are wary of the material for cleaning purposes, then opt for inkjet-printed porcelain. For instance, marble-look porcelain can be just as beautiful as real marble and a heck of a lot easier to wipe down after a busy week in the kitchen. Similarly, natural brick presents several challenges, too, which is why porcelain brick-look tile can be a better pick for those concerned about cleaning and maintenance.
All in all, you have to make the best backsplash decision that is right for your own aesthetic, keeping in mind your own preferences for cleaning and maintaining as the years go by. Since high quality tile can be an investment, you want it to continue to hold up and shine throughout time. Hopefully, these tips will help you keep your kitchen backsplash beautiful and tidy for years to come!
READ MORE ABOUT MSI BACKSPLASH TILE
Geometric Pattern Backsplash Tiles
How Much Wall Tile Do I Need? A Guide To DIY Backsplashes
How To Choose The Right Backsplash Tile For Your Quartz Countertop