Stylish Soreno Porcelain Pavers And Tiles With Zero-Slip Technology
September 26, 2022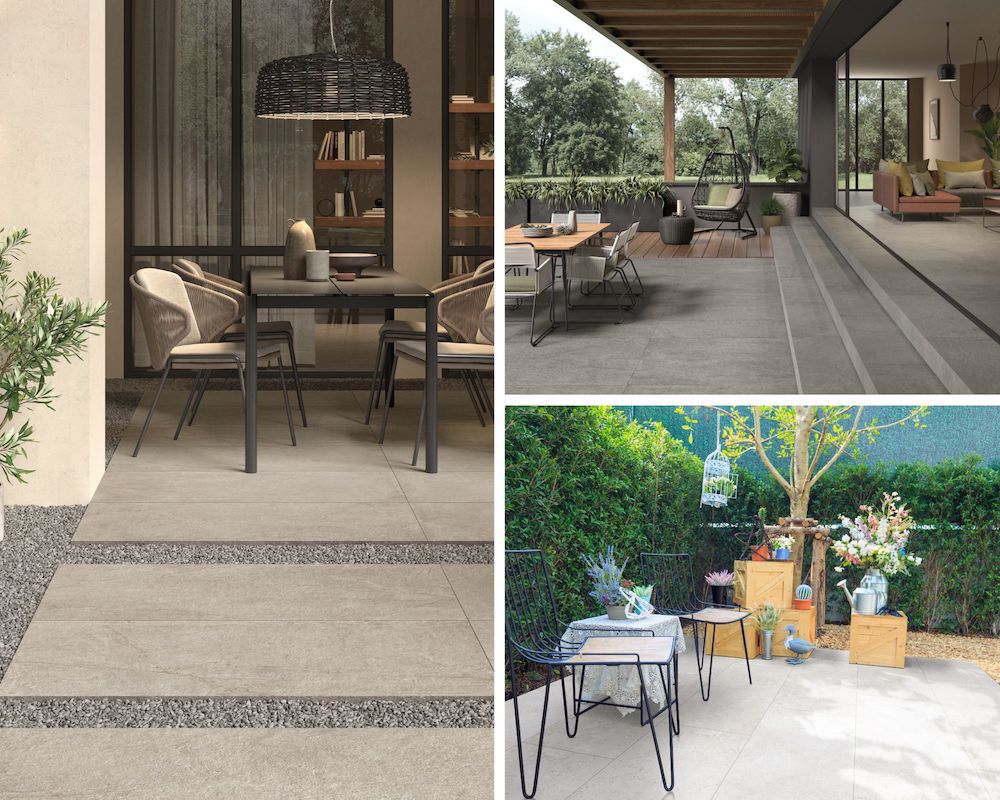 You look forward to remodeling your home, but there's always the stress of ensuring you make the right choices every step, especially with pavers and tiles.
Will it look right with the rest of the room/home? How hard is it to keep up with and clean? Does it fit in your budget?
All of these factors are integral in the decision-making process, but safety is another part of the equation when it comes to your floor tile. Indoor-outdoor porcelain pavers and tiles with zero-slip technology by MSI, as seen in the video below, could be the solution you're looking for.
These tiles and pavers are designed to cover your indoor and outdoor floors uniquely, blending together for a cohesive look. In addition, the outdoor pavers offer "zero slip" technology, and the porcelain tiles are anti-slip for indoor safety.
The combination checks all the boxes you're looking for: stylish, cohesive, easy to maintain, and affordable. But is it suitable for your home? Take a look at the advantages and disadvantages of porcelain tile and pavers, as well as these Soreno tile patterns, to make your decision.
The Advantages of Porcelain Indoor and Outdoor Tile
The possibilities can seem endless and overwhelming when brainstorming ideas to remodel your spaces. Each option has pros and cons, whether you decide on carpet, porcelain tile, or something in between.
Porcelain indoor and outdoor patio tile has many advantages. Let's continue and discover some of them.
The Pros of Porcelain
Apart from the roof, your floors take the heaviest beatings in your home, so they need to be durable. Porcelain has been around for millennia, used for various decor and functional indoor and outdoor applications, including flooring.
The materials that create porcelain are kiln-fired, so they have to be resistant to temperatures as high as 1400 degrees Fahrenheit. The result is an extremely hard and durable material that doesn't absorb much water and is lightweight enough to move easily.
This lightweight feature extends to your cost savings. Unlike concrete, granite, marble, and other natural stones, porcelain is easily transportable, which makes the material cost-efficient to move and install.
The versatility of materials used to create porcelain pavers gives designers a carte blanche of style and color. The rich, deep hues include light and shade you don't see in many other materials. Designers can add special touches that mimic other materials and give you natural stone and wood looks made without the disadvantages.
Porcelain pavers have minimal water absorption (outdoor pavers have zero-slip, and indoor tiles have anti-slip features). These floors don't require sealers or protective coatings to boost your safety, making them ideal for easily wet areas like kitchens, bathrooms, porches, and around pools.
Concrete and other porous materials absorb spills and debris and are hard to clean up after. But with porcelain, you can remove every trace of a spill with the right cleaning products, an essential factor for high-traffic areas. And because they're moss, mold, and mildew-resistant, they're an excellent choice for humid environments. Even cold climates benefit from porcelain pavers and tiles since the lack of water absorption makes them freeze and thaw-resistant and less prone to cracking.
Introducing Soreno Porcelain Pavers and Tiles
If you're still "on the fence" about whether or not porcelain pavers and tiles are right for your next project, check out these sleek options from MSI and imagine them connecting your indoor and outdoor spaces to create a cohesive oasis.
Soreno Grigio Arterra Pavers and Porcelain Tile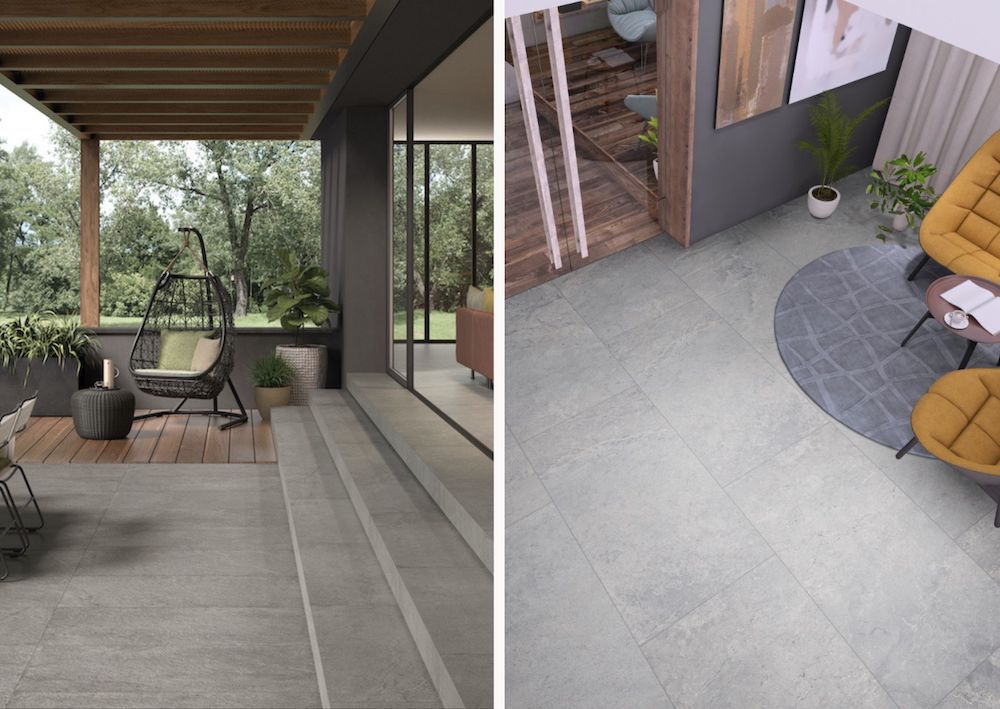 Sourced from Italy, these gray-light Soreno Grigio porcelain pavers and tiles have a glazed finish to pull off a timeless look you'll fall in love with every day. The contemporary smoky-gray style creates a seamless look throughout your home – inside and out!
The neutral tones are an ideal complement to any style and color scheme, and since the Soreno Grigio porcelain tiles and pavers are waterproof, you can use them outdoors in any climate. They won't fade, crack, or absorb water, so you can feel confident that your floors look amazing and will last a long time.
Soreno Ivory Arterra Pavers and Porcelain Tile
White, glazed porcelain sourced from Italy with the Soreno Ivory Arterra paver is a no-fail way to create any look you're aiming for. In addition, these pavers pair well with many MSI shades in the Arterra Porcelain Tile Collection.
Soreno Ivory porcelain tiles are a blend of warm white and cream shades that are nothing short of stunning. The hues turn any space into a wide-open, welcoming area, and the tiles and pavers can connect for a cohesive indoor/outdoor look in any room.
Soreno Taupe Arterra Pavers and Porcelain Tile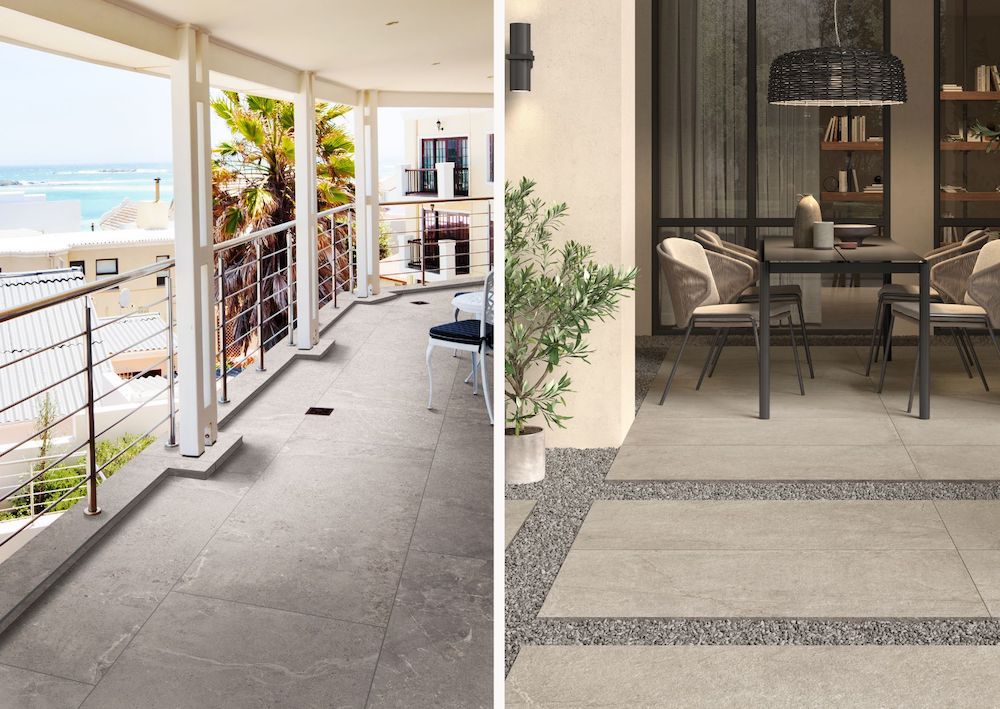 Powered by zero-slip technology and sourced from Italy, the Soreno Taupe Arterra pavers are in a gorgeous, water-resistant shade of taupe.
Soft beige and light brown tones merge to produce a subtle pattern that mimics natural stone. The look complements any aesthetic style in interior and exterior design and can be used in rooms where you want the atmosphere of nature but shouldn't use hardwood floors, like the kitchen and bathroom.
The non-porous, creamy shades of the Soreno Taupe porcelain tiles and pavers are perfect for any area, but they're exactly what you need to enhance the indoor-outdoor transition in your home.
Ready to Start? Contact Us!
Do these porcelain pavers and tiles have you ready to get started on your next flooring project? Before you begin, contact us at MSI, and see how we can help you find the material that checks all your unique boxes.
We're industry experts, and we are here to help you. You can contact us online, by visiting one of our showrooms, or by chatting with us in real time through our MSI website chat feature at the bottom right of your screen. We know that so many choices can make it challenging to choose the right products, which is why our professional staff is ready to help you prepare for your next renovation.
Learn More About Pavers And Alfresco Flooring
Coordinate Your Indoor & Outdoor Spaces With Matching Porcelain Tile & Pavers
Holistic Havens: Creating Your Indoor/Outdoor Sanctuary
Stylish Soreno Porcelain Pavers And Tiles With Zero-Slip Technology
3 Flooring Tile Styles That Create A Seamless Indoor And Outdoor Space
Living Alfresco With Arterra Porcelain Pavers