Why Quartz Countertops Are The Most Popular Choice For Today's Kitchen
October 09, 2020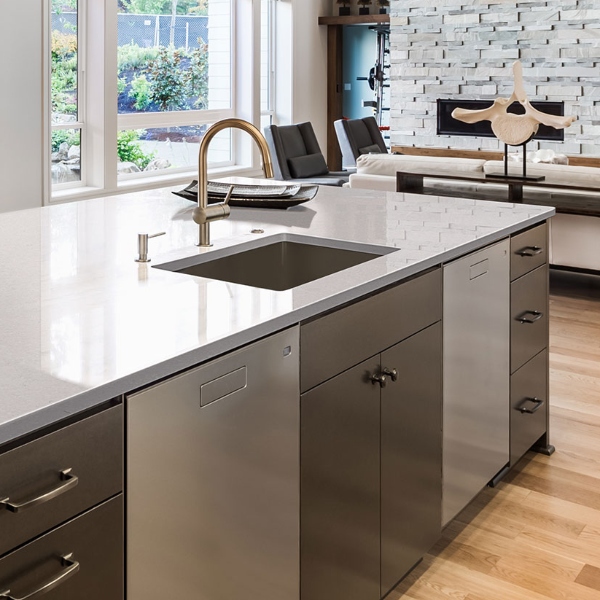 When in the market for new countertops, you've likely considered quartz vs. granite vs. marble (and more!). Now you have a big decision to make — and it's not a small investment. You want to get the best bang for your buck without compromising on quality or durability. That's why many homeowners have opted to install quartz countertops in their homes! With quartz you'll experience many benefits including affordability, stain resistance, durability, and more — let's take a quick look at a few of the advantages of quartz counters before diving into the details.

Choosing the ideal countertop for your space doesn't have to be a stressful decision — and it won't be once you learn about all the advantages you'll experience.
6 Reasons Why Quartz Countertops Are a Popular Choice
With so many countertop materials to choose from, you need to examine all the reasons why quartz countertops have become an extremely popular choice for home improvement projects in recent years.
Extreme Durability
Whether you're cooking a Thanksgiving meal for 20 guests or you're spending a Saturday baking treats with your friends or family, you need a reliable surface to work on. Your countertop needs to be able to resist whatever wear and tear your family throws at it (and for many years to come!), which is why quartz countertops have become such a popular choice for homeowners. With durable quartz countertops, you can have peace of mind knowing your investment will be resistant to most types of damage, including scratches, dents, chips, and stains. As you would expect, your countertops might begin to show a few flaws over time from natural wear, but its durability will prevent you from dealing with a more costly (or headache-inducing) problem down the line.

Control of Appearance
Have a vision in mind for your home improvement project? Bringing that vision to life can be difficult with other surface options like granite, which are made of natural stone that offers unique visual characteristics. With quartz countertops, you're able to control the appearance and customize the slab to fit your space because they are manmade.
Quartz countertops are made of 93% quartz and 7% resin, plus additional color pigments to create the exact color palette you desire for your space. Because these elements can be manipulated to create your dream countertops, you can have control over the appearance — allowing you to seamlessly blend your new quartz countertops into your existing space.
From choosing quartz countertop colors to creating subtle veins or adding smokiness to the appearance, you can create a diversified look to your exact specifications. This allows you to match them perfectly to your kitchen or bathroom cabinets, backsplash, and flooring. If you need help determining how your quartz countertops will look in your space, you can use our countertop visualizer.
Enhanced Stain Resistance
If you're investing in countertops, you want their beauty to last. Unfortunately, countertops are often installed in areas like kitchens or bathrooms where they often come into contact with water. The downside of this is that sometimes water can get into porous materials and lead to excess stains and bacteria buildup.
Luckily, when installing quartz countertops, you needn't worry about stains! Quartz is a premium surface material for both kitchen and bathrooms because of its non-porous characteristics. This means that your countertop has no pores that will allow water to penetrate the surface — and lead to water damage, discoloration, and staining. You can rest easy knowing your quartz counters will repel liquid, allowing them to maintain their beauty for many years to come.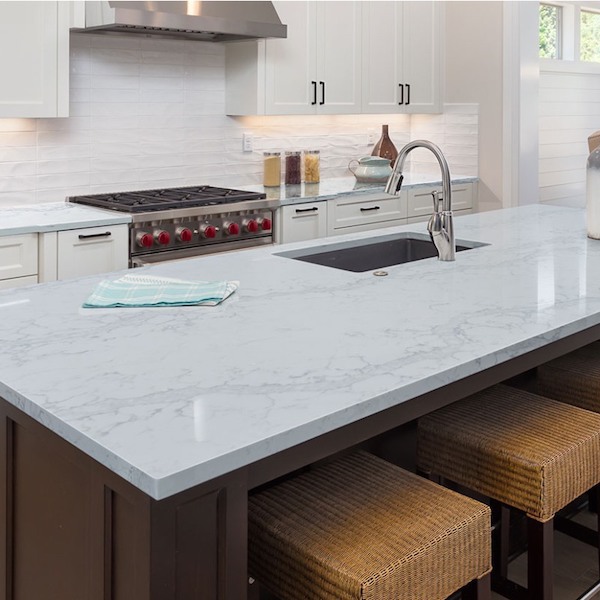 Although your quartz countertops are resistant to water, they can be damaged by liquids like bleach, paint, nail polish remover, and similar materials. Avoid having these products come into contact with your quartz countertops to keep them looking as good as the day they were installed.
Increased Home Value
Anytime you're investing in a home improvement project, it's important to consider how much the enhancement will increase the value of your home. Even if you aren't planning on moving anytime soon, this is something you want to consider. Should you ever choose to move in the future, you'll be glad you chose a countertop material that added value to your property.
With that in mind, you'll be happy to know that quartz countertops are a sure way to increase your home's value — and it's the only manmade countertop material that can provide a 3% - 7% increase in value! If you're looking for a beautiful countertop option that will be worth the investment, look no further than quartz counters.
Environmentally "Green"
An added benefit of quartz countertops is that you'll be reducing your carbon footprint in the process. In comparison to their counterparts, quartz countertops are comprised of 90% stone- like material — which is often made of leftover material that would have been disposed of from other quartz production processes. No transportation or quarrying of stone is needed for the production of quartz countertops. When choosing to install quartz counters in your home, you can be happy knowing you chose an environmentally "green" option.
Ease of Maintenance
You don't have extra time in your day to spend all your free moments keeping your quartz countertops in tip-top shape — and there's nothing more frustrating than dealing with a countertop that requires regular sealings or specific cleaning products. Quartz countertops have become an extremely popular choice amongst homeowners because they are essentially maintenance-free, making it easy to keep them looking beautiful year in and year out.
The only thing you need to do to keep your countertops in peak condition is to wipe them down with a damp cloth with warm water and soap every so often. There's no need to seal them or spend money on expensive cleaning products. Sometimes simple maintenance is better, and you can rest easy knowing you have more time to spend on moments with your family.
more on quartz countertops
Are Quartz Countertops Better Than Marble?
8 New Quartz Countertop Colors That Wow!
Perfect Quartz Countertop Pairings
What is Quartz and How is It Made?