Best Granite Countertop Colors For An Upscale Look
October 29, 2017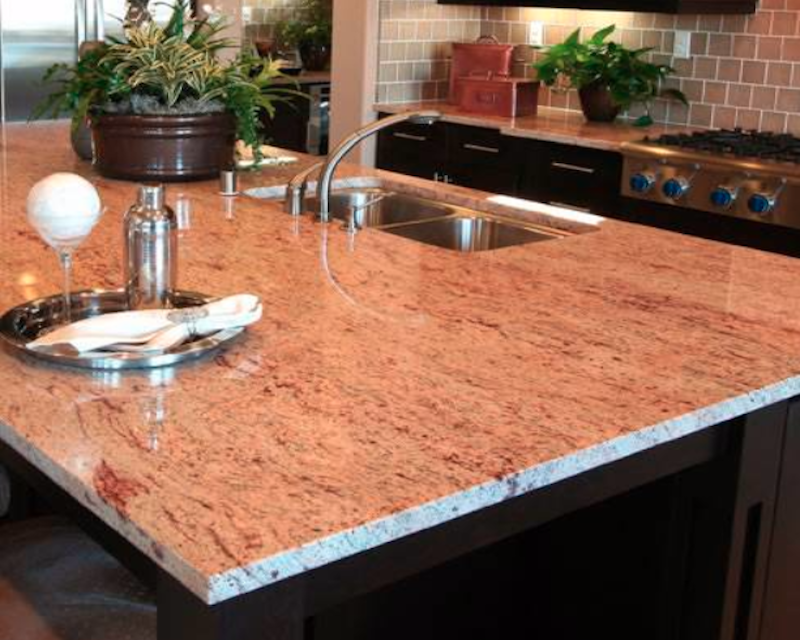 Few rooms in the home get as much attention as the kitchen, and for a good reason. Kitchens are where families gather before heading off to work and school, and where they reconnect at the end of the day. On top of that, a kitchen's individual style sets the tone for entertaining.
Luxurious kitchens feature natural stone, fine cabinetry, elegant backsplashes, stylish hardware, and beautiful floors. And whether you're designing a new kitchen or upgrading an existing one, granite countertops set a decidedly upscale tone. That's why splurging on quality countertops and backsplashes is a great way to express your personality and style.
Featured: Snowfall Granite
When traditional and contemporary styles collide, finding a granite slab to bring out the best of both styles is crucial. With snowy white moldings and sleek dark cabinetry, the choice of Snowfall Granite is the perfect complement to create a timeless kitchen. This beautiful kitchen isn't fussy, nor is it boring; it's simply an ideal marriage of color and style.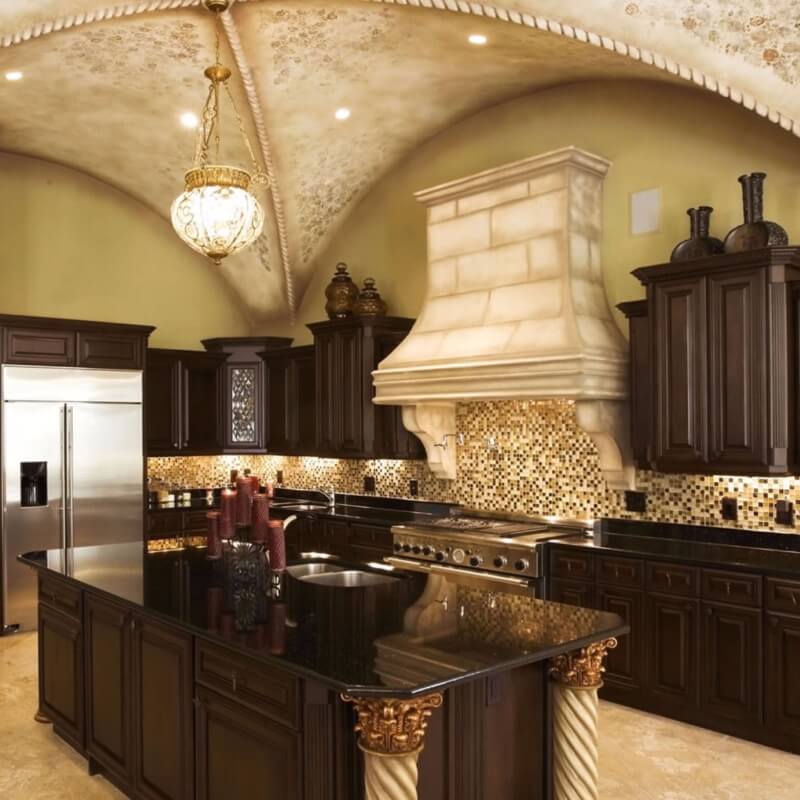 Featured: Black Galaxy Granite
At the other end of the color spectrum, the simplicity of the Black Galaxy Granite countertops provides the grounding element needed to put the dramatic ceiling and ventilation hood at center stage. This high-styled traditional kitchen works because each feature and color—from floor to ceiling—is tied together in the mosaic backsplash.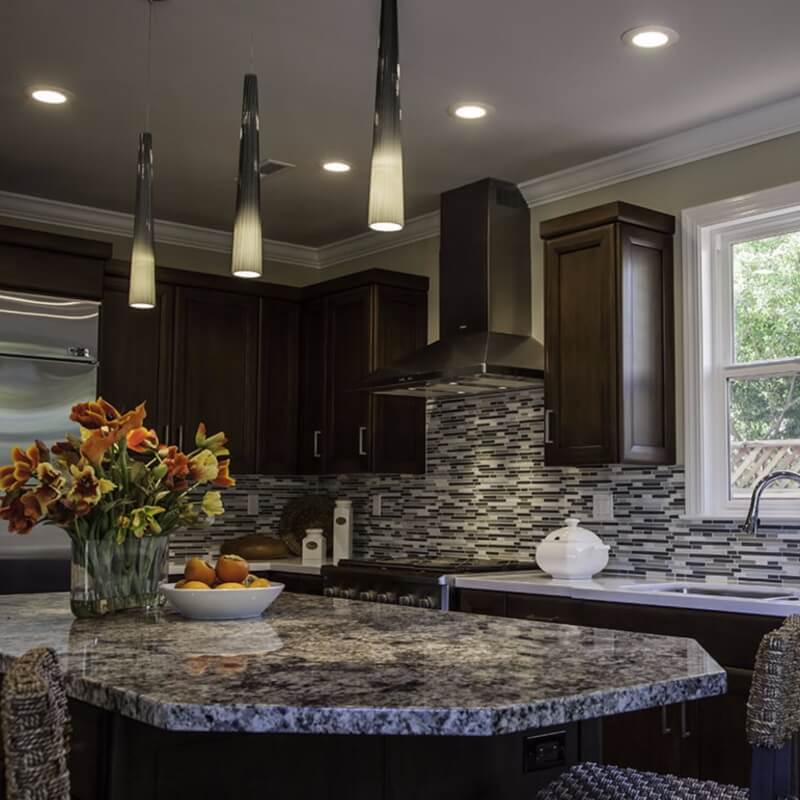 Featured: Blue Flower Granite
Contemporary kitchens don't have to be sterile and mono-tonal, and this is a perfect example of why. The Blue Flower Granite island effortlessly swirls together the tones in the cabinetry, countertop, and backsplash, providing a harmonious palette.
Mood lighting, supplied by exquisite glass pendants, creates a sense of drama and elegance, elements that are just as important as task lighting in this kitchen.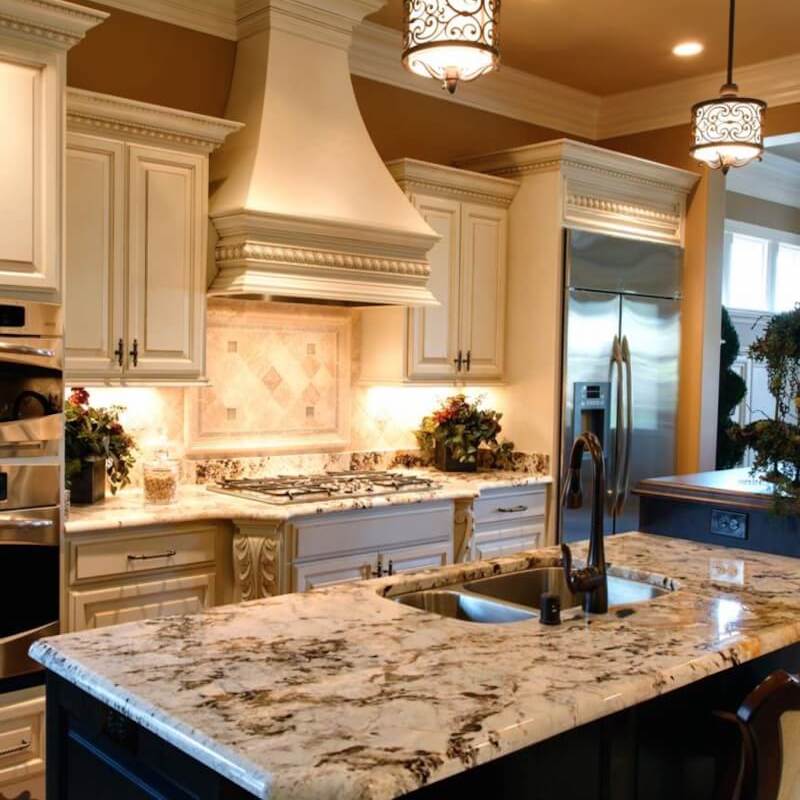 Featured: Juparana Delicatus Granite
While some kitchen layouts scream for a statement island with a different-colored granite, others call for using the same granite on all of the cabinetry. In this kitchen, contrasting colors are in the cabinetry, not in the countertops.
The dark island base draws out the darker tones in the Juparana Delicatus Granite, while the lighter cabinetry on the range wall emphasizes softer tones, creating an elegant and decidedly upscale feel.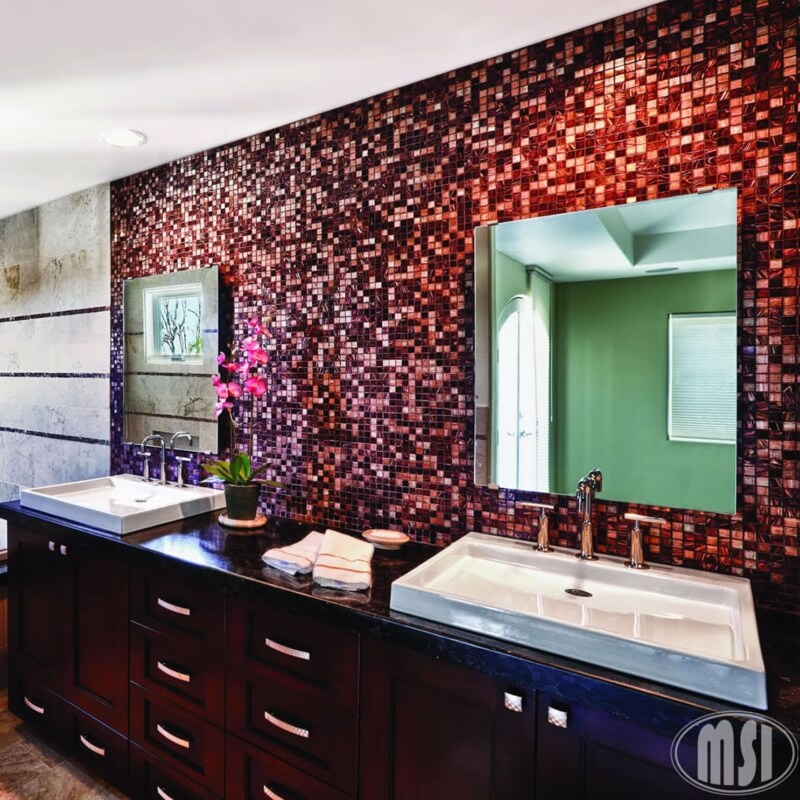 Featured: Brown Antique Granite
Of course, kitchens aren't the only areas in the home that warrant beautiful slab granite; bathrooms are the perfect room for this durable, low-maintenance, and easy-to-clean natural stone.
While there is no denying that the show-stopper in this master bath is the floor-to-ceiling glass mosaic wall, the reason this dramatic look works is because of the grounding nature of the Brown Antique Granite and dark cabinetry.
Using natural granite can create a high-end look, from the floor to the ceiling. If a kitchen upgrade with granite counter is on your to-do list, remember that when a guest enters your kitchen, the first thing to catch their eye will be the countertop. Only as they run their hand across the smooth island countertop will the other design elements in the space come into focus.
With hundreds of granite colors to choose from, ranging from subtle tones and patterns to more bold and dramatic ones, there is something to fit everyone's personal style and taste. Explore kitchen and bath design with our Virtual Kitchen Designer and Bathroom Visualizer to find just the right granite countertop, backsplash, floor, and cabinetry for your space.
Red More about Granite Countertops
Granite Countertops for a High Style Home Office
5 Unbelievably Beautiful Granite Kitchen Countertops from Nature
Perfect Granite Countertops to Balance Dark Kitchen Cabinets
Granite Combinations That Go Together Hand-in-Glove
READ MORE ABOUT GRANITE COUNTERTOPS
Beautiful Gray Granite Countertops
Beautiful White-On-White Kitchens with Granite Countertops
Beautiful, Natural-Stone Countertops