Beautiful White-On-White Kitchens With Granite Countertops
March 25, 2017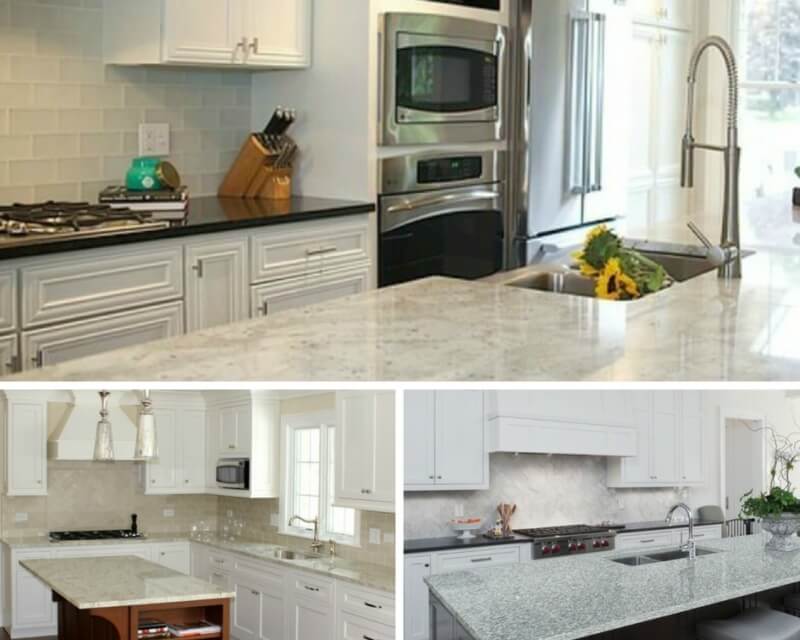 There's no question: White kitchens stand the test of time. While other colors seem to come and go in kitchen design (remember avocado appliances?), white kitchens are always in fashion.
In fact, National Kitchen and Bath Association surveys consistently find that white kitchens top the list of homeowner favorites.
But just what makes white so popular? Here are our thoughts on kitchen whites:
1. Fresh and clean
2. Makes smaller kitchens look bigger
3. Easy to know where to scrub
4. White appliances don't smudge like stainless steel
5. Easy to warm up with contrasting granite counters and gorgeous hardware
6. Plays well with other colors
Of course, no kitchen color is perfect. And sometimes combining white-on-white can be a tricky design challenge. Mix the wrong whites, and your kitchen begins to feel glacial.
However, one way to avoid a sterile look is to appoint your white cabinets with a white granite countertop that contains natural color and design variations that can cool down or warm up your space. For more inspiration, here are some beautiful, white-hued granite slabs that will turn your white kitchen into a stunner.
Andromeda White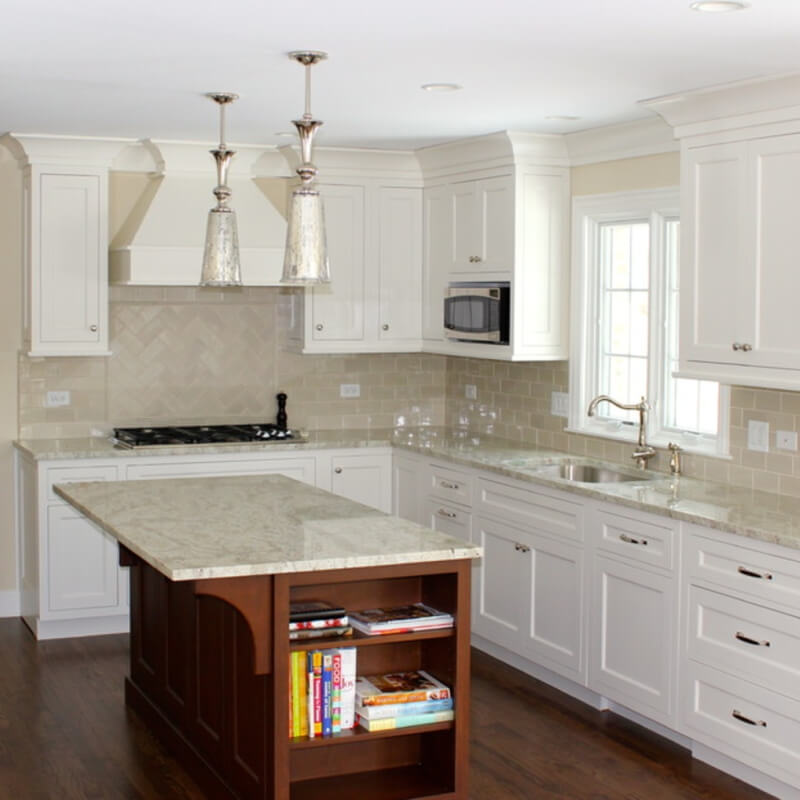 Get this look with MSI's Andromeda White Granite (Photo Credit: Houzz)
Andromeda White Granite has a soothing, creamy white background complimented by cloud grey veins and specks of mahogany-tinted onyx. The grey ties in stainless steel appliances, while the mahogany provides rich wood accents that could be echoed in the cabinetry or prep island. This lovely granite is available in 2 and 3cm slabs, and is perfect for counters, floors, walls and backsplashes.
Bianco Romano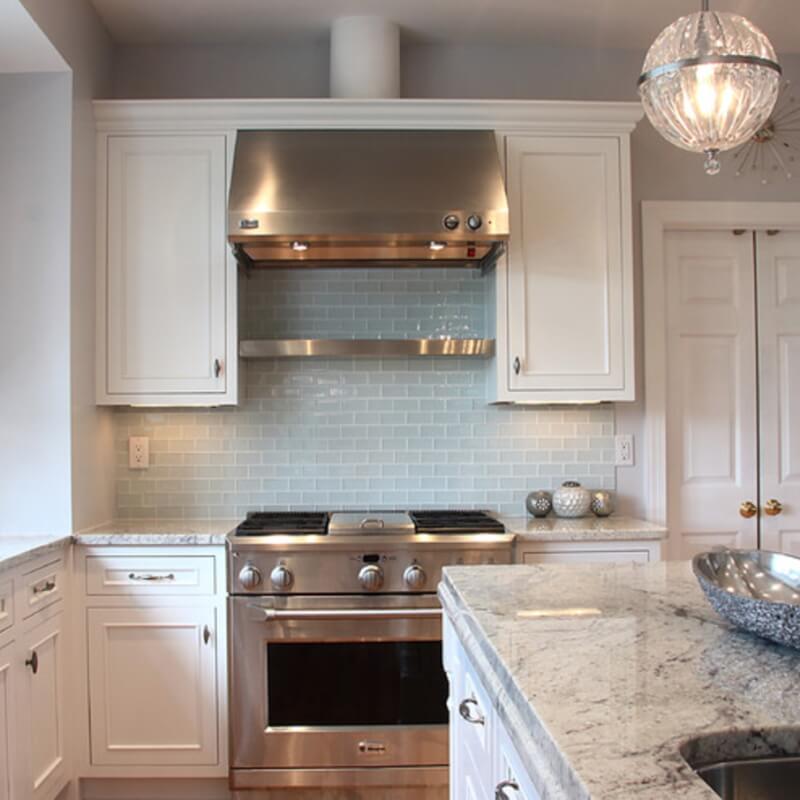 Recreate this look with MSI's Bianco Romano Granite (Photo Credit: Houzz)
You won't find a white cabinet that doesn't look great above or beneath Bianco Romano Granite, which combines shades of white and gray with dark flecks of browns and blacks. The colors in this polished, Brazilian stone create a feeling of shifting sands, adding interest and movement to white kitchens.
Colonial White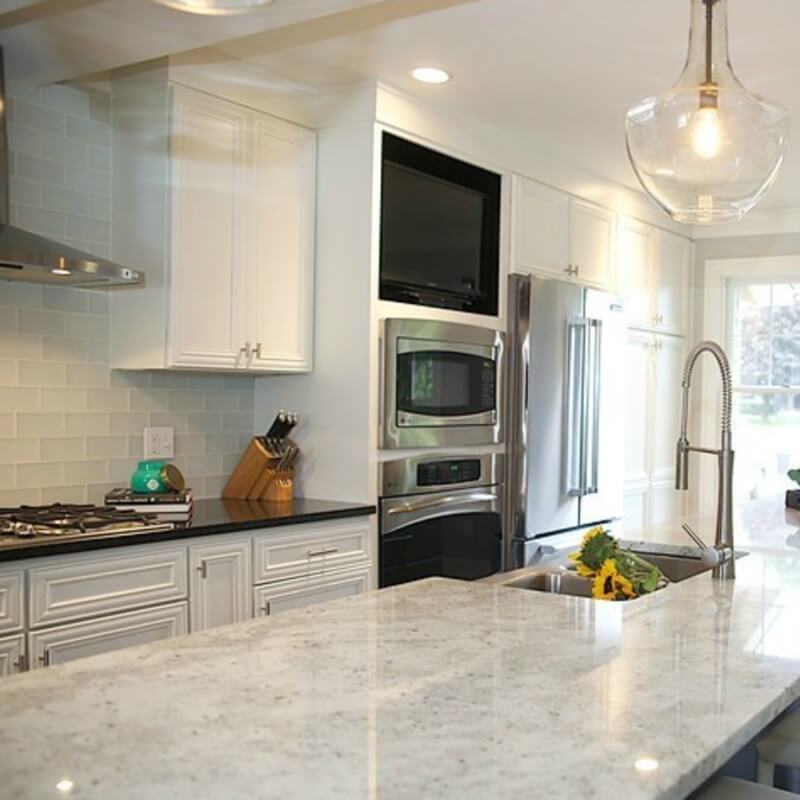 Get this look with MSI's Colonial White Granite (Photo Credit: Houzz)
Colonial White Granite countertops are a natural blend of cottony-pale grey, subtle silver, and jet-black speckles. This imported Indian granite is available in both slabs and tiles, which makes it a versatile material that looks just as lovely on floors as it does on counters and backsplashes.
Jasmine White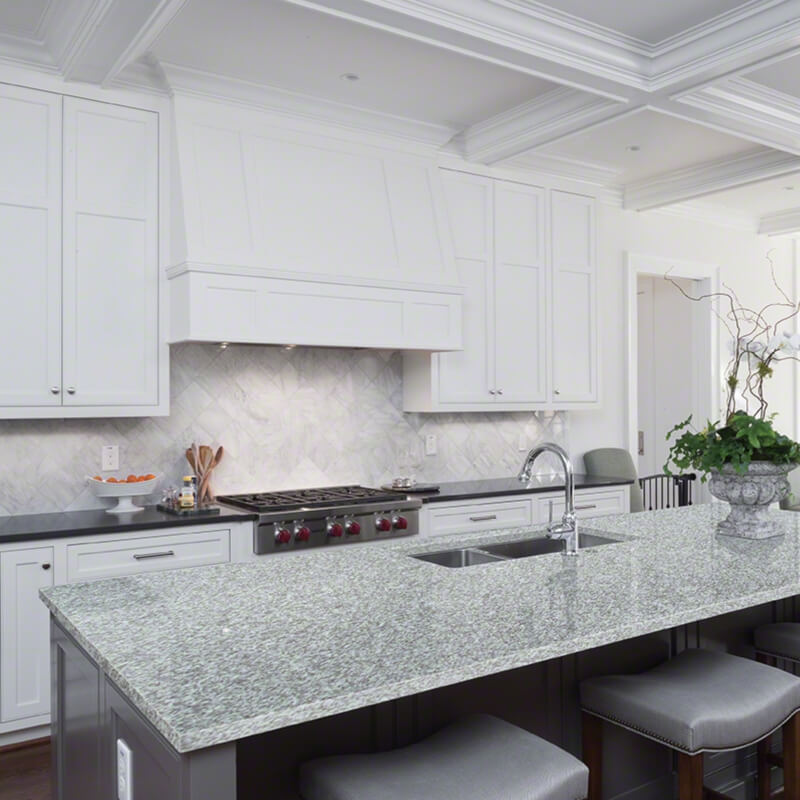 Featured: Jasmine White Granite
Jasmine White Granite from India can be a bold addition to white kitchens. Its mid-tone greys contrast beautifully with both classic cool white or cream cabinets. And don't feel you need to confine Jasmine White to the kitchen. The granite gives a luxurious pop of color to interior and exterior accent walls, too.
New River White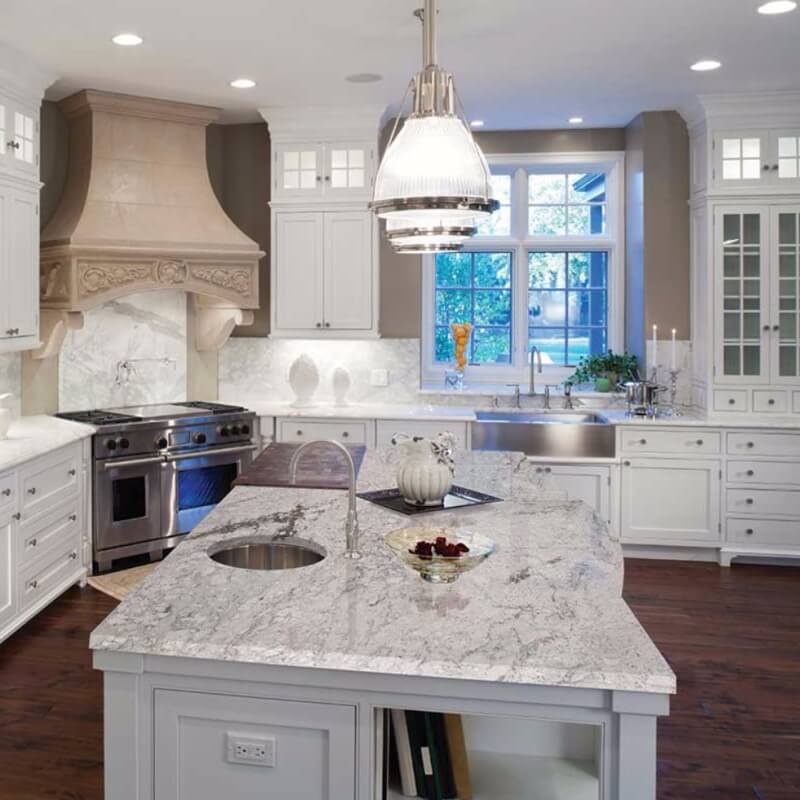 Featured: New River White Granite
New River White Granite's alabaster background is the canvas for storms of silver and specks of crimson that flow throughout the stone. This Indian imported stone looks elegant on kitchen countertops as well as bathroom vanities. You can warm up New River White by adding pops of teal and yellow (or your favorite vivid tone) on window treatments or rugs.
Learn More about White Granite and White Cabinetry
Cold No More: 5 Warm and Inviting White Granite Countertop Ideas
Are White or Light Granite Countertops Practical for Kitchens?
5 Granite Colors That Go Perfectly With White Cabinetry
Winning White Bathroom Designs With Granite Countertops
4 Stunning White Granite Countertops for a Kitchen that Pops
White Marble & Granite: When the Absence of Color is the Color of Choice!
READ MORE ABOUT GRANITE COUNTERTOPS
Beautiful Gray Granite Countertops
Beautiful, Natural-Stone Countertops
Best Granite Countertop Colors For An Upscale Look