Fall In Love With White Granite
November 14, 2016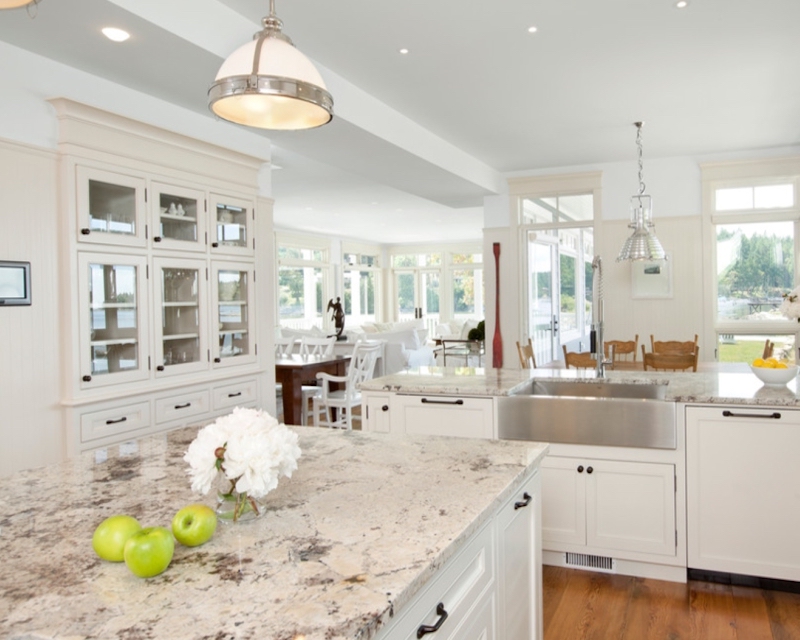 White cabinetry and countertops were once the hallmarks of traditional kitchens; today, white kitchens appear in traditional homes, contemporary and transitional homes, and even modern homes. White reflects light and signifies purity and cleanliness; dirt simply cannot hide and thanks to these granite countertops, white kitchens are more stylish, easy to clean, and durable than ever before.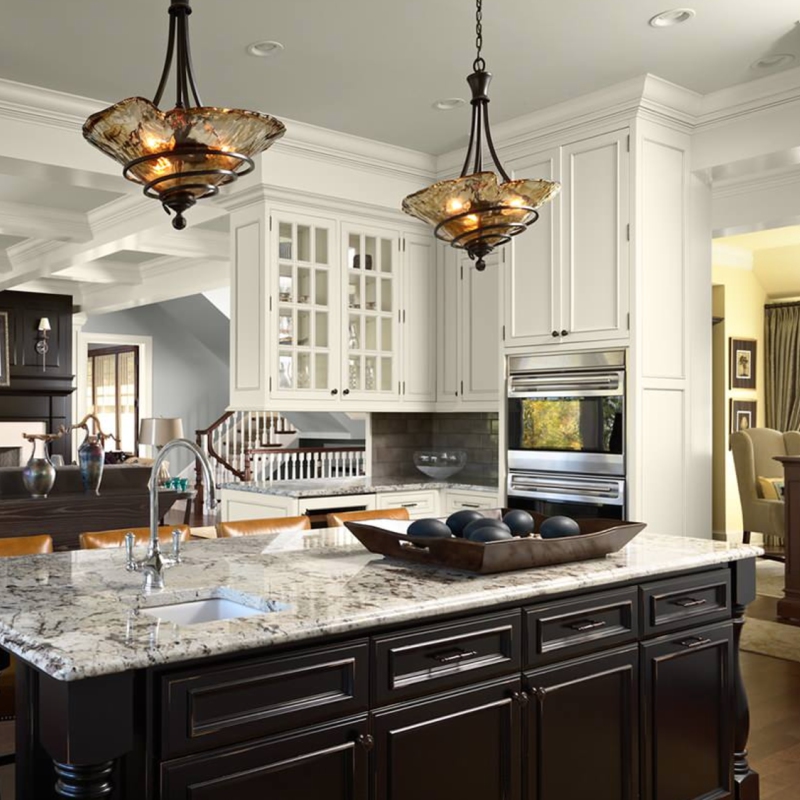 Featured: Alaska White Granite
White cabinetry reaching for the ceiling becomes a beautiful architectural element that doesn't impose on the volume in the space. The space is grounded by dark island cabinetry, and unified with the same granite countertop. In this beautiful kitchen, Alaska White Granite countertops are used on both the perimeter white cabinets and the dark island, allowing the natural movement and tones to come to the forefront of the design in this traditionally inspired kitchen.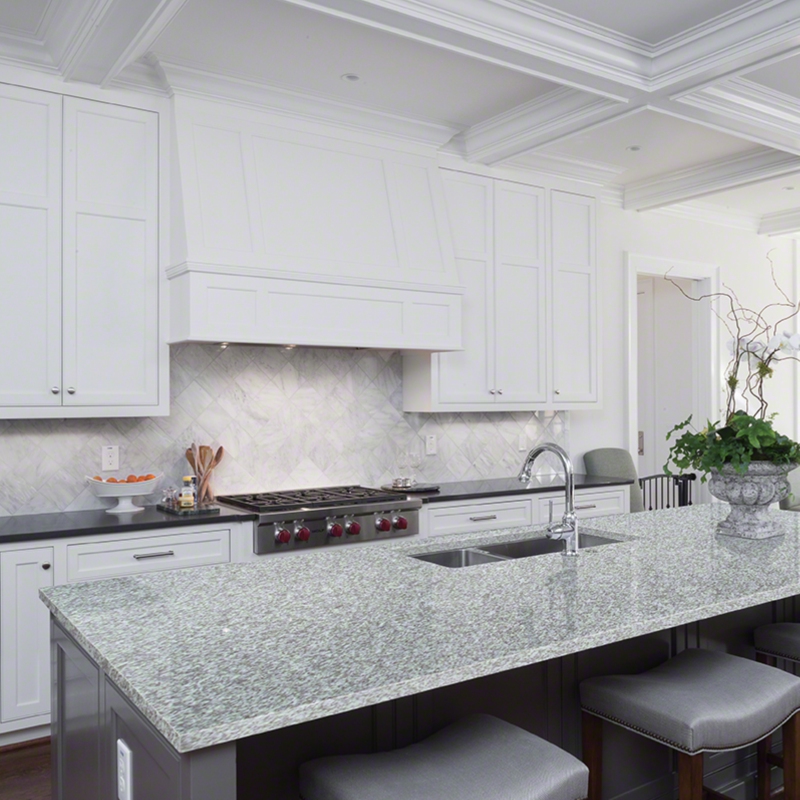 Featured: Jasmine White Granite
If your home has a more contemporary aesthetic, the concept of contrasting cabinetry still works. In this kitchen, the perimeter cabinetry is white, but features a contrasting black granite countertop. The island is topped with low variation Jasmine White Granite, which rests atop beautiful charcoal gray cabinetry and brings out the soft tones in this stylish white granite countertop. With MSI's Virtual Kitchen Designer you can view endless combinations of cabinetry, natural stone countertops, backsplashes, and flooring choices to make your custom kitchen the heart of your home.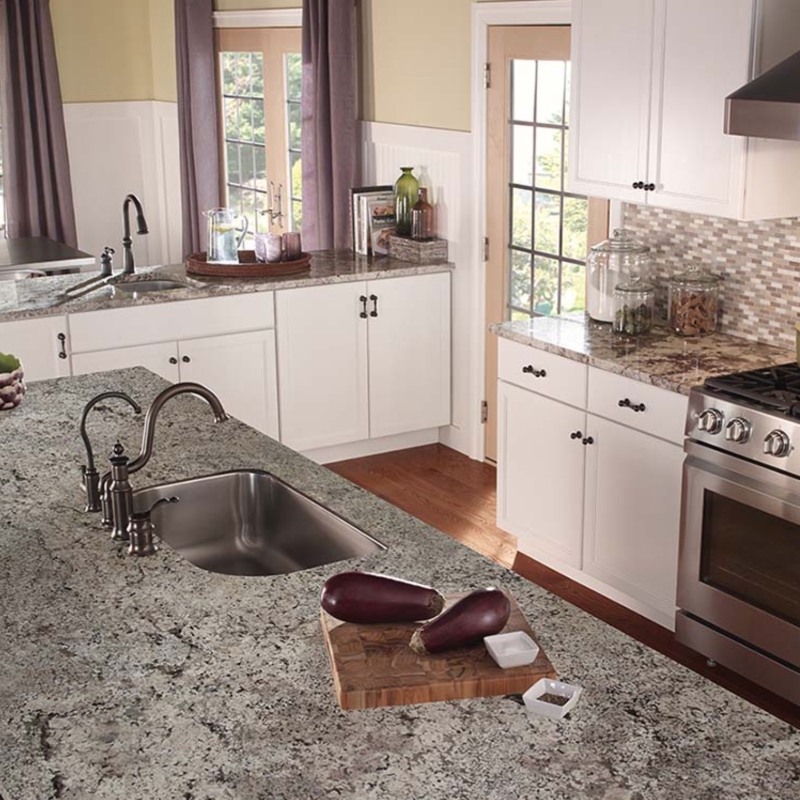 Featured: Winter White Granite
Winter White Granite is the star of this family-friendly entertainer's kitchen. The clean lines of the simple cabinetry and the stainless steel appliances are the perfect complement to this storm gray and frosty white granite countertop. Perfectly timeless and easy on the eyes this kitchen reflects sophistication that can easily be updated with the swapping out of accessories and paint colors.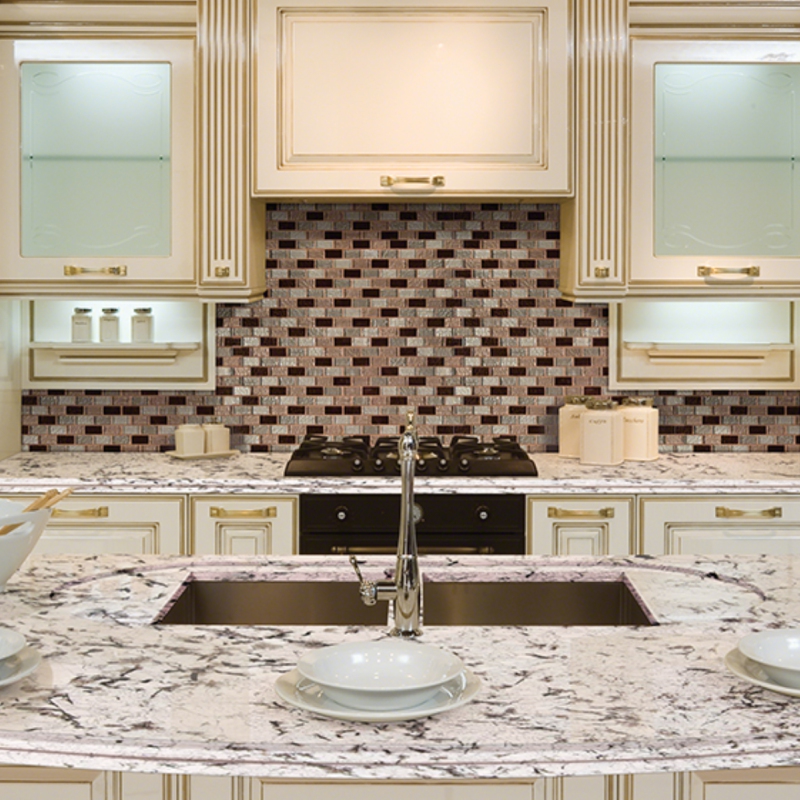 Featured: Mystic Spring Granite
For the rich traditional style of this kitchen, bone cabinetry is accented with a touch of gold sparkle and glass panels that exquisitely complement the movement and drama of the Mystic Spring Granite countertops. The dark veins reflect the darker tones in the appliances and the backsplash, fusing the design and making this kitchen exude warmth and polish.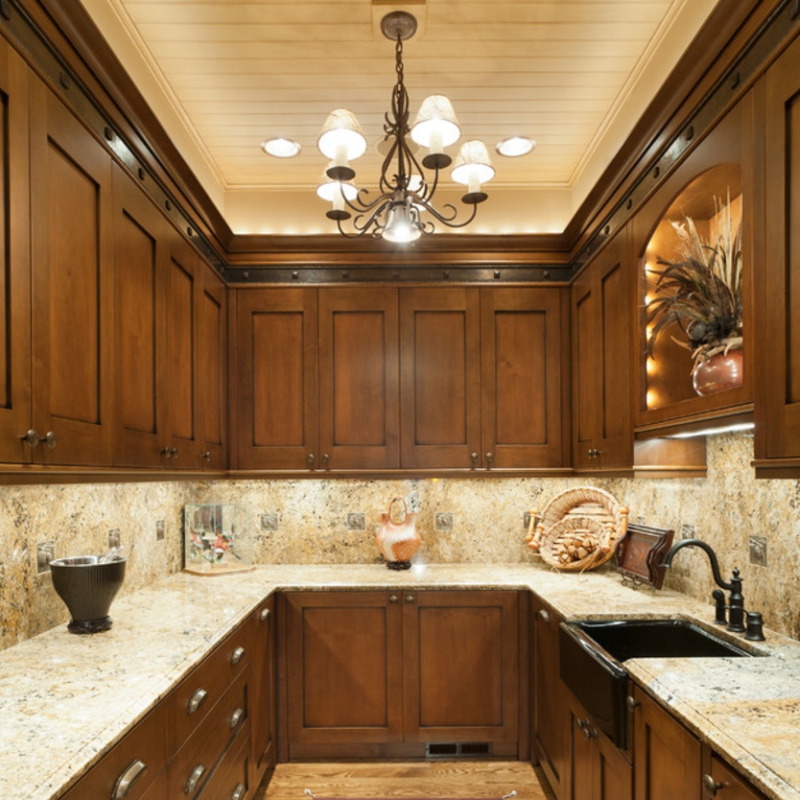 Featured: Persa Cream Granite
One of the most sought after features in luxury homes today is the Butler's Pantry. In this stunning space, Persa Cream Granite is installed on both countertop and backsplash, ensuring easy cleaning and a uniform design. Set against the darker cabinetry, gold flecks and chocolate veins lighten the space and make it feel more expansive and bright. In interior kitchens and pantries, be sure to include ample lighting to highlight the essence and character of your natural stone countertops.
White kitchens and countertops simply never go out of style, and with today's wide array of white granite colors, your design choices are virtually unlimited. According to the National Kitchen and Bath Association's 2016 survey, variations of white cabinets are a top kitchen design trend, with neutral tones of white and off-white, gray, and beige remaining the most popular colors by far. Forget the sterile, cold white kitchens of yesteryear and create a warm and inviting kitchen with layers of colors and textures using durable, low-maintenance white granite countertops.
Learn More about White Granite and White Cabinetry
5 Timeless White-on-White Kitchen Looks
Are White or Light Granite Countertops Practical for Kitchens?
5 Granite Colors That Go Perfectly With White Cabinetry
Winning White Bathroom Designs With Granite Countertops
4 Stunning White Granite Countertops for a Kitchen that Pops
White Marble & Granite: When the Absence of Color is the Color of Choice!
READ MORE ABOUT GRANITE COUNTERTOPS
Everything You Need to Know About Granite Tile Flooring
Exotic Countertops Take Center Stage
Exotic Granite Colors From Around the World