Marble Countertops: A Buyer's Guide
February 28, 2023
It's no surprise that marble countertops are as popular as ever. This classic has been in use since the Roman era, and with each year, it becomes more sought after and more the sign of a sophisticated and luxurious household or commercial establishment. Few things speak high-class the way a striking marble countertop does. When you incorporate one into your kitchen plans, you delight not only yourself and your family but your neighbors, guests, and everyone who experiences the heightened level of beauty your welcoming kitchen and home offers.
WHY CHOOSE MARBLE?
When you add marble to any space, you elevate it to the next level — perhaps the final level in luxury. In a way, having marble countertops in your home states that you have arrived, that you recognize the finer things in life, and that you can afford them.

Not all marble types are equal, so your first step is to explore the different offerings. Some styles are more porous than others, and while this may save you money, you won't have the peace of mind that comes with a less porous marble that will last longer and cause far less worry.
The pricing range for these first-class countertops is quite broad. Marble countertops can cost, on average, between $75 to $250 per square foot installed. (Pricing is based on a standard installation, which may vary based on your area and the vendor's expertise.)
THE UNIQUENESS OF MARBLE
One of the wonderful things about marble kitchen countertops is that two will never look the same. With many colors and styles, you're sure to find a look to fall in love with before making your final selection. If you're looking for more blue and grayish tones in your veining, Carrara is the way to go. On the other hand, if your cabinets are dark, pairing them with the more neutral Crema Marfil will make everything in that kitchen pop.
MARBLE EDGES
When selecting your marble countertops, it's essential to consider the different types of countertop edges. The most common styles are rectified and straight edges. The cut is clean, looks great, and gives your grout lines an uninterrupted appearance.
Other options which provide a rustic style are tumbled or chiseled edges. Finally, look to the flat-angled beveled edge for a more dimensional flavor.
FOUR POPULAR MARBLE TYPES
Calacatta Marble
Straight out of Italy, the rare Calacatta marble comes at a higher price than other options. Still, the irresistible white of this premium surface showcasing thick dark gray to gold colored veining delivers a luxurious look that makes it well worth the investment. In addition, kitchen designers often opt for this style for its warm, welcoming, and casual appearance.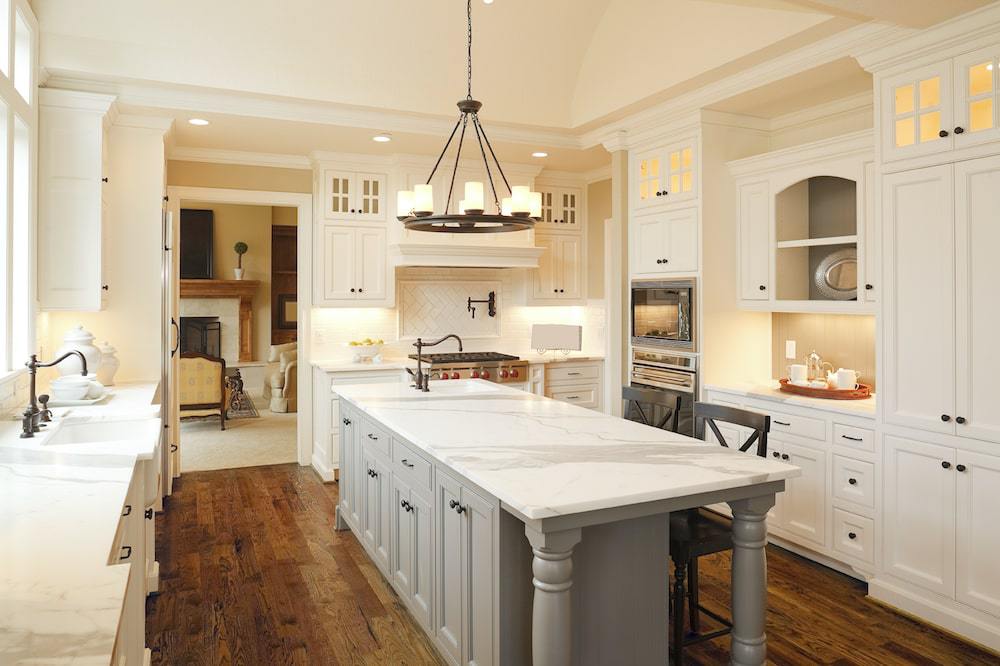 Our Calacatta Gold Marble delivers that gorgeous gray and gold veining and is available in polished and honed finishes.
Carrara Marble
Also from Italy, Carrara marble is among today's most popular marble selections. It's more wallet-friendly than Calacatta, and its bold white color with beautiful thick veining will elevate any kitchen and have your guests raving about your excellent taste.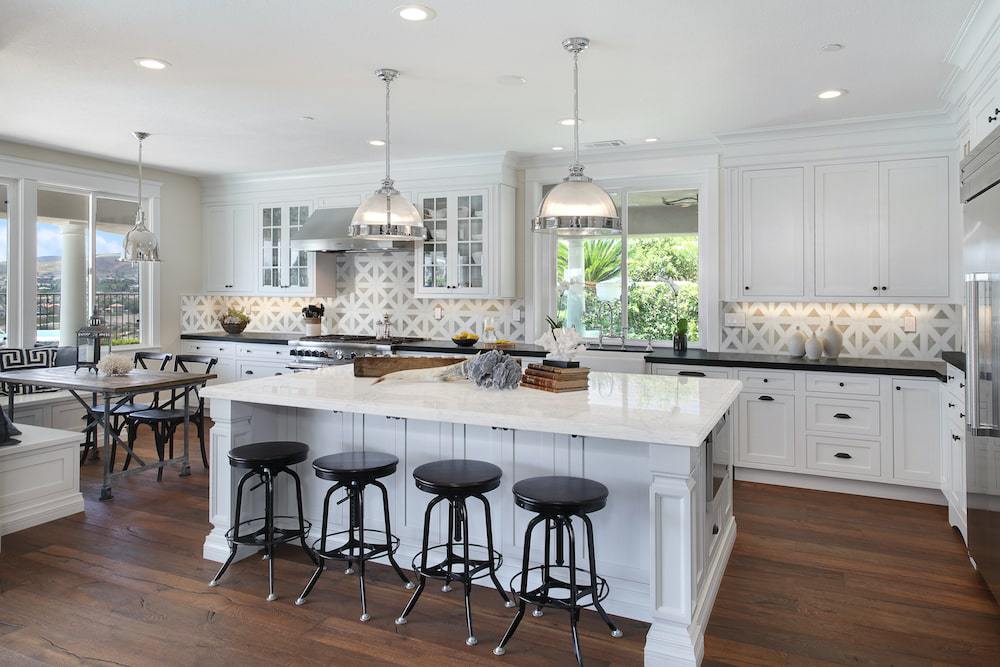 Our White Carrara Marble provides the iconic luxury marble look with its awe-inspiring shades of white and gray. Available in honed and polished finishes, adding a stunning White Carrara Marble countertop to your kitchen makes the entire feel of the room one of luxury and unrivaled beauty.
Statuary Marble
Not as well-known as other marble types, Statuary marble hails from the same region as Carrara, and the two share several of the same properties. Like Carrara, Statuary is white though its finish is more see-through and glossier. Both add an element of elegance and drama to your kitchen.
Crema Marfil Marble
Unlike our other selections, Crema Marfil Marble does not come from Italy — these unforgettable marble countertops originate in Spain. The "crema" references this premium surface's luxurious creamy appearance. It's available in a wide range of colors and is more common, so it is often more affordable than other marble options.
MARBLE MAINTENANCE
Certainly, the type of care each stone variety requires will differ, though once sealed, you need not worry much about your marble countertops. Sealing your counters helps reduce etching and staining. The sealer acts as a barrier and buys you time to clean a mishap before it settles in for good. For cleaning, use gentle soap and warm water regularly to keep your gorgeous counters looking fresh and new. Don't forget that you'll need to reseal your marble periodically to help keep performing its best.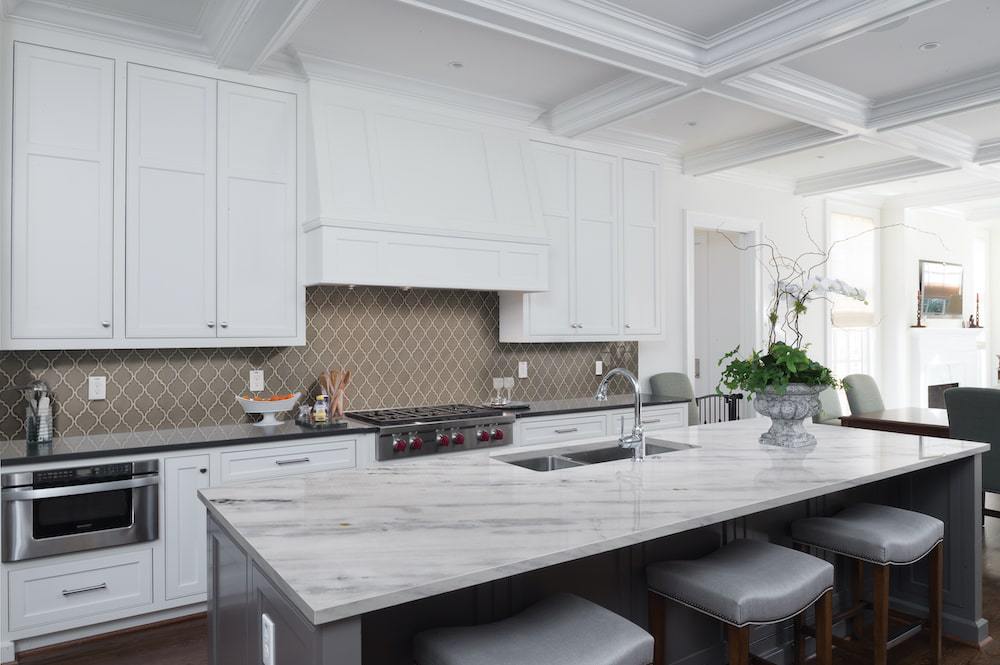 Our Arabescus White Marble from Brazil sets itself apart with abundant gray, charcoal, and dove-colored veins and swirls against a creamy white backdrop. This marble delivers possibly the most traditional marble color combo, making it perfect for designs from the traditional to the modern.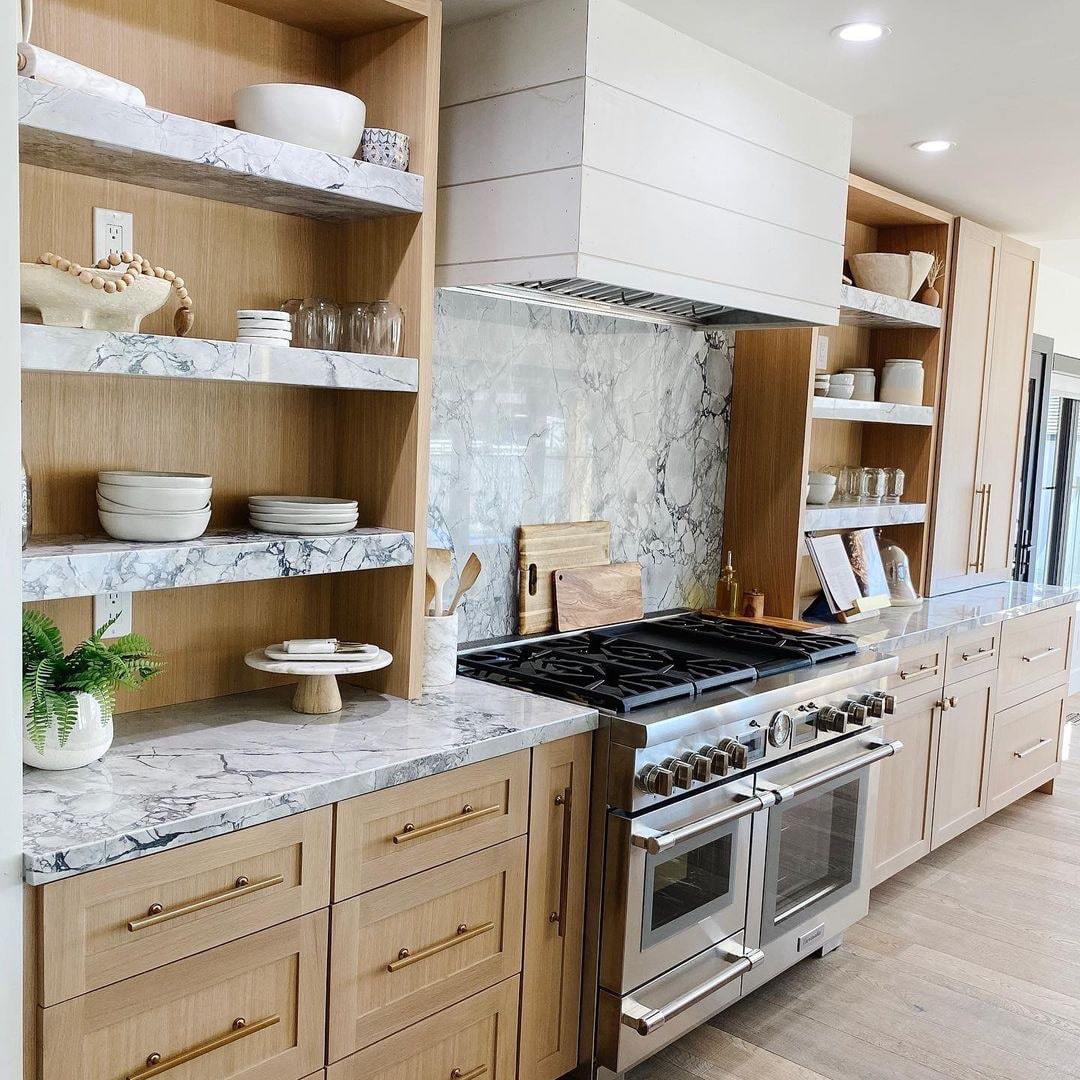 Photo Credit: @sara_sjdesigns on Instagram
Our Super White Marble from Brazil provides sweeping veining that adds much drama to any room.

Our selection of luxurious marble surfaces have seemingly endless design possibilities, but before you get started, contact us. Getting in touch with one of our experts via chat, visit one of our showrooms, or visit an authorized MSI countertop dealer near you.