Get The Look Of Whitewashed Brick With Modern Stacked Stone
November 24, 2020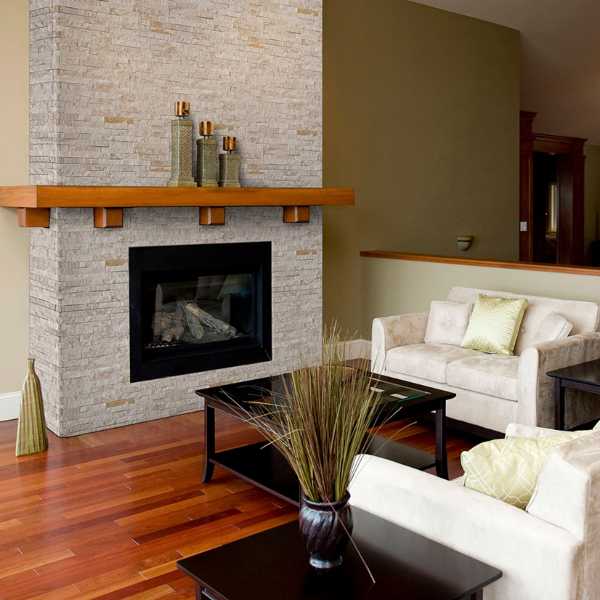 When most people think of whitewashing, what springs to mind are images of picturesque, weathered barns and wood fences. It's an old-timey look, a technique which was done for many practical reasons, but has the added benefit of aesthetic appeal. Even brick buildings look great with a whitewash treatment, and brick accents within the home have also become beloved to interior designers. Whitewashing is a lot of work, though! Today, we can achieve the same charming look with much less work by using stacked stone natural ledger panels.
MSI's stacked stone panels are not actually coated with whitewash, or any type of paint. They are crafted with natural stone, and available in shades of white that, in combination with veining or variation in shape, create the look of rustic whitewashed stone. That means you'll never need to worry about flaking paint or having to refresh the coating. Most ledger panel installations won't need any special care beyond a regular dusting. If you are installing in a wet environment, such as in a shower or outdoors where it will be exposed to the elements, you may wish to protect it with an easy-to-apply sealer.
One of the reasons whitewashed stacked stone panels are so alluring is the realistic way they resemble weathered brick, with the "whitewash" sticking and fading in an attractive pattern. This appealing look complements many different décor styles, especially the cottage, farmhouse, shabby chic, or even industrial vibes. The whitewashed brick look can make a new building look old, whether it is installed on the exterior or an "exposed" wall on the house's inside. Plus, there are so many ways to add it to your interior, especially since ledger panels are easy to install and lightweight.
It was once thought that stacked stone belonged one of two places: outdoors, or surrounding a rustic hearth. That thinking is obsolete – designers are using ledger panels all over the house. Yes, they are ideal to surround a fireplace or create a base for a stand-alone wood stove. But you can also incorporate them as a stacked stone backsplash or accent wall. Stone wall tile can turn an average bathroom into a spa-inspired retreat, because it adds the feeling of warmth and makes it more inviting. Going back outdoors, stacked stone ledger panels can perfect a three-season room or even be used to create water features, such as fountains. For more ideas, try out MSI's stacked stone visualizer tool.
Better still, MSI's ledger panels are so simple to install, you can make it a DIY project. Only a few tools are needed, and each panel is light weight. Alternatively, you know that if you hire a contractor to do the job, installing stacked stone tile will go quickly and cost a fraction of what true masonry stone would require. They are constructed with interlocking edges so they fit together like puzzle pieces, and no grout is required between them. There are even matching corner pieces for a truly polished, professional finished look.
You can get exactly the look you want, one that is perfect for your unique preferences, because MSI's whitewashed stone panels are available in several different hues from bright snow-white to a creamy eggshell. They are made from natural split-face stones including quartzite, marble, and limestone. Each of these materials split differently, exposing a texture and white color range unique to that type of stone.
Arctic White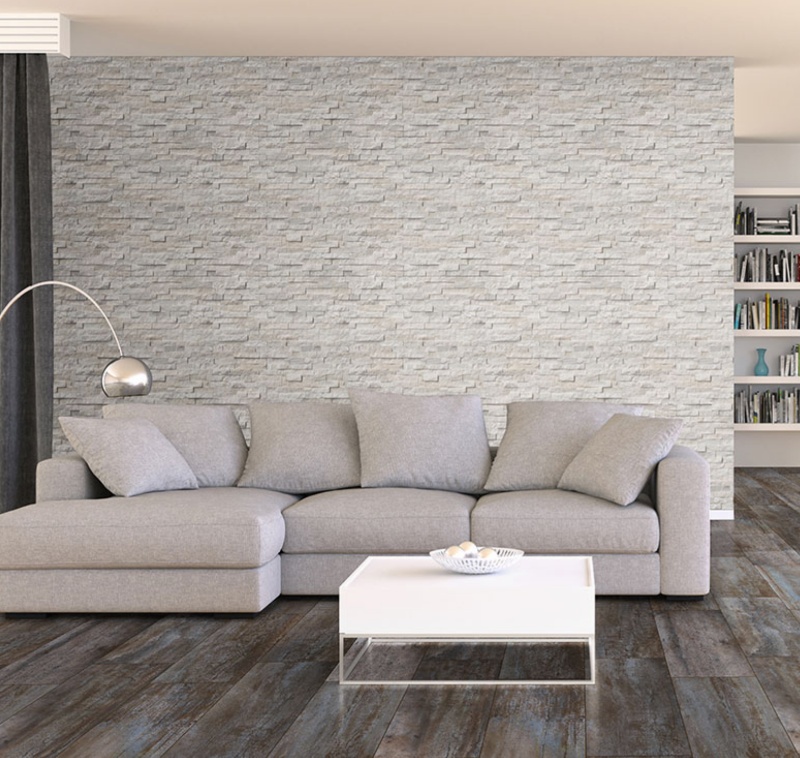 Say goodbye to boring white walls when you install Arctic White Splitface panels. These easy-to-assemble ledger panels are made with natural marble, split to feature a rough texture, which is just as much at home in a contemporary, modern design as in a traditional one. Split-face marble stacked stone is a unique way to add real marble to your home's interior without the worry and high maintenance of regular marble tiles or countertops.
Freska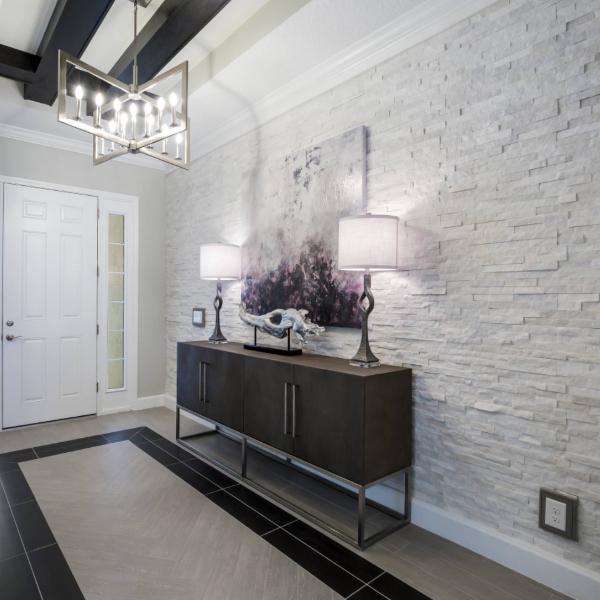 Photo Credit: Houzz
Assembled with snow-white splitface limestone, Freska ledger panels can help you create a subtle, elegant style. In this case, it's the shadows created by the staggered depths and random, natural textures of each stone that contribute to that whitewashed-brick look. It has plenty of charm, but is still sedate enough to beautify more formal spaces and traditional or contemporary styles of décor. Although the wall shown in this photo showcases Freska's talent for elevating an accent wall, stone wall tile is also ideal for adding character to the all-white kitchen trend. If you're in love with minimalism, but worry about creating a space that looks too cold and plain, this may be just what you need to complete the design.
Royal White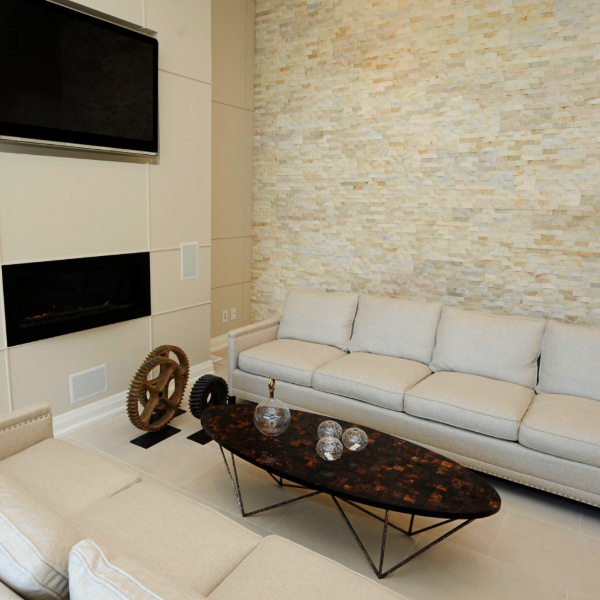 Photo Credit: Houzz
These Royal White fresh-looking ledger panels are crafted from quartzite, split to reveal its natural texture along with varying shades from white to pale beige. Its veining makes it especially reminiscent of true whitewashed stone. With this eye-catching surface, there's no need for embellishments or a lot of decorative accessories But, the variation makes it easy to match with other architectural elements, such as other types of tile.
Whitewashed bricks – as well as its stacked-stone, split-face lookalikes – are on-trend and perfectly synchronous with today's hottest designs. At the same time, however, they are timeless, an architectural feature that has been used for hundreds of years and will continue to be part of our homes far into the future. For more information and inspiration, browse MSI's online Inspiration Gallery. If you love the stacked-stone look but whitewash isn't quite your favorite style, you'll be surprised at how many variations are available for your home, both indoors and out.