Why Porcelain Tile Is Ideal For Laundry Rooms
April 26, 2021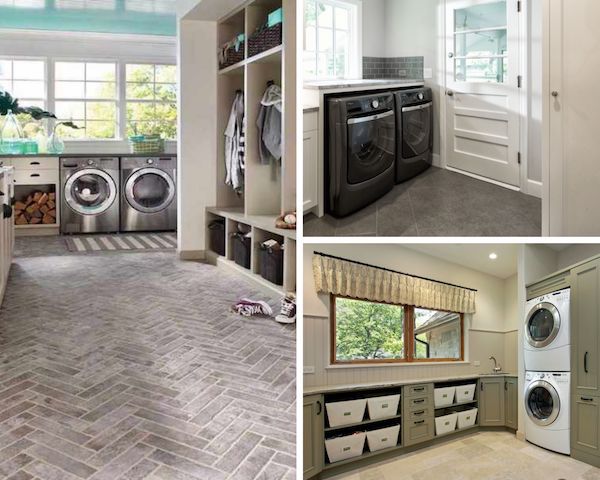 The laundry rooms of yesterday were usually in dark, dingy basements or consisted of a washer and dryer crammed into a room no bigger than a closet. However, today's laundry rooms have become a part of the home's living space. The laundry room in your home may also often serve multiple purposes such as mudrooms, workshops, dog grooming spaces, and more. Porcelain tile is the ideal flooring solution for your laundry room, and there are so many reasons why.
1. Water Resistance
Although we'd prefer to keep the laundry room clean and dry, let's face it — there are so many sources of possible catastrophe. Water damage can come from an overflowing washing machine, a clogged drain, or a cracked pipe. It's almost inevitable that this will happen to every family at least once! Even if the leak is only a minor emergency, water is an unavoidable concern in laundry rooms. That's why moisture-resistant tile flooring is crucial to have in this space.
When porcelain tile is properly installed, it is 100% waterproof. That's because it is made from a more refined type of clay than ceramic tile, and cured at a higher temperature. Although there are grout lines, you can apply grout sealer for extra protection, but this is not typically necessary. So, when the utility sink overflows and the laundry room looks more like a wading pool, damage to your floor will be the least of your worries.
2. Slip Resistance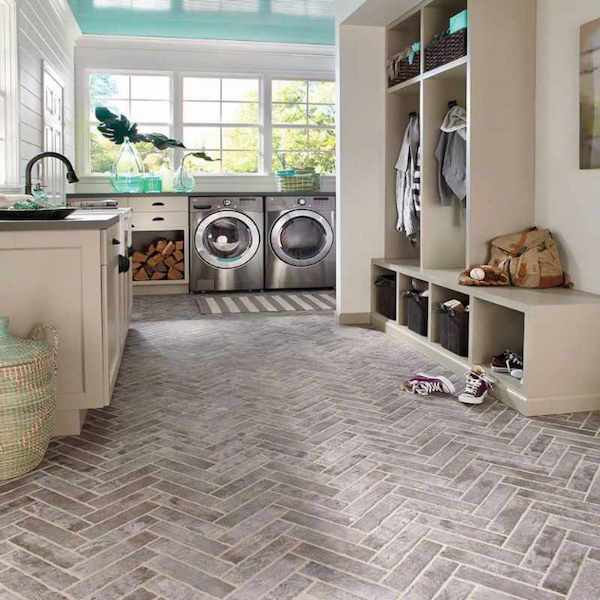 Did we mention that laundry room floors can get wet? Even small splashes and spills can be dangerous, especially for older people. For that reason, it's essential to have slip-resistant flooring, so it's safe even when it gets wet. Not all porcelain tile qualifies as slip-resistant, but there are many options that will serve this purpose well.
3. Damage Resistance
Laundry room flooring gets a workout from heavy foot traffic, not to mention the two heavy appliances installed there. Porcelain tile is resistant to stains, scratches, chips, and scuffs that may arise from everyday use in high traffic areas, and it will easily support the weight of your appliances.
Another concern in laundry rooms is the chemicals that are used for cleaning: detergent, bleach, disinfectants, and more. Although we recommend cleaning up all spills as soon as they happen, porcelain tile is much less likely to be damaged or fade due to harsh chemicals than other types of flooring.
4. Bacteria Resistance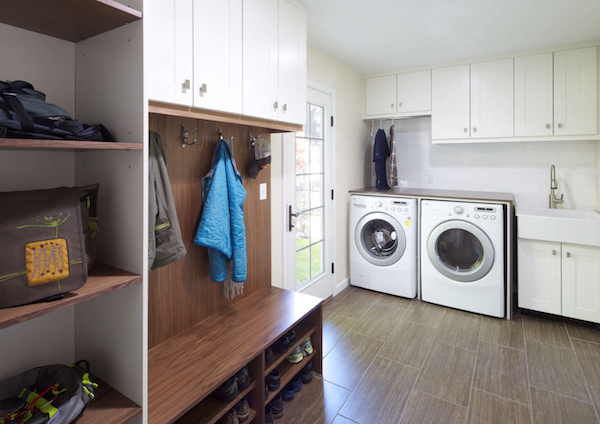 Your laundry room is the place where filthy things go to get clean, right? That means you'll have piles of items like dirty socks, cleaning rags, and pet bedding, along with everyday soiled clothing. No matter how conscientious you are about using clothes baskets and hampers, this may be a room that's tough to keep clean. If your laundry room is also a mudroom or gets used for other messy purposes, maintaining hygienic conditions in this part of the home may be an even tougher challenge. Fortunately, porcelain tile resists the growth of bacteria, mold, and mildew.
5. Ease of Cleaning and Maintenance
Porcelain tile makes it easy to keep your laundry room sparkling clean and attractive. Simply sweep it, and if needed, a quick mopping with a mild cleanser will do the trick. There's no need to ever apply wax, polish, or sealer to maintain the good looks and water resistance of this modern tile.
6. Affordability
You want your laundry room to look like a million bucks, but like most homeowners, you're on a budget. Although porcelain tile may cost a bit more than other flooring options, such as carpet or vinyl, the benefits far outweigh the cost. For one thing, you can be assured the tile will last a long time — potentially for decades.
7. Many Colors and Styles to Choose From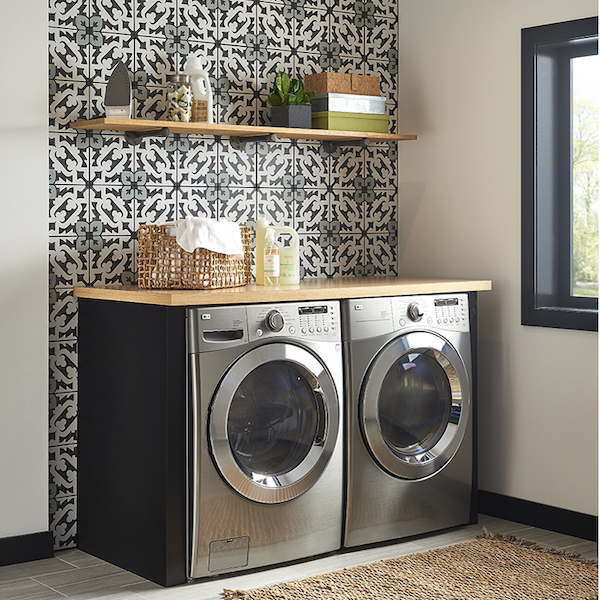 Since your laundry room will no longer be a place to hide away behind a closed door, why not make it beautiful too? With porcelain tile you can customize the flooring to complement the walls and cabinetry, just as you would in a kitchen, because there's an incredibly wide selection to choose from.
Porcelain tile can authentically replicate the look of natural stone such as marble or travertine. There are also many available colors and patterns resembling the wood grain of hardwood flooring, and porcelain wood tile comes in plank shapes with enough variety between each tile to create a wood look so believable you'd have to touch it to tell the difference between porcelain and solid hardwood.
8. Versatility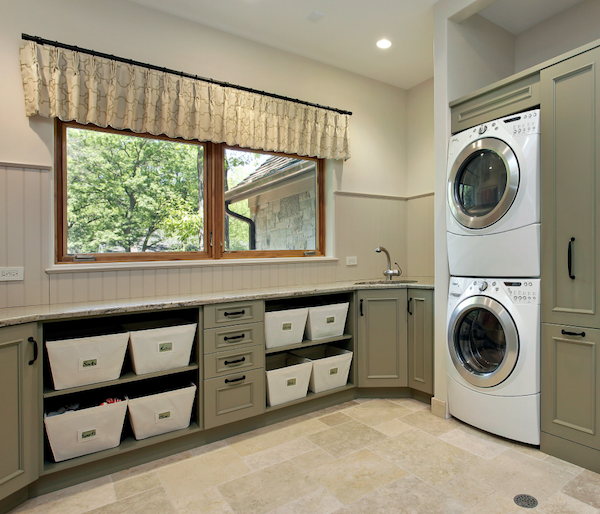 Although porcelain tile is perfect for the laundry room floor, why stop there? You can also install porcelain tile as a beautiful backsplash behind the countertop, or use it for the countertop in your laundry room as well. Create a comfortable space to fold clothing, work on stains, and more without worries about damage from soap and chemicals. Decorative tile, such as brick look porcelain floor tile, also looks great installed on accent walls, or to cover the bottom half of a wall. When the going gets tough, wall tile stands up to wear and tear much better than paint.
Since the porcelain tile that is so perfect for your laundry room is also perfect for other parts of your home — your kitchen, your family room or your hallway just to name a few — you can continue into whatever room is adjacent to the laundry room for an easy, seamless transition.
Is it possible to choose flooring that will check all the boxes — durability, beauty, low maintenance and affordability? Basically, porcelain tile can solve all of your problems when it comes to making the laundry room inviting and comfortable while also keeping it clean! Whatever your style, there's a porcelain tile that just might make your laundry room your favorite space, and you might even enjoy doing the laundry!
READ MORE ABOUT THE DIFFERENT TYPES OF PORCELAIN TILE
When To Choose Ceramic Over Porcelain Tile
Which Porcelain Tiles Are Water Resistant?
Why Designers Are Falling For Antoni Porcelain Tile