Why Designers Are Falling For Antoni Porcelain Tile
February 08, 2021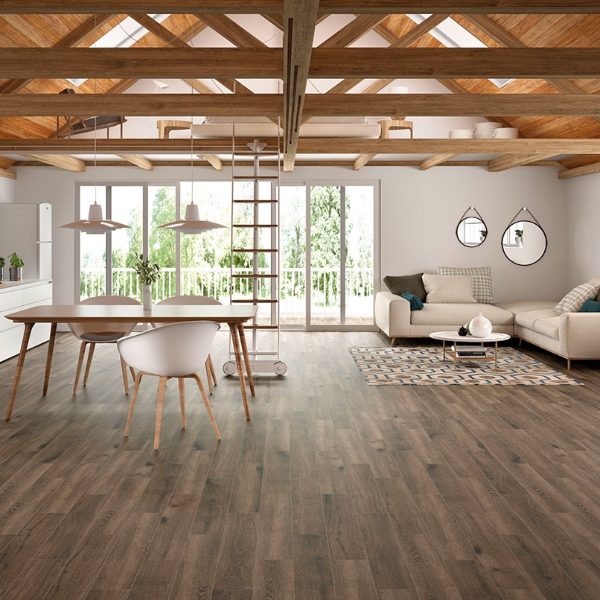 The majority of Americans love being out in nature because of its many health benefits. From mood boosts to improved memory to reduced anxiety and depression, natural aesthetics can truly be a healing experience.
So why not bring a piece of nature into your home?
Wood-look porcelain tile is one of the mostpopular tile choices for traditional and modern homes, and MSI's Antoni collection is a standout choice above the rest. The collection's visual warmth and timeless style are amplified when paired with porcelain's durability and low maintenance- among other pluses.
Read on to learn about five of the best wood-look floor and wall tile options on the market today!
Antoni Nero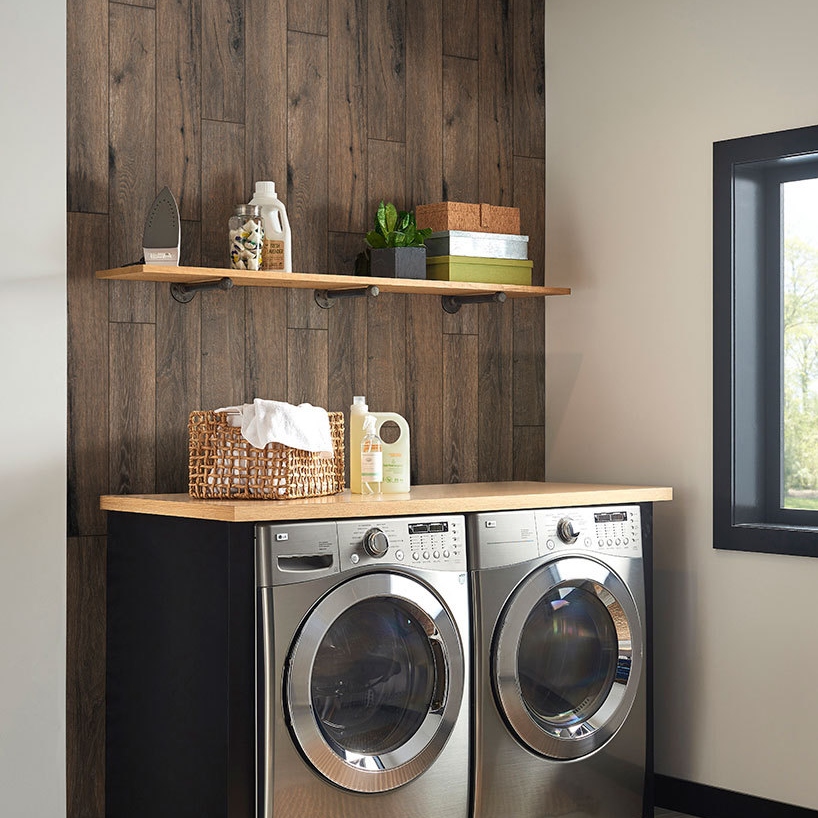 Antoni Nero is a floor tile that stands out because of its heavy oak-like appearance. With hues ranging from medium-brown to darker and richer hues, this tile goes with any decor scheme. Because of its sophisticated and elegant look, it specifically looks amazing in homes with vintage or antique decor.
This floor tile is made to resemble chestnut hardwood. It delivers on this promise with graining and knots that are strewn organically across each rectangular tile. The 'planks' each are unique and have primarily horizontal graining that showcases natural grain patterns. They provide a stunning visual effect that will make you truly believe that you can feel their texture each time you look at them.
Antoni wood tile is an excellent option for many types of rooms and various installations. That's why designers can't get enough of the Antoni collection. Whether their clients are looking for the perfect tile for the bathroom, kitchen, living room, or even a small business, Antoni is the right wood-look tile for the job.
Antoni Cafe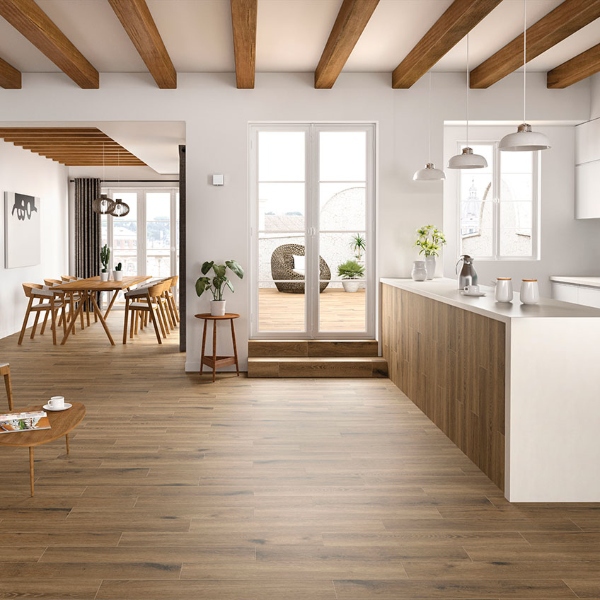 Antoni Cafe is a lighter warm brown than Antoni Nero is. Though this wood tile flooring features the same organic knots and grains, it has subtle coffee tones in lieu of a heavy oak appearance. This makes it ideal for contemporary and modern decor schemes as well as the same antique and vintage ones that Antoni Nero perfectly complements.
The lighter base hue makes the dark graining stand out even more than it otherwise would. If a textured appearance is your primary concern when selecting your tile that looks like wood, Antoni Cafe is a great choice because it brings out the textured features.
Antoni Cafe, like all of our Antoni tile options, is a superior alternative to tile flooring because of its longevity and maintenance. Wood sustains water and pest damage as well as denting and scratching easily. Tile, on the other hand, is resistant to damage, making it the perfect choice for active households and those with children or pets.
Antoni Cafe Nero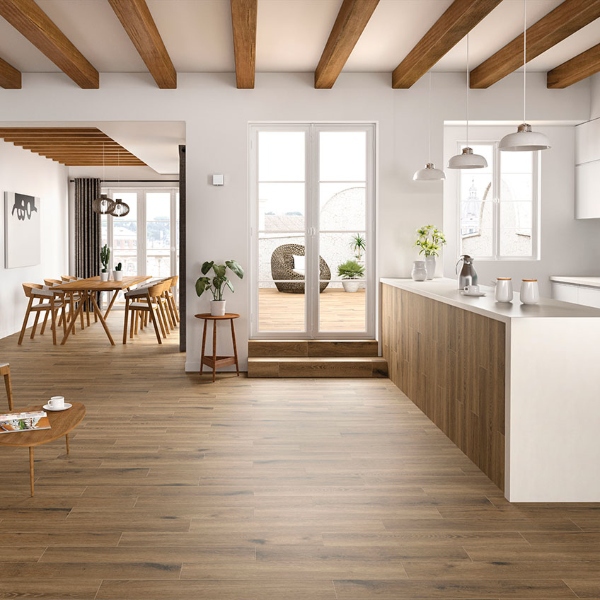 If you're a fan of more complex tile patterns, the right choice for you is likely Antoni Cafe Nero. It features arrowlike geometric patterns that are made up of small diagonal stripes. In the simplest terms, it's the herringbone variation of our Antoni collection's other styles.
These stripes are made interchangeably of the lighter hues boasted by Antoni Cafe and the darker, heavier ones that Antoni Nero showcases. Combine these hues with some unique medium ones and you have a recipe for a stunning and eye-catching tile option. The mixture of cool and warm hues means that it complements all design schemes and will always keep you finding new details in the body of each tile.
One of the best things to do with this tile is to use it as flooring while selecting another, more solid-colored option for a backsplash or accent wall. An Antoni Nero accent wall will bring out the cool hues in your Cafe Nero flooring while an Antoni Cafe wood look wall tile will immediately draw the eye to your floor's deep warm hues.
Antoni Gris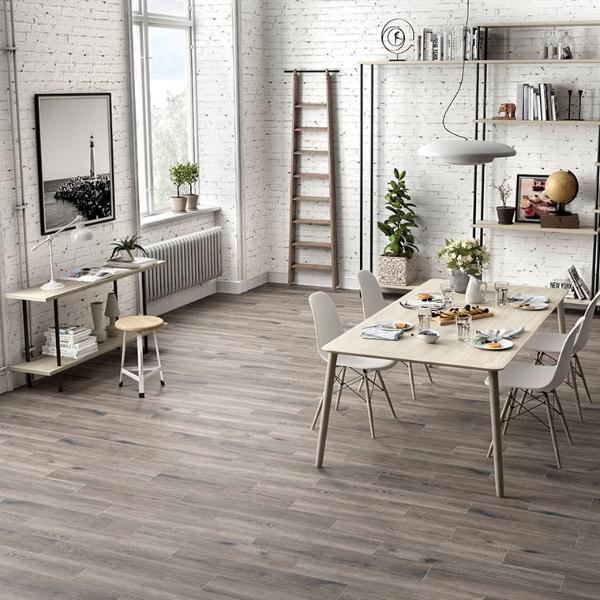 Looking for a cooler option than the ones we've previously discussed? Antoni Gris might be the right choice for you.
This tile features both gray and brown hues that invoke a wintertime feel. If you have a contemporary decor scheme that features bold lines and bright lighting, Antoni Gris will fit seamlessly in with these surrounding elements. This is the perfect way to bring a bit of the natural world into your trendy decor scheme while still ensuring that everything fits together seamlessly.
The grains and knots strewn over the tiles range from light browns similar to the hues found in Antoni Cafe to pure black. It also is much easier to maintain than wooden planks with similar amounts of deep graining. All you need to do to keep this tile clean is to mop it down every once in a while rather than undergoing the sealing process necessary to maintain hardwood.
Antoni Platinum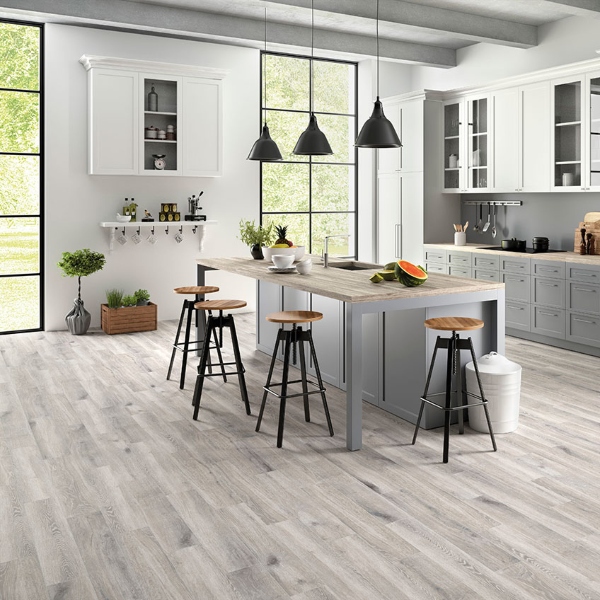 The lightest of all tiles in the Antoni collection, Antoni Platinum lives up to its name in that it's rare, valuable, versatile, and gorgeous.
This ice-cold tile is made to look like natural birch hardwood. Its knotting is subtle, giving it a look of effortless elegance. You can't go wrong when pairing this with white countertops, eggshell walls, or stainless steel appliances.
You can make your space look even more unique by pairing together this wood look tile and stone look accents around your room. MSI offers porcelain tile that looks like stone for accent walls, backsplashes, countertops, and more. Find a warm stone-look tile for another part of the room to bring out the icy light appearance of Antoni Platinum as well as you possibly can.
Get Porcelain Tile Installed Today
Now that you know why Antoni porcelain tile fits seamlessly into every home, it's time to begin incorporating it into your interior design. Contact us for help choosing the perfect wood-look tile for your individual decor scheme. Our experts will talk with you about your individual design needs and help you use our flooring visualizer tool to see which options you like best.
READ MORE ABOUT THE DIFFERENT TYPES OF PORCELAIN TILE
When To Choose Ceramic Over Porcelain Tile
Which Porcelain Tiles Are Water Resistant?
Why Porcelain Tile Is Ideal For Laundry Rooms