When To Choose Ceramic Over Porcelain Tile
May 01, 2019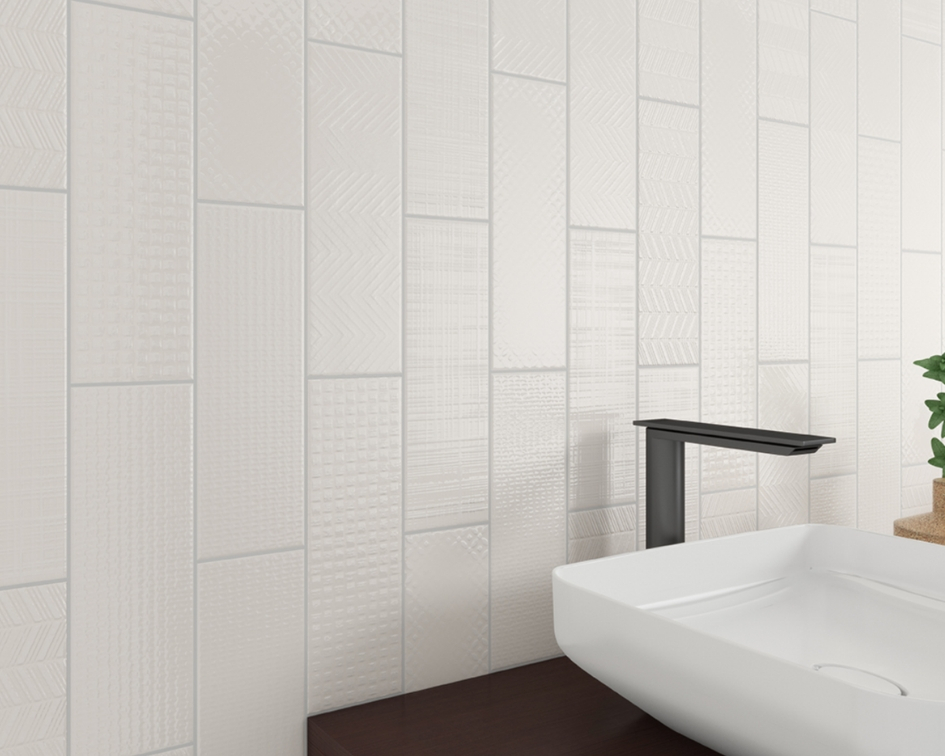 During the process to find the perfect tile, you may have heard salespeople use ceramic and porcelain interchangeably. That may be because the popular choices are considered as part of the same tile family. These close cousins share similarities when compared to other glass, quarry, or natural stone tile types. Yet, there are some key differences between ceramic and porcelain tile, including how they are manufactured and what their water absorption rates are.
Ceramic tile is made from natural clay and either glazed or unglazed. It is fired in a kiln to help reduce its water content before the design is added and then baked again at a high temperature. Similarly, porcelain tile is made from more dense clay but mixed with fine sand before being dust-pressed and fired in the kiln at even higher temperatures and for a longer period of time to help remove the majority of its water content. Though there are benefits to both building materials, the scenarios below will help you decide when to choose ceramic tile over its porcelain counterpart.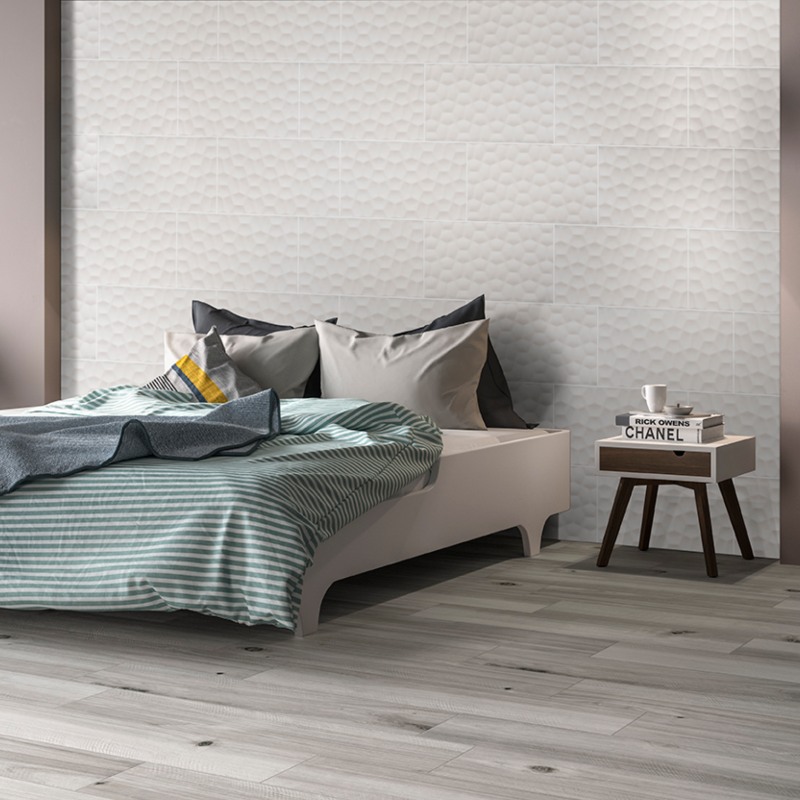 Featured: Adella Viso White
Save More Money on Tile
Selecting cost-effective ceramic tile for your next project is a great decision when you are on a tight budget. That is because ceramic is almost always less expensive than porcelain tile. The price point for ceramic runs approximately 60 to 70 percent of the price for porcelain, which has a more intricate manufacturing process that is reflected in its retail price.
You can easily find a great selection of low-cost ceramic styles that sell for less than $2 per square foot, yet it is extremely rare to find porcelain under $3 per square foot. For materials in the top range, they will run similar in price for both higher-end options, with ceramic typically not exceeding more than $4 per square foot and porcelain easily surpassing $5 per square foot.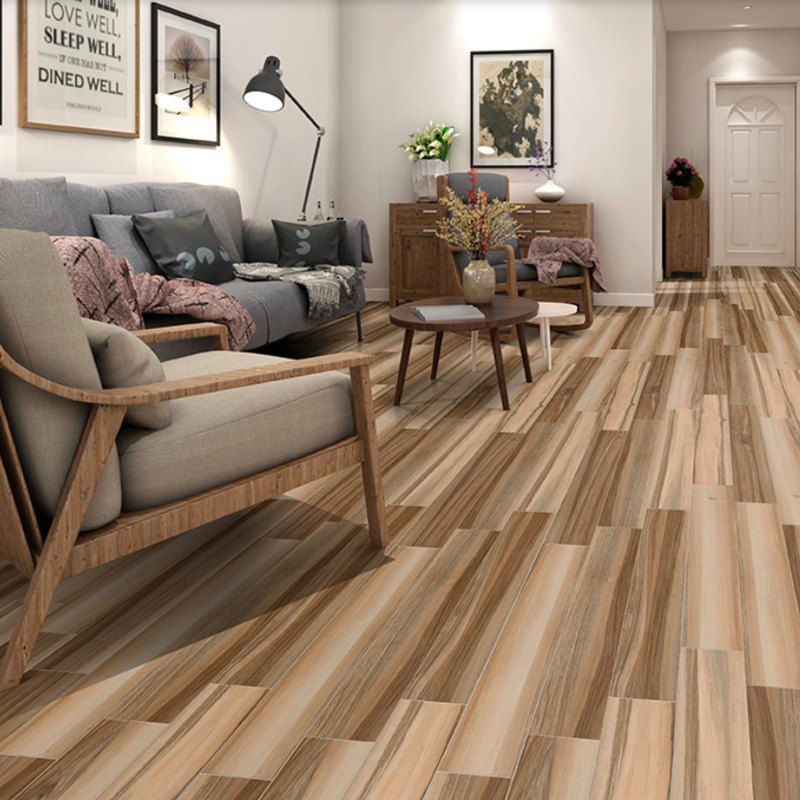 Featured: Kao Acazia
Easier to Install
No matter if you are a DIY expert or just learning how to upgrade your home on your own, you will be thrilled to learn that ceramic is much easier to install than porcelain tile flooring. Because it is less dense, ceramic is easier to cut manually and also requires less complex equipment like a wet tile saw. Laying the tile is also a much more manageable task for handy homeowners like yourself. However, a ceramic install with lots of cuts may have better results with an experienced installer. And, since the more premium surface porcelain is more prone to cracking during the cutting process, it is best to leave this tile install to a professional.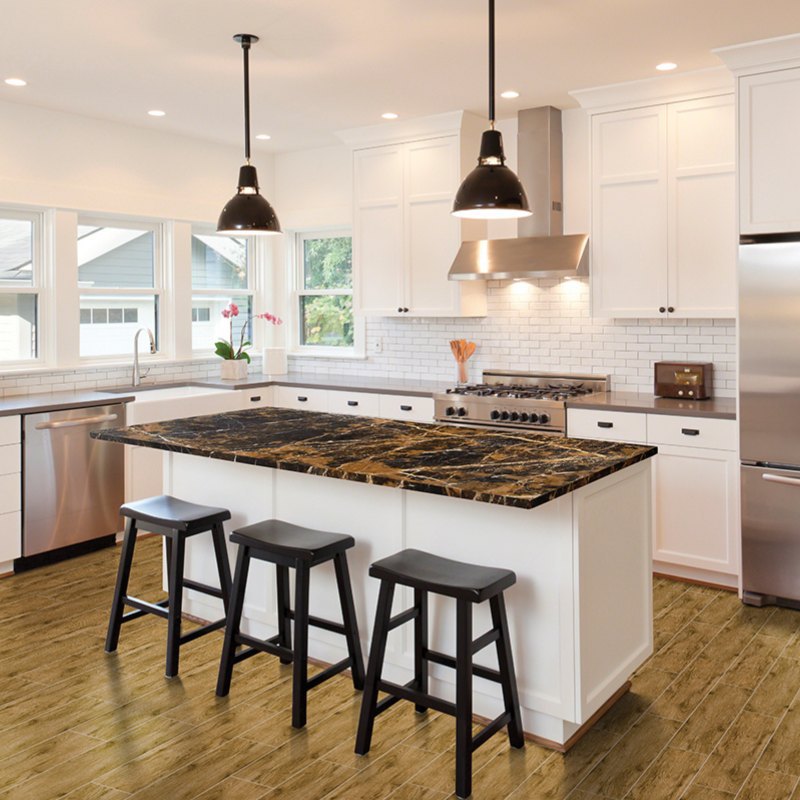 Featured: Nutmeg Celeste
Fantastic for Low Traffic Areas
Ceramic tile is the perfect choice for areas that do not get a lot of wear and tear. Part of that reason is because it has a higher water absorption rate at more than 0.5 percent, while porcelain has a lower water absorption rate at less than 0.5 percent. To keep it looking like new, it is even more ideal for those without kids and pets or who hardly entertain since it will not see the kind of traffic busy families deal with on a daily basis.
It can be used for wall installations; bathroom wall and floor installations with light traffic; or wall, countertop, and floor installations with light to normal foot traffic. Even though it is more suited for lighter traffic, it is still highly durable for home installations and is commonly featured in kitchens, bathrooms, and living rooms.
However, it is not recommended for outdoor use due to its water absorption rate and the exposure to the elements. Porcelain flooring and tile is also the better choice for heavier commercial use because of its long-term durability.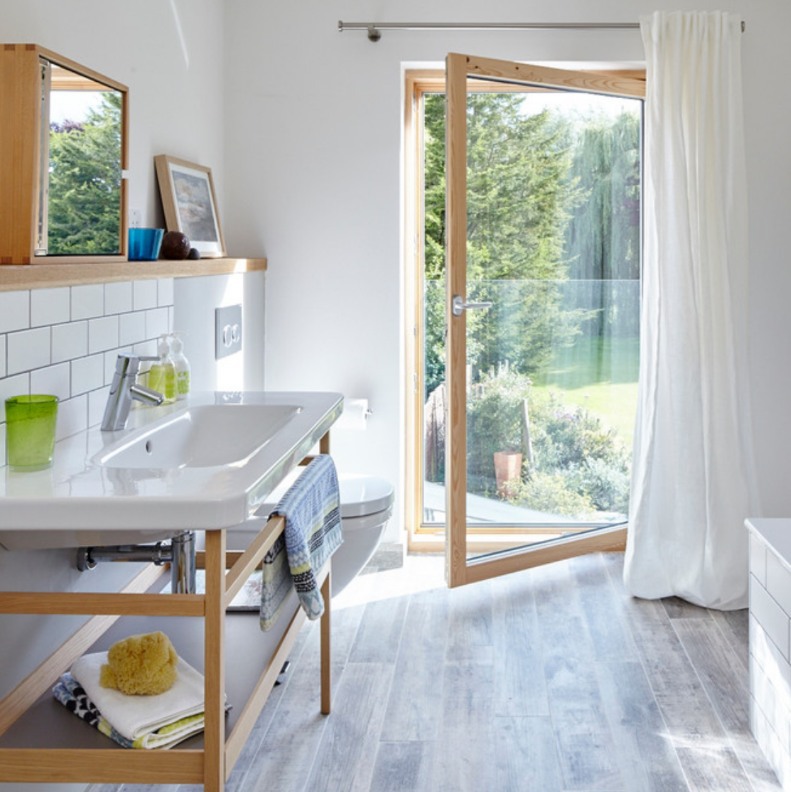 Create a similar look with MSI's Driftwood Sonoma (Photo Credit: Houzz)
While you can use fabulous ceramic floor tile for a wall installation, you should never use wall tile on the floor because it is not designed for foot traffic and could become a safety concern. Certain types of ceramic wall tile might be slippery to walk on or not be strong enough for floor use.
Specific Design Styles
Design is a very personal choice, and sometimes you fall in love with a particular pigment or pattern that can only be crafted from ceramic. The tile made from white or red clay comes in various styles and colors to suit earth-inspired hues to modern décor. Because it has been used in buildings through civilization, ceramic offers homeowners a cultural connection to its heritage from places like Italy, Spain, or even China.
Unglazed and naturally colored, ceramic tile like terra cotta features its beautiful brownish-red tones. This rustic type of tile offers an imperfect look as it develops a charming patina over time. It is excellent for floors since it is softer underfoot, and its burnished tones are great at hiding dirt.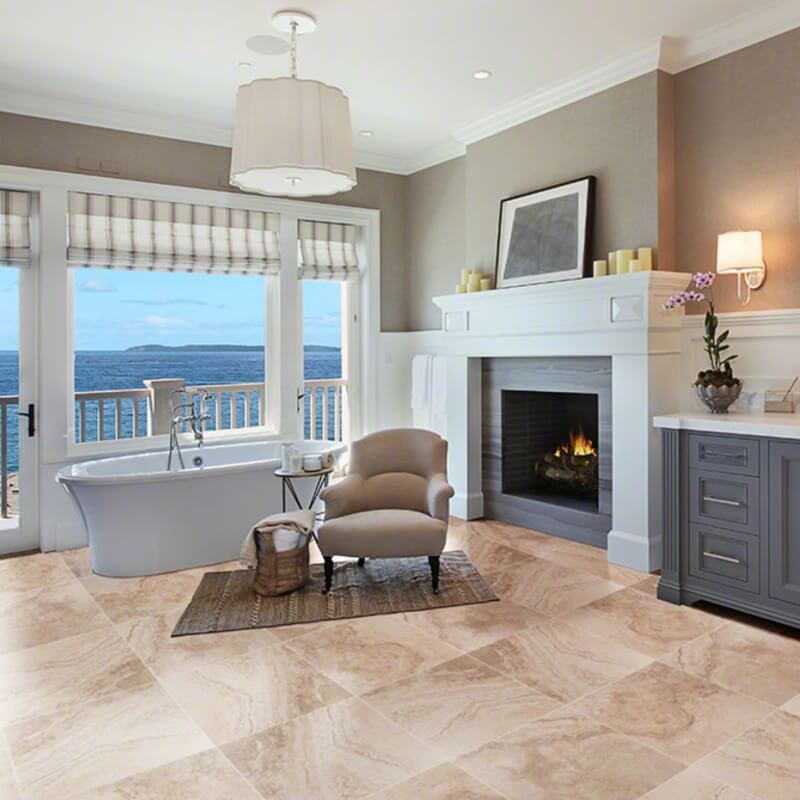 Featured: Beige Napa
Glazed and either finished in a matte or high gloss, ceramic designs include various styles like contemporary geometric shapes, Moroccan mosaics, realistic wood-look patterns, and even beautiful marble looks. But, one of the most well-known, classic ceramics is subway tile. The popular shape and pattern is perfect for backsplashes and wall installations, and the low-fired glazed tile is affordable, durable, and easy to clean.
Ceramic for Your Next Project
Whether you are working on a brand-new floor or installing a feature wall, tile can greatly influence the look and feel of the space. As with any material, you should make your ceramic tile decisions wisely and factor in not only your budget but also your lifestyle.
With ceramic, you can choose from all of the latest trends all at a lower cost than porcelain. Its easier installation process is beneficial for homeowners who like to put their personal touch on their spaces all on their own. Not only does the cost-effective material help with your bottom line, but it also features a lot of the same design options as modern porcelain tile. Ceramic also comes in different shapes, sizes, and accent tiles so that you can create a layout that is as unique as you want it to be.
READ MORE ABOUT THE DIFFERENT TYPES OF PORCELAIN TILE
Which Porcelain Tiles Are Water Resistant?
Why Designers Are Falling For Antoni Porcelain Tile
Why Porcelain Tile Is Ideal For Laundry Rooms