Popular
Worry-Proof Porcelain Tile
November 05, 2019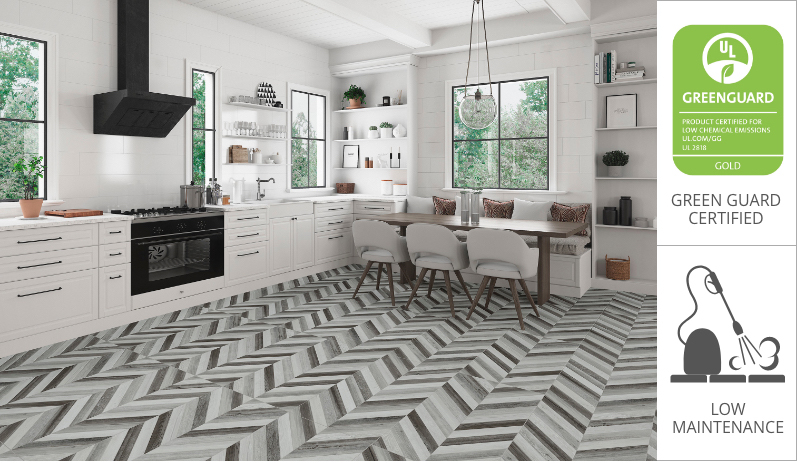 Surfaces that stand up to everyday life are more popular than ever. Underfoot and on walls, we've depended on the durability of porcelain tile for decades. Few materials can go from commercial to residential spaces and indoors to outdoors with such ease and affordability.
High-quality and enduring, porcelain tile is easy to clean, waterproof, high-traffic-ready, and hard to scratch. With the introduction of indoor/outdoor collections featuring porcelain tile and matching pavers, homeowners and commercial designers have even more worry-proof ways to bring their floors, walls, and backsplashes to life. From wood looks planks to geometrics, encaustics, and brick, there's a low-maintenance porcelain tile for every home and commercial property – no matter its style, size, or location.
Variety in Style, a look for everyone!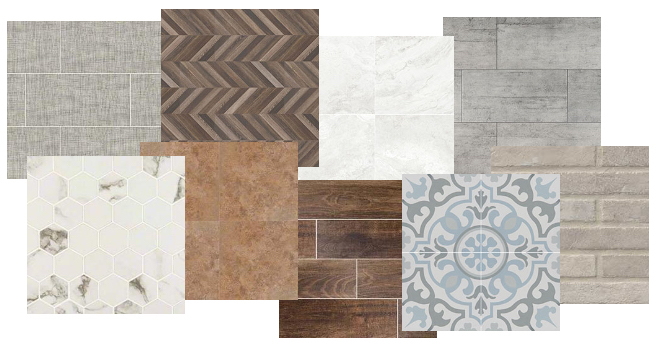 For projects big and small, the authentic looks in our Porcelain Tile lineup are a go-to for designers.
Due to advancements in print technology, porcelain tile can be designed to look exactly like hardwoods, marble, slate, and travertine – down to the smallest details. Not all porcelain tile is created equal. Our premium lineup mimics today's most sought-after aesthetics and textures so precisely, it's a challenge to tell them apart from their lookalikes. With options like Sande, a modern stone look and Country River, a beautiful wood look option, it's never been easier to bring headlining looks to life without the cost and upkeep of the real thing.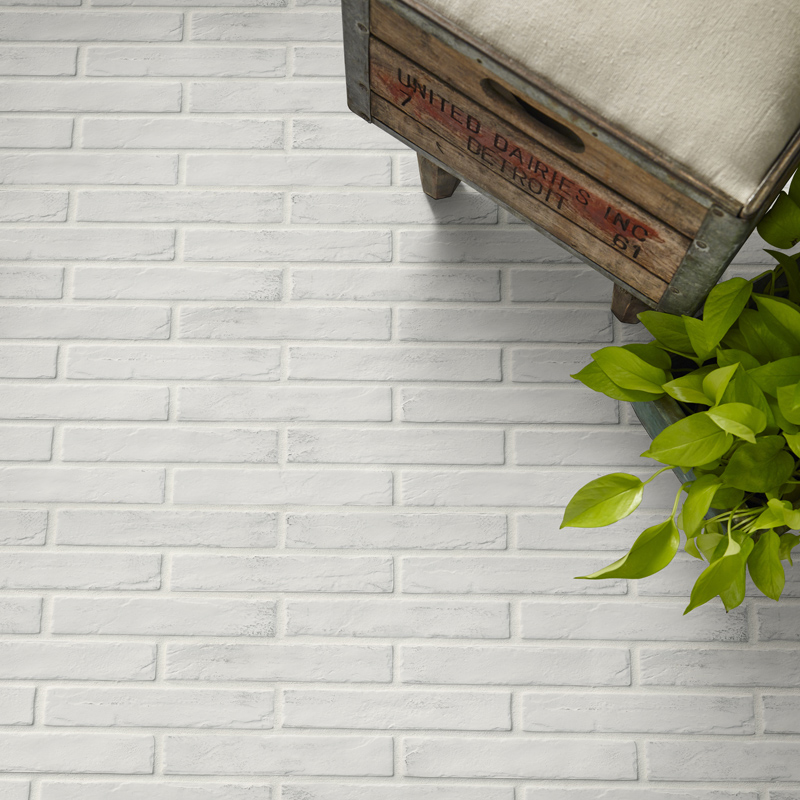 The look of brick without the maintenance, Brickstone White Matte Porcelain for floors and walls.
The Original Waterproof Tile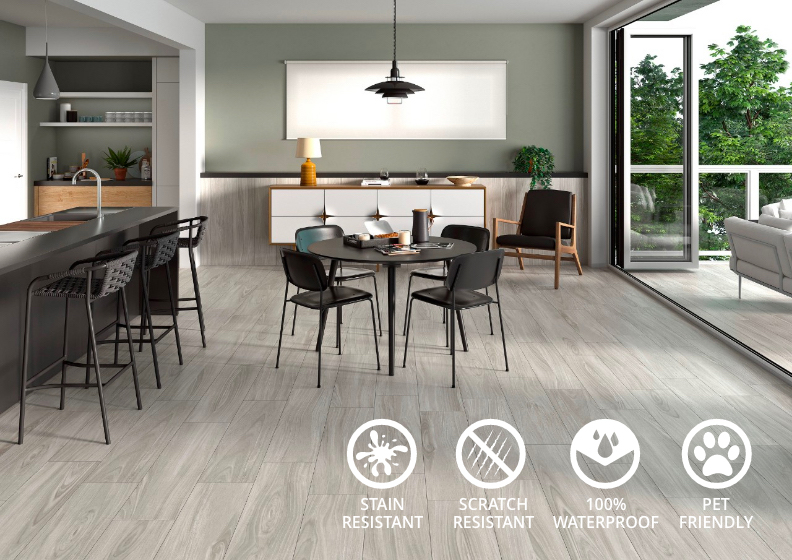 A waterproof whole-house solution, porcelain tile collections like Braxton Grigia are the definition of high-functioning. Talk about Family Friendly!
The original waterproof floor, porcelain tile is no longer just for bathrooms, kitchens, and laundry rooms. From open floor plans to traditional layouts, carrying a singular aesthetic from the front door to the back patio isn't just a signature of modern design. It's a headache-free way to keep maintenance to a minimum without sacrificing style or the budget. With dozens of authentic looks to choose from, more and more homeowners have turned to porcelain planks throughout a home. And because unglazed porcelain tiles have extra grip and traction, they're also ideal for outdoor applications.
Up the Wall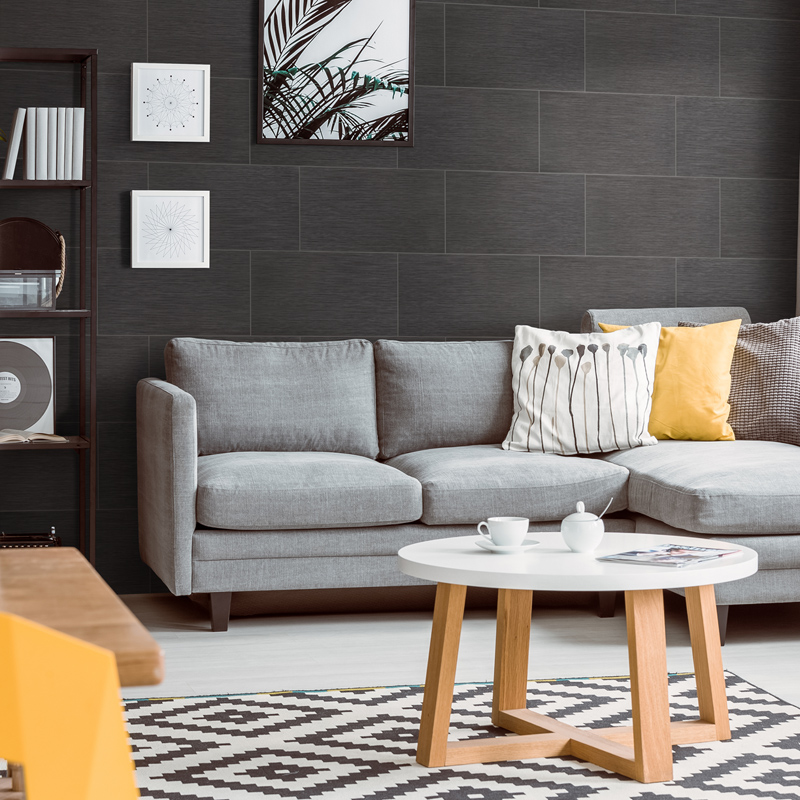 Focus Graphite 12X24 brings the accent wall of this living room to life.
Paint can only take a wall so far. Porcelain tile adds texture, dimension, and interest to a room that no coat of paint ever can. Whether it's a 3D subway tile in a bathroom, a geometric pattern backsplash in a kitchen, or a barn wood look in a bedroom or den, our ever-expanding lineup of porcelain tile is a fuss-free way to transform ordinary walls into statement-making features. We introduced collections like Brickstone, Salvage, and Brixstyle to create walls with a rugged, timeworn look so popular today.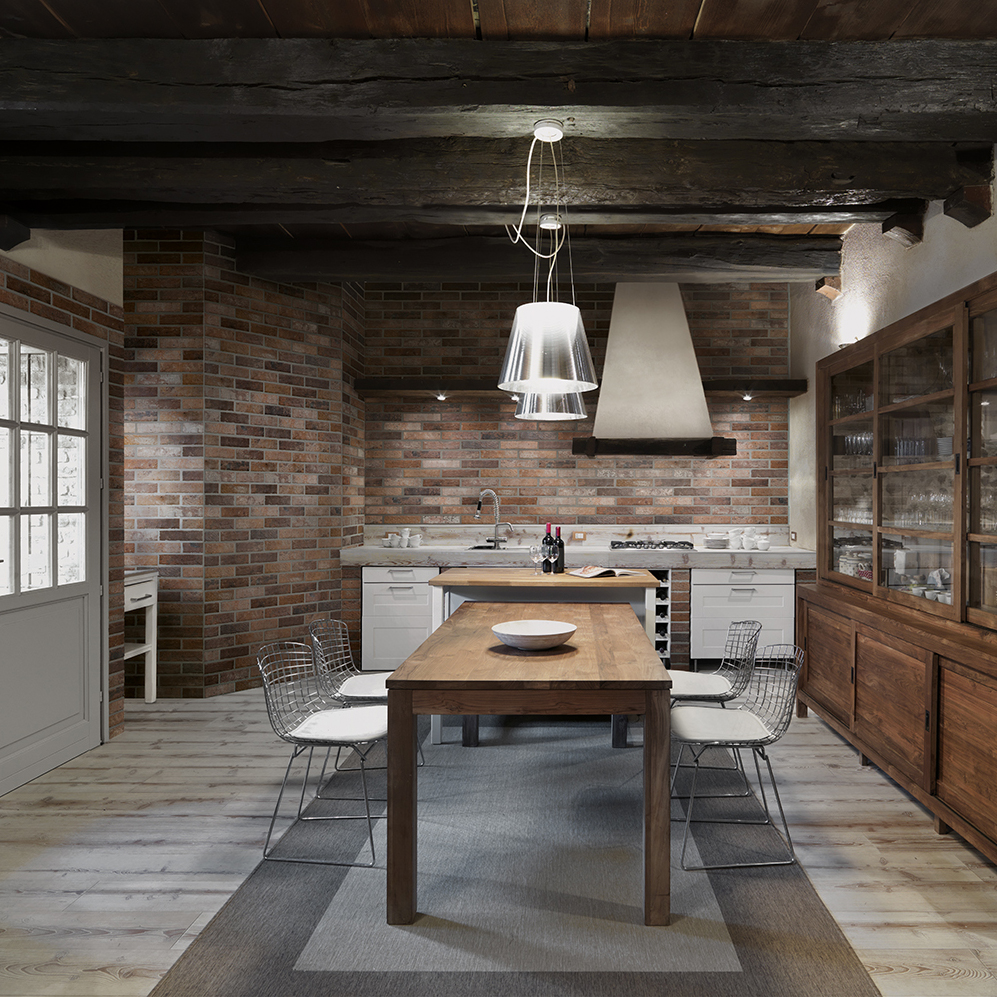 Brickstone Red Matte walls bring home the industrial vibe in this well-appointed kitchen. Talk about Style + Durability!
Raising Resale Value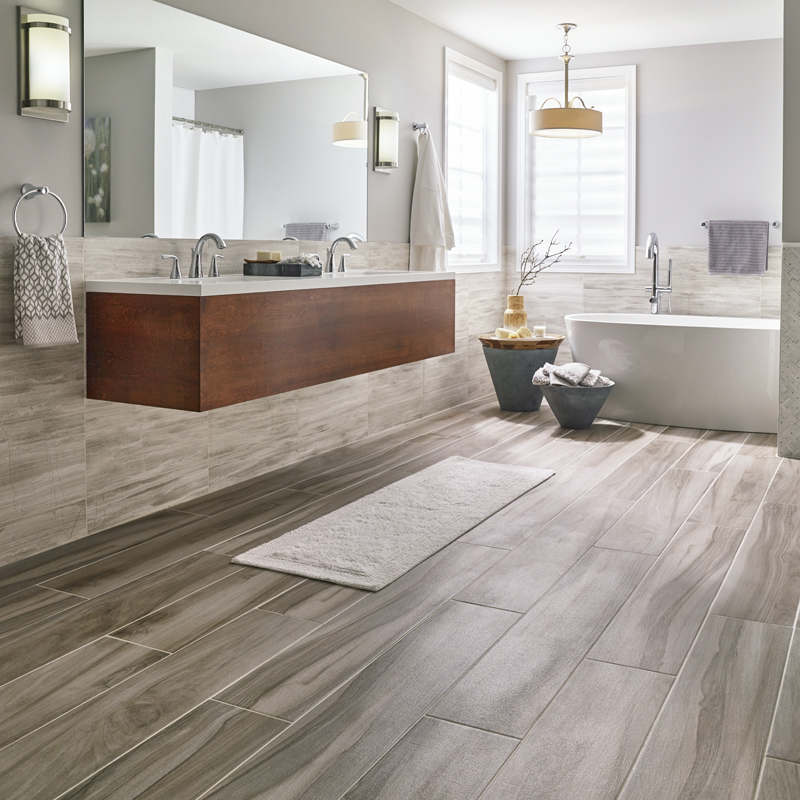 Aspenwood Ash makes for drama-free clean up with upscale wood looks. Waterproof meets Style!
Ask any realtor with listings on the market if updated surfaces matter. You'll hear stories about why they do. The good news is that we've made it super affordable for homeowners to boost property value while delivering today's most sought-after looks. To get a closer look at the porcelain tile collections selling on the market, see our Top 5 Design Trends and Inspiration page. From old-world Kenzzi to retro penny rounds to modern-day 3D styles to cement and matte marvels, you'll find an array of trending looks to choose from.
Wipe-it-Down-and-Go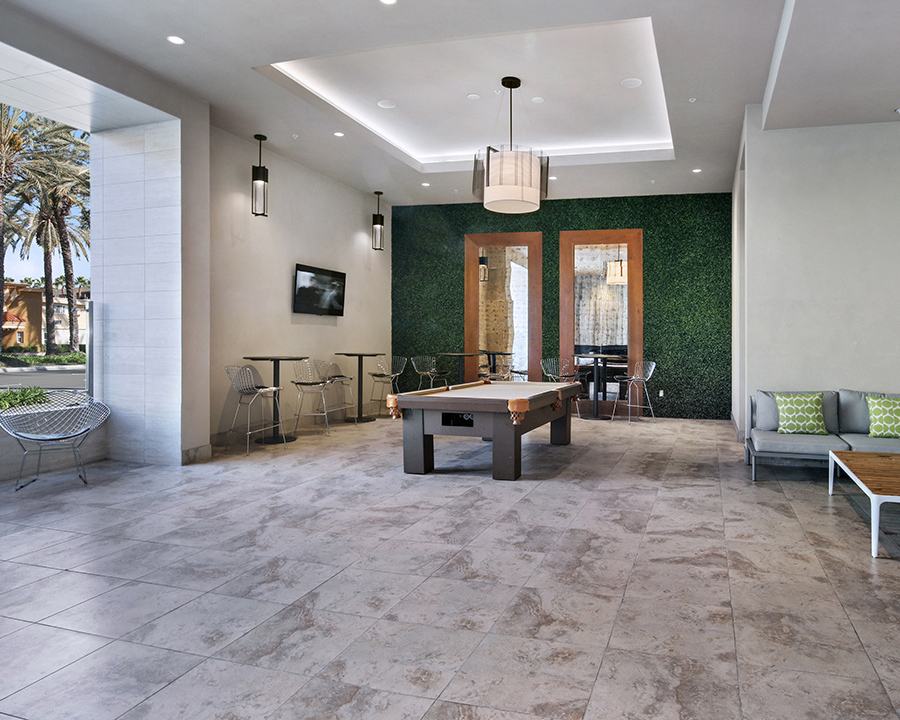 From busy households to commercial spaces, this zero-stress surface doesn't require any special sealing.
Out of all the different floor and wall tiles offered today, porcelain tile is one of the easiest to maintain. Because it's made of dense, non-porous material that doesn't harbor bacteria, it requires minimal care. Over its a decades-long lifespan, you'll spend little time keeping it clean. Just sweep, mop, or wipe it down.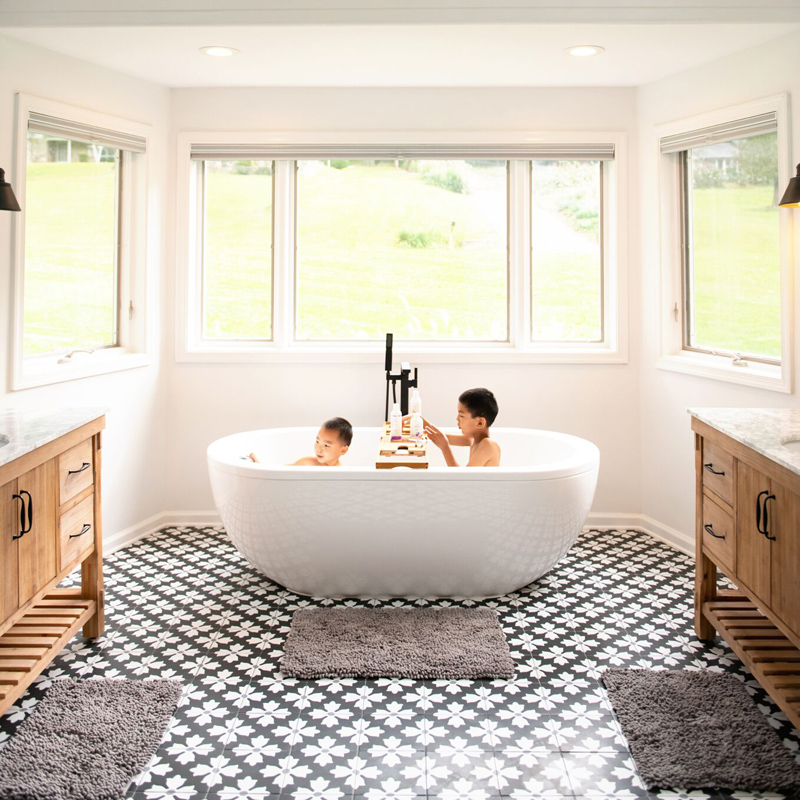 In wet and dry zones, underfoot and on walls, Kenzzi Kasbah Porcelain tile is designed to withstand busy family life.
High-Traffic Zones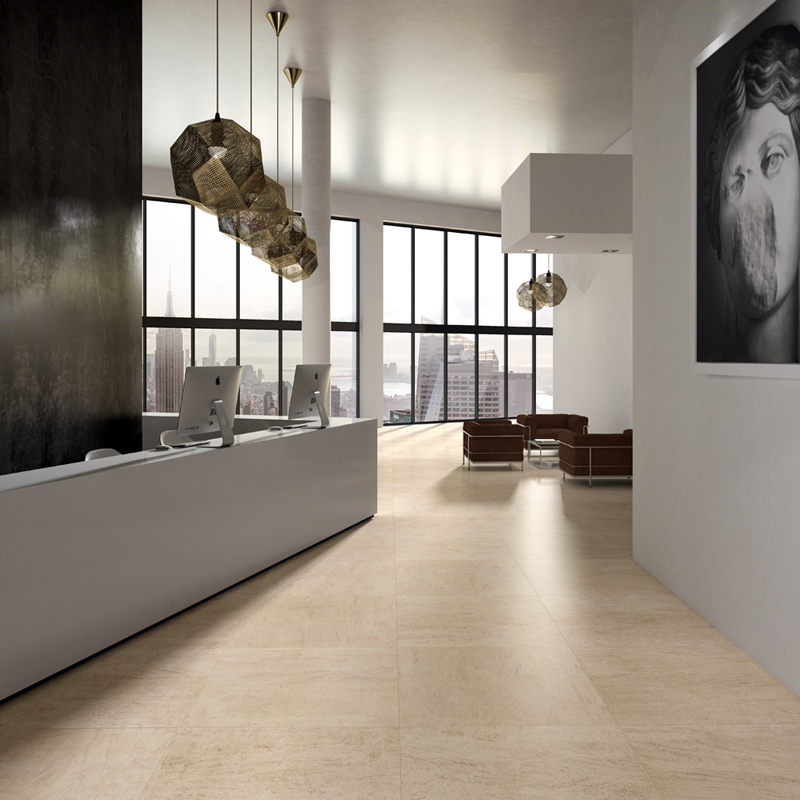 Living Style Beige Porcelain Tile is a natural in commercial lobbies.
Porcelain tile's long-lasting wear resistance makes it a leading choice for heavy foot traffic areas in residential and commercial spaces. Whether a kitchen or conference room, an entryway or lobby, porcelain tile withstands years of daily abuse – without the upkeep often associated with high-impact, heavily-used spaces.
Scratch & Wear-Resistant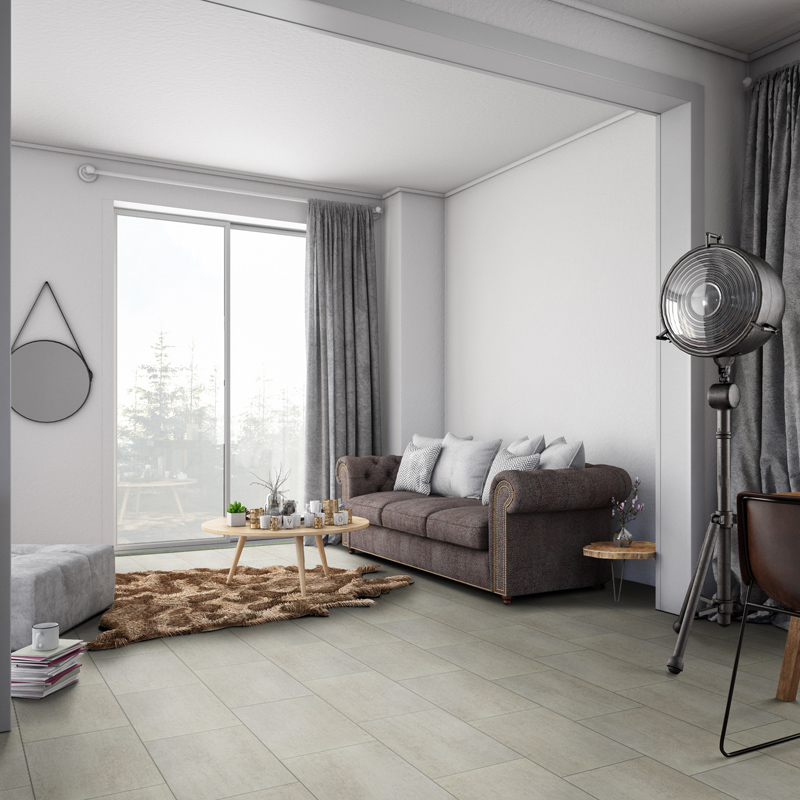 Metropolis Cloud porcelain tile can be used on floors and walls.
Harder, thicker, and more durable than most other tiles, porcelain doesn't easily scratch. Designed to last a lifetime and maintain its beauty, it's ideal in households with kids and pets – as well as businesses and rental properties. As is typical with wood floors, there's no need to worry about denting or fading. Because of its dense composition and time-tested durability, it can also be used outdoors in extreme weather conditions.
Seamless Flow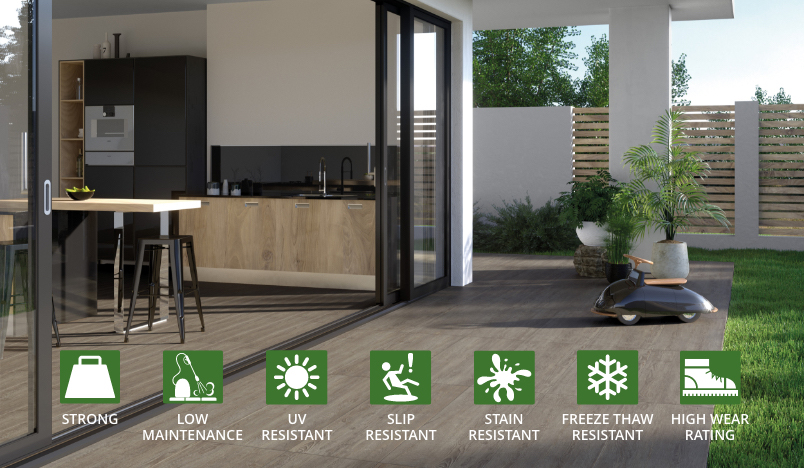 Caldera Coala, the indoor/outdoor porcelain tile and paver collection from Arterra, is ideal for no-fuss, modern design.
Extend living spaces. Create breathtaking flow. Bring nature indoors. Smooth sightlines. It seems like a tall order, but porcelain tiles with matching pavers make easy work of this wish list. Seamless Sanctuaries, a top design trend in 2019, features stone and wood looks from Arterra Porcelain lines Caldera, Praia, and Livingstyle.
These all-weather options, now available in new rectangular sizes (16" x 32" and 18" x 36"), don't require sealing. Designed with coordinating copings, MSI pavers withstand freeze-thaw cycles when set on grass, sand, or installed with mortar over a concrete bed. Porcelain is a definite go-to product when exploring hard surface materials!
READ MORE ABOUT THE DIFFERENT TYPES OF PORCELAIN TILE
When To Choose Ceramic Over Porcelain Tile
Which Porcelain Tiles Are Water Resistant?
Why Designers Are Falling For Antoni Porcelain Tile