6 Unexpected Backsplash Tile Shapes For Your Kitchen
July 19, 2017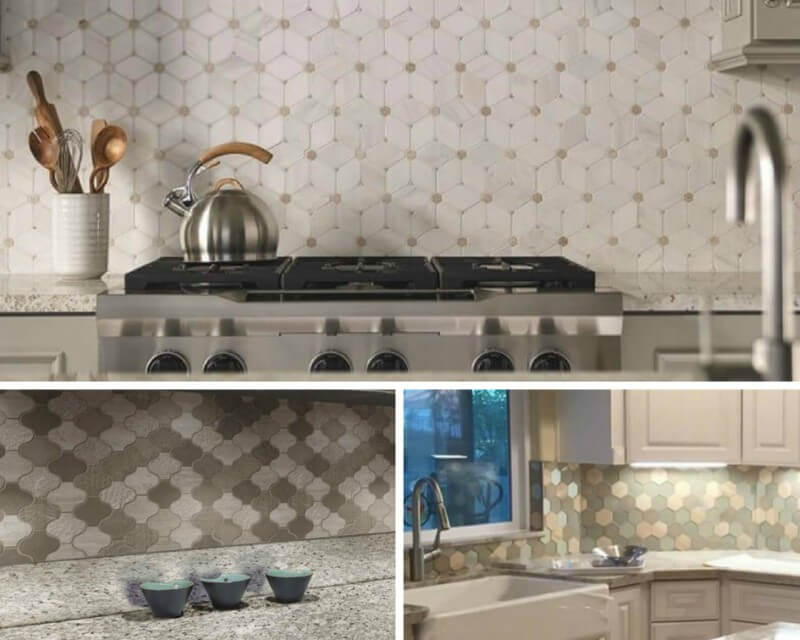 Consider the evolution of the kitchen backsplash — it began as a purely functional cover to protect your wall from cooking messes. Now, however, backsplash tile has become a decorative focal point, an opportunity for personal expression that makes your kitchen unlike anyone else's.
With these unique, beautiful tile mosaic backsplash ideas, your creativity can shine. When beauty meets function, it's a guaranteed winner.
Taupe Brickstone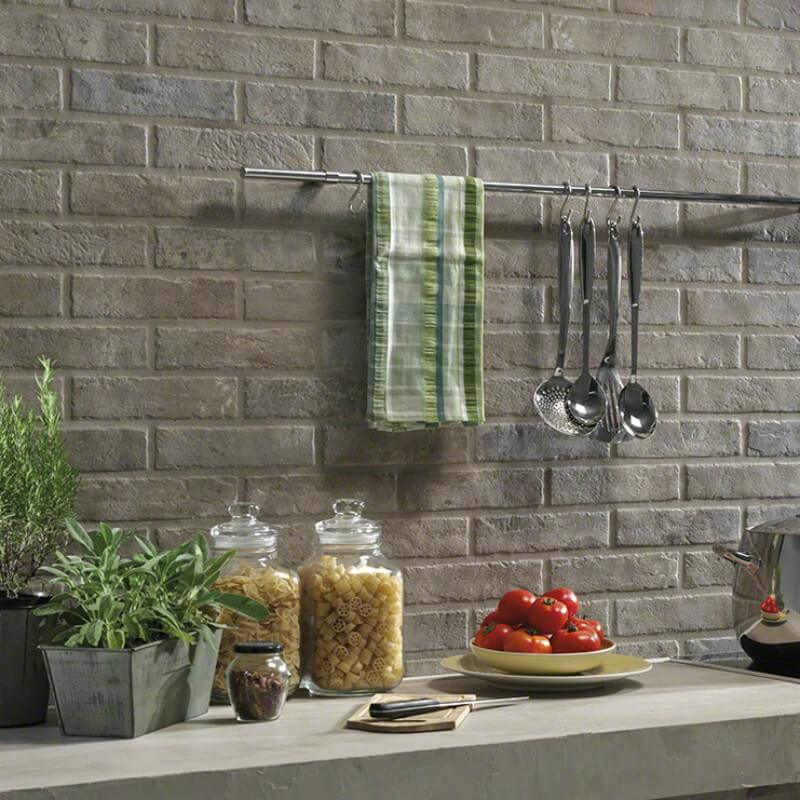 Featured: Taupe Brickstone Porcelain
Exposed brick walls have long been a favorite design element. Taupe Brickstone Porcelain features the look of weathered, aged brick in a neutral shade that complements so many design styles. Perfectly at home in a rustic aesthetic, there's also a place for this durable, easy-care porcelain backsplash tile in a contemporary scheme.
Arctic Storm Arabesque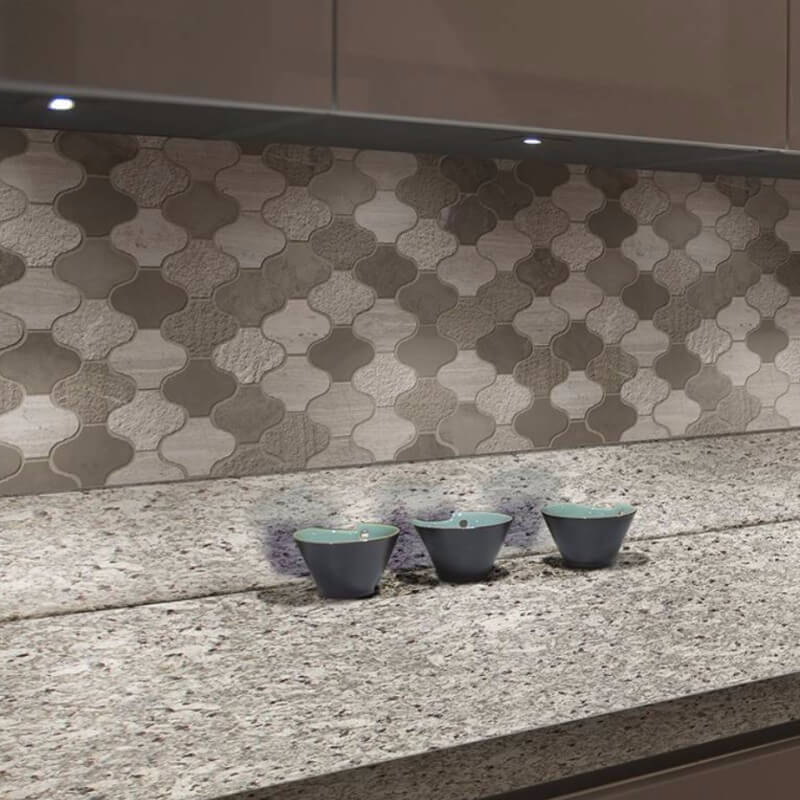 Featured: Arctic Storm Arabesque Marble Mosaic
Who says you can't mix patterns, or that a bold mosaic such as Arctic Storm Arabesque can only be used with solid colors? The elegant curves of this marble tile elevate the look of any kitchen. This kitchen backsplash tile is a mixture of different textures and neutral shades, which coordinates with both solid and patterned countertops.
Monterra Blend Hexagon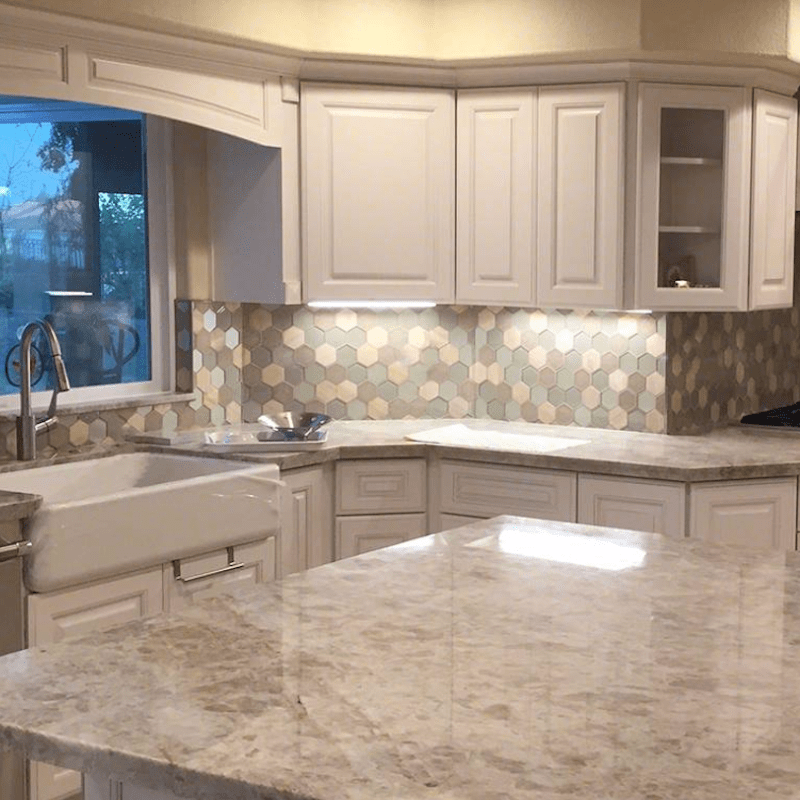 Featured: Monterra Blend Hexagon Glass Stone Mosaic
With a pale, "vanilla" design scheme, a kitchen can border on bland — but Monterra Blend Hexagon mosaic backsplash tile is sure to spice it up without detracting from the soothing feel of minimalism. It's a new twist on a classic shape, reimagined as a blend of crystalline glass and natural stone. The shades of cream and pale gray are always complementary.
Cecily Pattern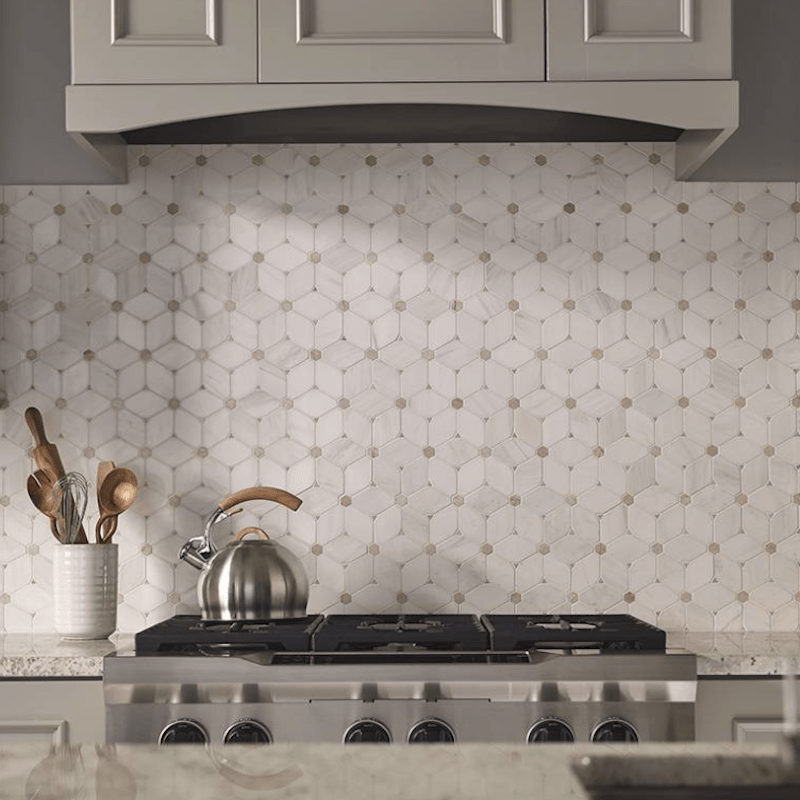 Featured: Cecily Pattern Polished Marble Mosaic
Is it possible for a mosaic to be both old-world and contemporary? Cecily Pattern Polished Marble is the intersection of marble tile mosaics and an updated, new-millennium twist. The colors of subtly patterned white marble, contrasted with smaller accent pieces in pale beige, create an instant, elegant classic.
Aria Interlocking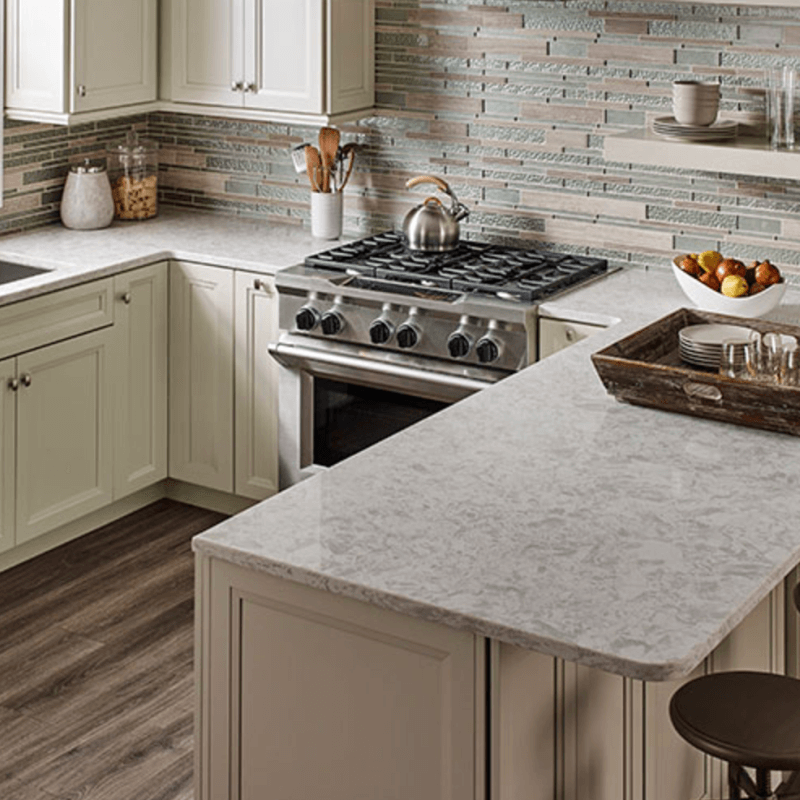 Featured: Aria Interlocking Pattern Glass Stone Mosaic
Mosaics that combine colors, materials, and textures are generally bold, but a snap to coordinate with other design elements. Aria Interlocking Pattern Mosaic is no exception to this rule, featuring pale gray glass and natural stone with eye-catching textures. The linear pattern is ideal for a backsplash, echoing the shape of your countertop.
Silver Aluminum 3D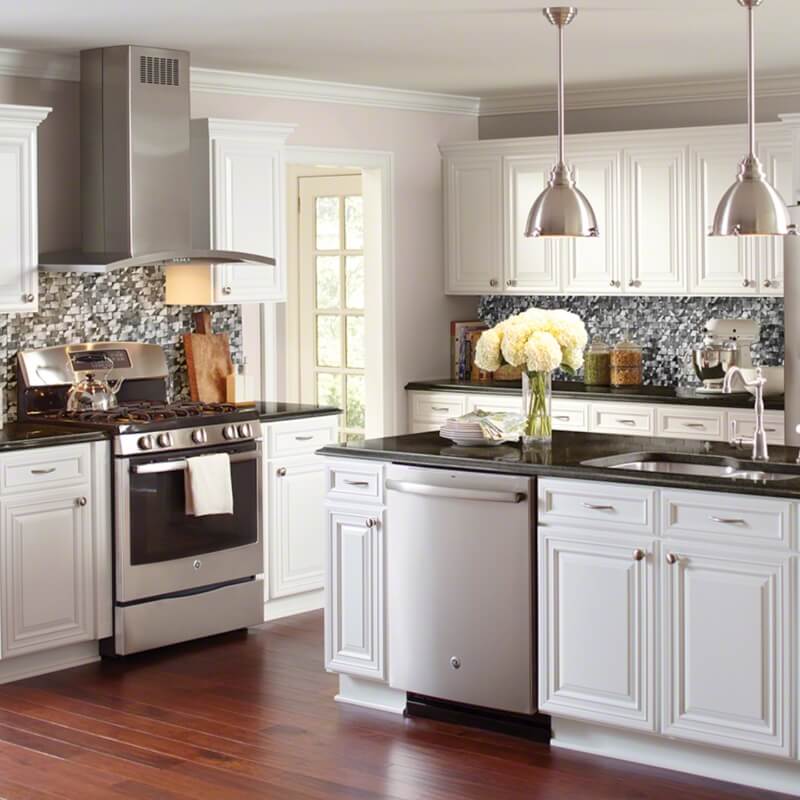 Featured: Silver Aluminum 3D Metal Mosaic
Go boldly into modern kitchen décor with Silver Aluminum 3D Metal Mosaic. This shiny, reflective backsplash tile mosaic features varying sizes and depths of metal tiles, and looks much more complicated to install than it is.
Despite its sparkle, you'll love the way it coordinates with other popular materials such as a wood or wood-look floor and, of course, the classic combo of black and white.
You'll spend a lot of time looking at that kitchen backsplash, whether you're preparing dinner or washing up – so make it the best it can be.
It's easy to "try on" these bold mosaic tile backsplash concepts with MSI's Virtual Kitchen Designer tool, to get a realistic feel for how they coordinate with flooring, counters, and cabinetry. Click over and give it a try!
READ MORE ABOUT MSI BACKSPLASH TILE
6 Brand New Backsplash Tiles For 2017
6 Uncommon Basketweave Backsplash Tiles