Bold Designs For Inspired Spaces: The New Zaria Encaustic Tile Collection
July 13, 2023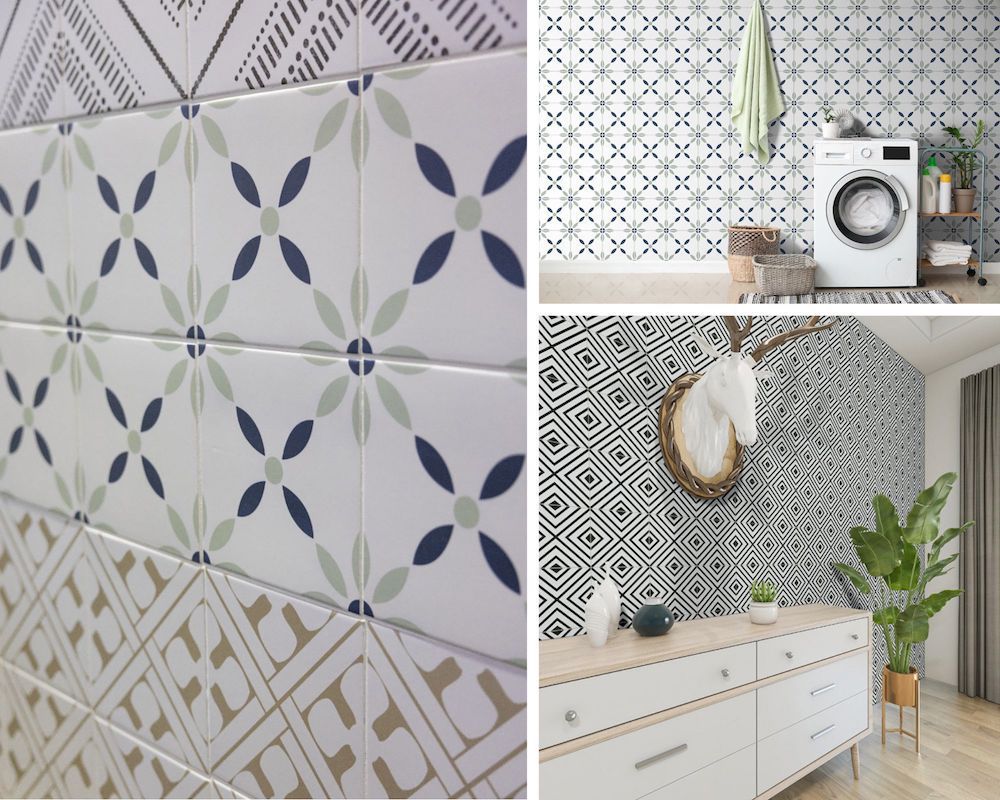 Whether completely remodeling or updating your space with a more modern flair, encaustic-style tile is a surefire way to add style and texture to your bathroom or kitchen.
What is Encaustic Tile?
Its Greek-derived name references the original way this tile was usually produced – with bi-colored clay molded and inlaid before being sealed with pressure, resembling Victorian-era enameling. Today, many durable porcelain options exist that still capture the timeless look of encaustic tile. Thanks to its porcelain construction (as opposed to traditional concrete or clay), it has several key advantages. For example, this tile is easier to clean, install, and maintain.
Encaustic tile adds drama as a statement wall and can enhance the other decor in your bathroom, kitchen, or living space. It looks great on floors too!
The Benefits of Encaustic-Style Porcelain Tile
Our state-of-the-art tiles come in various color options to suit whatever fits your space.
Each tile is sized 8" x 8", making it an excellent choice for backsplashes, showers, or countertops. Its exceptional durability and intricate designs ensure that this tile retains its beauty for many years, standing the test of time.
1. Durability
Encaustic-style tile made from porcelain is ideal for use in high-traffic areas, such as kitchens and bathrooms. It is incredibly durable and resistant to wear, scratches, and most forms of impact. Porcelain is also highly resistant to staining and will not fade over time. As a result, this tile requires minimal maintenance and can last many years with proper care.
2. Versatility
This porcelain tile comes in various styles and an array of colors and textures, allowing it to be used to create stunning designs that can match any décor aesthetic. Whether looking for something modern or traditional, this tile can help you achieve your desired look.
3. Water Resistance
Because porcelain is water- and slip-resistant, this tile is excellent in bathrooms and kitchens. Its hard, durable surface means it's highly resistant to moisture and humidity, making it ideal for use in areas with frequent contact with water.
Meet the Zaria Porcelain Tile Collection
Our beautiful Zaria porcelain encaustic-style tile collection is ideal for transforming your kitchen or bathroom space and creating a fresh look! This stunning tile features a compact 8" x 8" size and is available in styles and colorways that can be used to create unique designs. Plus, it's also Greenguard Indoor Air Quality Certified®.
With its intricate design, our brand-new Zaria Porcelain Tile Collection will make your spaces look more luxurious and inviting. Whether you're looking for a bold statement piece or something subtle yet eye-catching, this collection has something for everyone. Here's a quick breakdown of the designs available so you can select the perfect one for your next home renovation or makeover!




Our Zaria Elora tile features beige and ivory patterns to add a touch of classic beauty to your kitchen or bathroom. This tile combines a timeless design with the durability of porcelain, making it a perfect choice for residential and commercial spaces. With its sleek finish and versatile color palette, Zaria Elora tile creates a luxurious ambiance that effortlessly complements any interior.




This striking Zaria Gia tile has mesmerizing geometric shapes in black and white. With a sleek, contemporary pattern resembling a blooming flower, this tile is an exquisite addition to any aesthetic. Every tile is crafted with utmost care and precision, ensuring flawless alignment with neighboring tiles and a harmonious and expansive design.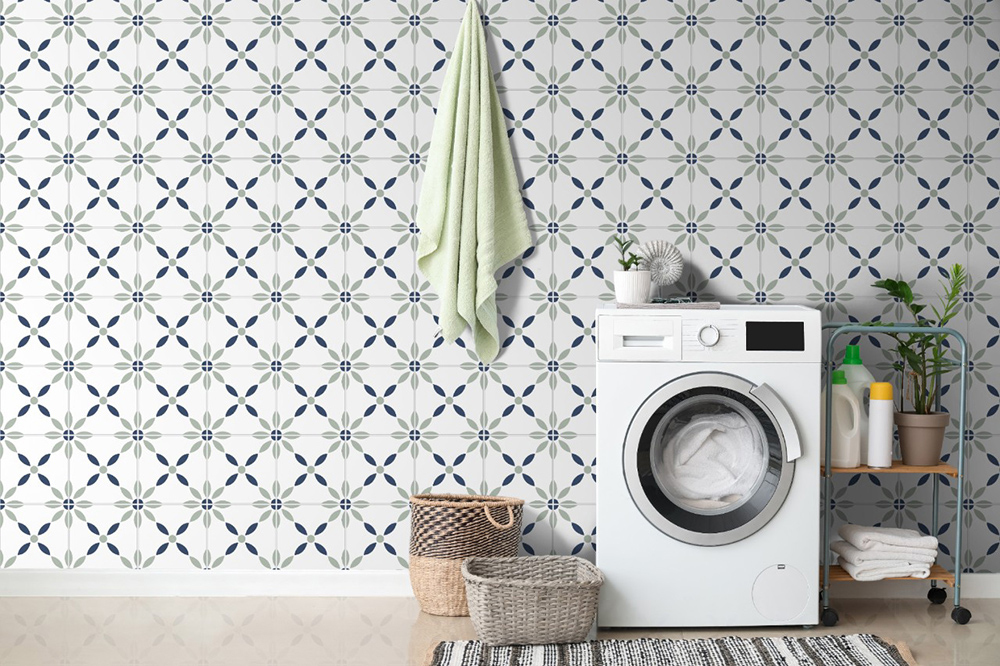 Featuring a flawless white backdrop embellished with an elegant floral pattern in shades of blue and gray, Zaria Greta tile captivates the eye. Every tile is meticulously handcrafted, ensuring high attention to detail and effortless integration with surrounding tiles to form a unified and expansive design. With its delightful matte finish, this tile is an excellent choice for enriching all of your surfaces.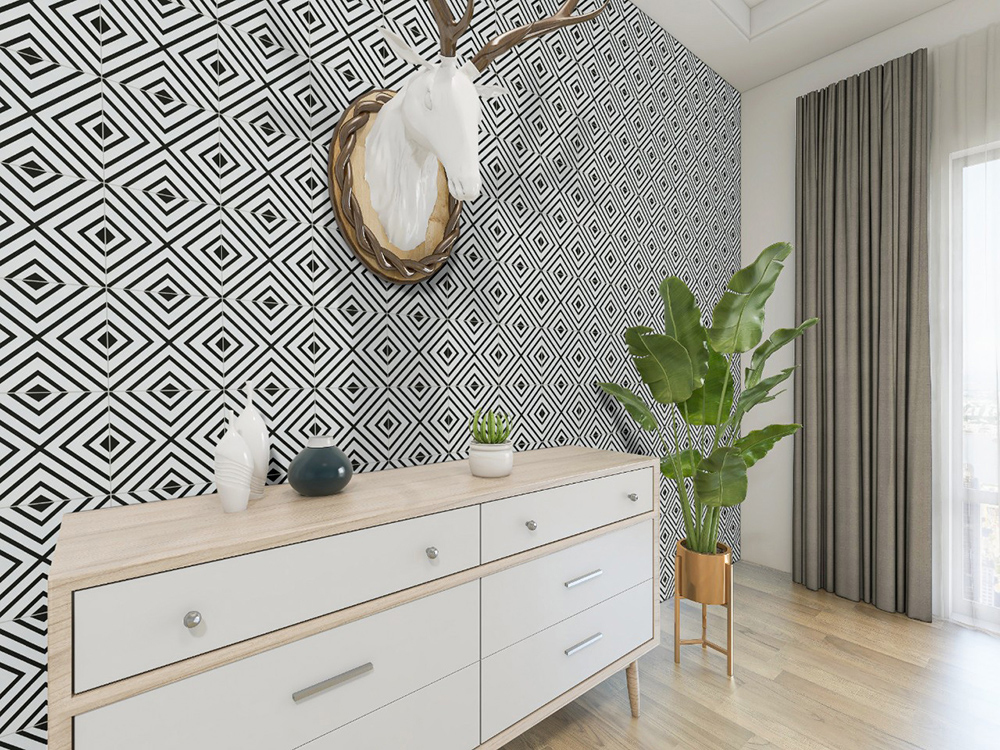 Zaria Modena is decorated with a diamond design that is simple yet striking. This tile is sleek and contemporary, adding a touch of sophistication to any environment. This stunning tile, with its high resistance to stains, scratches, and moisture, offers easy cleaning and requires minimal maintenance. It is the perfect choice for homes with active lifestyles, particularly for busy kitchens, entries, and other living areas.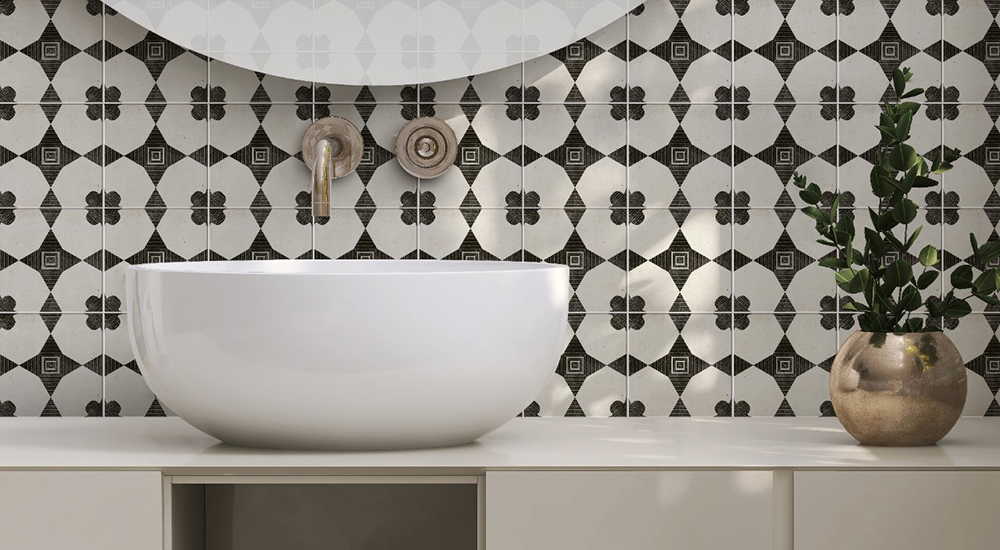 With its beautiful white background and black geometric print, Zaria Sakura draws inspiration from the spring cherry trees (hence the name). With its high-quality porcelain composition, easy to clean Zaria Sakura tile mixes exceptional beauty with durability and longevity.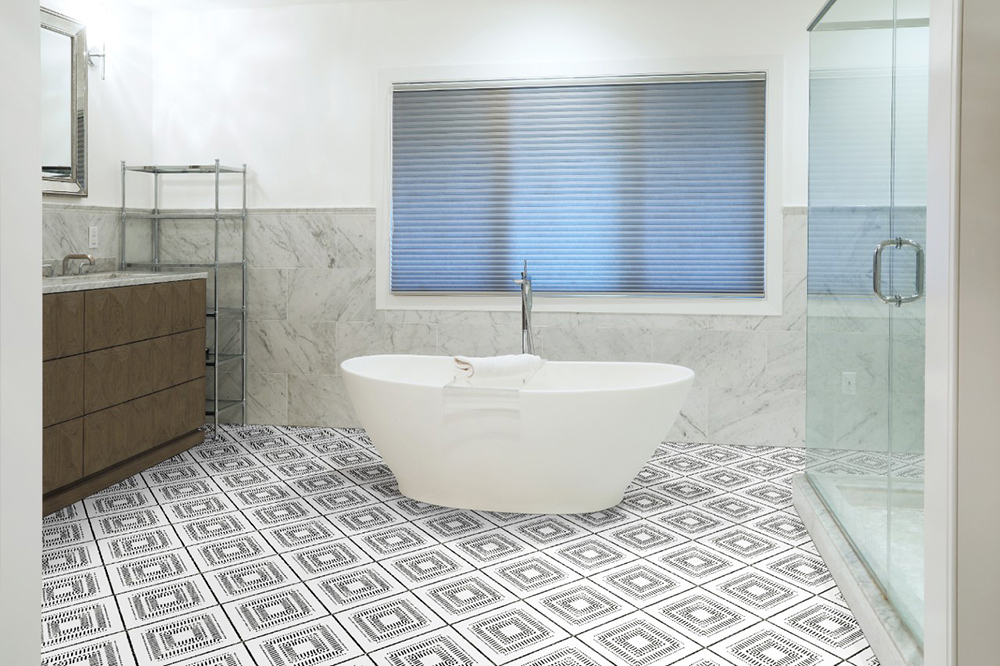 Zaria Tessa tile is truly one-of-a-kind, featuring exquisite diamond-like prints meticulously hand-stamped onto a crisp white backdrop. With its exclusive matte finish, this tile is perfect for various applications, adding a touch of elegance to a wide range of projects.
Find Your Perfect Encaustic Tile
Discover the effortless way to elevate the ambiance of your bathroom, kitchen, or living space with the exquisite addition of encaustic tile. Not only does it make a stunning statement wall, but it also effortlessly enhances the overall decor of any living space. This remarkable tile is equally impressive when gracing the floors.
If you love the look of our Zaria collection, you can also check out our European-inspired Kenzzi Collection. The one-of-a-kind Matarka tile features an exotic, floral look, or if you prefer a classic design with bold, geometric shapes, check out Tahari tile!
Not sure which tile is right for you? Chat with us online, visit one of our showrooms, or contact an MSI authorized dealer to explore our full range of options and find the perfect porcelain tile for your next project.