How To Maintain Your Pebbles And Landscape Rocks
July 25, 2022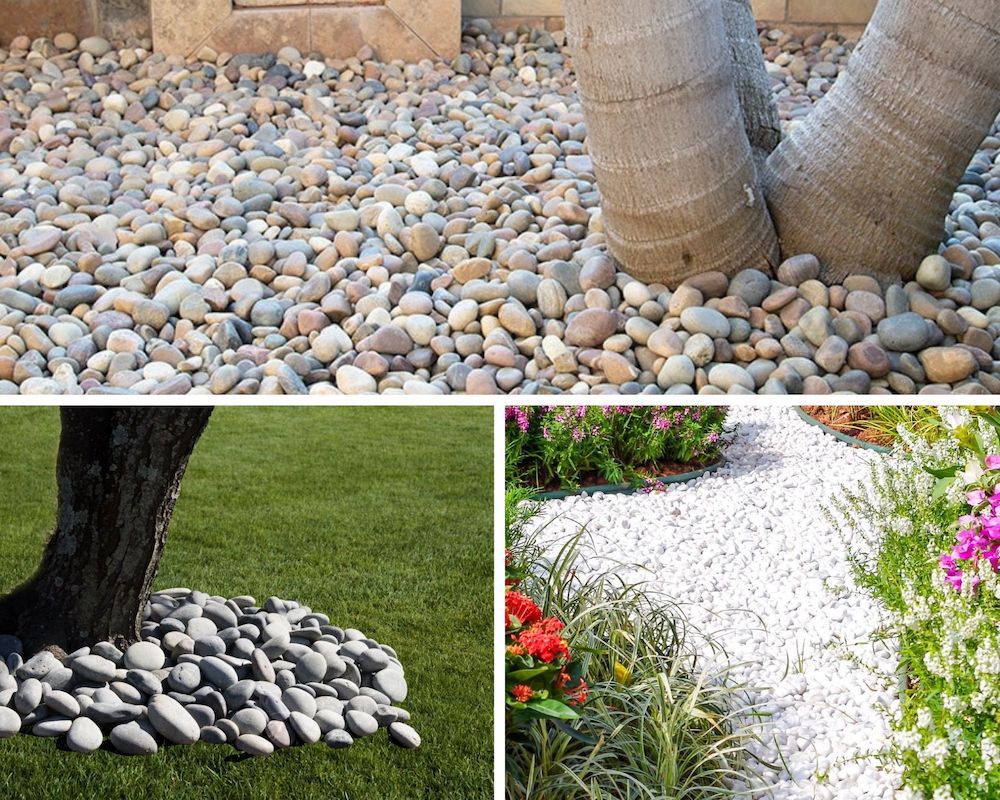 So you've just put in your new landscape rock and pebbles setup installation throughout your property.
More than likely, you've created pathways and surrounding rocky terrain for your plants, shrubs, and other flora and fauna. What is it about landscape rocks and pebbles that people like so much?
First, rock is easy to maintain because you never have to mow it—like a lawn—or apply fertilizer. Second, pebble and rock landscapes don't attract pests—in fact, it's highly inhospitable to such destructive creatures. Third, rock and pebble will stand up to foot traffic and bad weather because of its sturdiness.
And if those weren't reasons enough to love rock and pebble landscapes—well, they save money and look aesthetically breathtaking!
However, it's important to remember that despite its low maintenance advantages, we have to maintain our rock and pebble landscapes. If you don't, there can be unattractive buildup and your outdoor areas might appear worn down or neglected.
Let's take a look at some top tips on how to best maintain garden rock and highlight some of MSI's top pebble and stone selections!
When examining best practices for landscape rock maintenance, we want to highlight the important of not using chemicals. Usually with weeding, it's convenient to spray in traditional fertilizer-based gardens. However, when maintaining garden rock, it's valuable that you weed manually throughout the year with your hands to prevent the weeds from spreading. Chemicals can severely damage the rock, causing you to replace the bedding over time.
While it's time-consuming to dig up weeds with a hoe and your bare hands, if you can do so consistently then you won't have overgrown problems. Tip: It's best to pull weeds right after a rain because the soil is relatively soft. Second tip: If the weeds are deep within the soul, you need a shovel or trowel to get them out by the root.
Let's talk landscape fabric. Have you ever heard of it?
Many professionals recommend placing landscape fabric down before you install your landscape stones. Logistically, this fabric can made from a variety of materials, such as linen or polyester. It's a weed prevention tool and it saves you time weeding throughout the year.
However, it's important to keep in mind that weed seeds can slow in on top of your rock bedding and cause growth that way. So this doesn't make you totally immune to weeding with your hands and a hoe. However, landscape fabric is effective in preventing sprouting, which can save you time and energy in the long run.
Now let's talk about leaf blowers and rakes. These devices are your best friend.
While they are noisy and stir up dust, leaf blowers can scoop away debris in record time. If your natural stone bed consists of small pebbles, you may run the risk of the leaf blower blowing some of the pebbles away—which means you have to go and get them and reinsert back into your garden bed. Tip: Look for electric-powered leaf blowers, not gas-powered. Gas-powered leaf blowers can actually omit more pollution than a car. Stay green and use electric-powered to reduce your carbon footprint!
Nothing beats a good old fashioned rake, right? These are super useful on rock landscape and if you move your rocks or pebbles aside in the process, simply turn over your rake to smooth them back out.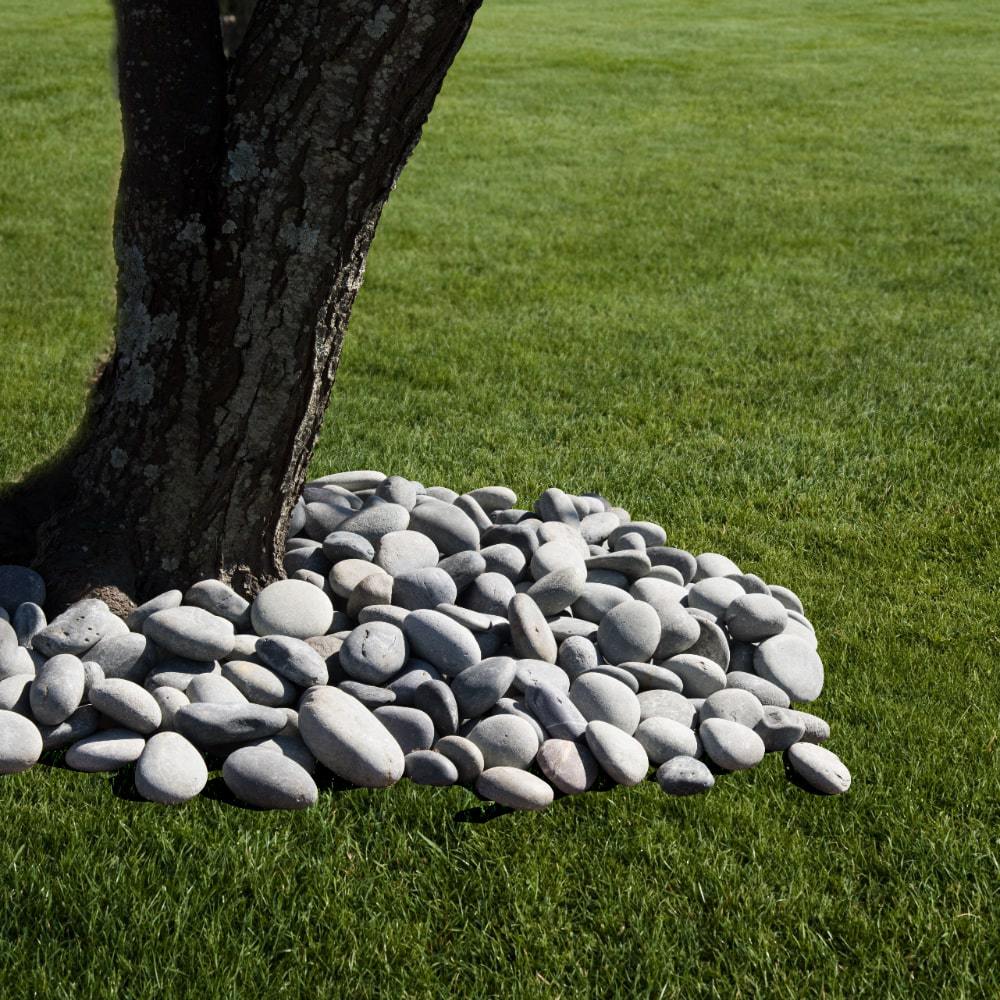 Grey Island Beach Pebble is an excellent choice for landscaping around trees and gardens. The gray and rosy tones really reflect a beach-like image. The landscape design possibilities with this pick are exciting and seemingly endless. Can't you just imagine Grey Island Peach Pebble guiding people along a wandering path? This would also be great for fountains and water features!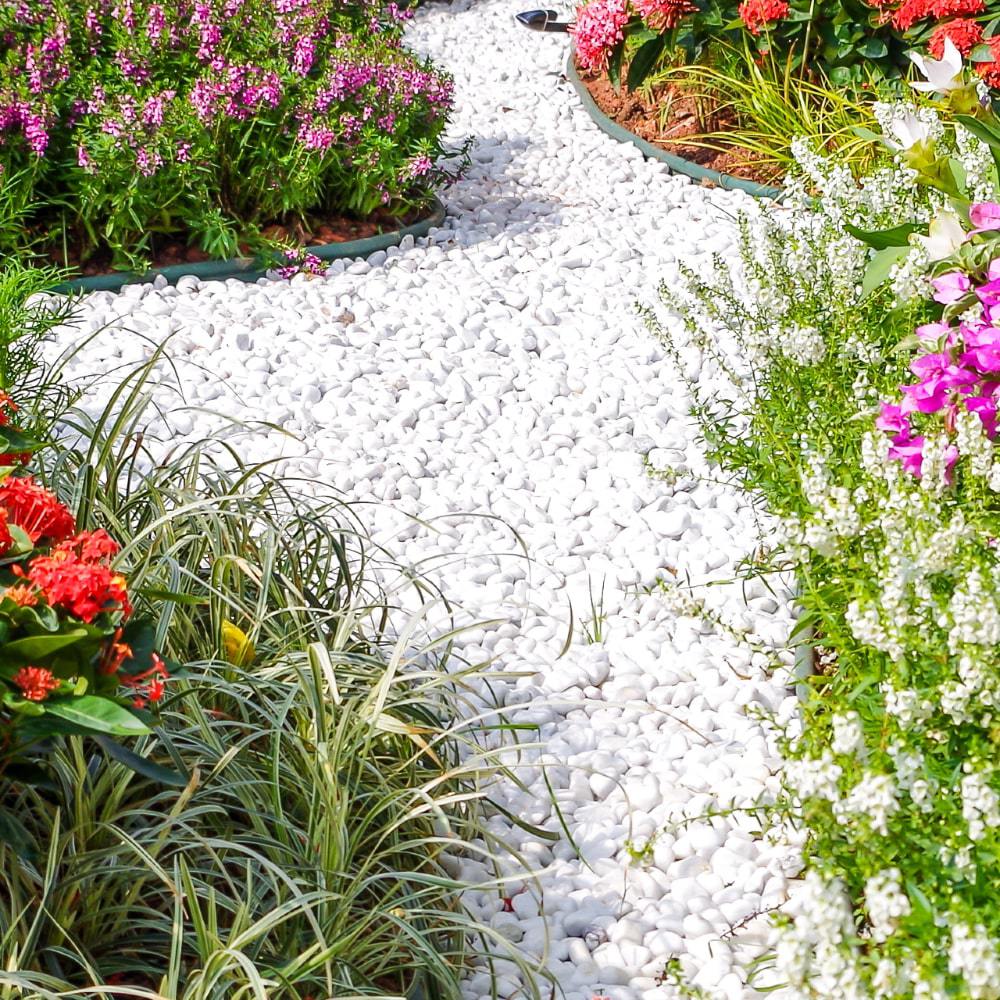 Himalaya White Pebbles entail white and beige tones that are fine polished or tumbled for all different kinds of landscape projects. Himalaya could easily be used to keep away weeds around trees or to protect your spring flower bed to get further compliments from onlookers!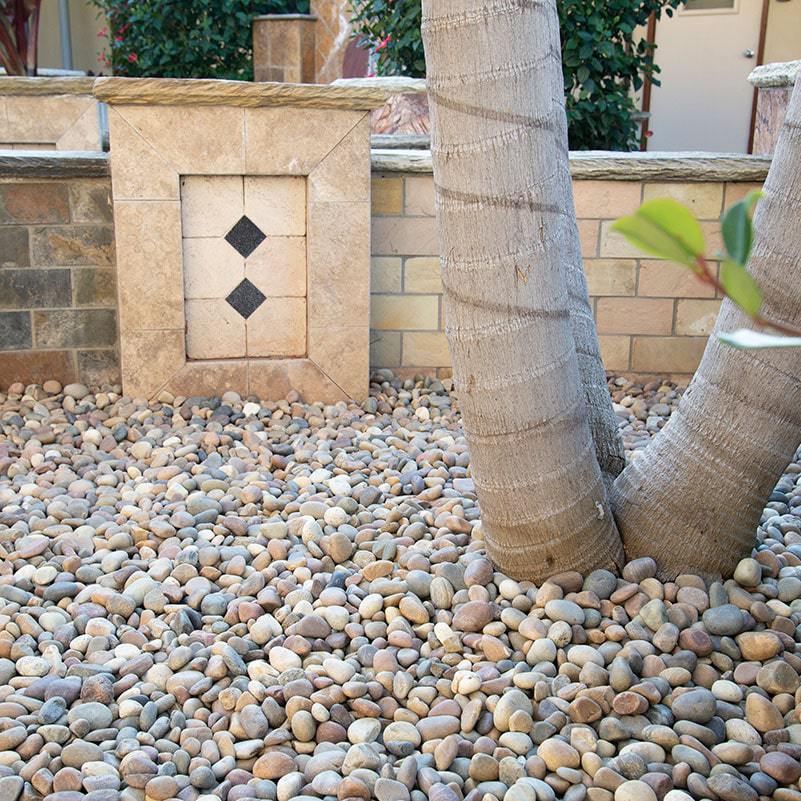 Rainbow Beach are multicolored small tones and have the character of natural beach pebbles. How amazing is it to get lost in these quartzite garden rocks? You can use these on any landscaping project, and the natural earth tones compliment the surrounding area in truly breathtaking ways.
Clearly, there are so many possibilities in choosing the right landscape rock for your gardens, trees, flower beds, and other outdoor areas. While the advantages of using stone and pebbles are multifaceted, maintaining them remains critical. Hopefully, these tips have given you ideas on how best to care for this important part of your property. Whether it's weeding by hand on a regular basis, using leaf blowers and rakes, or other means of maintenance—your garden rock is sure to be a standout aspect of your home.
While chemicals are strongly advised against for weeding, some homeowners do have success with organic or homemade weed killer solutions. Some may use white vinegar and soap to spray, which minimizes damage to rocks while getting to the root of the problem—no pun intended!
Regardless of your methods, appreciating your landscape rock through regular and careful maintenance will preserve your gorgeous outdoor areas for years to come. In the end, isn't a magical and mystical pebble pathway in your backyard worth preserving?
MSI is a committed innovator in the world of interior design, landscape rock and pebble varieties and outdoor décor. We are your top source for all related questions, and we would love to be of assistance. Contact us and let us know if we can answer any of your garden rock-related questions and concerns. We're here to help you create the home of your dreams.
For immediate assistance, chat with us in the box below!